Slow Cooker Asian Chicken Legs are perfect for the slow cooker. You will want to coat them in ginger, soy sauce, garlic and a little bit of honey before placing them into the crock pot. So easy and so flavorful! Enjoy these Slow Cooker Asian Chicken Legs with your family today!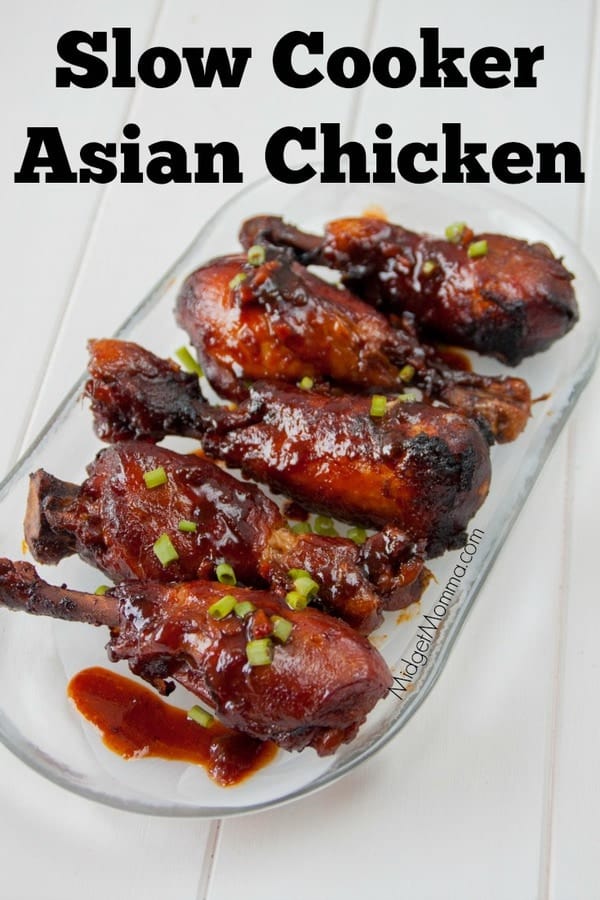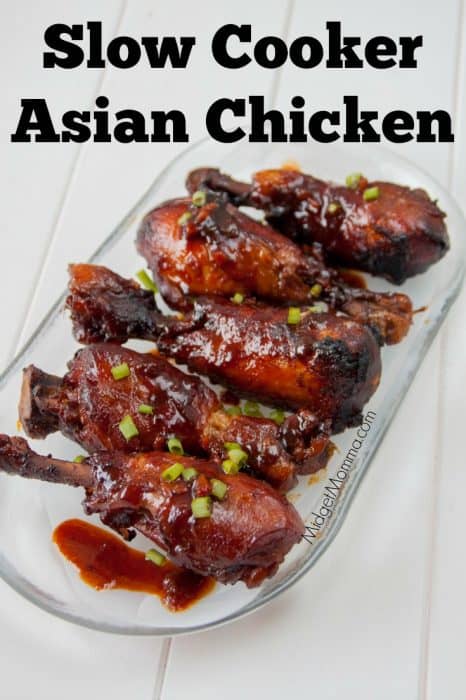 Slow Cooker Asian Chicken Legs
The best part is that you can prepare these chicken legs ahead of time then just throw them in your slow cooker when you get home from work or school. They're perfect for busy weeknights because they only take about 10 minutes of prep time but provide incredible flavor. Plus, if you use a slow cooker bag, cleanup isa breeze since all you have to do is toss out the slow cooker bag with all the leftovers after dinner.
How to Store Leftover Asian Chicken Legs
Leftover Asian Chicken Legs will keep in an airtight container in the fridge. It is important that you keep the chicken legs in the refrigerator when you are not serving them. You can also keep the chicken in the freezer if you are not going to eat it before it goes bad.
This also make a great freezer meal. You can make the Slow Cooker Asian Chicken Legs and then freeze the meat, either on the bone or off. Then you can take it out of the freezer as needed.
How To Freeze Leftover Asian Chicken Legs
You can freeze Asian Chicken Legs in an airtight container or a freezer safe bag. You can freeze the it in either a family dinner sized portion or you can store it in individual sized portions. Freezing the chicken in smaller portions is great when you need to take out a small amount so as to not thaw out too much. This is great for lunches or for a single person dinner. When you're ready to eat them again, just put the frozen bag into your slow cooker and it will defrost as it cooks.
What To Serve With Slow Cooker Asian Chicken Legs?
There are so many recipes that will go fantastic with these legs. Honestly, the flavors will go with almost anything. Serve these delicious Slow Cooker Asian Chicken Legs with your favorite sides. They go great with baked rice or of course, Asian style dishes go fantastic with Easy Fried Rice Recipe. You can always make this chicken stir fried vegetables and just leave out the chicken since you are already making chicken or steamed broccoli. You can serve something less traditional like Creamy Tahini Pasta Salad as a side or Mexican Street Corn Pasta Salad. Of course a simple side salad, or roasted veggies also works. I like adding a side of Chinese sticky noodles to make this a complete meal.
How Long Does This Last
When the chicken is stored properly, it will last for about 4 to 5 days. When it is stored in the freezer, the chicken will last for about 3 months.
Why Bake It Before Serving
You want to bake it before serving because this helps to caramelize the sauce and give the skin a crispy texture. You will take it out of the slow cooker at the very end and broil it for a few minutes. The sauce will crystalize and become perfect and the skin gets that crispy texture you can not wat to eat.
Is This Chicken Healthy
Chicken is almost always a healthy option to eat. If you are following Weight Watchers or a similar plan that watches the calories and fat of a recipe, it comes in at 8 points. This is because it is a fattier cut of meat, since it is chicken legs and not chicken breast as well as because of the added sugar in the recipe. If you are following a Keto or low carb type of eating plan, the chicken leg is great to eat, however, this recipe is very high in sugar. It would be a great special treat or cheat style dinner. Believe me, the flavors if this chicken is so good, it is worth a cheat dinner.
Slow Cooker Asian Chicken Ingredients
1/2 cup brown sugar
1/2 cup soy sauce
2 tablespoons rice wine vinegar
1 tablespoon tomato paste
3 cloves garlic, minced
1 1/2 teaspoon fresh ginger, minced
2 1/2 pounds chicken legs

Slow Cooker Asian Chicken Directions
Combine the sugar, soy sauce, vinegar, tomato paste, garlic and ginger into a microwave safe container. Place in the microwave for 1 minute to dissolve the sugar.
Place the chicken into the bottom of your slow cooker. Pour the sauce over the chicken.
Place the slow cooker on low for 6-8 hours. If you can turn the chicken half way through to evenly coat in sauce.
Remove the chicken and place it under your broiler until the skin is crispy.
8 Weight Watchers SmartPoints per serving
More Chicken Recipes: