This is my new favorite slow cooker recipe! I was never a fan of leg meat until one of my friends had me over for this amazing dinner. It was like have a large chicken wing. When you slow cook the chicken legs the meat just falls right off the bone it is so tender. The great part is my kids think it is so fun to eat chicken legs its like a big joke in our house. This Asian sauce has a great salty sweet flavor that will leave you wanting more. When I first made this I only used one pack of chicken legs which was a mistake because everyone wanted more.
Slow Cooker Asian Chicken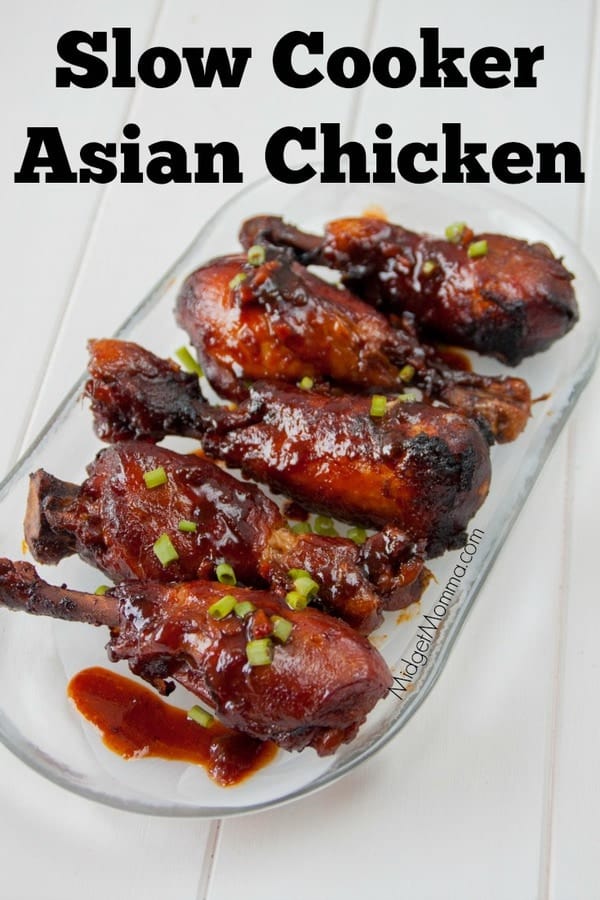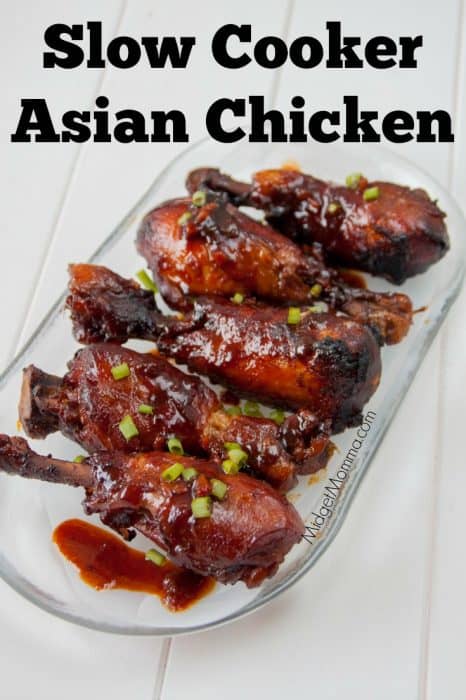 Slow Cooker Asian Chicken Ingredients
1/2 cup brown sugar
1/2 cup soy sauce
2 tablespoons rice wine vinegar
1 tablespoon tomato paste
3 cloves garlic, minced
1 1/2 teaspoon fresh ginger, minced
2 1/2 pounds chicken legs

Slow Cooker Asian Chicken Directions
Combine the sugar, soy sauce, vinegar, tomato paste, garlic and ginger into a microwave safe container. Place in the microwave for 1 minute to dissolve the sugar.
Place the chicken into the bottom of your slow cooker. Pour the sauce over the chicken.
Place the slow cooker on low for 6-8 hours. If you can turn the chicken half way through to evenly coat in sauce.
Remove the chicken and place it under your broiler until the skin is crispy.
8 Weight Watchers SmartPoints per serving
More Chicken Recipes: 
Slow Cooker Parmesan Garlic Chicken Bake
Rosemary Garlic Chicken Meatballs