With just a handful of ingredients, these slow cooker Chicken Tacos are an easy and healthy dinner. Perfect for Taco Tuesday or any other busy weeknight. Pick and choose toppings so everyone ends up with a dinner they can't help but devour!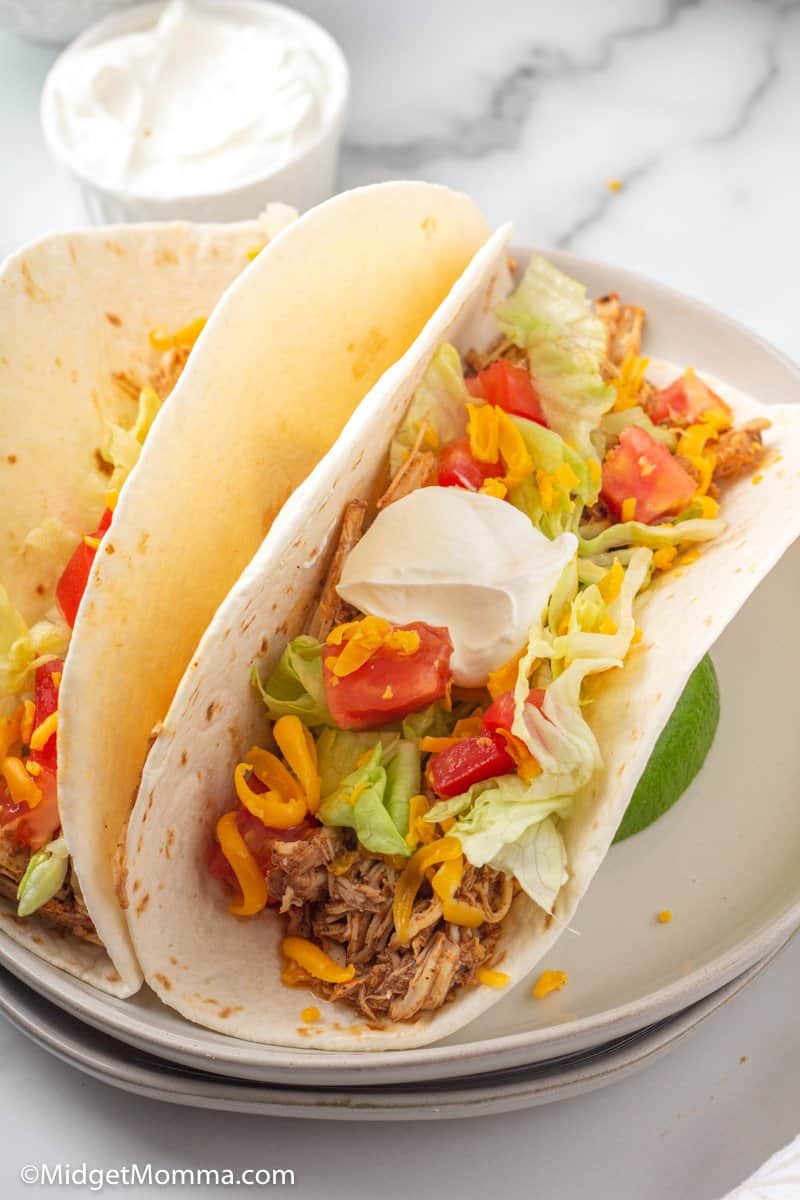 Slow Cooker Chicken Tacos
When it comes to busy weeknight meals, I LOVE my crockpot. With 3 kids, a house to keep in order, a blog, and everything else that comes up during the day, knowing that there's a healthy meal waiting on the counter is so important to me.
Everyone in my house loves tacos, and while ground beef tacos are definitely a regular occurrence, sometimes we like something a little bit different.
That's where these Easy Slow Cooker Chicken Tacos come in.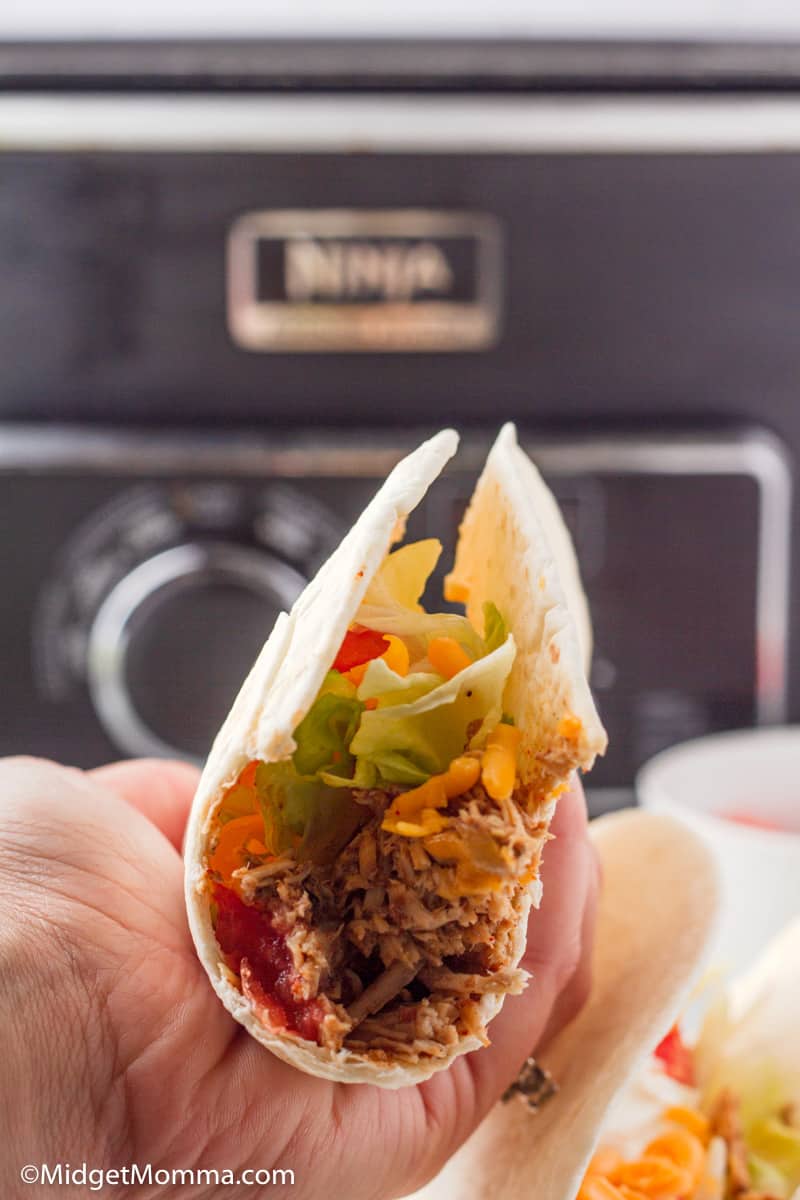 All you need is chicken, a handful of seasonings, broth, and your favorite taco toppings and shells. Personally, I use my own combination of seasonings to control the flavor but if you're in a super hurry, you can also substitute your favorite taco seasoning packet.
Then all you need to do is add it all to the crockpot, turn it on, and forget it for 6 hours! At the end you'll have about 30 minutes after shredding the chicken, which is just enough time to chop up all your favorite toppings and make a little taco bar.
I like to offer a variety of toppings on the table and allow everyone to add their own. First, it makes way less work for me and second, it guarantees that EVERYONE loves their tacos.
Need to keep it low carb? This chicken also makes a great substitution for beef in this Low Carb Taco Salad!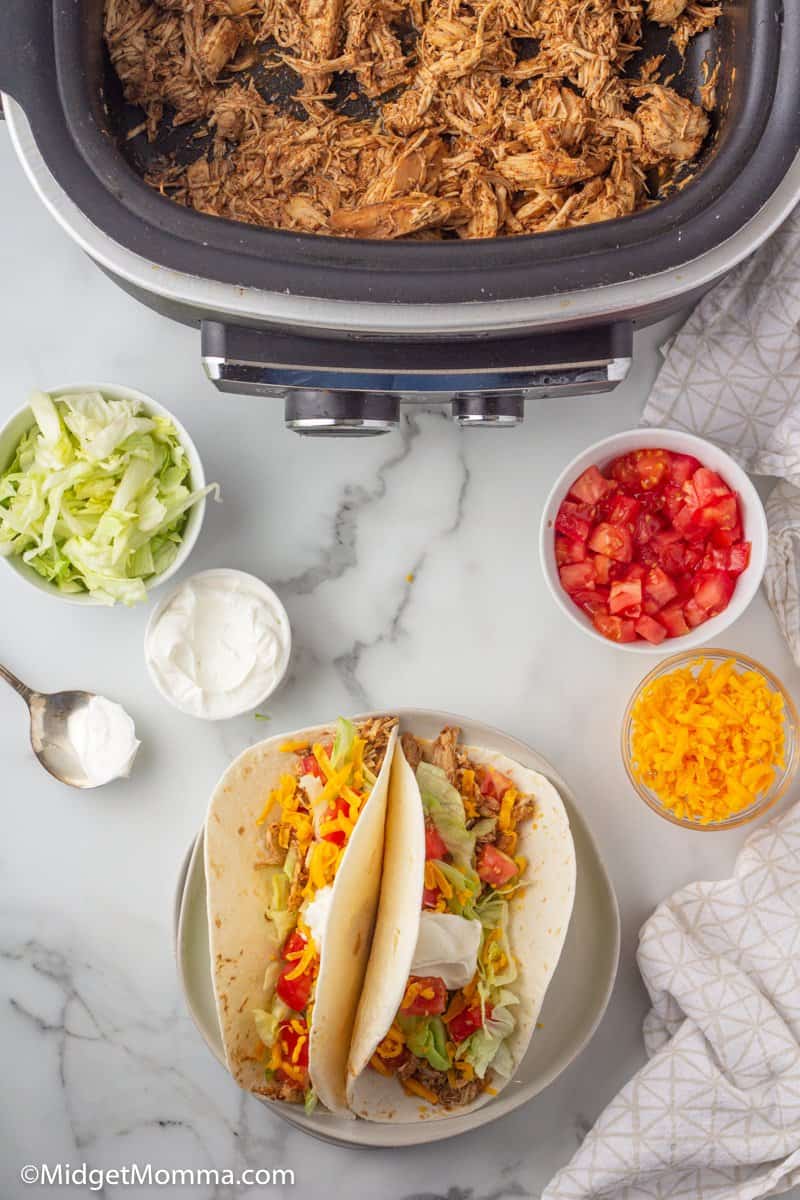 Chicken Taco Toppings
The best part about tacos is the toppings! They can be as simple as lettuce and cheese or you can get creative with homemade salsas and loads of veggies. A few suggestions:
Your favorite shredded cheese
Lettuce
Diced tomatoes
Onions
Salsa (homemade or store bought)
Sour cream
Avocado
Peppers (mild, sweet, or hot)
Olives
A squeeze of lime juice
A splash of hot sauce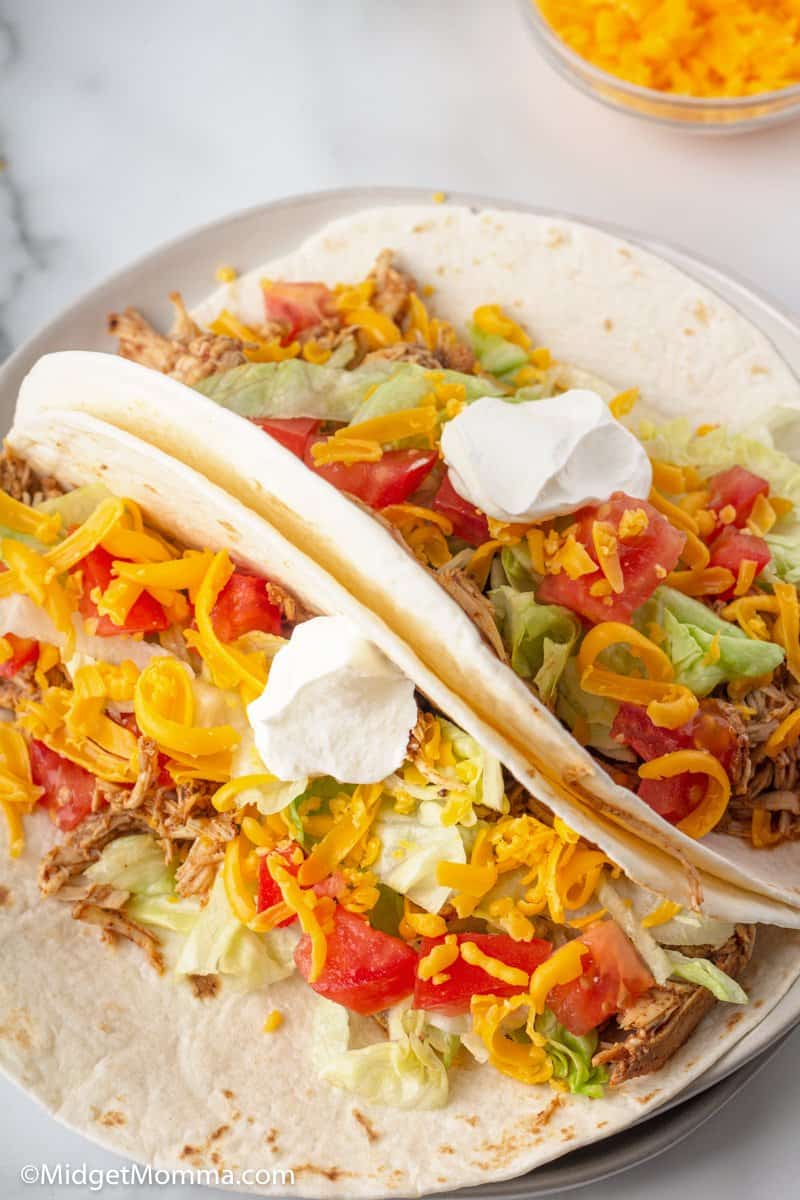 What Do I serve with Chicken Tacos?
There are lots of side dishes that go with chicken tacos. You can serve with your favorite taco sides you would serve with traditional tacos in a taco shell. Normally when we have taco night I do Restaurant Style Mexican Rice or Mexican Cauliflower Rice, corn, and tortilla chips (to dip in Restaurant Style Salsa or guacamole).
How to Serve Chicken Taco Meat
We use chicken Taco meat just like beef taco meat and make tacos with hard taco shells, soft shells or to make a taco salad. We load our tacos up with veggie toppings to make sure we are keeping dinner a healthy meal. You can use which ever your preference is when it comes to the shells and the toppings.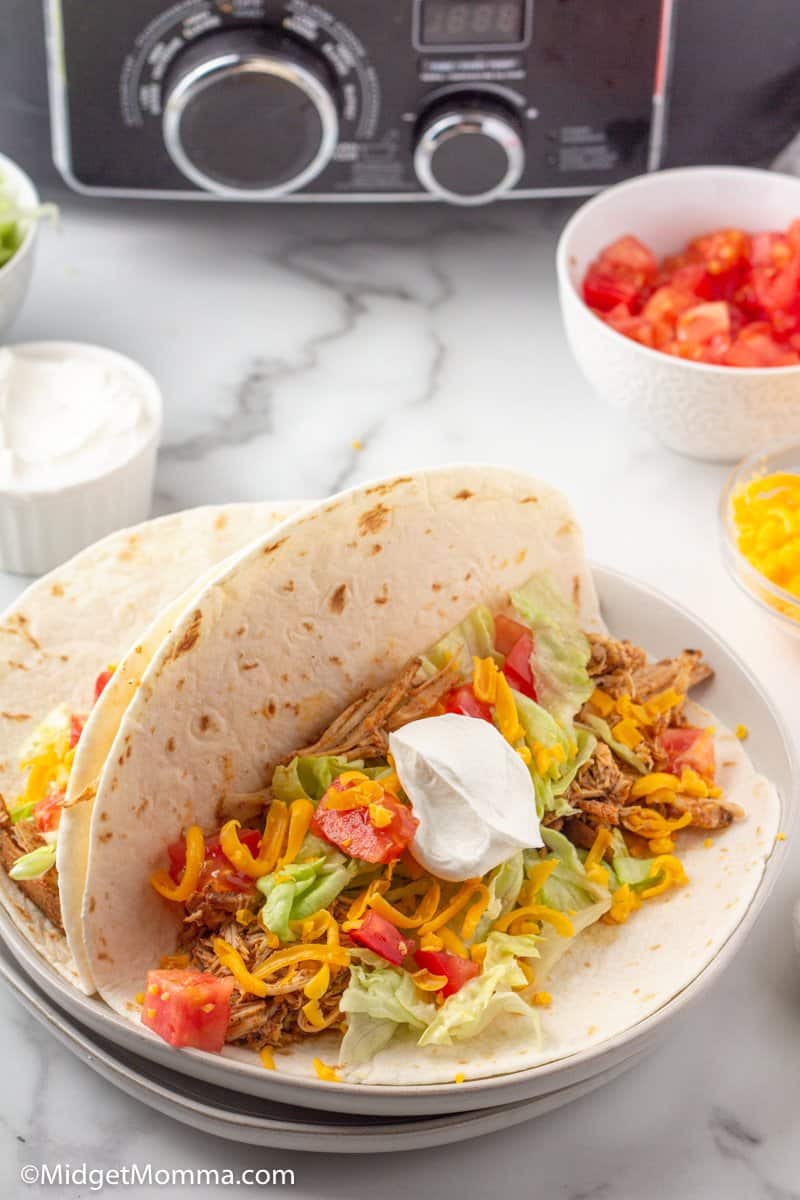 How to Store Leftovers
Leftover crockpot chicken taco meat can be stored in the fridge for up to 4 days. Just allow it to cool first and place it in an airtight container.
Taco salad makes a great lunch – and this chicken tastes great cold – but I do not recommend combining all ingredients the night before. I would keep your vegetables and toppings in one container, then add the meat and any sauces separately. Then combine everything just before enjoying.
Can I Freeze Chicken Taco Meat?
Yes! If you want to prep meals you can make this chicken taco meat, let it cool completely and then store in aa zip close freezer bag and freeze. Iit will keep in the freezer for about 6 months. Then when you want to make an easy dinner, just defrost, reheat and serve.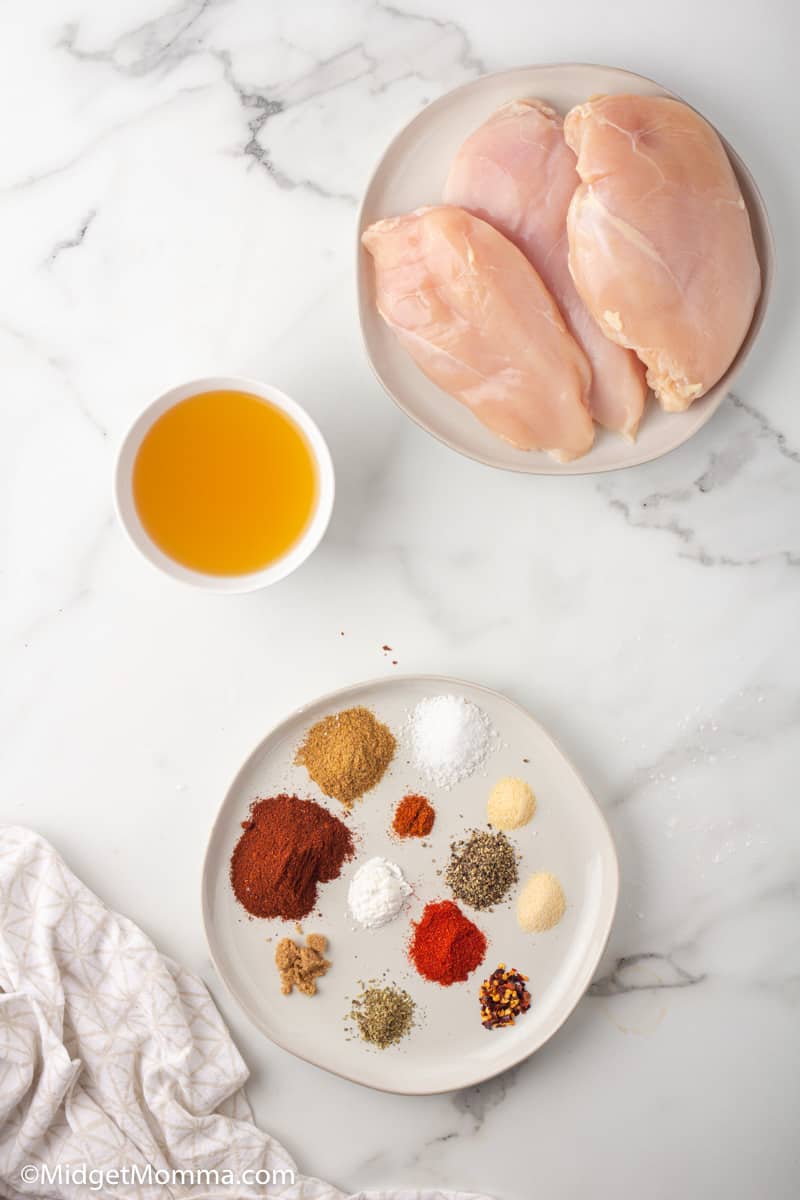 Easy Crockpot Chicken Tacos Ingredients
boneless skinless chicken breasts
Chicken Broth
Garlic Powder
Onion Powder
Crushed Red Pepper Flakes
Oregano
Brown Sugar
Chili Powder
Cumin
Salt
Black Pepper
Paprika
Corn Starch
Cayenne
How to Make Slow Cooker Chicken Tacos
Spray your crockpot with nonstick spray. Add all liquid and spice ingredients to slow cooker and stir so they are blended.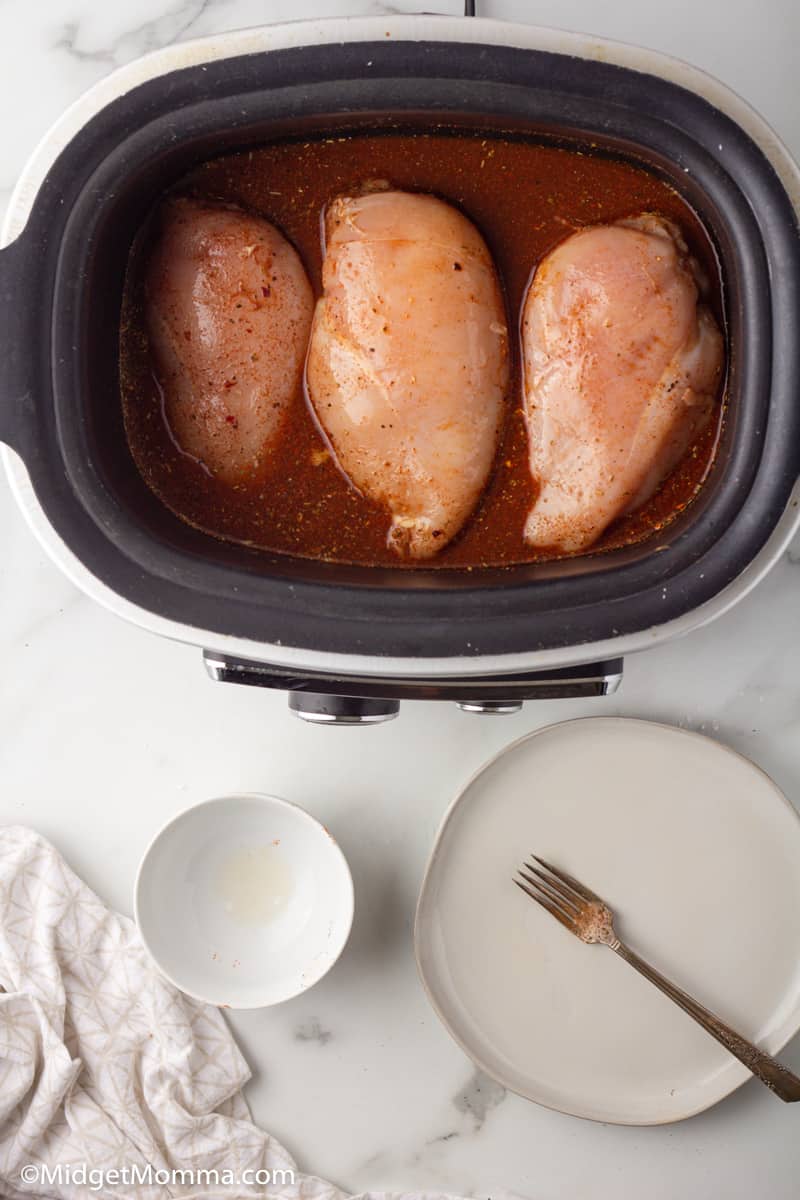 Then add in the chicken, put the lid on and cook on low 6 hours.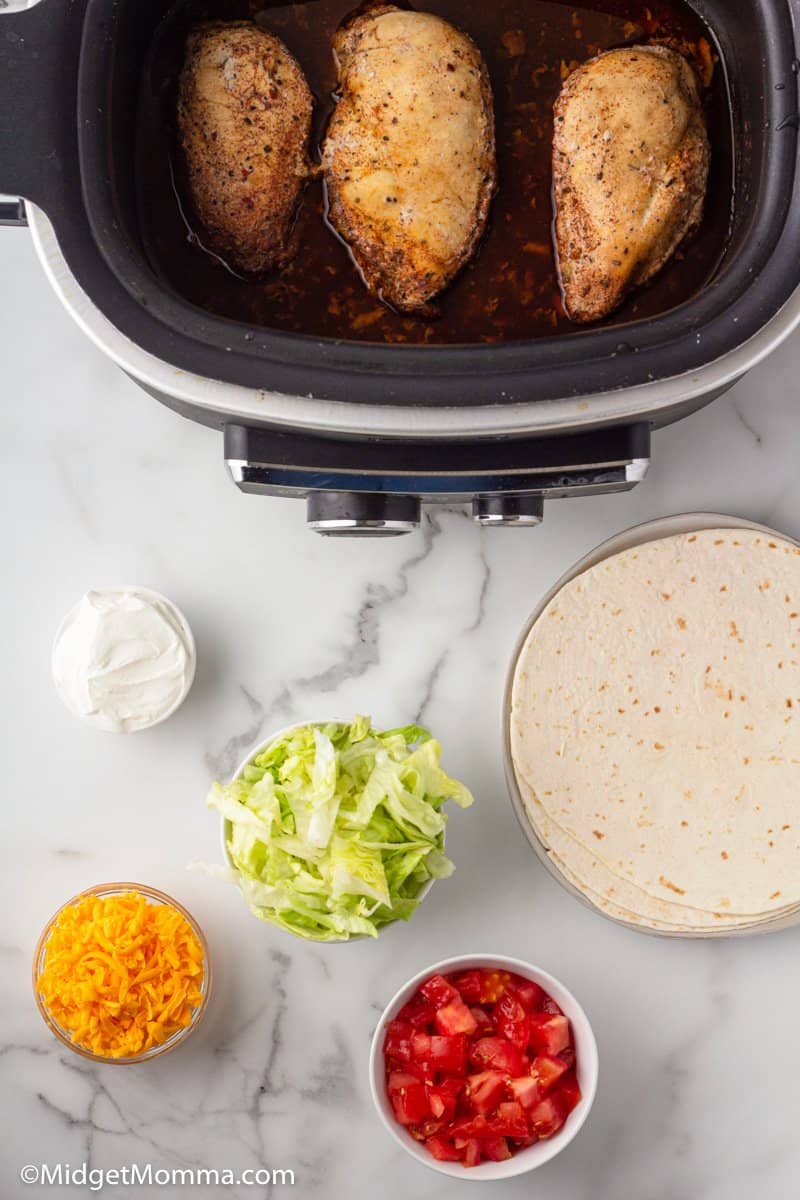 After the 6 hours, use a fork to shred the chicken and let it cook for an additional 30 minutes.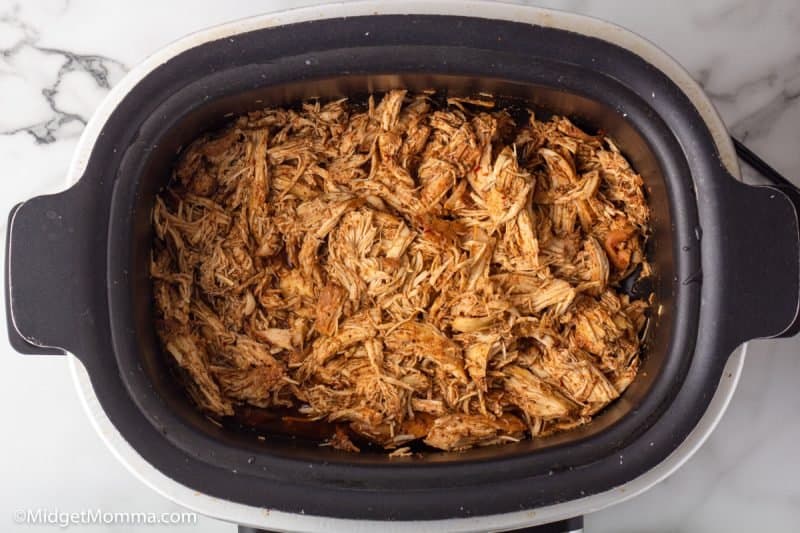 Easy Chicken Recipes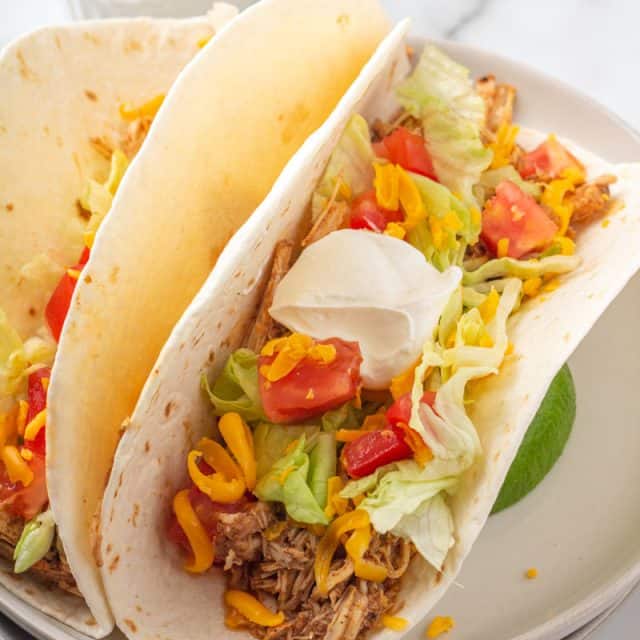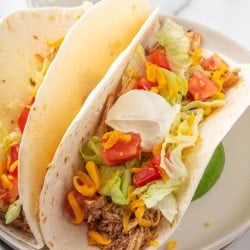 Easy Crockpot Chicken Tacos
Servings
Crockpot Tacos are the perfect meal for a busy day. Cook the amazing chicken taco meat in the crockpot and then top with your favorite taco toppings.
Instructions
Spray your crockpot with nonstick spray.

Add all liquid and spice ingredients to slow cooker and stir so they are blended.

Then add in the chicken, put the lid on and cook on low 6 hours.

After the 6 hours, use a fork to shred the chicken and let it cook for an additional 30 minutes.
Calories: 211kcal | Carbohydrates: 17g | Protein: 18g | Fat: 7g | Saturated Fat: 1g | Cholesterol: 48mg | Sodium: 701mg | Potassium: 401mg | Fiber: 2g | Vitamin A: 570IU | Vitamin C: 3.6mg | Calcium: 38mg | Iron: 1.4mg
chicken tacos, slow cooker chicken tacos
Dinner
1 SmartPoint on Weight Watchers FreeStyle Plan for seasoned chicken
Add points as applicable for taco shell and toppings
On Weight Watchers? Check out these other great Weight Watchers Recipes.