Funfetti Sandwich Cookies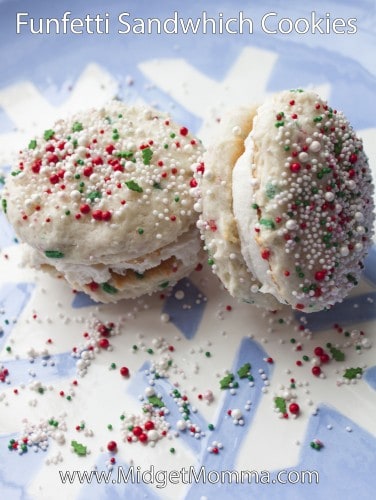 There was a great sale on cake mix at the store and I was so excited I bought a few to many. I need a way to use them up that wasn't going to be another cake. The great thing is you can use a cake mix to make cookies with just a few changes to the ingredients. For a great buttercream Icing recipe go here  you will only need half the recipe.
Funfetti Sandwich Cookies Ingredients
1 box of funfetti cake mix
3 egg whites
1/3 cup oil
holiday sprinkles (optional)
buttercream frosting
Funfetti Sandwich Cookies Directions
Combine egg whites and oil. Beat lightly with fork. Add cake mix and stir until thoroughly moistened. Shape into 1 inch balls and place on lightly greased cookie sheet. Flatten to 1/4 inch thickness and sprinkle the sprinkles on top. Bake at 350 for 7-9 minutes or until very lightly golden brown around the edges. Let cool one minute before removing from cookie sheet. Spread some buttercream frosting on bottom of one cookie and than place another on top.