Cookies and Cream Cookie Sandwiches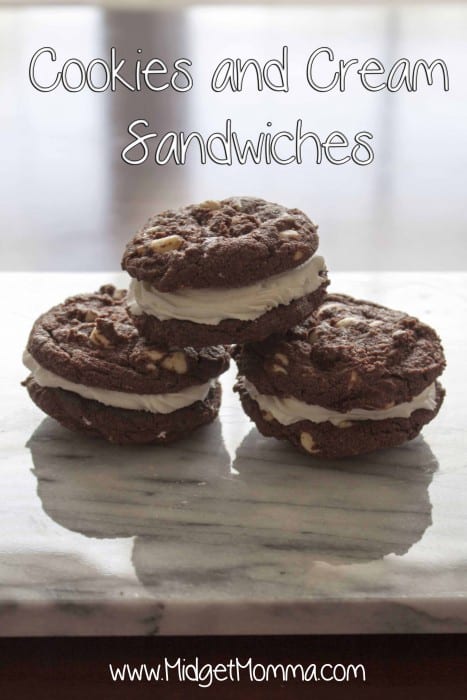 There is just something about the combination of chocolate cookies and buttercream that just go so well together. I like to add white chocolate chips to add the white color to the chocolate cookies. You can make them look fancy by adding a star tip to your piping bag.
Cookies and Cream Cookie Sandwiches Ingredients
homemade Cookie ingredients
1 cup (2 sticks) cold, unsalted butter, cubed
1¼ cup sugar
2 large eggs
½ cup dark cocoa powder
2¼ cups all-purpose flour
¼ tsp. coarse salt
1 tsp. baking powder
2 cups white chocolate chips
Buttercream filling ingredients
1/2 Cup of Softened butter
1/2 Cup of vegetable shortening
1 Pounds of confectionery sugar
3/4 Tablespoons of hot water
1 Teaspoons of vanilla extract
Cookies and Cream Cookie Sandwiches Directions
homemade Cookies
Preheat the oven to 350˚ F. Line baking sheets with parchment paper or silicone baking mats. In the bowl of an electric mixer, combine the butter and sugar. Beat together on medium-high speed until light and fluffy, 2-3 minutes. Blend in the eggs one at a time, scraping down the bowl as needed. Mix in the cocoa powder until well blended. Add the flour, salt and baking powder to the bowl and mix on low speed just until incorporated. Scoop out a tablespoon of dough and roll it into a ball. Bake 12-16 minutes. Let cool on the baking sheets 5-10 minutes, then transfer to a wire rack to cool completely.
homemade Buttercream filling
Start off by mixing the soft butter and shortening together till nice and creamy on medium speed. Turn the mixer down to the lowest setting and slowly incorporate the powdered sugar into the shortening mixture. Once you have added all the sugar to the mix add in the hot water and the vanilla. Turn the mixer up to medium-high speed and continue mixing for 10 minutes until light and fluffy.
Assembly
Place your buttercream in a piping bag or a freezer bag with the corner cut off. Take one cookie and pipe the buttercream onto the cookie and top with another cookie. Enjoy!