If you are looking for beautiful Christmas Homemade Sugar Cookies then you are going to love these Christmas Tree Homemade Sugar Cookies. Not only do they look amazing but they taste amazing too! Made with my No Spread Sugar Cookie Recipe and my amazing Royal Icing recipe these Christmas Tree Sugar Cookies are sure to be a crowd pleaser!
These Christmas Tree Sugar Cookie are an elegant looking Christmas tree, that looks like the snow just started to catch on its limbs.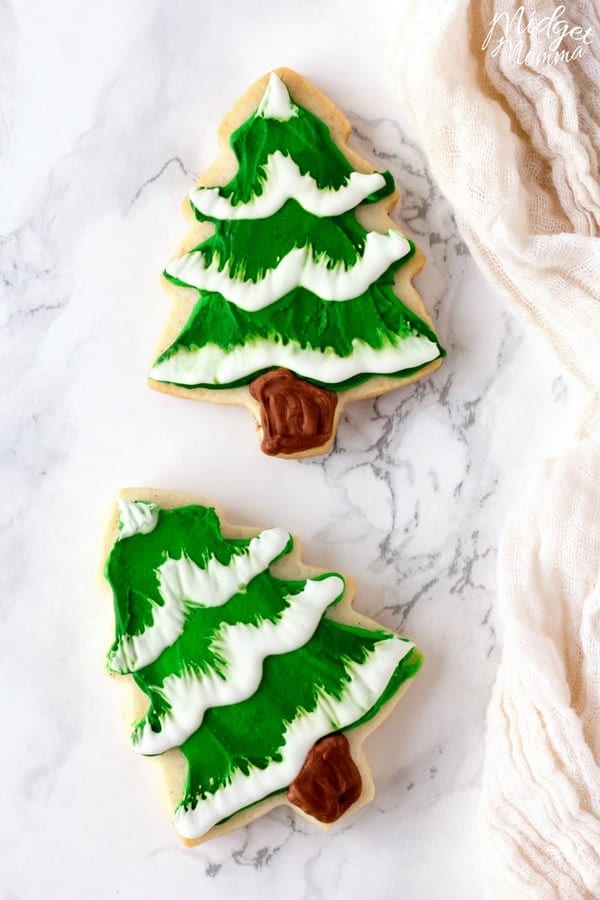 In this recipe, you'll see me referring to that icing in the second method. This method is all about how long the icing takes to go back into itself. Don't be worried it is really easy. Just count the seconds it takes when you test squeezing the icing from the icing bag.
To make it a faster second you will need to slowly add water to your icing. You can learn all about this in my tips of royal icing seen here.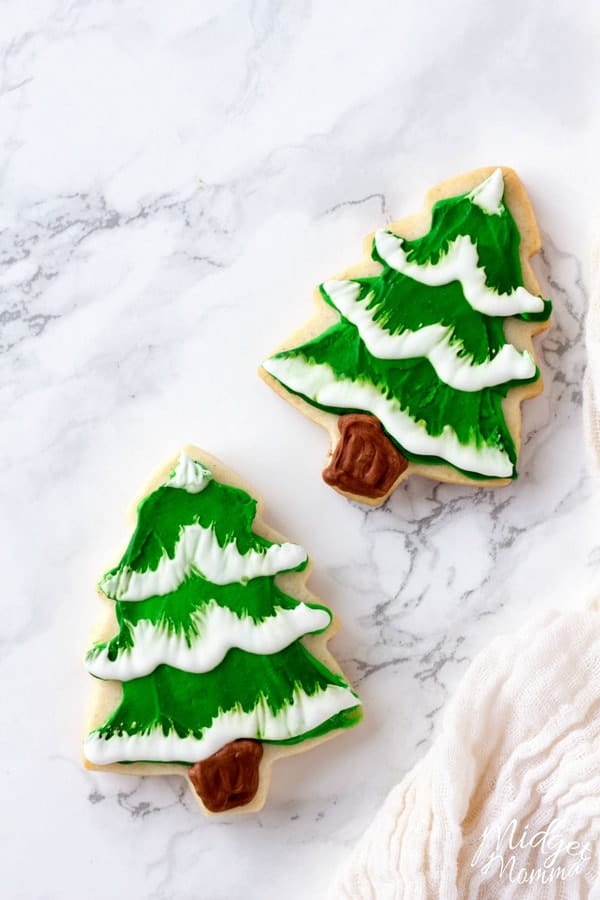 Check out these other AMAZING Christmas Cookie Recipes
Whoville Cookies Christmas Sugar Cookie Recipe
Chocolate Dipped Nutterbutter snowmen
Reindeer Poop Christmas Cookies
Minion Christmas Sugar Cookies
Homemade Sugar Cookies Christmas Trees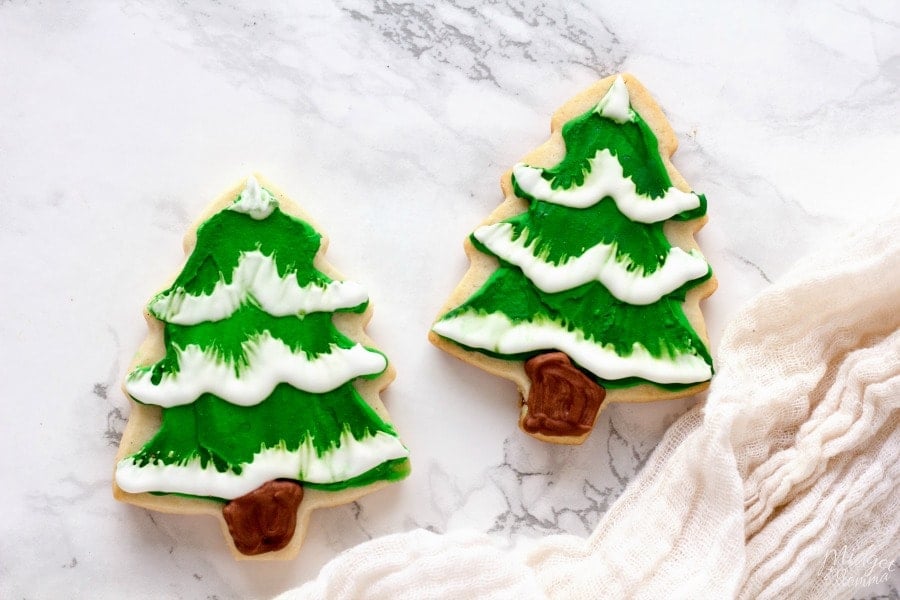 Christmas Tree Homemade Sugar Cookie Ingredients
Supplies
Christmas Tree Sugar Cookie Directions
After your dough has been rolled out and refrigerated for half an hour cut your trees with the cookie cutter from the dough.
Place the rectangles onto a sheet pan lined with parchment paper or a silicone mat, bake at 350 for 8 to 10 minutes or until the cookies have browned on the edges.
Move the cookies to a cooling rack and allow them to completely cool.
When your cookies are cooling prepare your royal icing.
Place 2/3 of your royal icing into one bowl and color it green. Divide the remainder of the icing into two bowls and color one bowl brown.
Place your green, brown, and white royal icing into their own pastry bag with number 3 straight pastry tip.
Pipe the outer border of the green on your tree. Remove the green icing from your bag and thin it out to a six-second icing and flood in the tree using a toothpick to fill in any holes.
With your brown icing add your outline to the stump. Remove the brown icing from your bag and thin it out to a six-second icing and flood in the stump using a toothpick to fill in any holes.
With your white icing add wavy lines to the tree only working on one cookie at a time. While your icing is still wet take a damp paintbrush and gently thin out the icing upward.
Approximately 9 Weight Watchers SmartPoints per cookie on the Freestyle Program.
More Christmas Cookies to check out:
More Sugar Cookies to Check out:
More Holiday fun to check out!
If your kiddos love Santa then be sure to check out How to Facetime Santa! Plus you can also call Santa on the FREE Santas Phone Number!
If you do Elf on the Shelf, then make sure you check out all the Elfy fun we have for you! 
Elf on the Shelf Letter – Perfect Elf on the shelf printable letter that you can print out and have your elf on the shelf bring with him or her when he comes to visit! Plus this Elf on the Shelf Rules printable is awesome to print out and hang on the wall for the kids!
If you are stuck on Elf Names, Check out this awesome list of 110 Elf on the shelf names! We have girl elf names and boy elf names!
You should also check out these funny elf on the shelf ideas! There are over 135 Elf on the Shelf Ideas that kids will love! If you are running short on time, then make sure you check out this list of Quick Elf on the Shelf ideas! Plus we have Elf on the Shelf Ideas for Toddlers, Reasons Elf did not move, Elf on the Shelf Ideas calendar, Easy Elf on the Shelf Ideas, and How to put Elf in a Water bottle!
Looking for Christmas cookie recipes? Check out our 12 Days of Christmas cookies and our 25 Days of Christmas cookies.
Of course you probably need some Christmas treats for the kids to, so make sure you check out the 16 Christmas treats for kids, for some really fun and tasty kids Christmas treat!
If you are looking for crafts to do with the kids check out the awesome list of Christmas Crafts for kids. There are some really awesome handprint and foot print crafts that are perfect for gifts and keepsakes!
Join the newsletter
Subscribe to get our latest recipes right in your inbox every time we post a new one!
Join the newsletter
Subscribe to get our latest content by email.
This post may contain affiliate links. Please read my disclosure policy here