If you are looking for the MOST AMAZING Pumpkin Chocolate Chip cookie THIS IS IT! Yes there is a reason I am putting that all in bold, they seriously are! These easy pumpkin chocolate chip cookies are a staple in our fall baking every single year! I can't think of year in the past 10 years that we have not made these Pumpkin Chocolate Chip Cookies, and we don't make them just once!
Pumpkin Chocolate Chip Cookies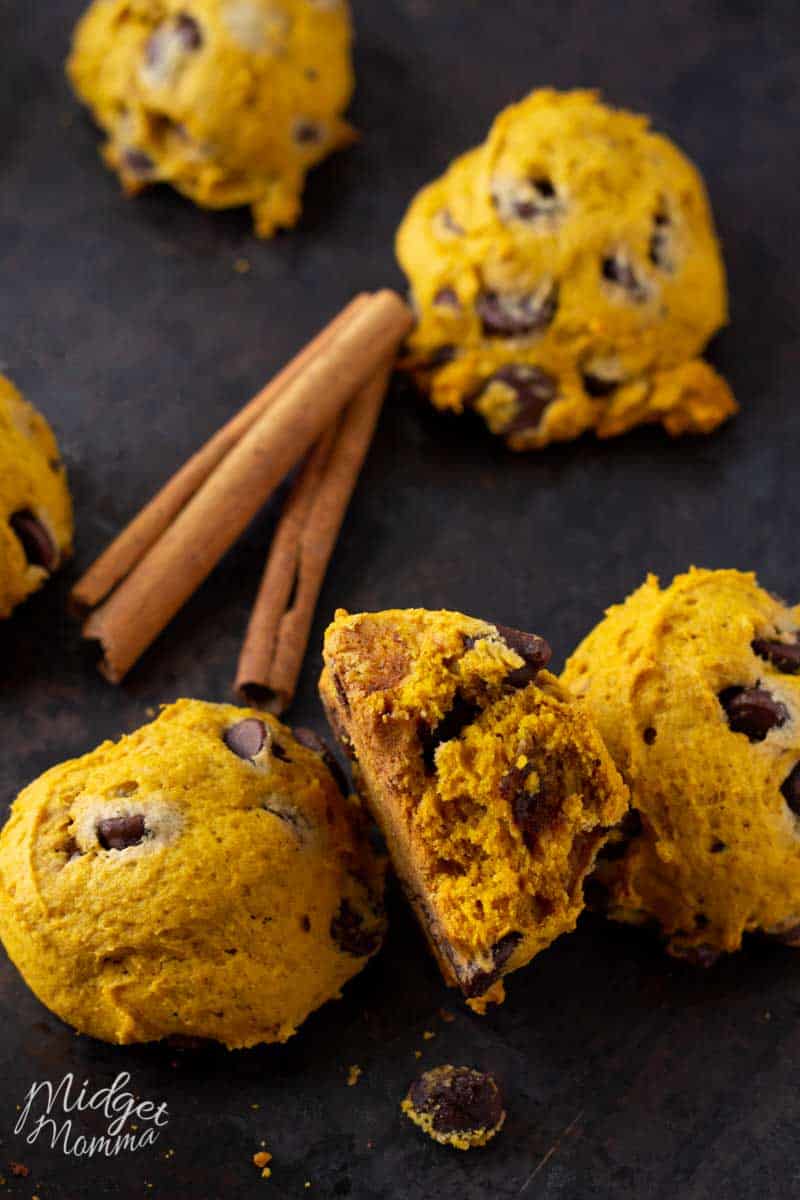 I make these Pumpkin Chocolate Chip Cookies every single year(actually multiple times a year but I gave up counting how many times LOL) , and they are GONE fast! I probably should start making a double batch of them, but I seem to always forget just how fast my kids are going to swipe them from the tray before they are even done cooling. But in all seriousness, once the weather starts getting chilly and the kids(and Tom) see pumpkin spice being mentioned I am hounded daily about when I am going to make these amazing soft pumpkin chocolate chip cookies.
I will hear "Mom are you making the amazing pumpkin blob cookies", " Mom is it cold enough for pumpkin chocolate chip cookies yet", "Mom, I brought you all the ingredients from the pantry even though you didn't ask for them so you can make the pumpkin chocolate chip cookies" until I make them. Tom may have joined them a few times over the years, but I will be nice and not out him for his love for these amazing soft pumpkin cookies with chocolate chips… that wouldn't make me a very nice wife. 😉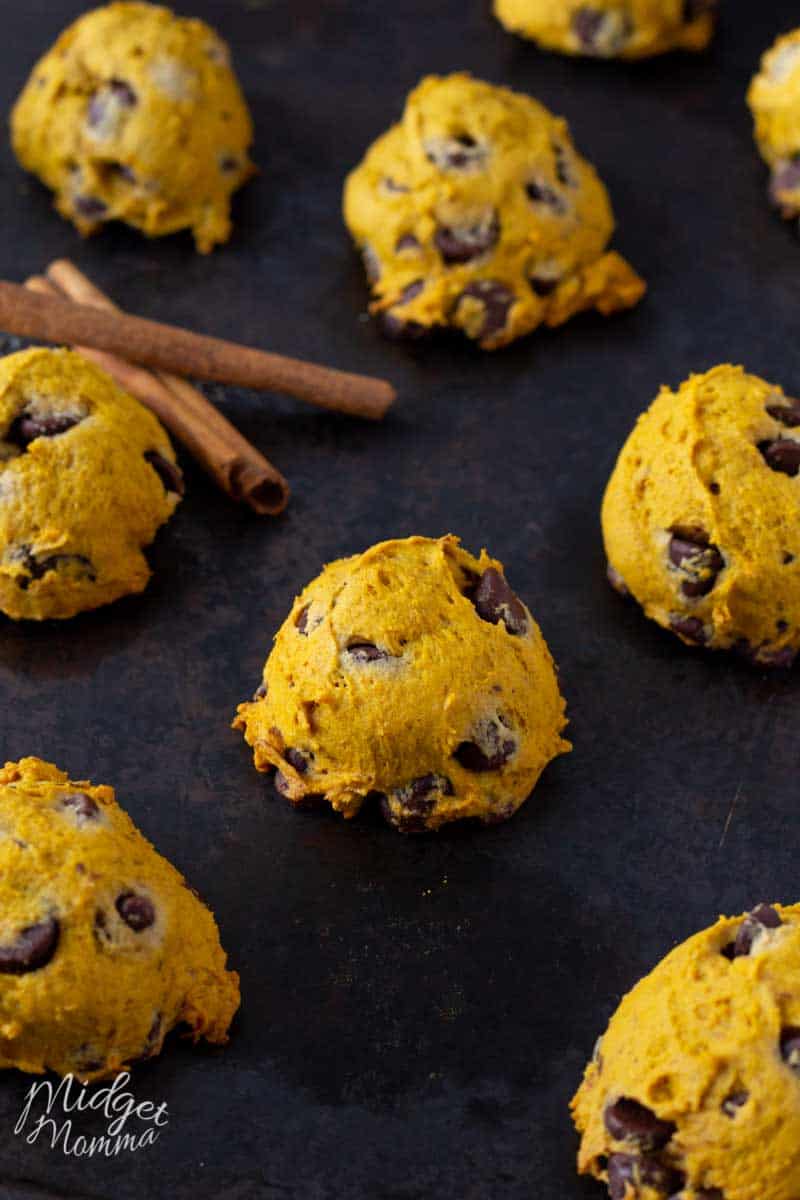 Easy Pumpkin Cookies
One thing I love about making these, is that I can literally dump all the ingredients into my KitchenAid Mixer (well aside from the flour, that has to be put in one cup at a time) and let it all mix together. Ok so it does get a little messy, but that is a-ok! These pumpkin chocolate chip cookies are so worth the mess!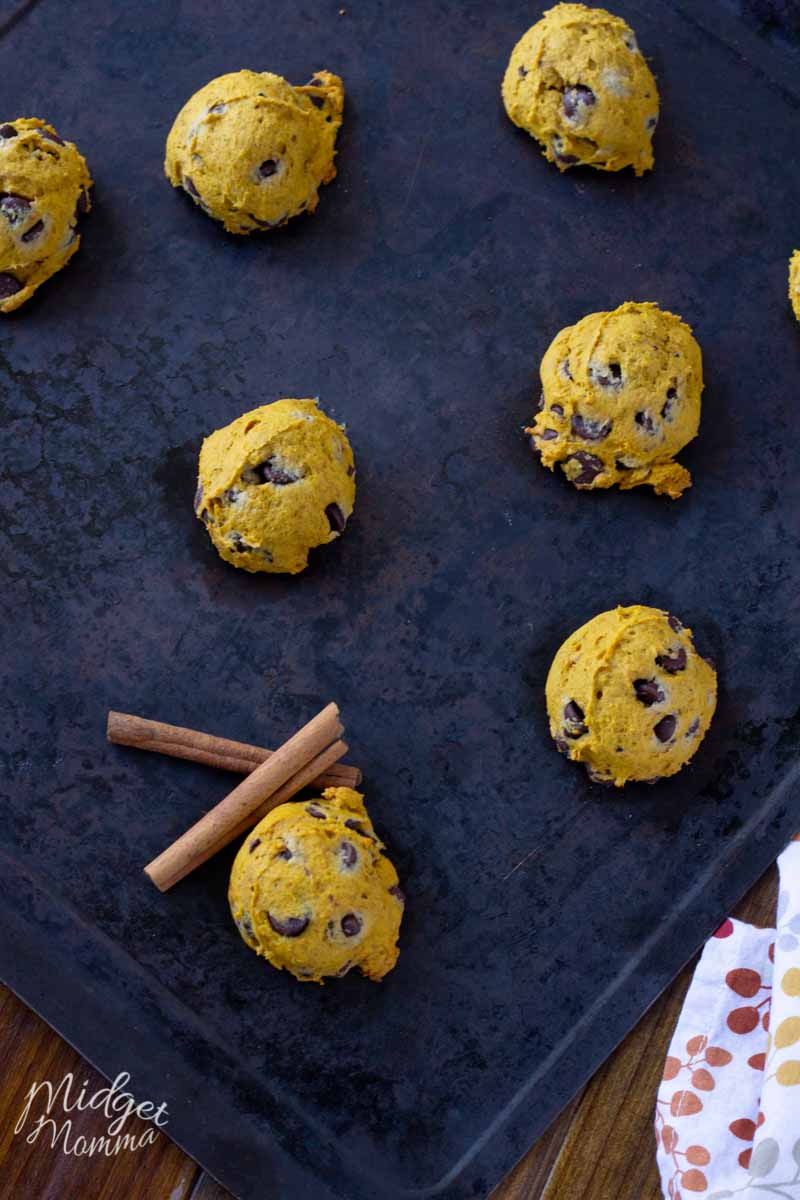 Soft Pumpkin Chocolate Chip Cookies
Now before anyone starts freaking out when they take their cookies out of the oven, yes they are going to look like blobs! They are blobs of amazing pumpkin chocolate chip cookie goodness. These cookies don't spread at all, they don't really puff up either. They kinda just bake, so have no worries if you are looking at them waiting for them to grow or puff up, that is not going to happen. And that is just how you want these amazing chocolate chip pumpkin cookies to be!
You also might be tempted to keep these pumpkin cookies in the oven past 12 minutes, because they don't look done… DO NOT do that! Seriously you will end up with burnt chocolate chip pumpkin cookies, and that will make everyone sad!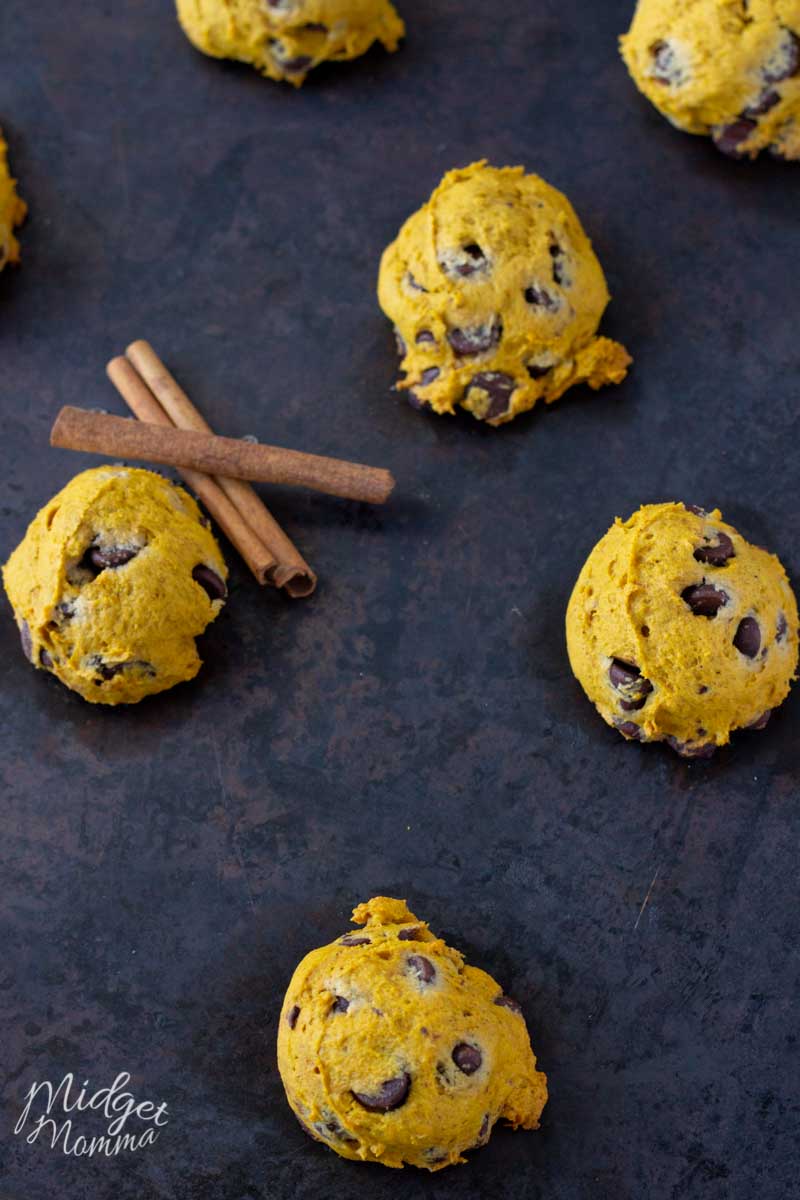 Also another warning it this recipe will make a LOT of cookies, not that they will last very long, but if you are not having a party then you probably do not want to double the recipe. If you are having a party then you will want to double it, they won't last long! One bite and they are going to being going MIA off the cookie dish!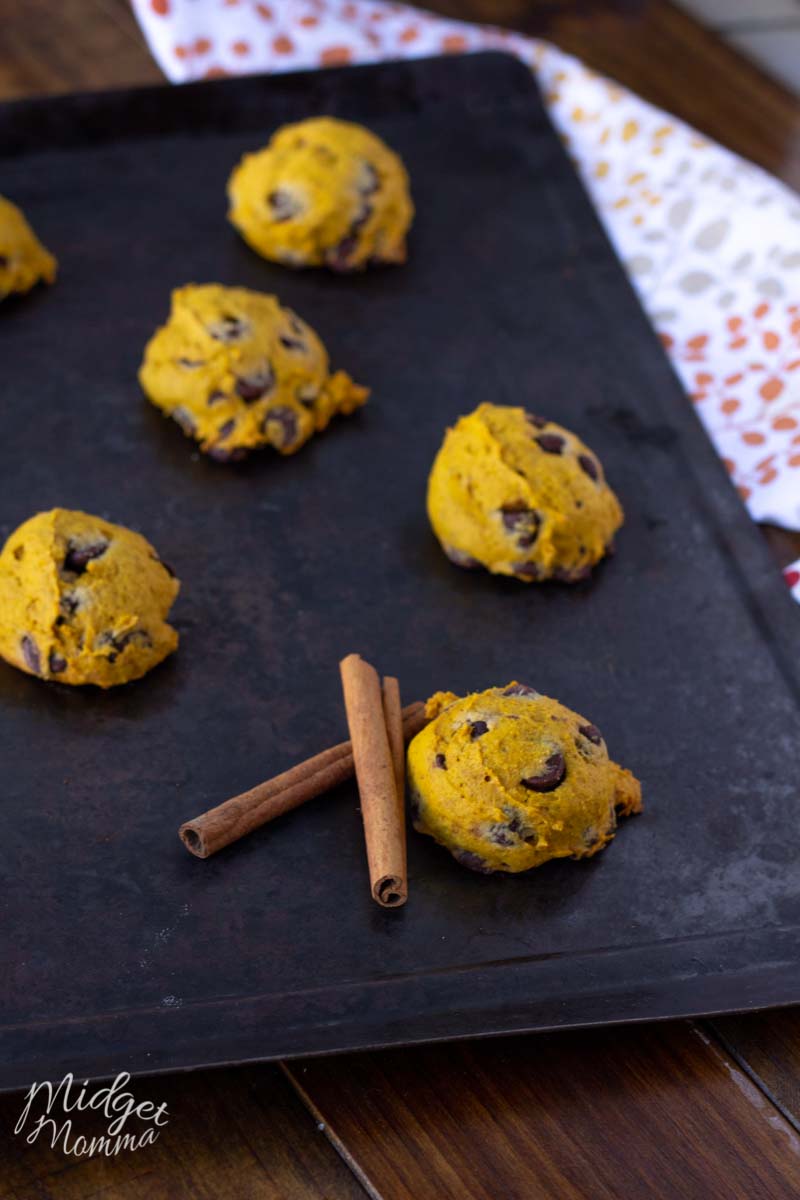 And just for the sake of making sure you are aware before you start baking, yes these soft delicious pumpkin chocolate chip cookies are going to look like giant blobs on your cookie tray even when they are baked, and no you do not want to bake them longer then 12 minutes! Ok, now that I have said that again I think we are good to move on to the Pumpkin Chocolate Chip Cookies Recipe.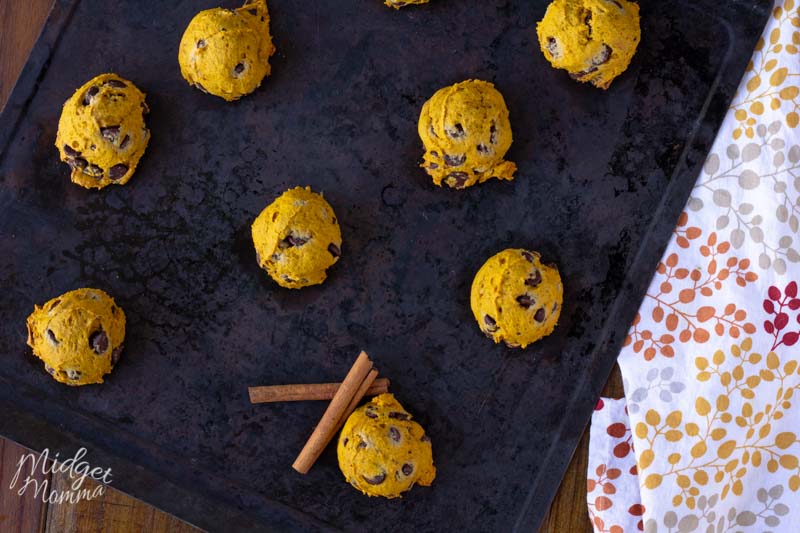 How to make Pumpkin Chocolate Chip Cookies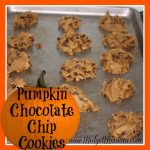 Pumpkin Chocolate Chip Cookies
These Pumpkin Chocolate Chip Cookies are the BEST cookie you are ever going to make!
Pin Recipe
Print Recipe
Servings
25
2 cookies per serving
Instructions
Preheat oven to 350 degrees

Mix all of the ingredients but the flour and chocolate chips in your mixer (you can use a bowl and spoon but it is easier in a mixer) and mix, add in the 4 cups of flour 1 cup at a time.

When that is well mixed add in your chocolate chips and stir again

Plop cookie dough on baking sheet. Bake for 10-12 minutes DO NOT OVER BAKE, after 10 minutes watch them to make sure they do not burn 🙂
Nutrition
Calories:
310
kcal
|
Carbohydrates:
41
g
|
Protein:
3
g
|
Fat:
14
g
|
Saturated Fat:
7
g
|
Cholesterol:
10
mg
|
Sodium:
122
mg
|
Potassium:
156
mg
|
Fiber:
2
g
|
Sugar:
22
g
|
Vitamin A:
130
IU
|
Calcium:
32
mg
|
Iron:
2.1
mg
14 Weight Watchers SmartPoints on the Freestyle Program per serving, or 7 points per cookie
If you do a lot of cooking, then make sure you grab the How Many Pints in a Quart? and all other liquid measurements you need plus a printable chart! It is so easy to print out, and stick on the fridge so you have easy access to all of your liquid measurements when you are cooking in the kitchen!
If you are looking for more amazing pumpkin recipes, be sure you check out these!
Join the newsletter
Subscribe to get our latest recipes right in your inbox every time we post a new one!
Join the newsletter
Subscribe to get our latest content by email.