Love meringue cookies? Wait until you try these Mint Chocolate Chip Meringue cookies. One bite and you will be going back for seconds.
These amazing cookies are one of my kids favorites, the combination of mint and the meringue cookie make these Mint Chocolate Chip Meringue cookies the perfect cookie. Seriously, you are going to love this recipe! They are full of flavor and the perfect melt in your mouth texture that you want when you are making meringue cookies.
Mint Chocolate Chip Meringue cookies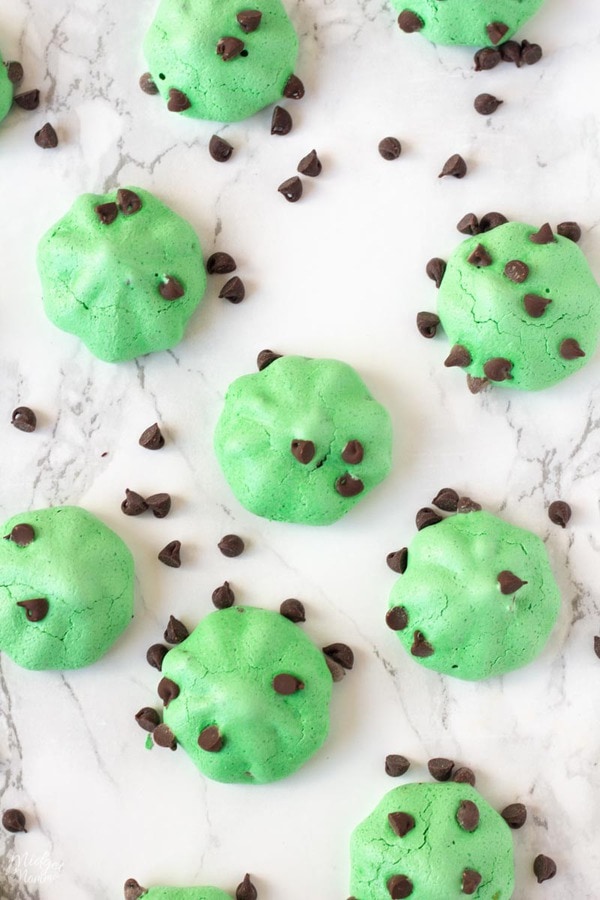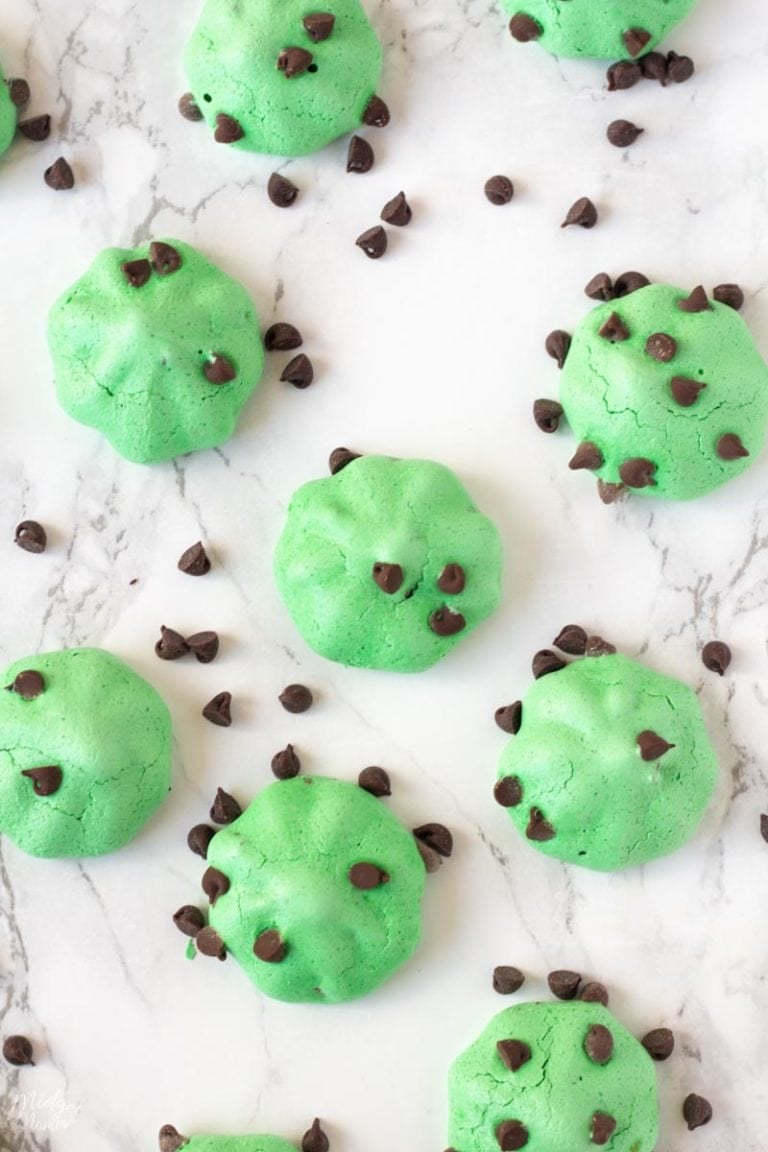 What are Meringue Cookies?
Meringue cookies are light and airy cookies that are made from egg whites and meringue. Then they are baked at a low temperature until the meringue dries out.
Happy Accidents Make Delicious Mint Chocolate Chip Meringue Cookies
I will be the first to admit that even though I have a college degree in baking and pastry arts I am human and I make mistakes. Thankfully my education has given me the tools I need to see these mistakes and fix them.
I had forgotten to add the peppermint extract when I was making my meringue Christmas trees. I wasn't just going to throw all of this away, I decided to take my mistake and turn into something new. Since this was a green mint meringue my thought instantly went to a mint chocolate chip meringue.
My daughter's favorite ice cream flavor is mint chocolate chip so I thought she would love to have these cookies in her school lunch as a surprise. I was right, after she tried them she LOVED them!
The great thing about these cookies is they are a gluten-free option. I have a friend who is gluten intolerant and normally I don't have that many options for her to be able to eat. Finally, she was able to come over and enjoy baked good with the rest of us.
Looking for More Meringue Cookies?
If you're looking for other fun meringues check these out!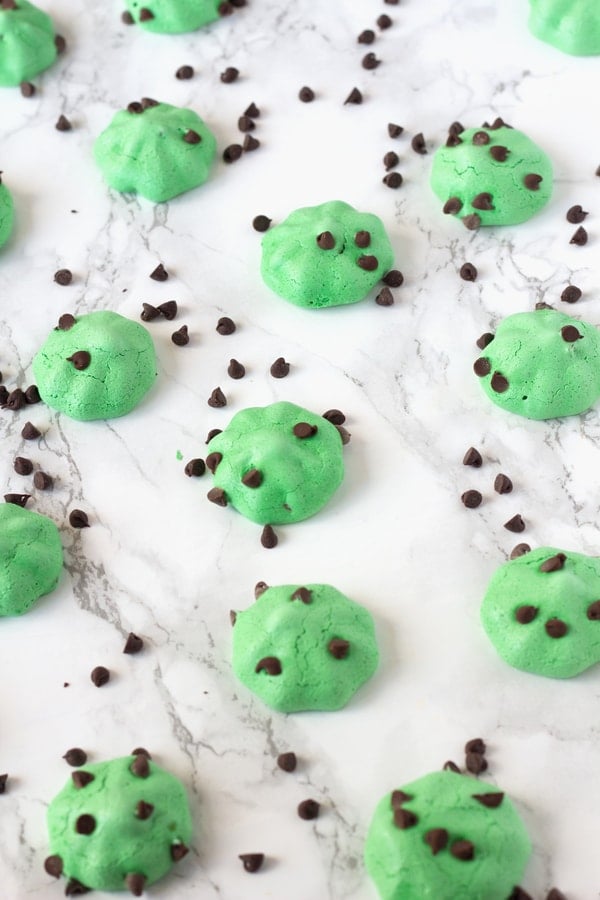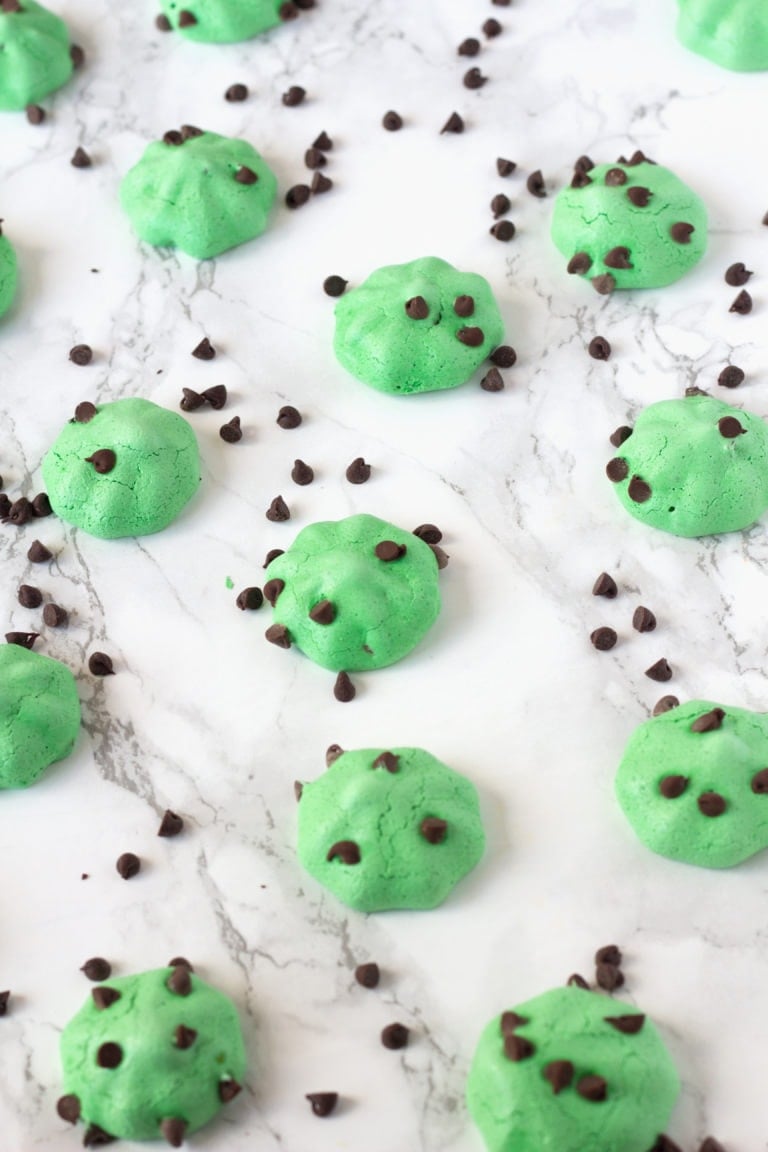 How long do meringue cookies last?
You want to store the meringue cookies in an airtight container. It doesn't matter if you choose to store the cookies at room temperature or in the refrigerator. The cookies will remain fresh and crisp for up to two weeks as long as they are stored in an airtight container. I like to put the cookies inside a freezer bag once they are cooled and put that bag inside the container.
Tips for making Meringue Cookies
Follow the steps exact. Meringue is very simple to make but it can be very temperamental if you do not follow the steps. So be sure that you follow the steps exact or you will be sad with the finished meringue cookies. That goes for any meringue cookies you are making, not just this mint meringue cookie recipe.
Use a pastry bag. If you have never filled a pastry bag, it is super simple, just follow the how to fill a pastry bag directions.
Use a StandMixer. You can make these meringue cookies with a hand mixer, however I find is much easier to use a stand mixer. I use my KitchenAid Mixer whenever I am making them. You will also want to use the whisk attachment for your stand mixer.
Watch the Peaks! You will see soft peaks form first when you are mixing the cookie mix, and then after a few minutes the stiff peaks will form from being whisked.
Be gentle! When you are adding the chocolate chips into the mixture, you want to gently fold them in. Do not mix them in like you would with a normal cookie recipe.
Chocolate chip Meringue Cookie Baking Supplies
StandMixer. You can use a hand mixer but I find that using a stand mixer is the best way to make them.
Pastry bags. These are a must to be able to form the cookie shape. You can use disposable pastry bags or a reusable one.
Baking sheets. I like to make sure that I have prepared baking sheets ready before I start making the cookie mix because it makes my life easier.
Measuring spoons. You will need to make sure that you have a tiny one that can measure out 1/16th of a teaspoon.
Silicone Spatula. This makes getting the meringue cookie mixture from the bowl to the pastry bag much easier and you are able to scrape the sides of the bowl clean and not leave much mixture behind.
Large Cooking Pot.
Mint Chocolate Chip Meringues Ingredients
Egg whites. I find it easier to use an egg whites separator verses trying to mess with separating the egg using the egg shell.
Sugar. You want to use regular white granular sugar.
Mint extract. 
Green food coloring. I find that liquid food coloring works better then the gel.
Cream of tartar. 
Following Weight Watchers? Each cookie is 3 Freestyle Weight Watcher Smart Points.
How to Make Mint Chocolate Chip Meringues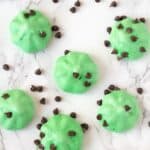 Mint Chocolate Chip Meringue
Pin Recipe
Print Recipe
Cook Time
1
hour
30
minutes
Total Time
1
hour
55
minutes
Instructions
Preheat the oven to 170 degrees.




Get a large pot and fill it with water, bring it to a simmer. (A simmer is when you bring hot liquids just below the boiling point.).

Once the water is simmering take the bowl of your mixer and rest it on top of the simmering water pot. Be sure that the water does NOT touch the bottom of your bowl.

Add the sugar, egg whites and tarter into the bowl. Using a metal whisk, whisk everything until all the sugar has dissolved.

Place your mixing bowl with mixture on your mixer stand and add the whisk attachment.

Using the slow speed beat the egg mixture while adding in the vanilla extract and food coloring.

Slowly increase the speed on your mixer until you are at medium high speed and continue to beat mixture until stiff peaks form.


You will know that the mixture is done, when whisk attachment dipped into mixture leaves a curled but stiff peak when removed.

Gently fold in the mini chocolate chips.

Transfer mixture to a pastry bag fitted with an open star tip and pipe a quarter size cookie on to a baking sheet. Continue until you have used all of the meringue cookie mix.

Bake cookies for 1 ½ hours. Then turn off oven and leave the door slightly ajar for the mint meringue cookies to cool down while in the oven.

Store meringue cookies in an airtight container away from any heat or moisture.
Nutrition
Calories:
54
kcal
|
Carbohydrates:
10
g
|
Sodium:
10
mg
|
Potassium:
8
mg
|
Sugar:
10
g
|
Vitamin A:
10
IU
|
Calcium:
4
mg
|
Iron:
0.1
mg
Looking for more amazing cookie recipes? Check these out!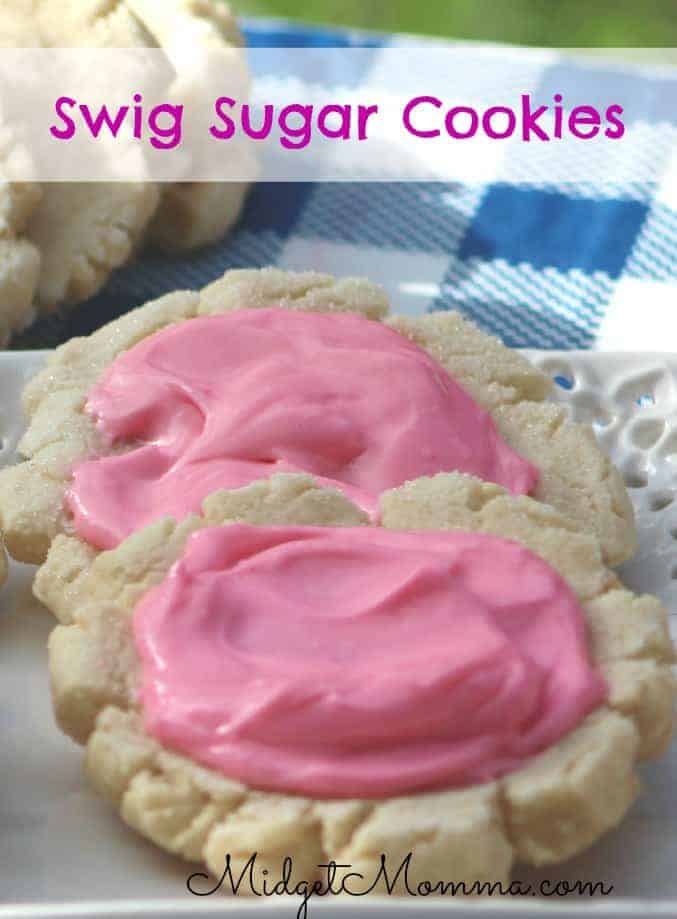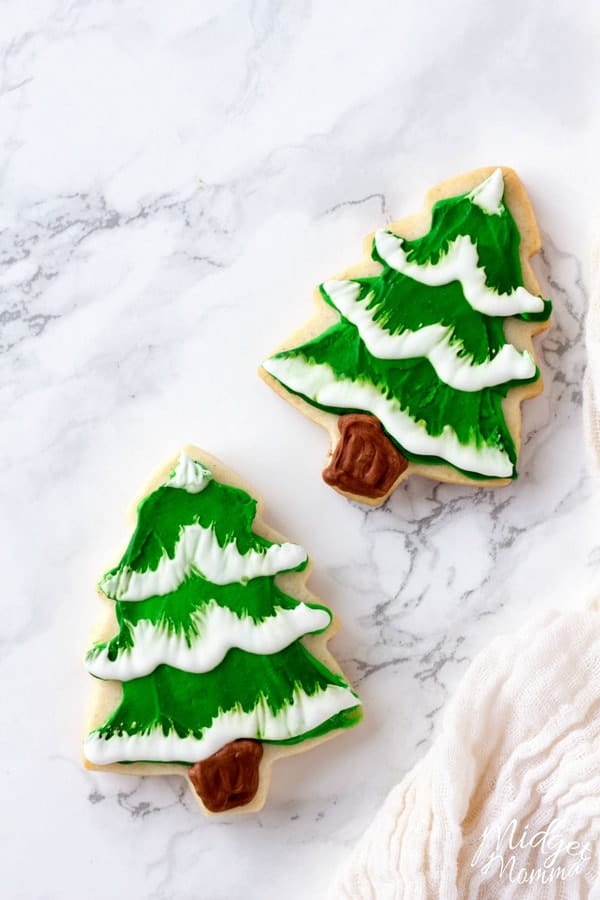 Chocolate Chip Sandwich Cookies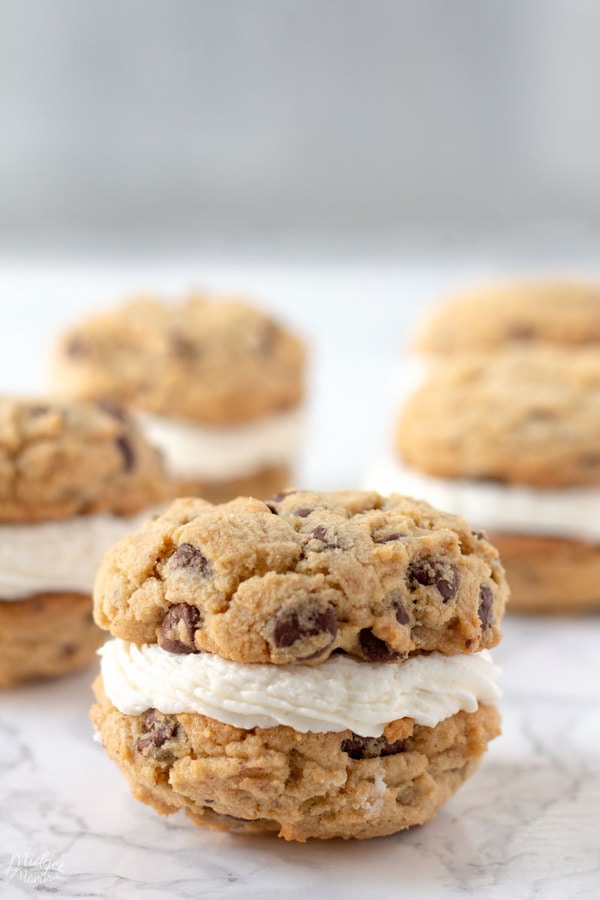 Join the newsletter
Subscribe to get our latest content by email.
This post may contain affiliate links. Please read my disclosure policy here