Our Heart Meringue cookies are such a HUGE hit (over 130,000 repins!) that we felt the next thing needed was Peppermint Meringue Cookies.  These are perfect for St. Patricks Day because these Peppermint Meringue Cookies are in the shape of a 4 leaf clover. The great thing about meringue cookies is they are a simple cookie to make. If you haven't checked out the other cookies you can see the Chocolate Covered Strawberry Meringue Cookies and the Vanilla meringue cookies
Four Leaf Clover Meringue Cookies are very light and airy cookie that has this great crunch factor as soon as you bite into it that instantly melts in your mouth. With the additional green food coloring in a piping bag with a very wide straight tip, you're able to turn these into cute little four leaf clovers.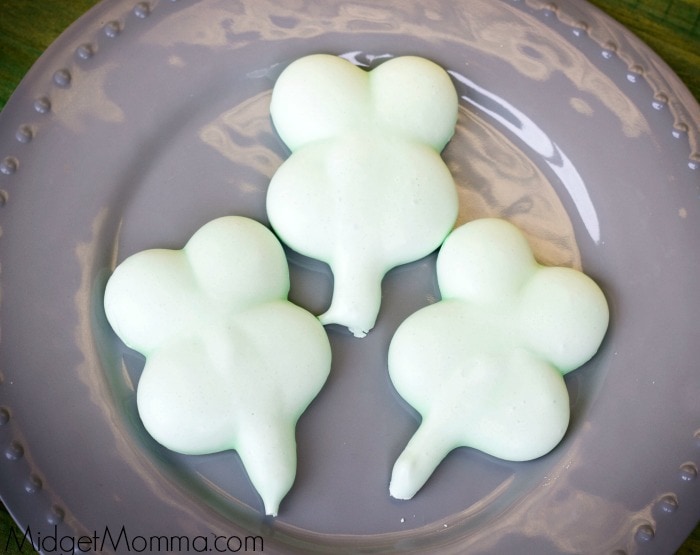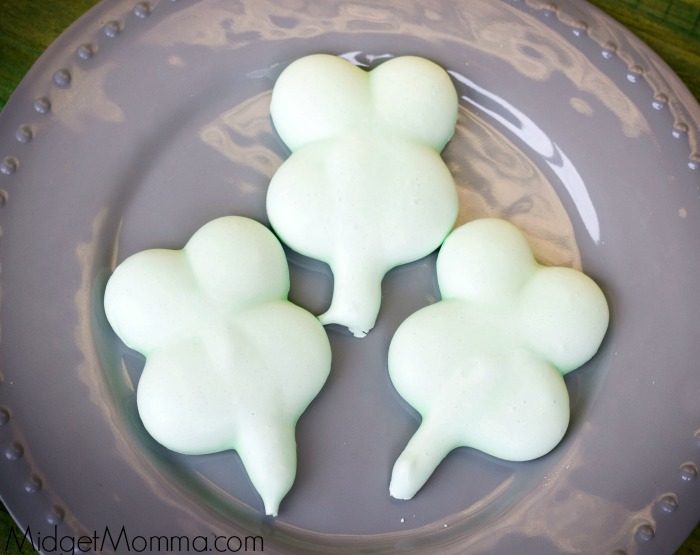 The trick to piping these out is to have your hand around the top of the bag giving it nice even pressure as this squeeze out a small ball. Once you get a nice size for your first pedal of the clover you stop your pressure and move the tip of the piping bag over to the side of the ball. Having control over the pressure of the piping bag is key to even clover shaped.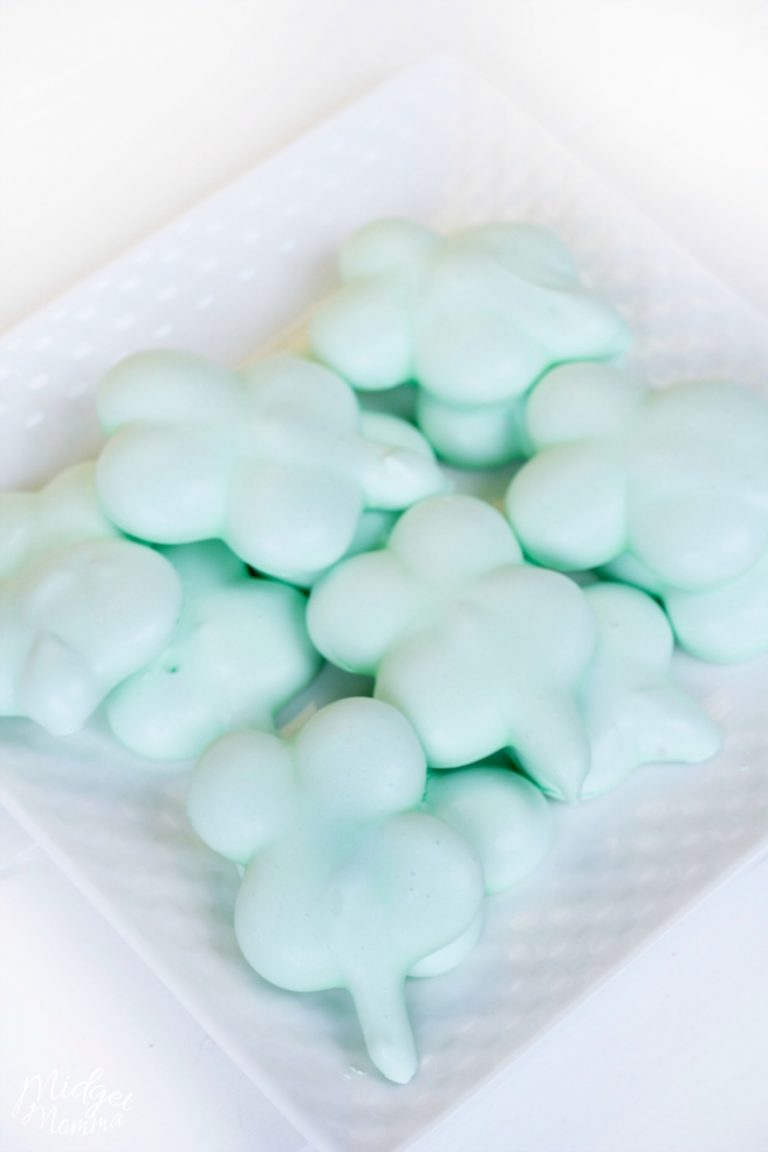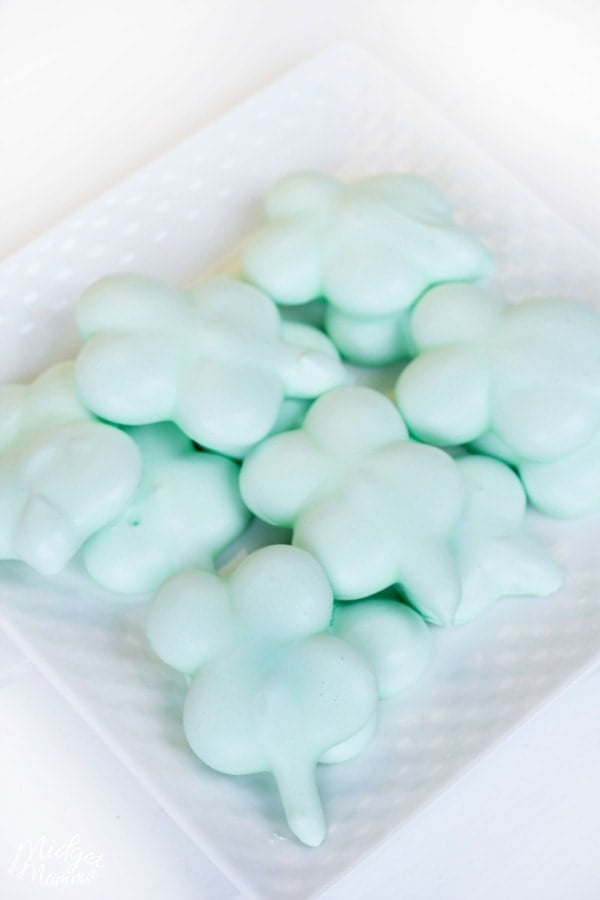 You want to make sure that you are whipping the mixture long enough. If you have a stand mixer these cookies will come out slightly better for some reason the stand mixer can incorporate more air into the batter. If you are using a handheld mixer you just have to keep mixing it for a little while until you get nice soft peaks. You might not think that they're coming but beat it a little longer and you'll get those nice peaks.
When making these Meringue cookies I use my KitchenAid Mixer. Really I use my mixer for just about everything I do in the kitchen. If there is a use for it then I am using it! This is the mixer I have and not only is it awesome for when I need to mix things or anything I am doing they come in a large variety of colors so you can easily match your kitchen! I have the cherry red one!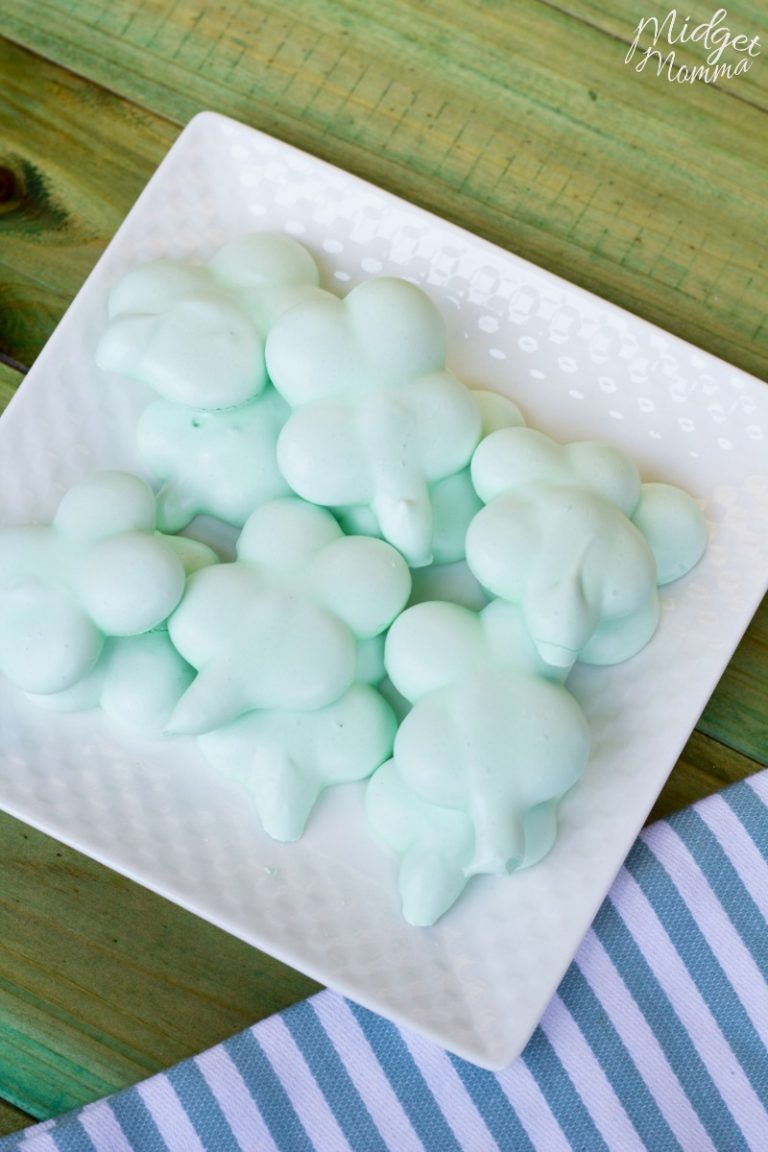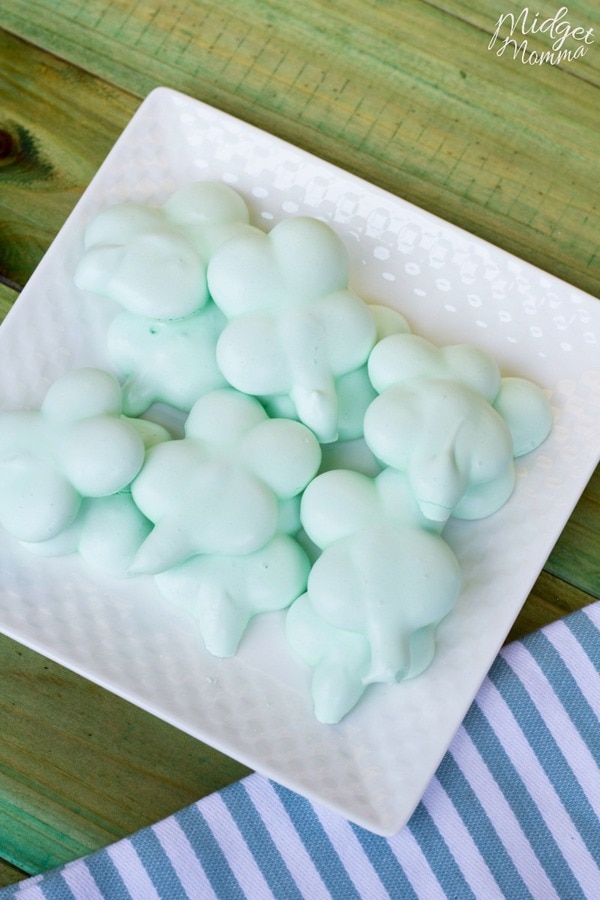 To make your life a TON easier when making these cookies make sure you are using silicone mats – seriously they make the process sooo much easier! You can use parchment paper, however, I much prefer using these silicone mats.
These cookies are best stored at room temperature in an airtight container and enjoyed in just a few days. This recipe makes 24 cookies.
Peppermint Meringue Cookies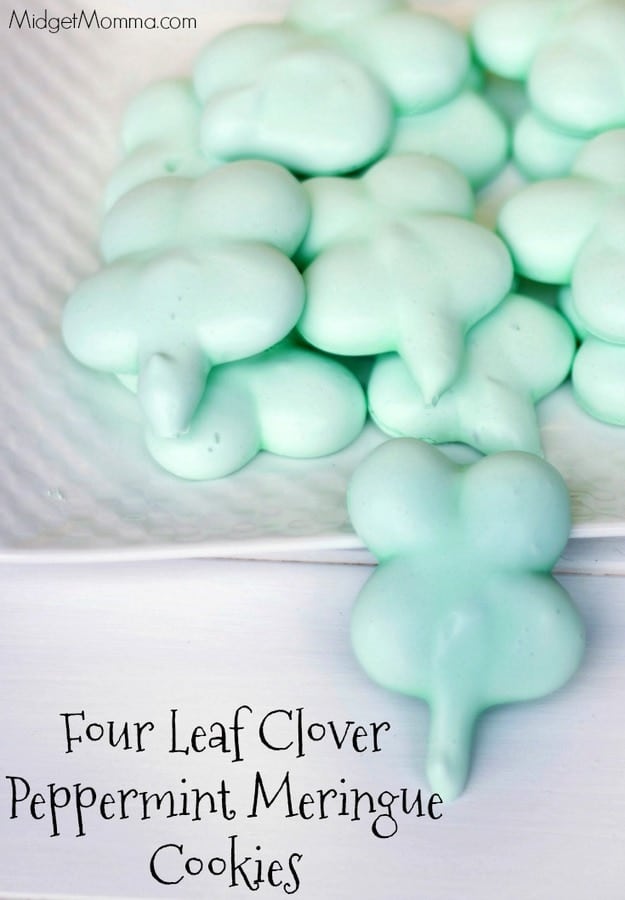 Peppermint Cookies ingredients:
4 eggs whites
1 cup sugar
1 teaspoon of peppermint extract
Green Food coloring
pinch of cream of tarter
Peppermint Meringue Cookies Directions
Line the baking sheets with parchment paper or a silicone mat. Preheat your oven to 175 degrees F.
Combine the sugar, egg whites and tartar in the bowl from your mixer over simmering water. Make sure your bowl is NOT touching the water. Constantly whisk the egg whites until the sugar has dissolved.
Attach the whisk attachment on a stand mixer or a hand held mixture, slowly beat egg mixture. Add in peppermint extract, food coloring and cream of tarter. Slowly increase the speed and continue to beat mixture until stiff peaks have almost formed.
The mixture is ready when whisk attachment dipped into mixture leaves a curled but soft peak when removed. Transfer mixture to a pastry bag fitted with a large straight tip and pipe your four leaf clover. You need to pipe out two balls next to each other. Then pipe two balls underneath with a stem coming out the bottom.
Bake for 1 ½ hours. Then turn off over. Leave the door slightly ajar for meringues to cool down with the oven. Store meringue cookies in an airtight container away from any heat or moisture.
Makes 12 servings 4 Weight Watchers SmartPoints each
Check out this video on How to Make Peppermint Meringue Cookies