Don't stress with How to Stick to a Low Carb or Keto Diet while Dining Out, we have you covered with lots of tips to help you!
If you are dining out and wondering how to stick to keto or low carb is it no where near as stressful as it might sound! Some of these tips will work best for keto dining out and other tips will work best for low carb dining out. All of the tips, will help you stick to eating on plan much easier then just walking blindly into a restaurant.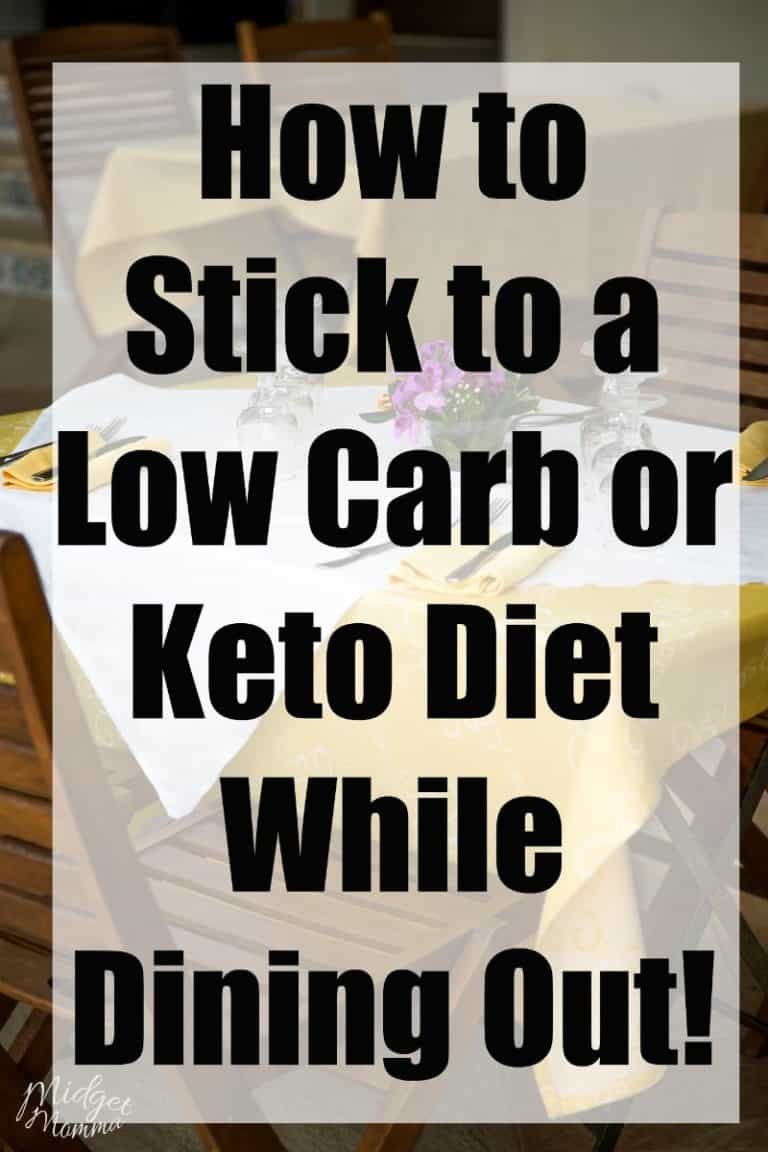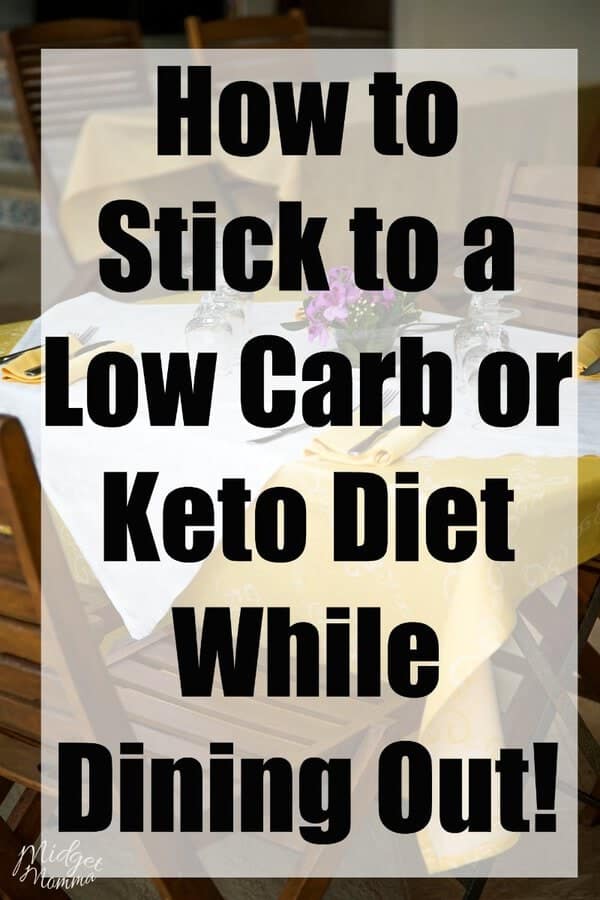 How to Stick to a Low Carb or Keto Diet while Dining Out
Pretend you have been following the keto diet, you are achieving results, and you want to keep moving full steam ahead. But then, someone asks you to meet for lunch or dinner at a nearby restaurant. Your first instinct might be to panic. You might even be tempted to decline. But you should know that neither of these have to be options! The truth is you don't have to decline those invites to eat out, you just need to keep a few simple tips in mind. If you are just starting keto, be sure to check out the Keto Diet tips, which will help you greatly on your Keto and Low carb journey.
Now I will also let you know, that sometimes when dining out I do go off plan, and I plan accordingly. If we are going to go out to celebrate a family members birthday or big accomplishment then I will go off plan for that meal and then jump back on plan the next day. If it is a spur of the moment thing, where I have not planned ahead then when I am dining out I stick to my low carb eating plan.
You can use these tips for keto eating out and low carb eating out at both fast food restaurants or sit down restaurants like your favorite Italian restaurant!
The following helpful tips will help you stick with the low carb restaurant options and to avoid the high in carbs foods and stick to your low carb eating plan, weather it is keto or low carb.
Check out the menu ahead of time.
One of the easiest ways to stay on track is to check out the menu ahead of time so you can plan your meal. This will allow you to see the offerings and make an informed decision. Plus, if you need to calculate any nutritional info prior you have the time to do that. Once you pick a location, head to their website and view the menu.
I have yet to find any specific restaurants that market themselves as a keto restaurant or a low carb restaurant, however I have found plenty of low carb and keto friendly options at just about any restaurant I have dined at. While sometimes it might be a little bit trickier, I haven't found a place that I couldn't enjoy a meal at yet.
Drink plenty of water before you go.
About 30 minutes before you go drink plenty of water. This will help fill you and hydrate you so you eat less. You can also opt for a small keto friendly snack prior to going (such as a piece of cheese or some nuts) so you don't feel tempted to get an appetizer.
I don't suggest you over do the water, or you will spend the whole time away from those you are wanting to enjoy your meal with, but a glass or two of water before getting to a restaurant can help a lot.
Skip the bread.
Many restaurants offer breadbaskets or other snacks to get you started. This can be tempting. Instead, order a small garden salad to get started. Look for other keto friendly appetizers that might be on the menu as well, such as chicken broth soups, veggie plates, guacamole, or meat and cheese trays.
If you are ordering a sandwich or a burger, most restaurants will substitute the bun or bread for a lettuce wrap. If they do not have the option, you can just ask for no bun or bread and eat the food item with a fork.
Skip the Starches.
Most restaurants will allow you to substitute a side salad or other low carb veggie like green beans or asparagus in place of the starch and carb filled items like potatoes.
If the restaurant will not allow for substitutions, just skip eating the item that is not low carb or keto friendly.
Opt for a protein and veggie dish.
You can of course ask for veggie and low carb sides, like mentioned above but there is also the option of changing your normal orders for a protein or veggie dish. This is especially helpful if you are normally the person who orders pasta when you are dining out.
For your breakfast main dish, your best choices is going to be something with egg and cheese and then some meat item like bacon or sausage.
For your lunch or dinner main dish, opt for a high protein meat such as steak or chicken and pair it will grilled or roasted vegetables. Asparagus is ideal, as you should avoid root vegetables such as potatoes or carrots. Most places will offer a meat and grilled vegetable, so this should be an easy option to find and enjoy.
Add extra healthy fats.
If you are having veggies as a side dish, ask your server for extra butter. Having a steak, add some extra healthy fat by enjoying it by dipping it in sour cream.
If your meal includes a salad, go for a dressing that is high in fat and add extra dressing to your salad to help reach the fat goals you have for your meal.
If you are ordering coffee, ask for heavy cream in place of the normal half and half that many restaurants use.
Add extra toppings.
If you are ordering a burger or a chicken sandwich that normally has a bun and are asking for it bunless adding extra keto friendly toppings is a great way to make your meal more filling. Adding things like extra lettuce, tomato, avocado, bacon and cheese will not only make it more filling but add more flavor as well.
Keep an eye on the sauces.
Sauces can be sneaky when it comes to the carb counts. If you have done your research on the restaurant before leaving then you will know ahead of time what sauces are good for sticking with low carb and keto. If you can not find the ingredient information, opt for a sauce that you know the information of or just skip the sauce completely.
Condiments like mustard and mayo are great to add to your low carb meal when you are dining out. However you do want to make sure it is yellow mustard and not one of the sweet mustards like honey mustard. You will also want to stay clear of ketchup and barbecue sauce, both are high in sugar.
Eat slow and enjoy the conversation.
Take your time and eat in the moment. Eat slow, drink plenty of water, and enjoy the conversation. By slowing down you will be more mindful of when your body is full and you will be able to stop eating at that time.
Take a sweet snack with you for the drive home.
If you are worried about craving dessert when done, be prepared. You can always pack some dark chocolate with you or a sweet fat bomb or two to enjoy on the drive home! This way you can satisfy that sweet tooth without giving up your hard work.
Dining out doesn't have to be stressful even when you are eating out keto style or eating out low carb. You want to be able to enjoy your meal, and most importantly enjoy the people you are eating your meal with!
Be sure to also check out our Restaurant Guides to help you with making your Keto and Low Carb choices when you are dining out!
New to Keto? Check out these Keto Diet tips!
Make sure you snag the FREE Keto Cookbooks too! They will help with getting ideas for meals?