If you have never had a vanilla meringue cookie you are missing out! They are seriously one of the best cookies ever! This Vanilla Meringue Cookie recipe is the one I use often. These vanilla meringue cookies are always gone quickly when I make them. I feel like as soon as I take them out of the oven I have a heard of kids trying to grab them off the tray.
Vanilla Meringue Cookies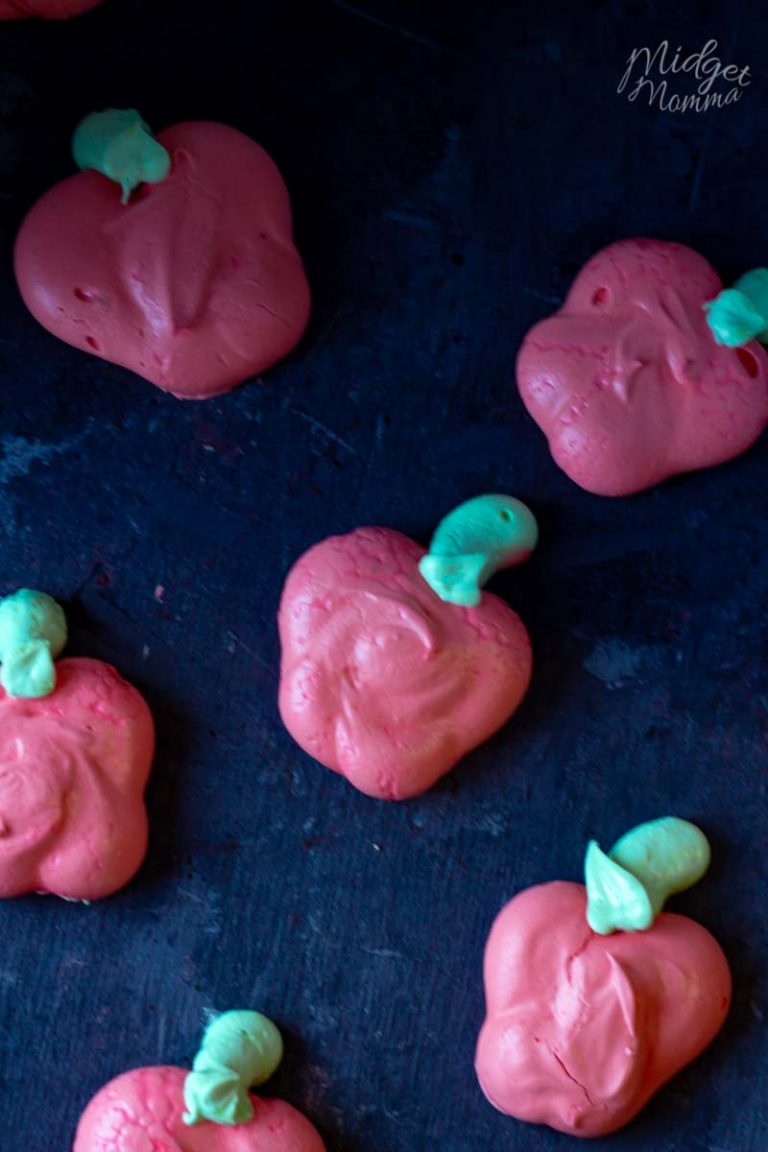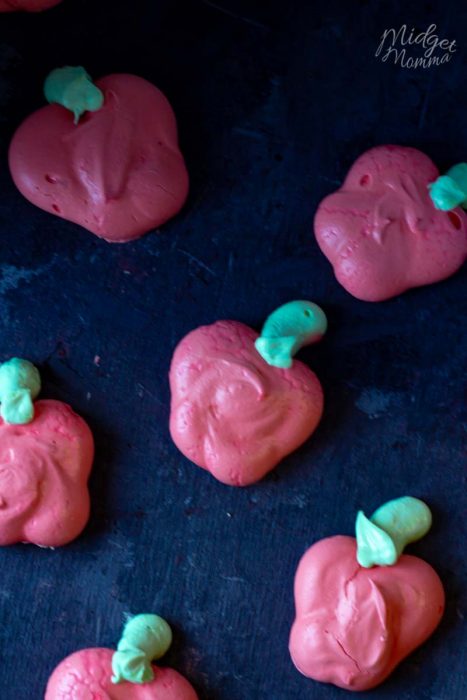 Apple Meringue Cookies
Meringue cookies are so versatile because you can make them into any shape that you want to! With the end of the school year nearing I thought it would be fun to make apple shaped meringue cookies. These apple cookies would also be perfect for a back to school treat to give your teachers as well.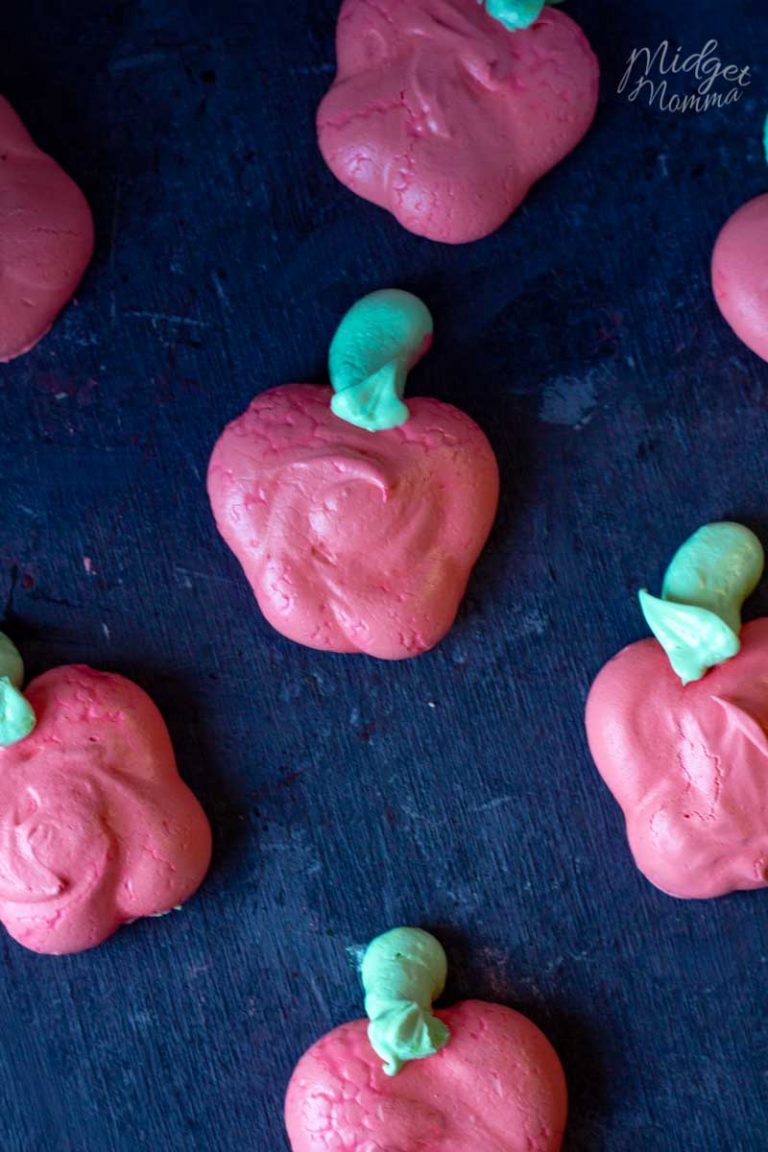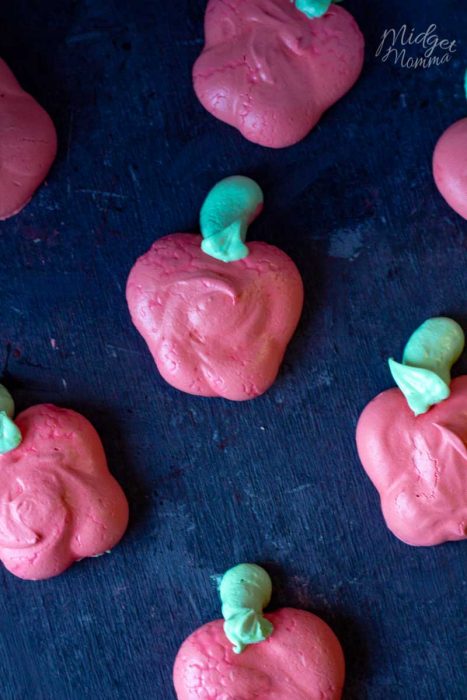 I love meringue cookies because of their amazing lightness and the ability to easily change up their flavors. Meringue cookies are also a nice alternative to a normal cookie because they are a low calorie cookie.
If you want to change up the flavor of this meringue cookie it is easy to do so, you can swap the vanilla extract out for apple extract and you will have apple flavored meringue cookies.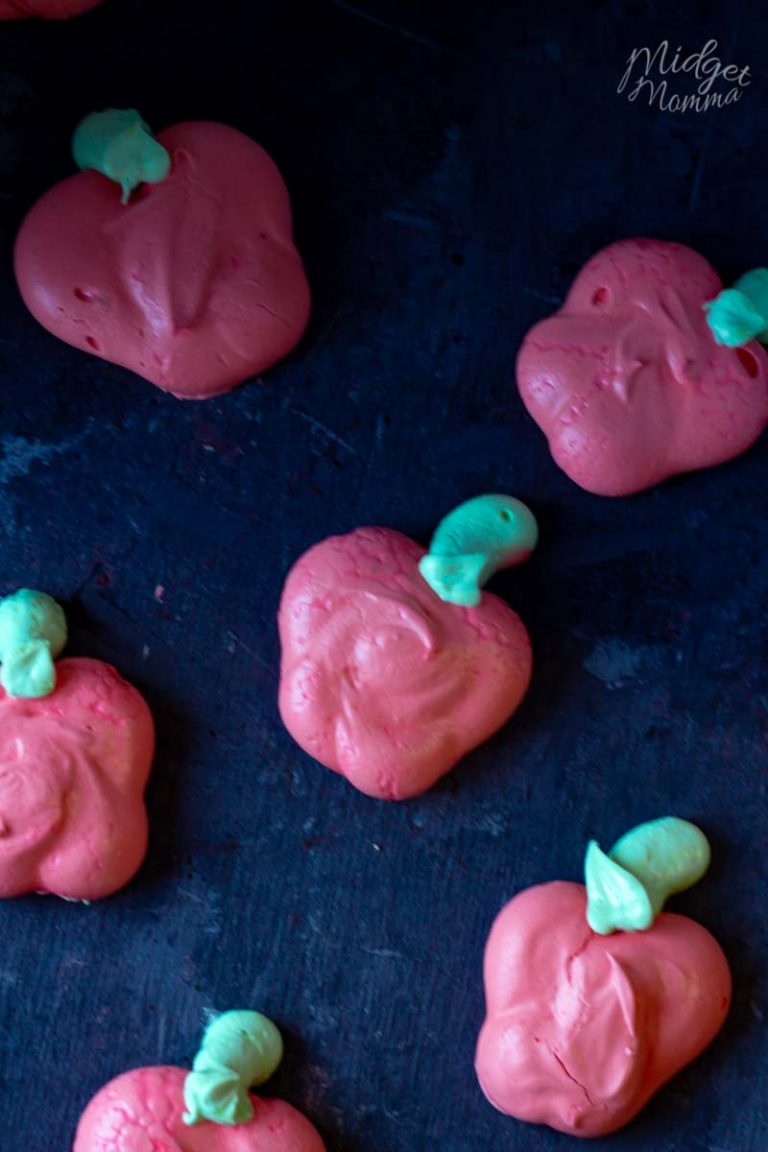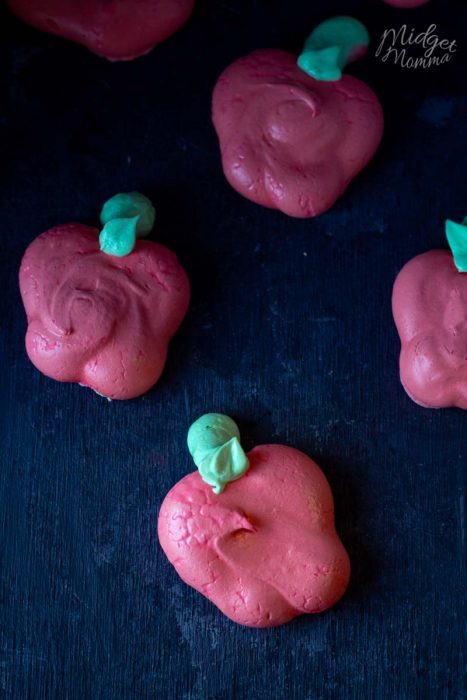 What is a Meringue cookie?
A meringue cookie is a light weight cookie made with egg whites and sugar. Depending on the recipe and the flavor you will use a different extract flavor. For these Vanilla Meringue Cookies you will use vanilla extract.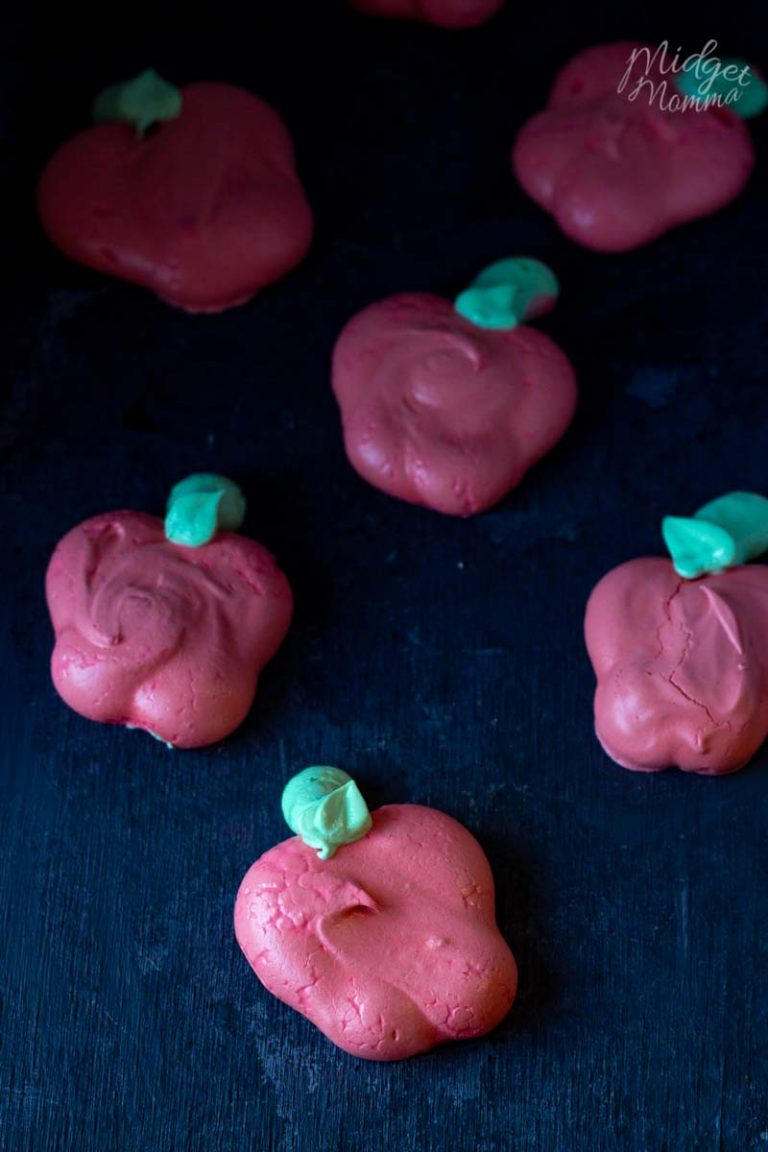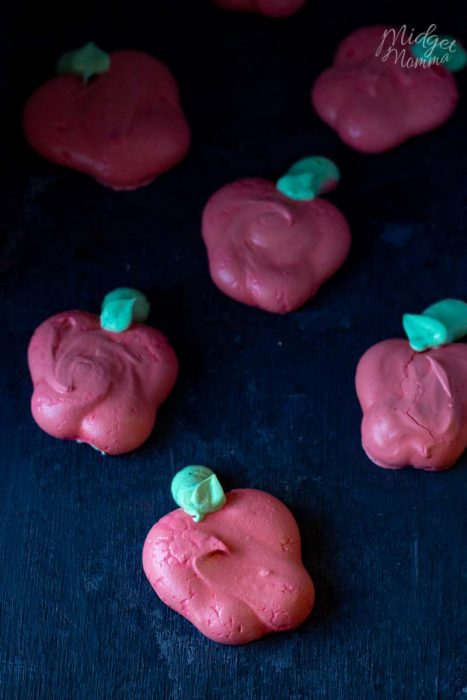 How to Store Meringue Cookies
After baking your meringue cookies, store them in an air tight container. These Vanilla Meringue Cookies will keep for up to 2 weeks if stored in an air tight container.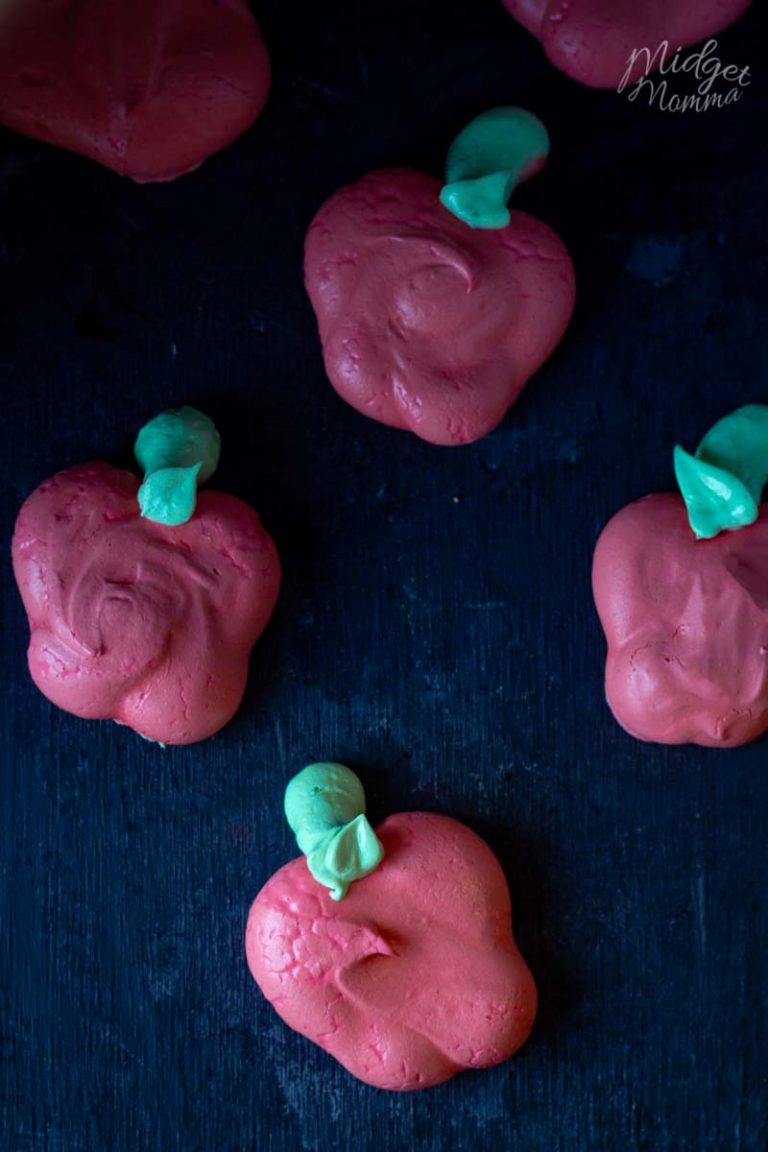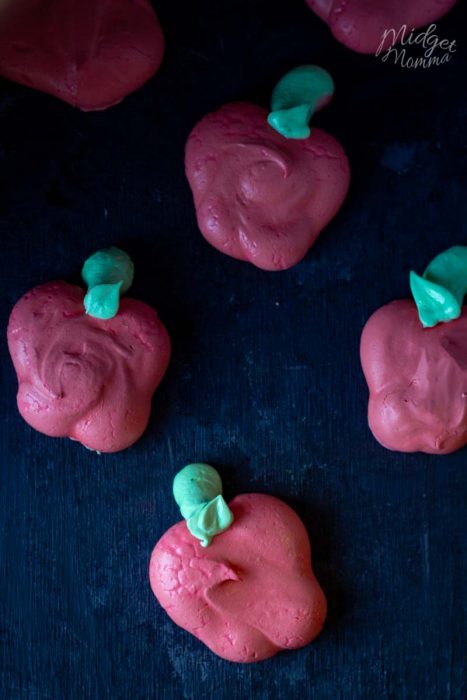 Apple Meringue Cookie Supplies: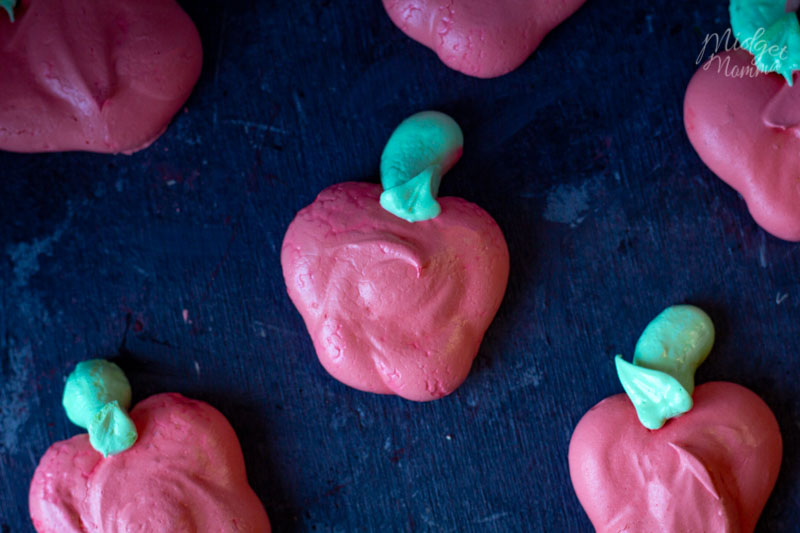 How to make Vanilla Meringue cookies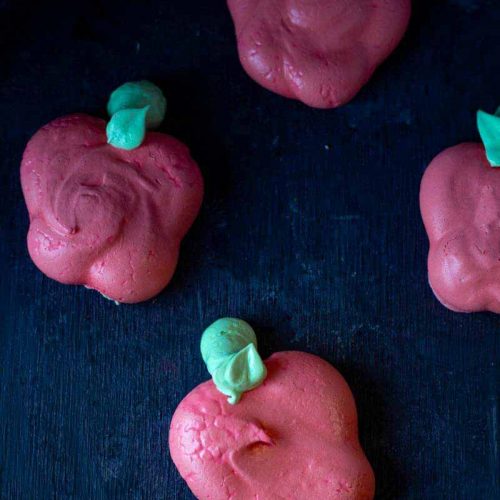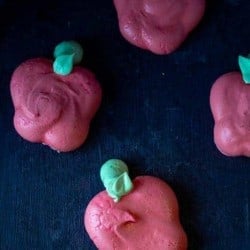 Vanilla Meringue Cookies
Servings cookies
These Apple Shaped Vanilla Meringue Cookies are super easy to make. A light and tasty cookie in the shape of an apple that is the perfect school teacher treat!
Instructions
Line two bake sheets with parchment paper or a silicone mat. Preheat your oven to 175 degrees F.

Combine the sugar, egg whites and tartar in the bowl from your mixer over simmering water, making sure your bowl is not touching the water. Constantly whisk the egg whites until the sugar has dissolved.

Attach the whisk attachment on a stand mixer or a hand held mixture, slowly beat egg mixture. Add in vanilla extract and cream of tartar. Slowly increase the speed and continue to beat mixture until stiff peaks have almost formed.

The mixture is ready when the whisk attachment dipped into mixture leaves a curled but stiff peak when removed.

Take one cup of the meringue and fold in green food dye. Color the rest of the meringue with the red food coloring.

Transfer the red mixture to a pastry bag fitted with a large straight piping tip and pipe out two balls next to each other. Then pipe two smaller balls underneath onto the sheet pans.

Transfer the green mixture to a pastry bag fitted with a small straight piping tip and pipe your apple stem shape onto each apple.

Bake for 2 hours, then turn off the oven and leave the door slightly ajar for meringues to cool down with the oven.

Store meringue cookies in an airtight container away from any heat or moisture.
Calories: 42kcal | Carbohydrates: 10g | Sodium: 10mg | Potassium: 9mg | Sugar: 10g
Vanilla Meringue Cookie
Dessert
Notes
Depending on how big you make your cookies, this cookie recipe will make about 20 cookies
2 Weight Watchers SmartPoints on the Freestyle Program
Love meringue cookies? Check these meringue cookies recipe out!
Chocolate Covered Strawberry Meringue Cookies
Join the newsletter
Subscribe to get our latest recipes right in your inbox every time we post a new one!
Join the newsletter
Subscribe to get our latest recipes right in your inbox every time we post a new one!