Homemade Vanilla Extract can be used in any recipe that calls for vanilla extract or even as a substitute for other extracts like almond or peppermint. It also makes an excellent gift during the holidays! The process of making this vanilla extract is very simple and the ingredients are easy to find, it's surprising that most people don't know how to make vanilla extract on their own!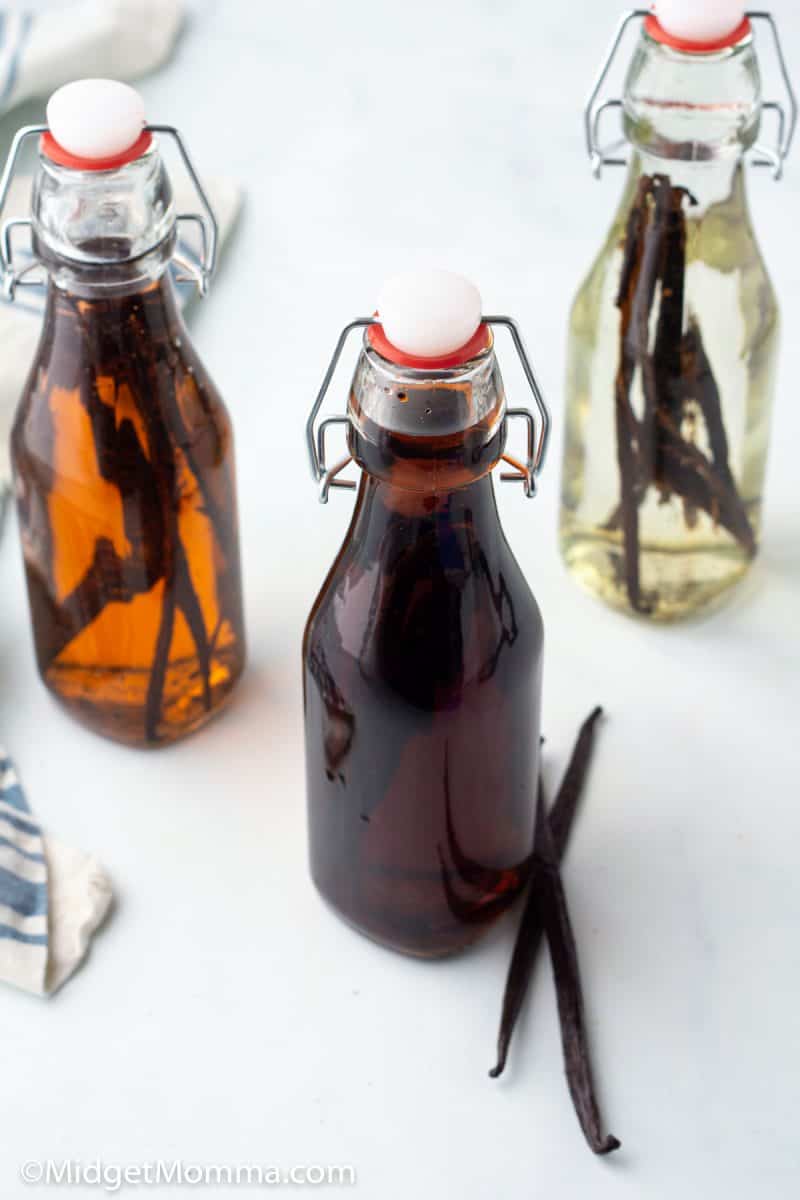 How to Make Homemade Vanilla Extract
If you have baked just about anything, you know it calls for pure vanilla extract. If you have ever bought pure vanilla extract, you know, it is expensive. And no one should be using imitation vanilla. When you make homemade vanilla extract, not only will your baked goods taste better, you will save money.
Ever since I got my taste of homemade forever vanilla at my cousin's wedding a few months ago I have been HOOKED! First off it tastes so much better than the stuff in the grocery store, second, it made my sugar cookies this Christmas taste even better and third it saves a TON of money.
You are not going to believe how amazing this vanilla tastes but even better, you will be shocked at how easy it is to make homemade vanilla. It is seriously just 2 ingredients. Vodka and a vanilla bean stick.
My cousin gave these out as wedding gifts, I think they would make awesome bridal shower gifts too! I use these Swing Top Glass Bottle, 8.5 Ounce jars for my homemade forever vanilla extract.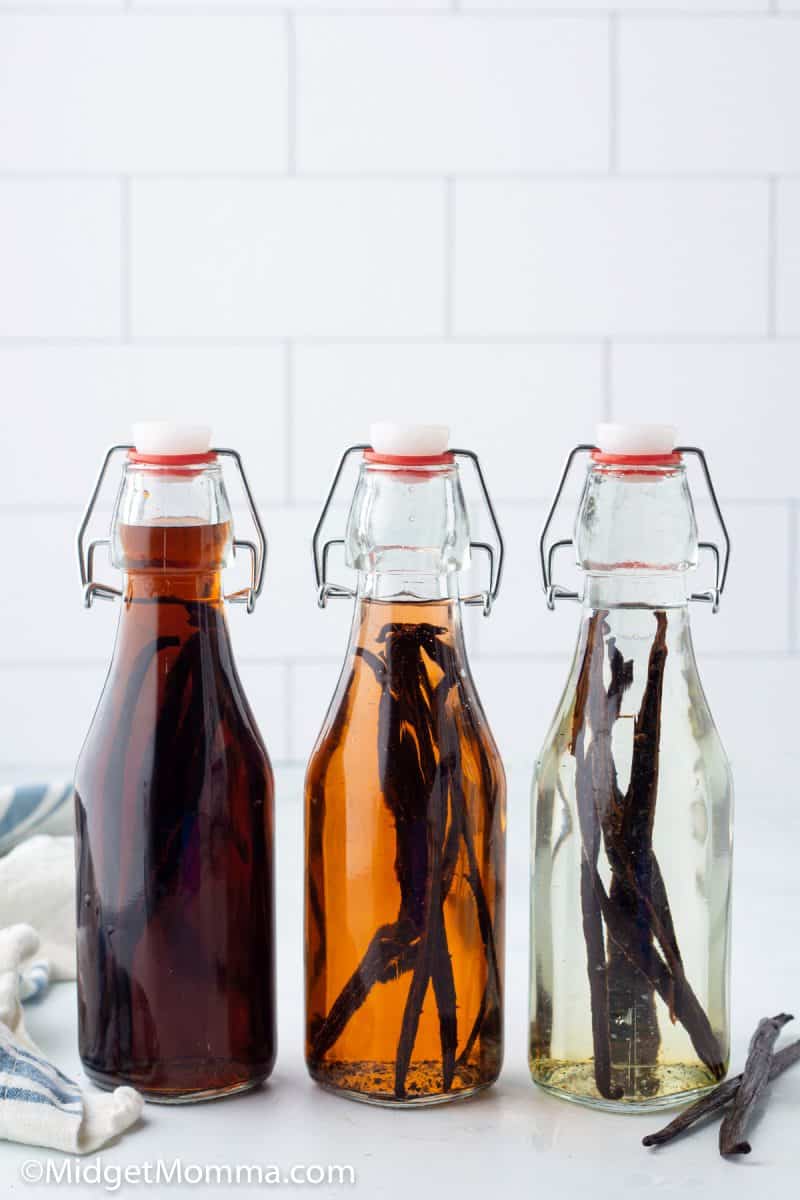 What is Vanilla Extract?
Vanilla extract is a food and flavoring that consists of the vanilla bean, which contains thousands of tiny seeds along with the pod, alcohol, and water. It is used in baking or cooking something when you want to add flavor. The simplest way to add vanilla extract is to add a couple teaspoons into your batter. It can also be used in ice cream, coffee or other beverages, sauces and more.
Can I Use Something Other Than Vodka
Vodka is a cheap and easy vanilla extract base but you can also use other alcohol. You can use also use rum. This is known to give a richer and stronger. I have also heard of people making their vanilla extract with brandy. I have never tried this but I have heard that is fantastic.
How to Store Vanilla Extract
You can store your homemade vanilla extract in a dark cupboard for up to 3 years. You may want to make labels for your jars or bottles and write the date that you started using it so you know when its time is about to run out. You can use a variety of bottles or mason jars, but I really like using Swing Top Glass Bottle, 8.5 Ounce jars.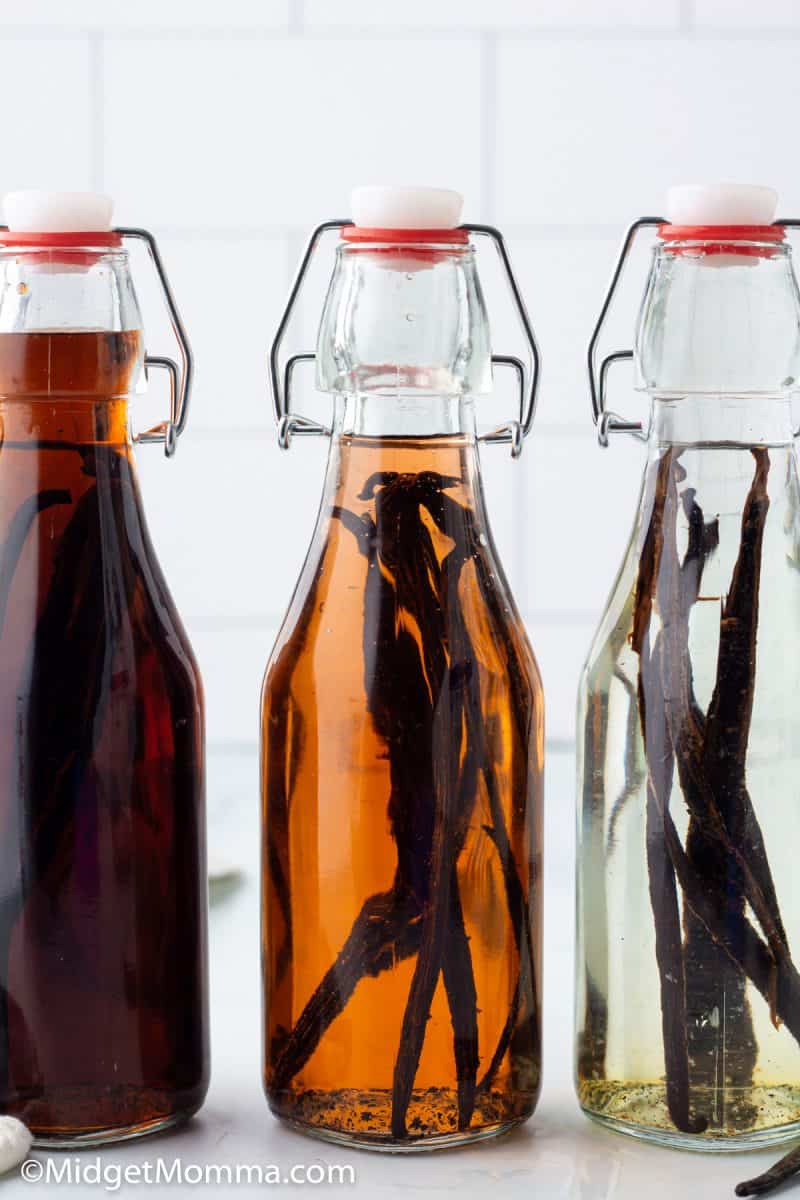 Where to Get Vanilla Bean Sticks
You can find vanilla bean sticks from Amazon.com for a pretty decent price. You can also save a ton of money by looking around your local grocery store or craft stores in the spices section for B grade vanilla beans. There will often be deep discounts on these items during certain times of the year. While they are not expensive online, when you find them on sale, you can save significantly. While saving money is great, if you need the time saver or you want to make this homemade vanilla extract, order it online.
How Long Does It Take to Make Homemade Vanilla Extract
It takes about 3 months to make homemade vanilla extract. If you are planning on making this vanilla extract as gifts for the holidays, make sure you are leaving yourself enough time. If you are cutting it short, you can always give it to your friends and family and just let them know that it needs more time before it is ready.
How Much Homemade Vanilla Extract Can I Make
You cannot ever have too much vanilla, have fun and experiment with mixing things up a bit! However, if you want to make a lot but think that you will not use it all, you can try a few variations. You can use different alcohols for variety. I think brandy would be a really nice addition to this mix if you are wanting something richer and stronger than vodka.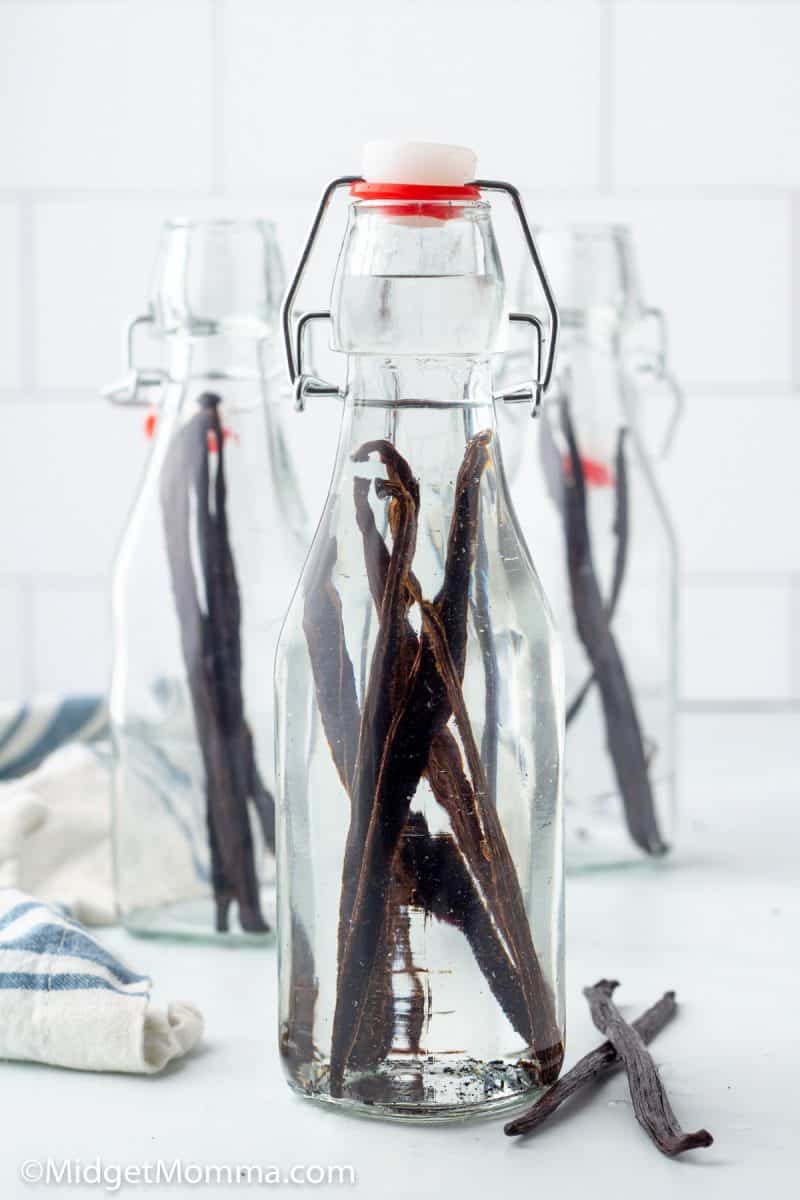 What Do I Do with the Leftover Vanilla Beans
Once you have used all your vanilla beans from the vanilla extract, don't throw them away! Rinse them off thoroughly and dry (you can use a paper towel). Throw them in a jar with some sugar for vanilla bean sugar or go to the next step and make vanilla infused sugar.
How Much Vodka Do You Add to Homemade Vanilla Extract
While not all recipes are exact, I like to use 8 ounces of vodka to a vanilla bean stick. Some people just make sure that the vanilla bean is covered with 3 inches of alcohol. While there is no need to be exact or too precise, I have found that the combination of 8 ounces and one vanilla bean works best for my tastes.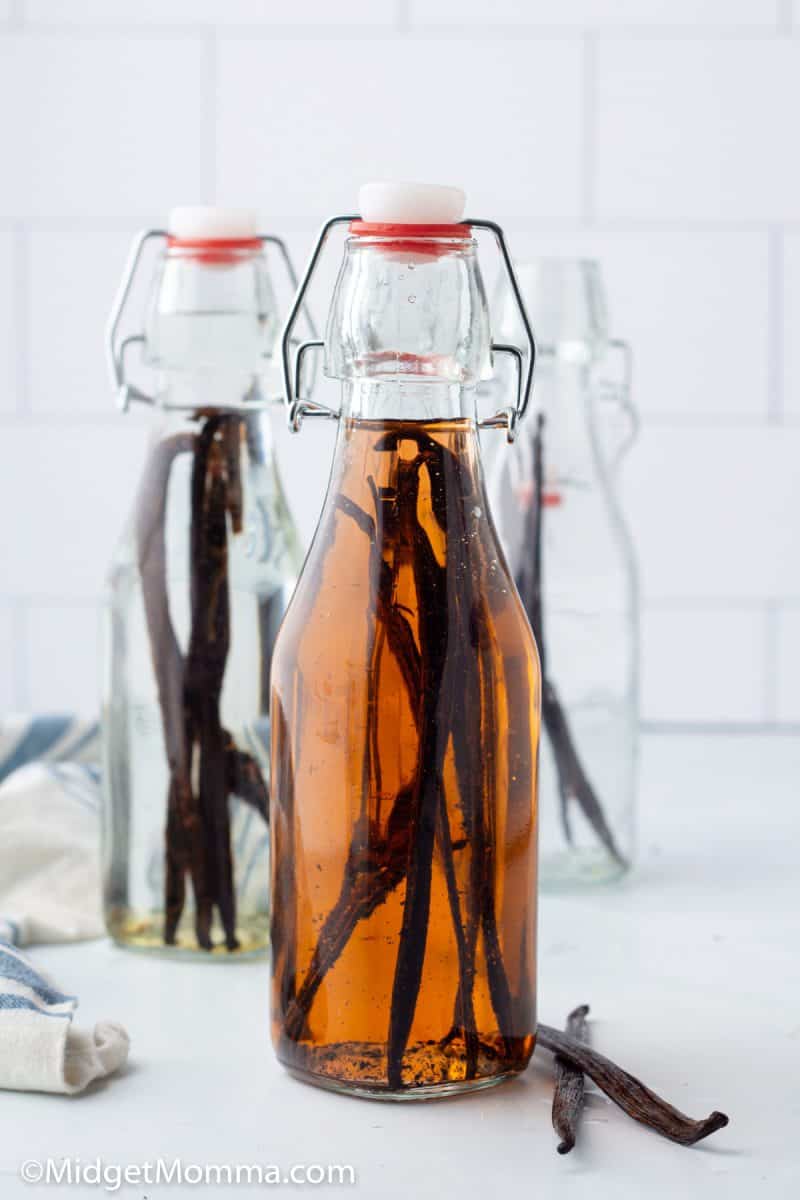 How Long Will Homemade Vanilla Extract Stay Good for
Once your homemade vanilla extract has gone through the process, it should stay good at room temperature for about 3 years. However, you can keep it in the refrigerator if you do not want to have it out that long.
How Much Homemade Vanilla Extract Should I Give as Gifts
You do not have to give away a whole 8 ounce jar of homemade vanilla extract. The great thing about making your own extract is that you can make small batches and play with recipes until you get the exact flavor you are looking for. Have fun with it!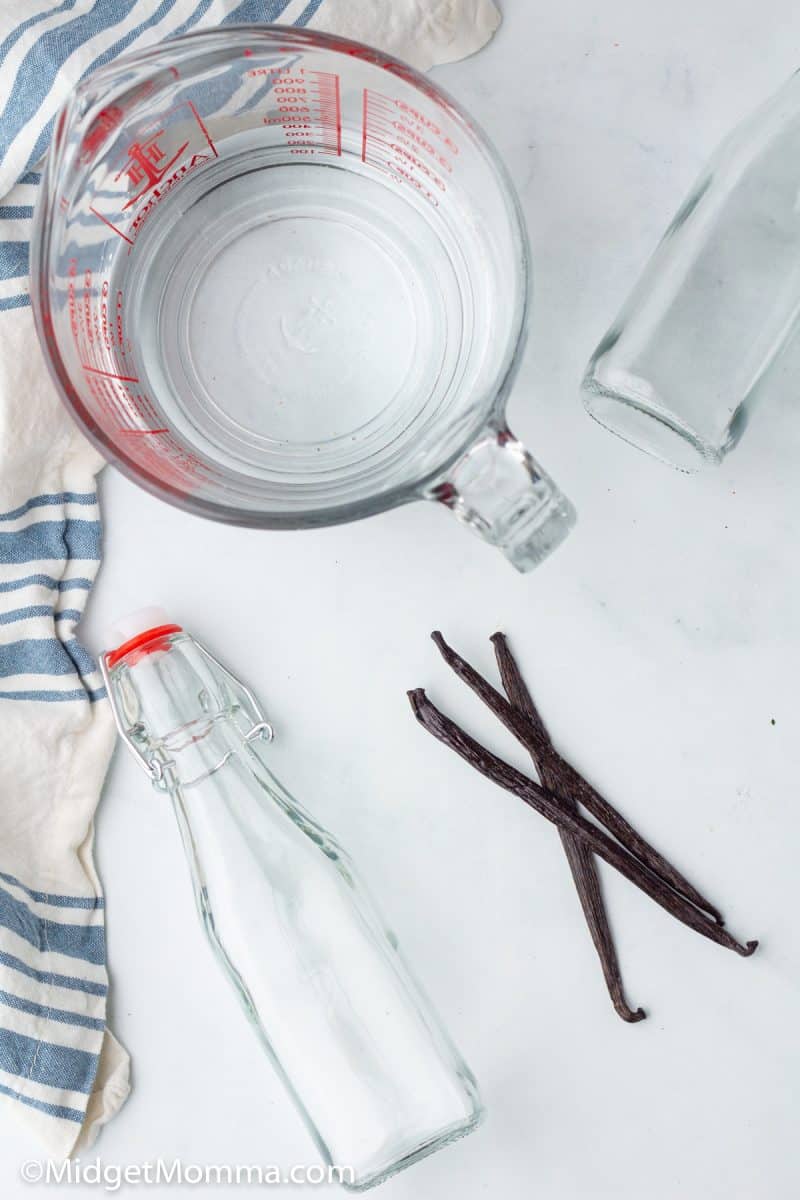 Supplies needed for making homemade forever vanilla
How to make homemade forever Vanilla
All you have to do is put your vanilla beanstalk into the glass jar. It helps if you slice the side open too, this will let the flavor from the beans in the stalk mix better with the vodka.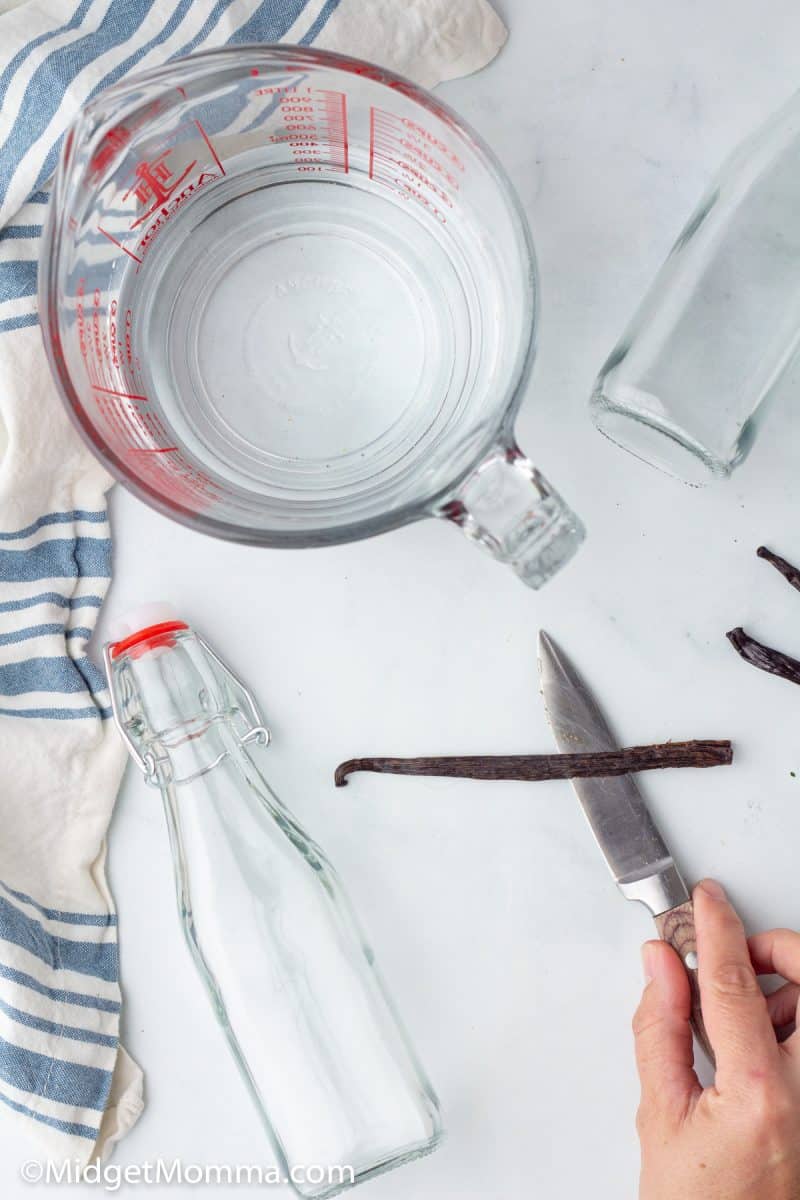 Then pour vodka into the covering the vanilla bean stick, I use the Swing Top Glass Bottle, 8.5 Ounce jars, and add 8 ounces of vodka to it.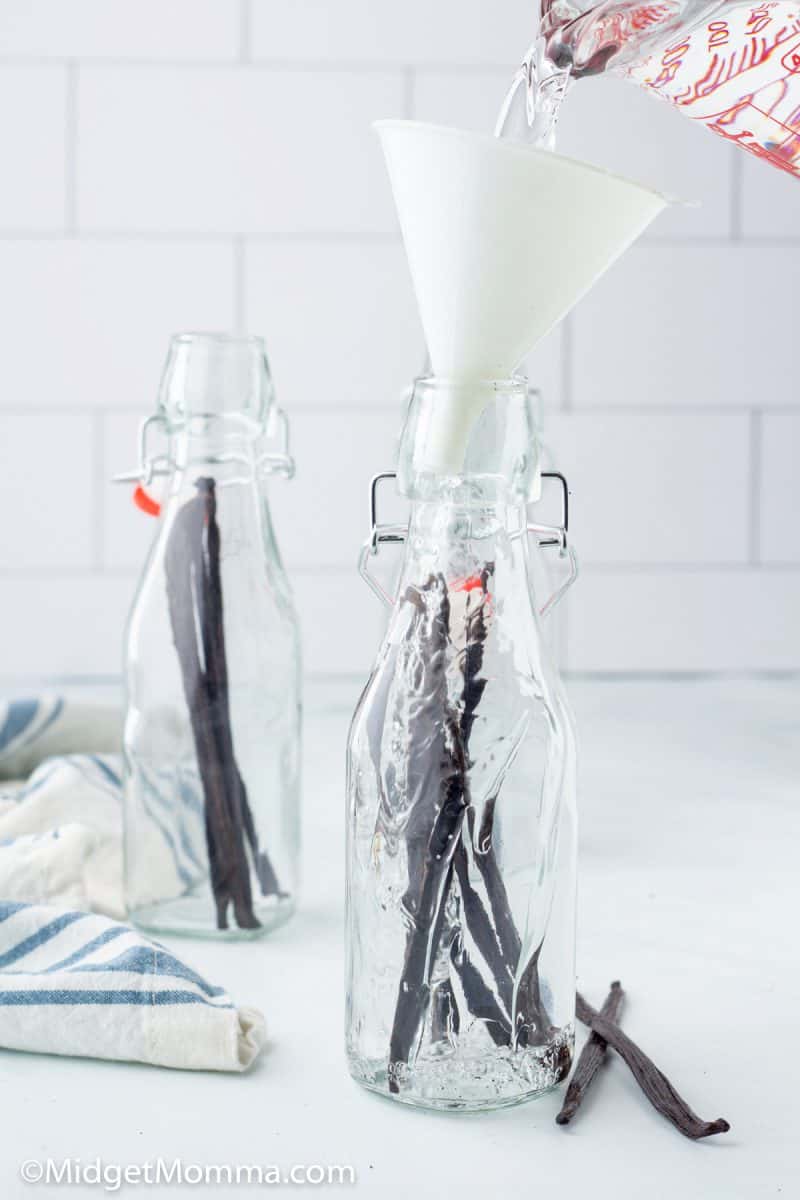 Then let it sit in a cool, dark place for a few months to get the flavor.
You will also want to randomly shake the bottle during that time to get it mixed well.
Then every time it starts to get to almost running out refill the bottle.
I like to keep a few bottles prepped and made, so when I run out of one and refill it I do not have to worry about running out of Vanilla for my cooking and baking.
Recipes that use homemade vanilla as an ingredient
You know I love to bake. So you know that this vanilla extract is a staple in my house. Some of my favorite baking recipes that use vanilla extract are: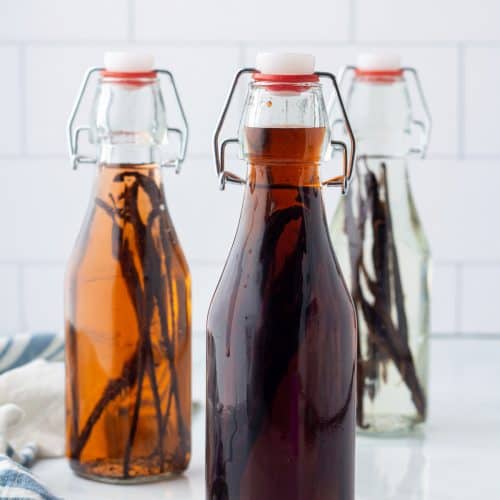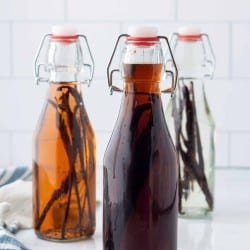 How to Make Vanilla Extract
Servings
Homemade Vanilla Extract is so easy to make with just 2 ingredients and a glass jar!
Ingredients
8 ounces vodka
2 vanilla bean stalks
Instructions
Slice the vanilla bean stick and place in the glass jar.

Pour 8 ounces of vodka into the jar and close.

Put in a cool dark place to set for a minimum of 30 days.
Serving: 0.5ounces | Calories: 33kcal | Carbohydrates: 1g | Sodium: 1mg | Potassium: 1mg | Sugar: 1g | Calcium: 1mg | Iron: 1mg
homemade Vanilla Extract, how to make Vanilla Extract, Vanilla Extract
Join the newsletter
Subscribe to get our latest recipes right in your inbox every time we post a new one!