When I grew up I knew I was doing something right when I opened my lunch box to find a peanut butter and fluff sandwich. I always got them as this special treat since it is a marshmallow sandwich and not the healthiest of options. Now that I have kids of my own I like to be able to do the same thing for them. Only it ends up be this big mess for my one year old but I can see it on his face how much he loves it so it is well worth it. Now one big problem I had when I moved down south is I can't find my favorite brand of fluff anymore, so I come up with my own Homemade Marshmallow Fluff that I can make at home. This Homemade Marshmallow Fluff is the same fluff I use to make my Marshmallow Buttercream.
Homemade Marshmallow Fluff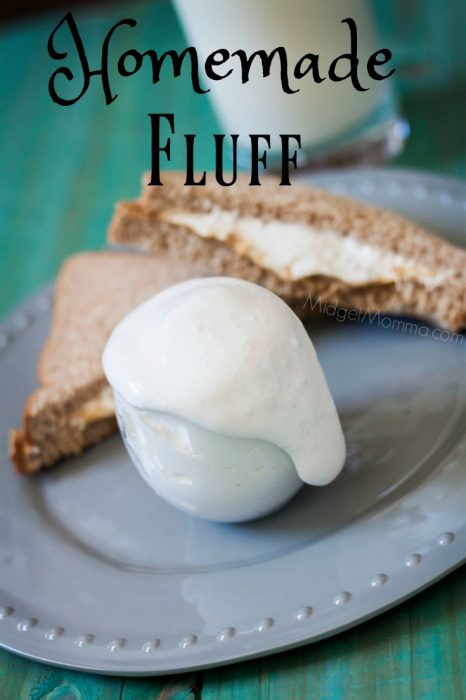 Homemade Marshmallow Fluff Ingredients
2/3 cup water
1 1/2 cup sugar
1 1/2 cup corn syrup
6 egg whites, room temperature
1 teaspoon cream of tartar
2 teaspoon vanilla extract
Homemade Marshmallow Fluff Directions
In a medium sauce pan combine your water, sugar and corn syrup. Place your candy thermometer into the mixtures making sure it is not touching the bottom for your pan. Bring the mixture up to a boil over medium high heat.
In your clean bowl of your mixer combine the egg whites and cream of tartar together with the whisk attachment.
Once your sugar mixture reaches 225 degrees turn your mixer on high and whip your egg whites until they have formed soft peeks.
Remove your sugar mixture from the heat when it reaches 240 degrees. Turn your mixer back on to medium speed and slowly stream the sugar into the egg whites.
 Turn your mixer up to high speed and let them fluff back up for about seven minutes.
Whisk in your vanilla until well combined.
Store in a airtight container for you to two weeks.
Join the newsletter
Subscribe to get our latest content by email.
This post may contain affiliate links. Please read my disclosure policy here