Chocolate Covered Peeps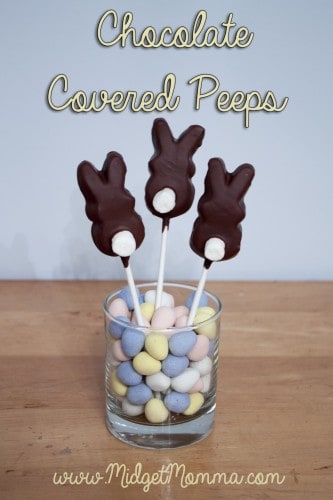 I am in love with peeps so I am trying to figure out anyway I can get them into a new dessert.  I love chocolate cover marshmallows so why not have cute chocolate covered peeps! Top that off with a mini marshmallow for a little cotton tail that is just too cute! Adding these to the easter baskets will also change things up a bit and make the easter basket even more fun!
Chocolate Covered Peeps Ingredients
Peeps
Chocolate coating candies
Shortening
Mini marshmallows
Lollipop sticks
Chocolate Covered Peeps Directions
Line a sheet pan with a silicon mat or parchment paper. Melt your dipping chocolate, if it is to think add a little shortening till its the right texture. Dip the end of the stick into the chocolate ,than stick it into the end of the peep. Let the chocolate harden in the fridge for five minutes. Dip the peep into the chocolate and tap the stick on the edge of the glass to remove the extra chocolate. Place a mini marshmallow for the tail.
This post may contain affiliate links. Please read my disclosure policy here