Hip hop the Easter bunny cupcake is on its way! These cupcakes are very easy to do and is a great one to get the kids to help. For a great buttercream Icing recipe check out here Also for a great cake recipe check out How To Make A Box Mix Taste Like A Bakery Cake.
Easter Bunny Cupcakes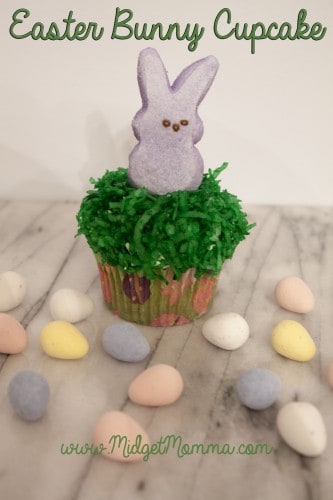 These festive Easter Bunny cupcakes are made with made with awesome cake mix, homemade buttercream icing, died coconut and a Peep Bunny that are sure to make your easter party a TON of hippity Hoppity fun!
Easter Bunny Cupcakes Ingredients
Cupcakes
Buttercream
Coconut
Green food coloring
Peeps
Easter Bunny Cupcakes Directions
Place coconut into a bowl and add a few drops of food coloring. Mix it up and add more food coloring if you would like a darker color grass. Take your butter cream and pipe it onto the cupcake. Next dip the cupcake into the green coconut and press it into the buttercream. With your thumb press a small spot for the peep to sit and pipe a little buttercream in that spot, this will act as your glue. Stick the peep into the buttercream.
How to Makes Easter Bunny Cupcakes
More Great Recipes:
Join the newsletter
Subscribe to get our latest content by email.
This post may contain affiliate links. Please read my disclosure policy here