This Sugar Free Chocolate Buttercream is the perfect sugar free chocolate frosting recipe. If you are making sugar free cupcakes (also works for keto cupcakes and low carb cupcakes) then you are going to want an amazing frosting.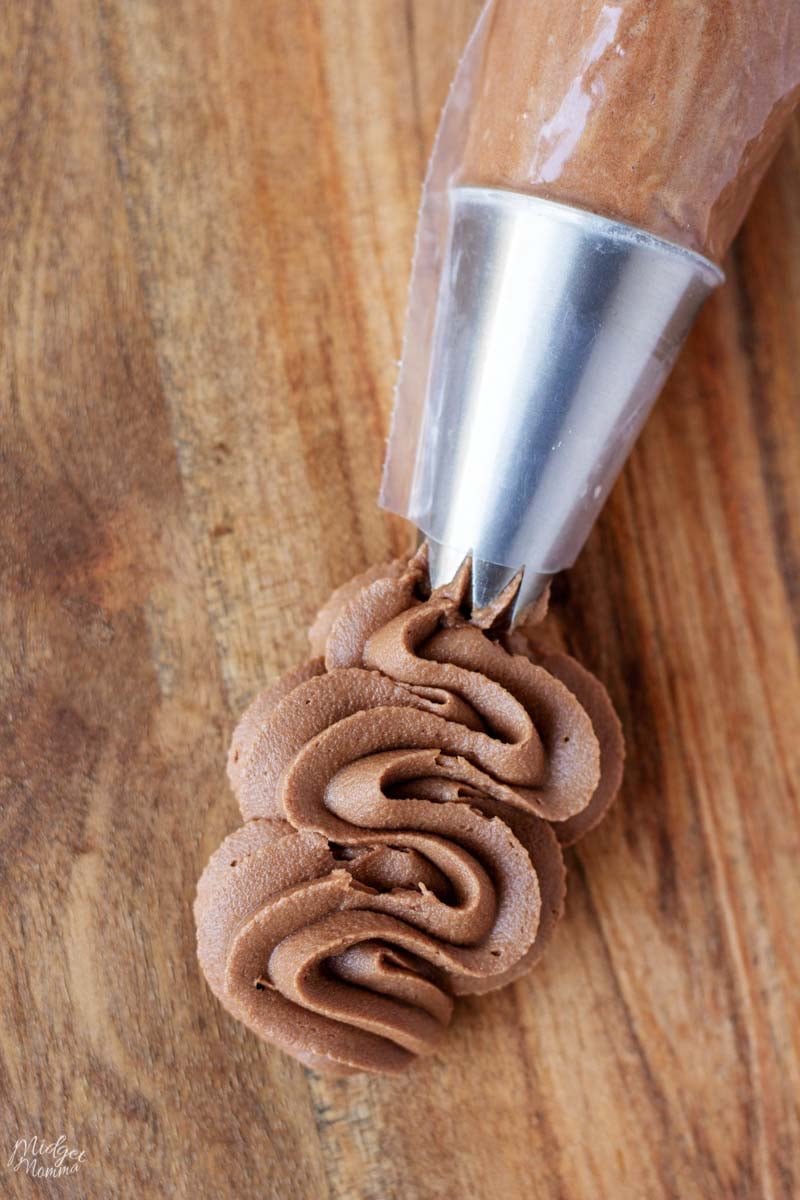 Sugar Free Chocolate Buttercream Frosting
For me it is important that my sugar free icing recipes taste like my sugar loaded icing recipes. One of my favorite frostings is my chocolate buttercream frosting. It was important to me that when making a sugar free chocolate buttercream frosting that I didn't lose the flavor I love so much about my chocolate frosting that I have made for years.
I don't believe that just because I am cutting out the carbs and sugar when making sweets that flavor should be lacking. So any of the sweet treats recipes that I share with you are up to par flavor wise with their sugar using originals.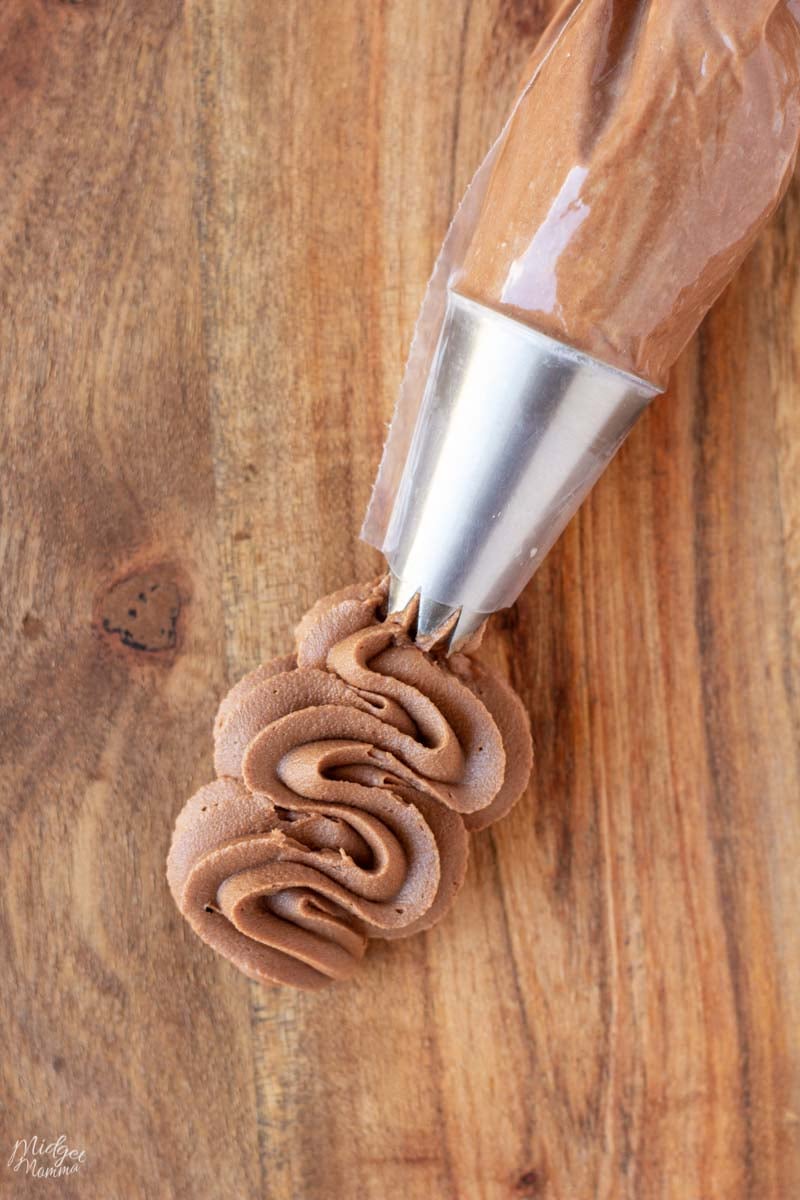 Low Carb Chocolate Frosting
If you are just now getting started with low carb, or this is your first time making a low carb frosting recipe, then you are probably asking yourself, How to make chocolate frosting without sugar?. It is actually really easy and instead of sugar you will use a sugar substitute and a few other ingredients.
When you are using a sugar substitute, the body doesn't digest or absorb it but you still get the sweetness you want in a dessert or keto frosting recipe. However it is important to remember that while this frosting is a keto friendly frosting, a low carb frosting and a sugar free frosting that it is still a dessert recipe.
Keto Chocolate Frosting
Many sugar free frosting recipes include things like maple syrup for the sweetener, that is not a keto friendly, low carb friendly or sugar free option really because it is loaded with carbs. You do not have to worry about that with this sugar free chocolate frosting recipe this is a keto chocolate frosting recipe.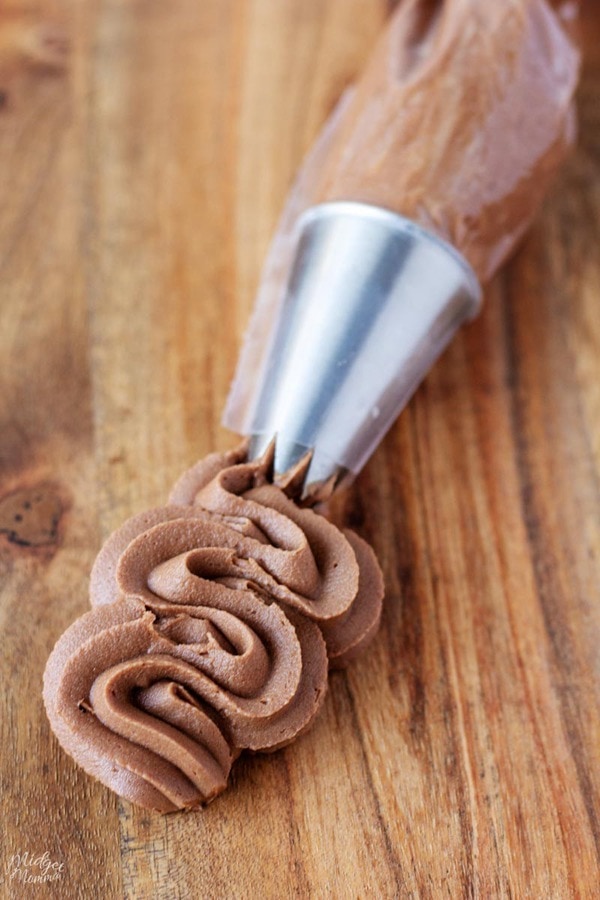 Sugar Free Frosting Recipes
Of course you can not have a naked cupcake or cake, so you are going to want a tasty frosting recipe to use on top of them. Here are some of my other favorite sugar free frosting recipes.
Sugar Free cupcakes
This low carb chocolate frosting recipe is perfect on sugar free cupcakes. If you are looking for a sugar free cupcake recipe be sure to check out the sugar free vanilla cupcakes and Sugar free chocolate cupcakes.
When you are decorating cupcakes you will want to use a piping bag and make the fancy cupcake swirl. Piping icing is super easy, if you have never used a piping bag, check out how to fill a piping bag. If you are new to baking and decorating cupcakes, check out how to make a cupcake swirl.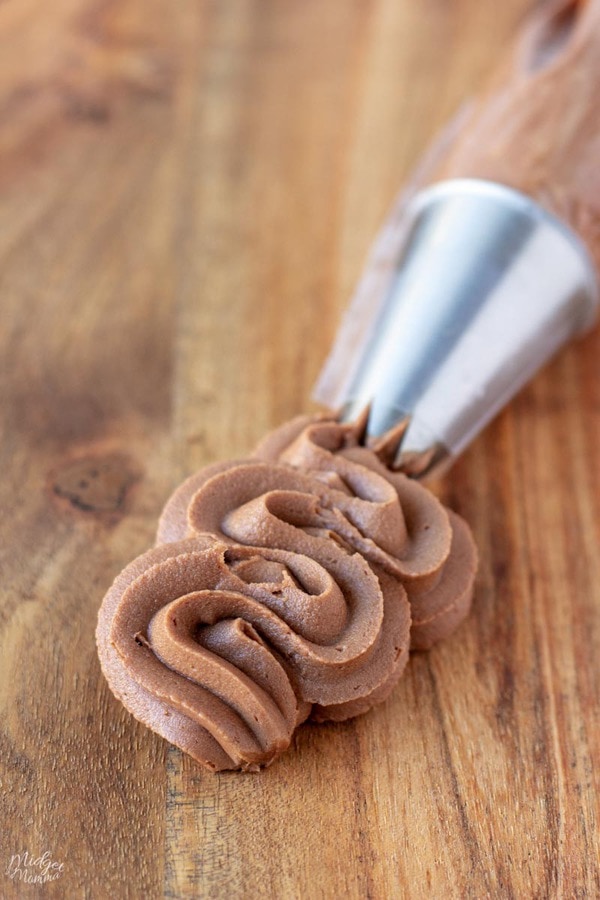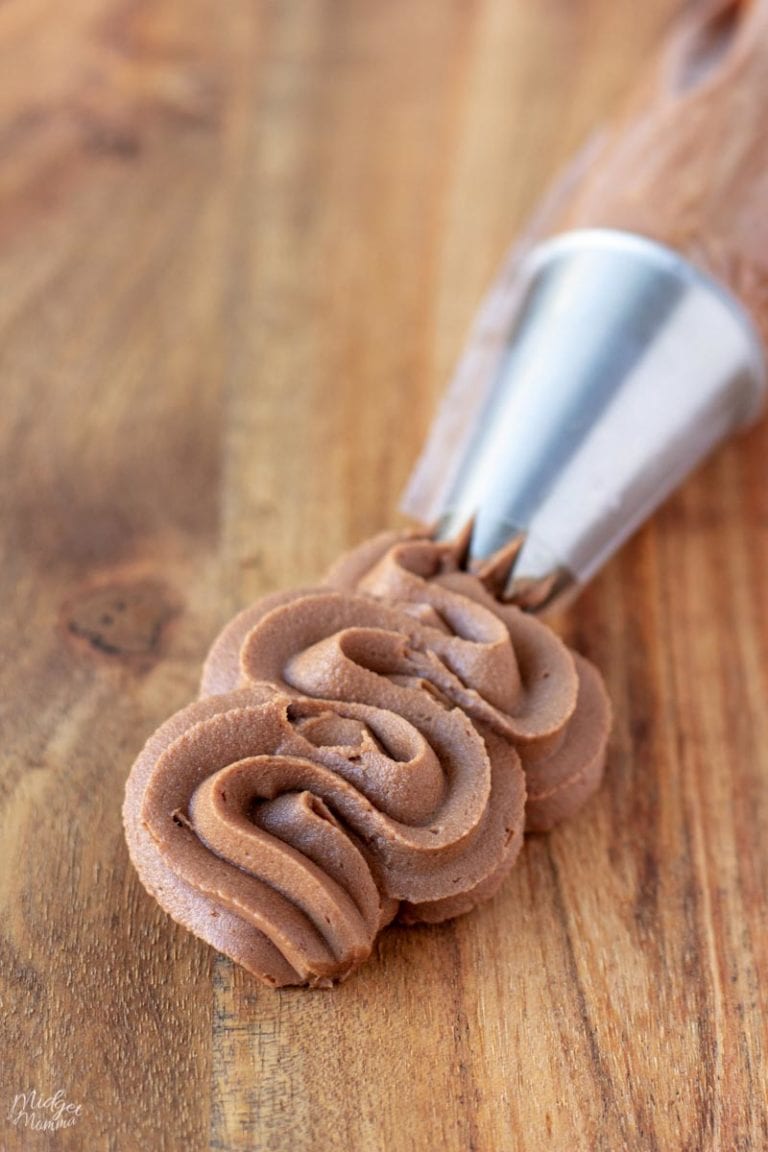 Keto Chocolate Buttercream Ingredients
Butter.
swerve confectioner. If you do not like using swerve you can use a different powdered sweetener, however I have only made this keto chocolate frosting using swerve. When making this frosting powdered sweetener works just the same as confectioners sugar does in a frosting recipe that uses sugar.
Heavy Whipping Cream.
vanilla extract. I much prefer to use homemade vanilla then the store bought vanilla extract that you get in the store whenever I am baking.
sugar-free chocolate chips. I personally always use lily's chocolate chips in my baking. I find they have the best flavor when making anything with chocolate.
cocoa powder. You want to use a quality cocoa powder, this one is my favorite.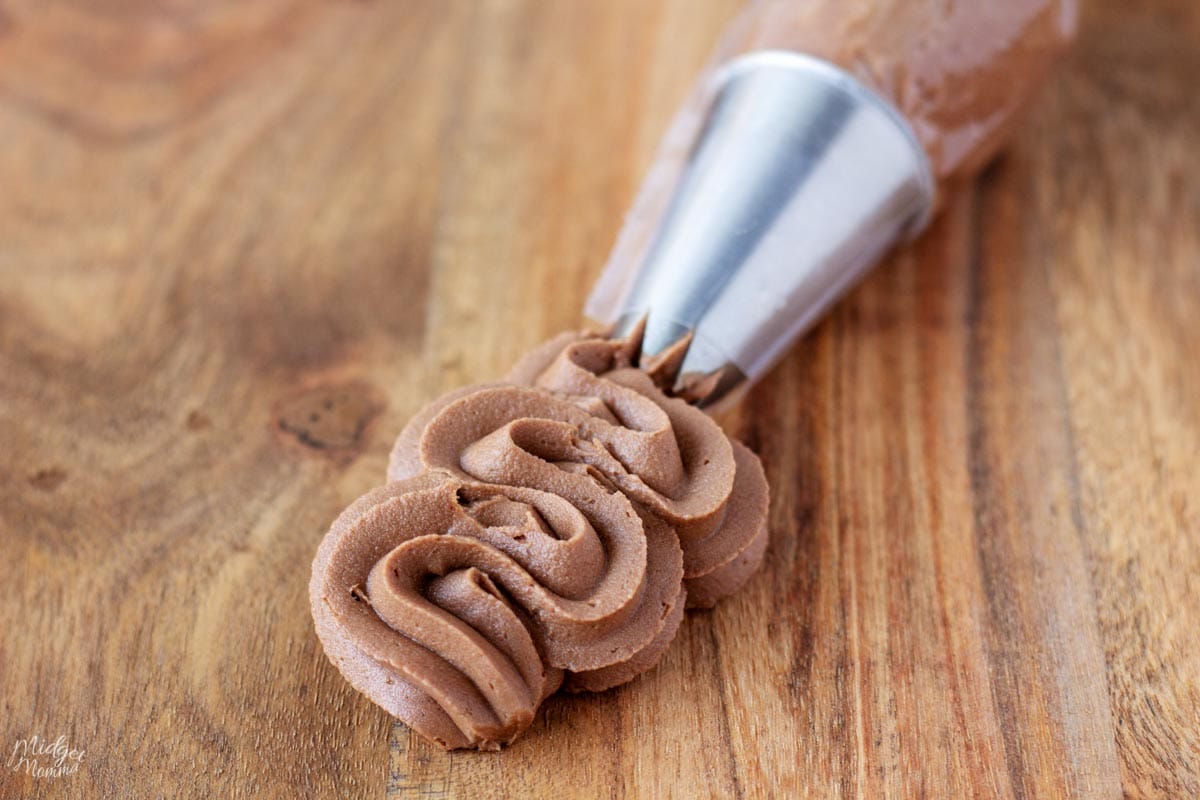 How to make Sugar Free Chocolate Buttercream Frosting
This low carb chocolate frosting recipe makes enough for 12 cupcakes. There is 2g net carbs per serving.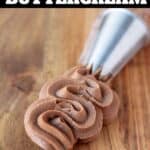 Sugar Free Chocolate Buttercream
This Sugar Free Chocolate Buttercream is the perfect sugar free chocolate frosting recipe. Tastes just like the sugar made frosting with out the sugar!
Pin Recipe
Print Recipe
Instructions
Place your butter and swerve in the bowl of your mixer. Mix them together on low speed until the sugar is incorporated.

Mix in the heavy cream and the vanilla extract.

Place your chocolate in a microwave safe bowl and melt the chocolate in 30-second intervals making sure to stir between each time until the chocolate is fully melted.

Pour the chocolate and cocoa powder into the buttercream.

Turn the mixer up to medium-high speed and continue mixing for 6-8 minutes until light and fluffy.
Notes
Net Carbs = 2g net carbs per serving
Nutrition
Calories:
182
kcal
|
Carbohydrates:
3
g
|
Fat:
18
g
|
Saturated Fat:
10
g
|
Cholesterol:
44
mg
|
Sodium:
136
mg
|
Potassium:
4
mg
|
Fiber:
1
g
|
Vitamin A:
510
IU
|
Calcium:
6
mg
This frosting is 9 SmartPoint on Weight Watchers Freestyle program. This is for the icing itself and does not include points for the cupcake.
Looking for more Low carb sweet treats? Check these out!
Sugar Free Caramel Frappuccino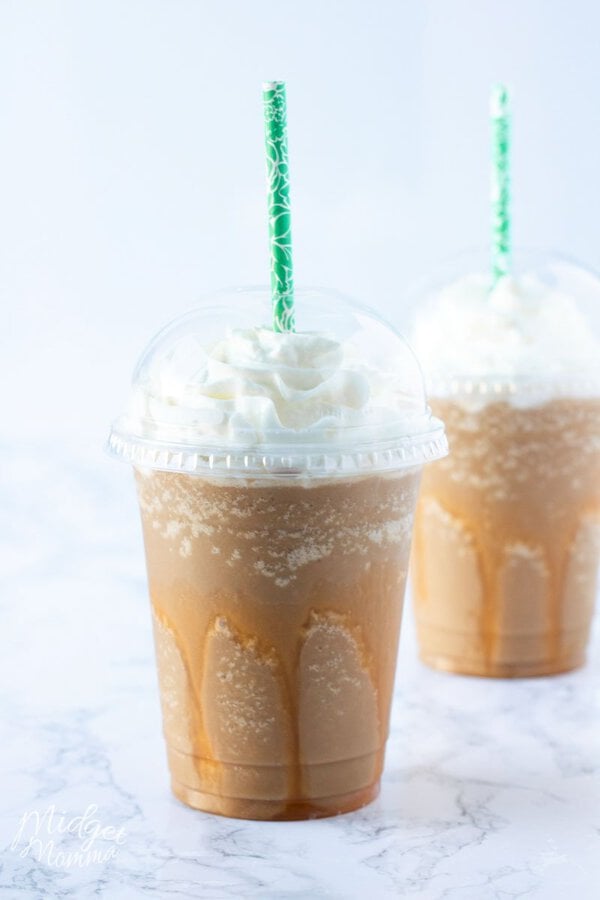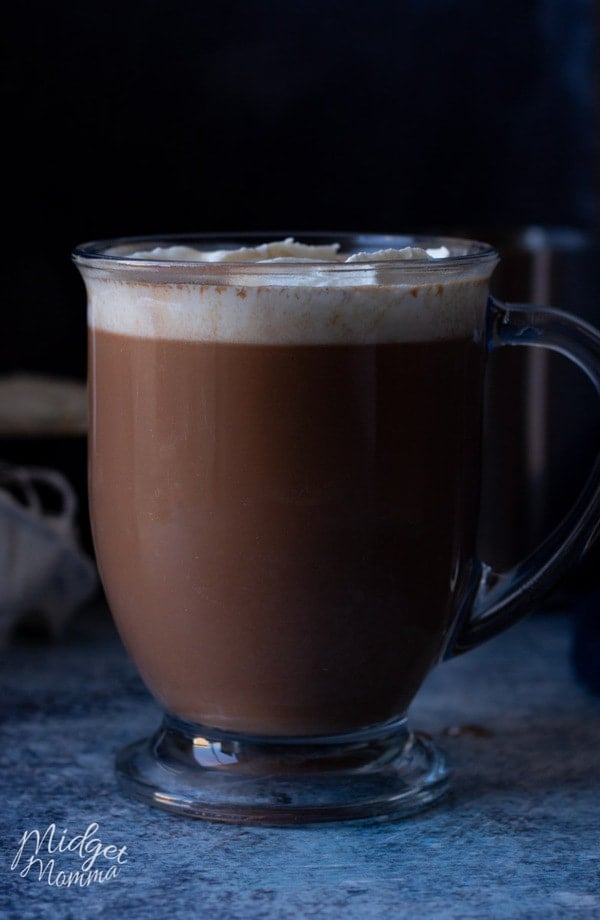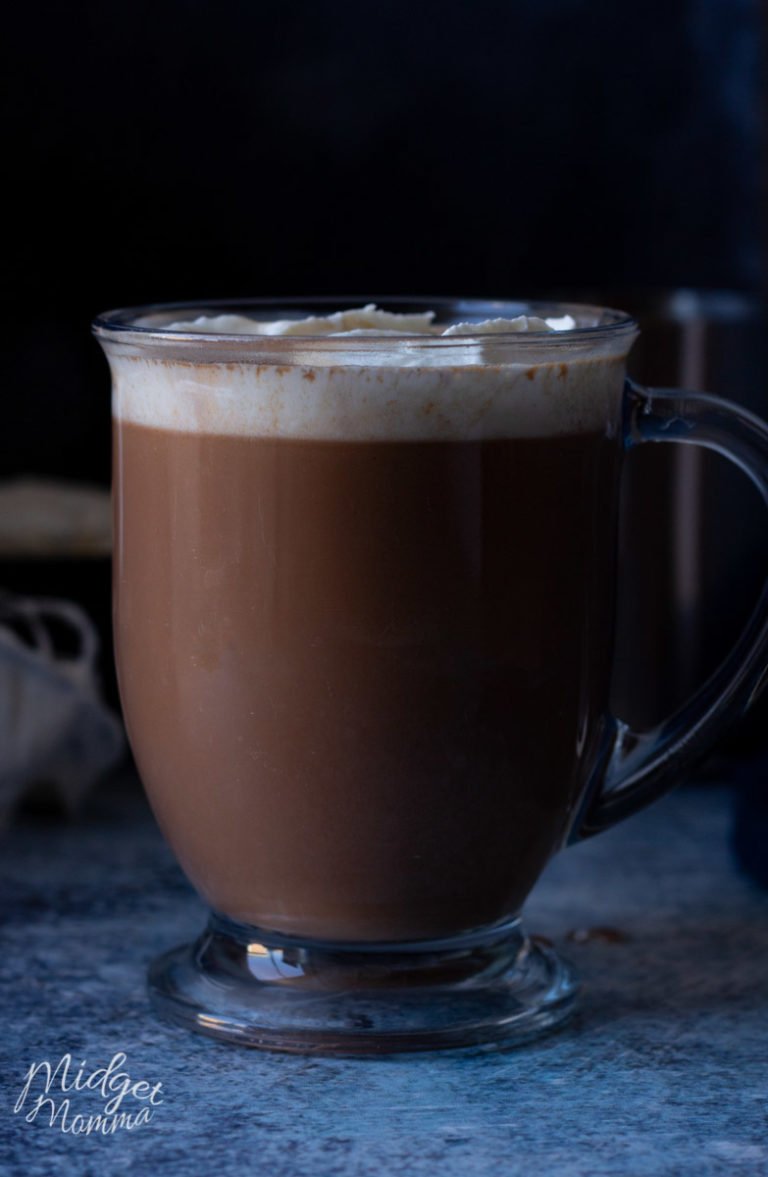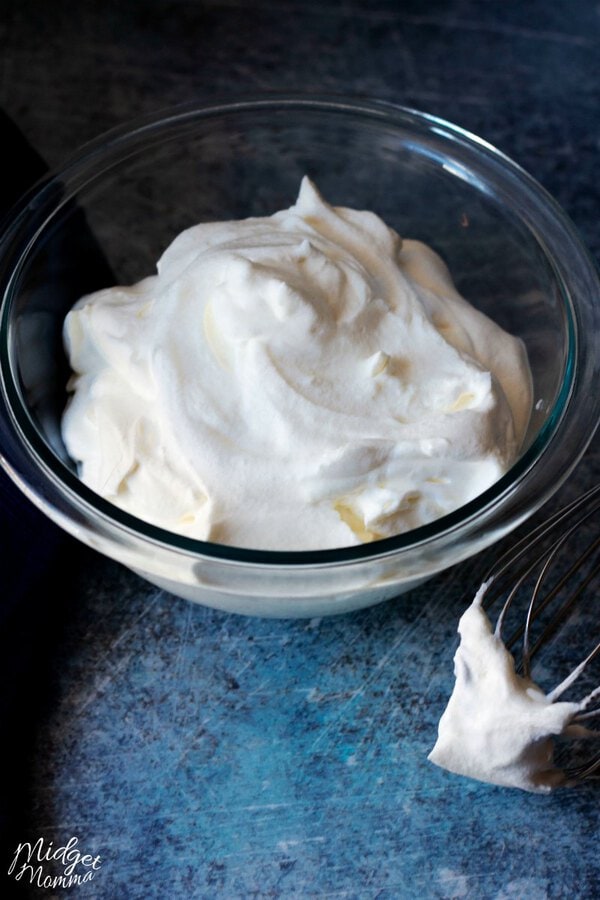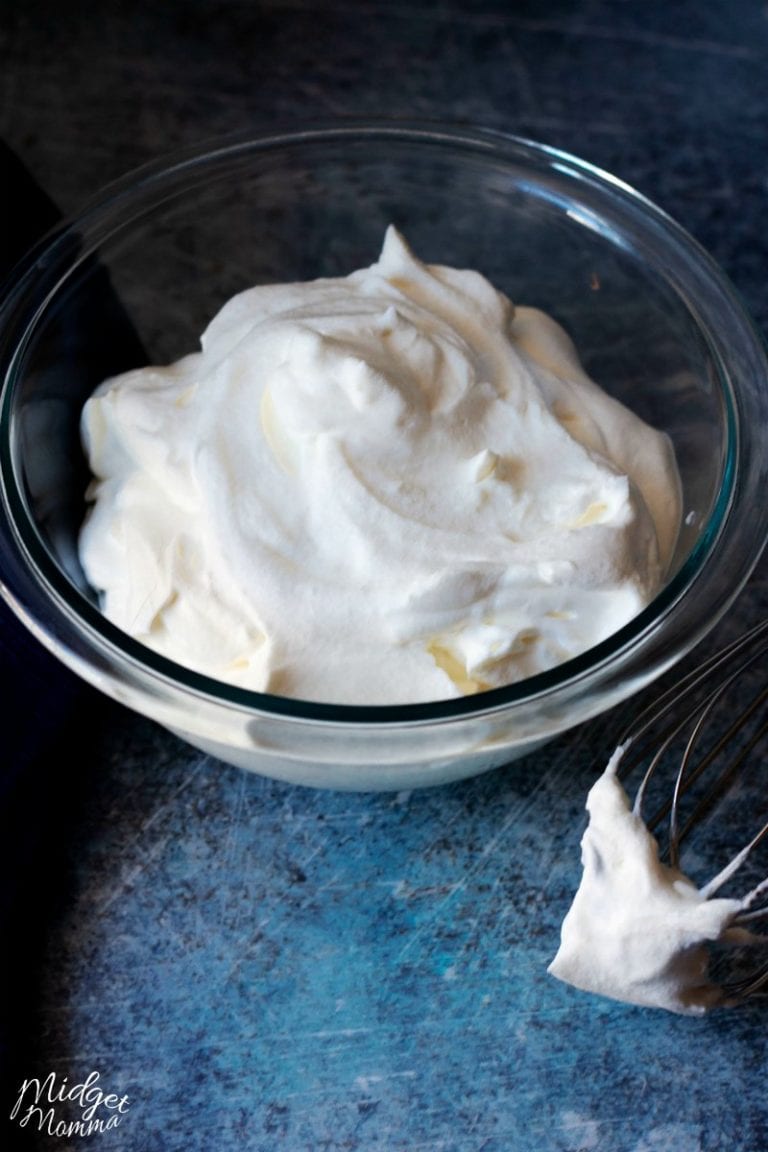 Do yourself a favor and print out the How Many Pints in a Quart? and other liquid measurements printable to help you with your measurements in the kitchen! I have mine hanging on my fridge. It makes a super easy cheat sheet for whenever I am cooking and need to use liquid measurements.
Join the newsletter
Subscribe to get our latest content by email.
This post may contain affiliate links. Please read my disclosure policy here