This is the best Vanilla Buttercream Frosting Recipe that you are going to find! This easy to make vanilla buttercream recipe tastes just like the frosting you get at a bakery! It is smooth, creamy, sweet, and perfect for frosting cakes and cupcakes, and dessert fillings!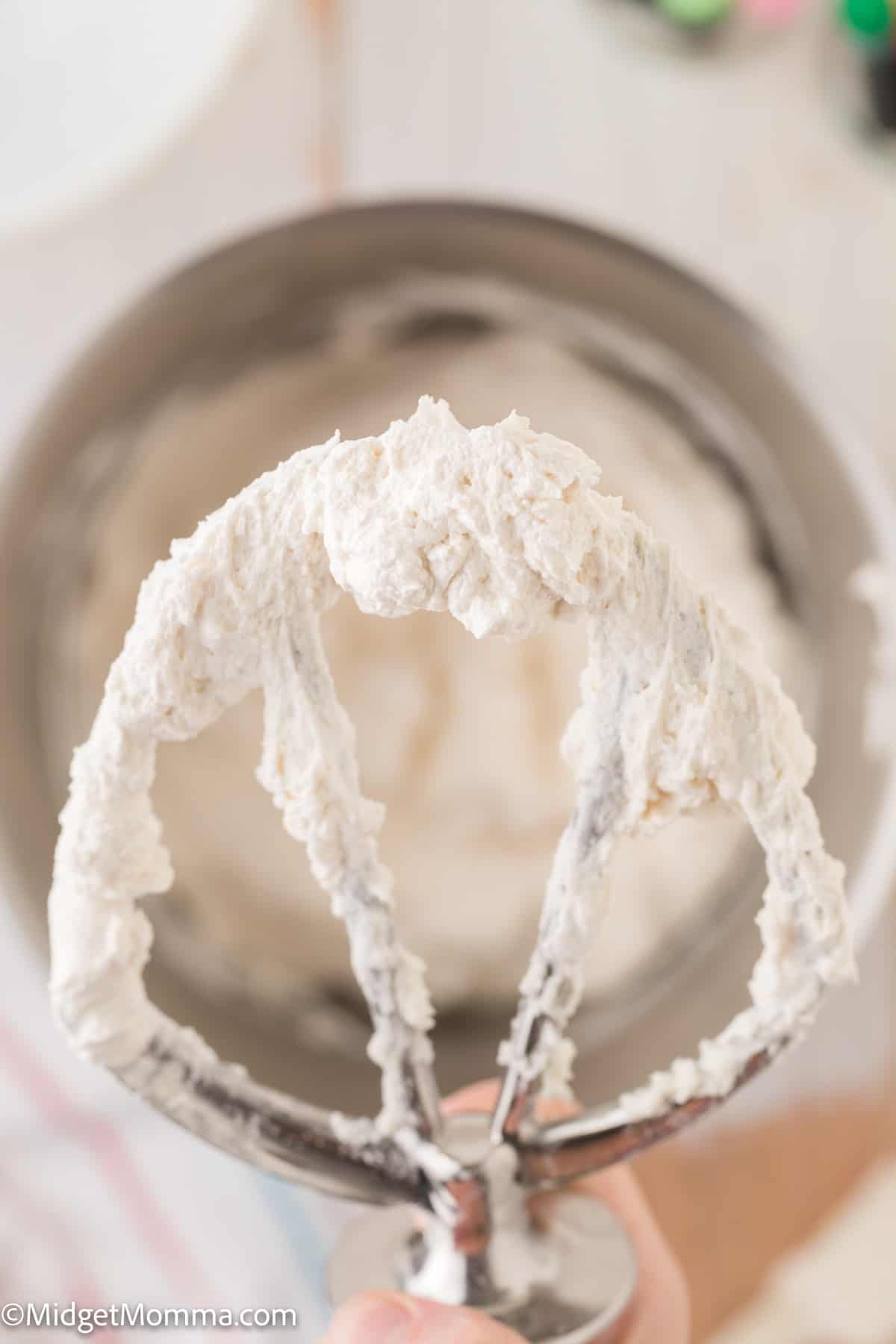 Vanilla Buttercream frosting recipe
This buttercream frosting recipe gives you a light, fluffy and delicious bakery style buttercream frosting that is perfect for decorating cakes or cupcakes! On top of it being delicious, you can whip this bakery buttercream frosting recipe up in just a few minutes!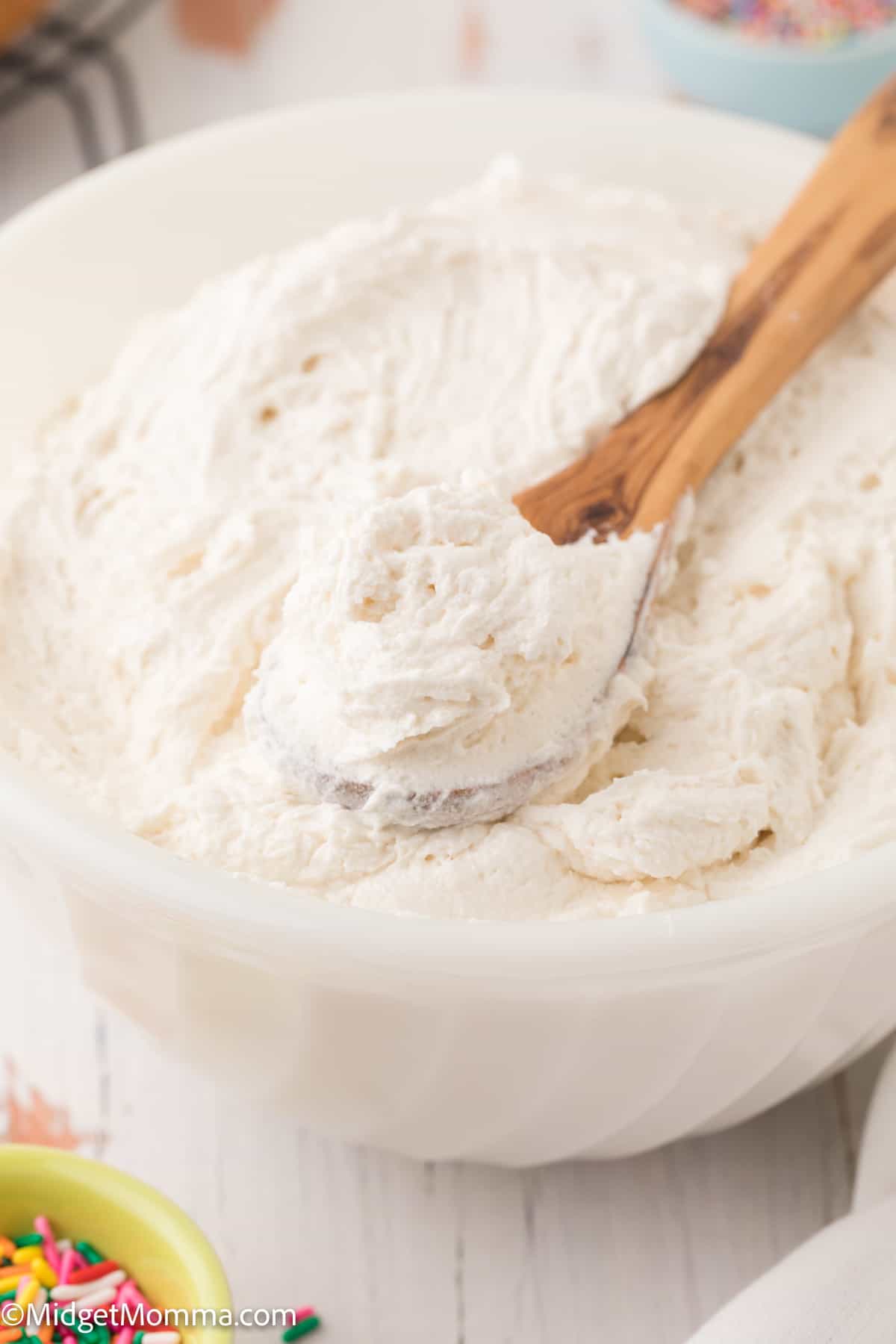 This is the only easy Vanilla buttercream frosting recipe I will use and have used for years (it has been on the blog for years too!). Every time I make a cake or cupcake with this buttercream frosting everyone is always asking me for the recipe. I have used this vanilla buttercream for cakes, cupcakes, and desserts.
Anytime I need an amazing vanilla buttercream frosting recipe this is the one I use. I am sure you will also make the switch to this homemade vanilla frosting once you try it.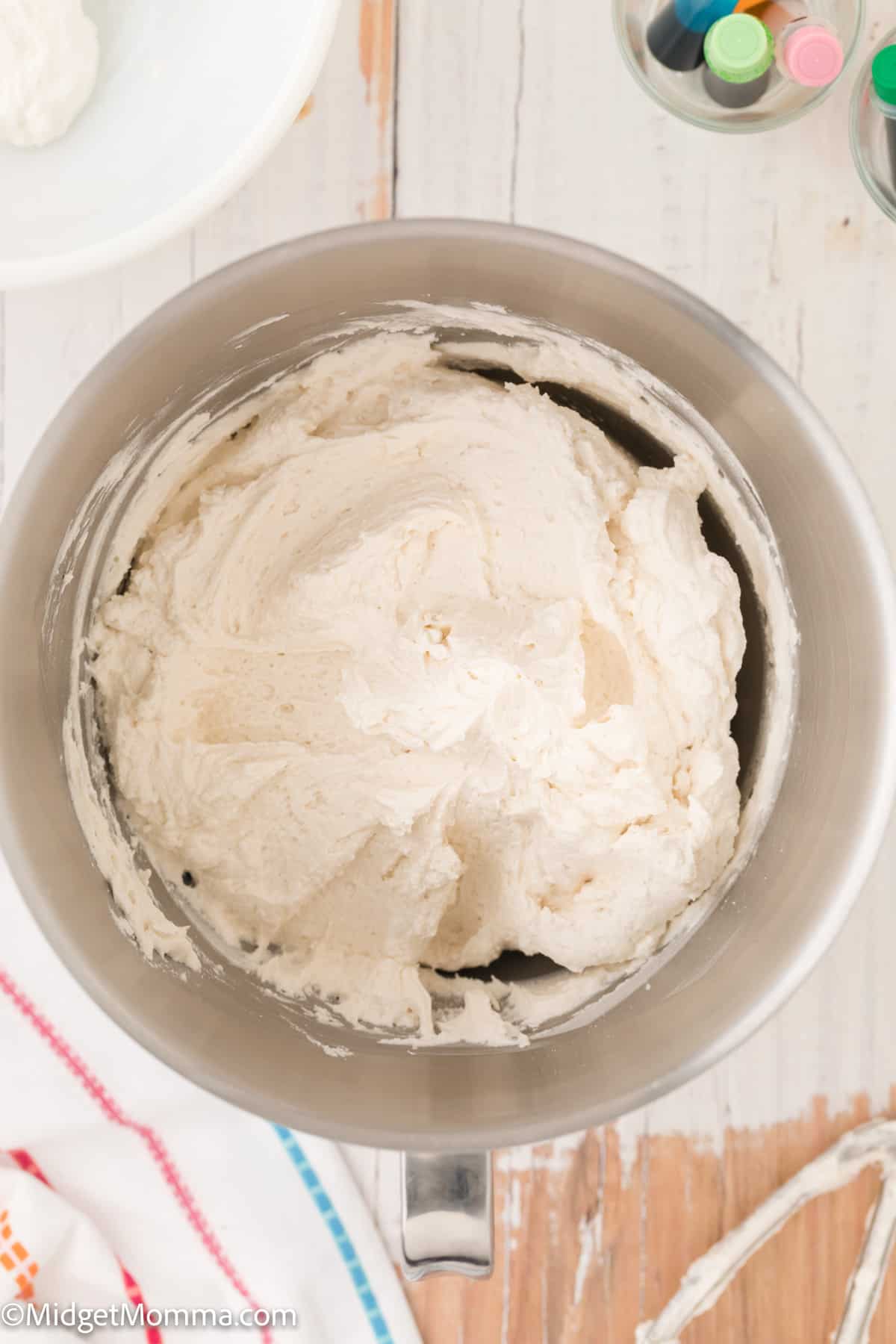 What is vanilla buttercream frosting?
Classic Vanilla buttercream frosting is a vanilla frosting that is made with butter and shortening that is whipped together and then flavoring is added and you have a fluffy and perfect frosting. It is made with simple ingredients and you do not need to have a ton of time to make this homemade frosting recipe that tastes just like the buttercream frosting you get in a bakery.
This is the best buttercream frosting that you can make at home and have everyone thinking you went to a bakery because the flavor is amazing. This buttercream icing recipe is one that will remind you of that amazing bakery buttercream frosting that you love.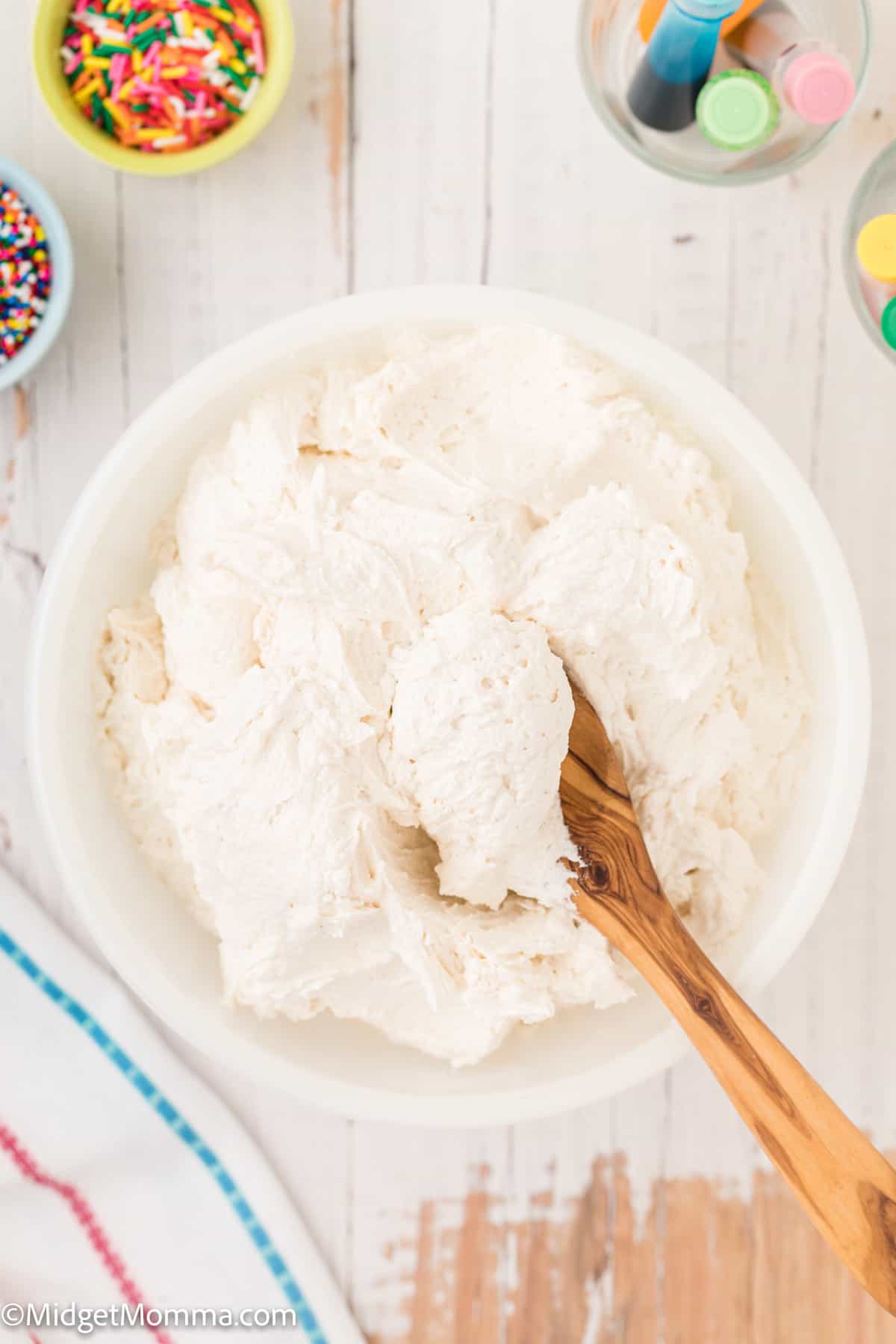 What makes this the best buttercream frosting recipe?
Seriously this is the best buttercream frosting recipe to use if you are wanting to make cupcakes or cake. I don't just say that – over the years the comments and repins have spoken for themselves (Over 300,000 times!).
This is the most perfect light and fluffy vanilla frosting recipe you are going to find! And it has the perfect buttercream frosting flavor!
You are able to use it for decorating cakes, piping it onto cupcakes, and for dessert fillings. It is the most versatile buttercream recipe.
I just recently updated the photos for this amazing buttercream frosting recipe so they were prettier but this bakery style homemade buttercream frosting recipe hasn't changed a bit!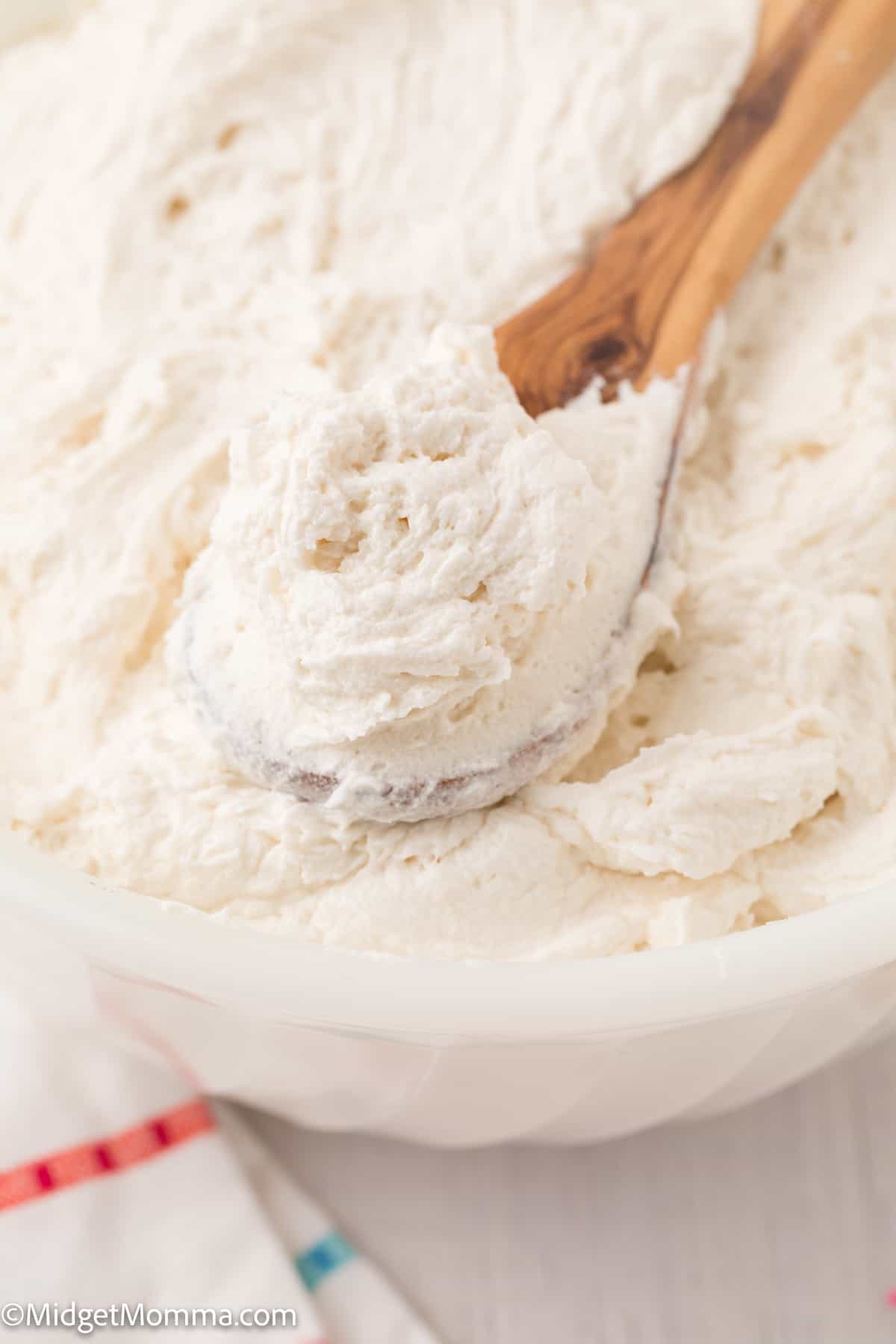 Ways to Use Vanilla Buttercream Frosting
You can use this homemade Buttercream icing on top of cakes, cupcakes, of course. It is amazing when paired with chocolate cake or in a layer cakes. Ok really it tastes delicious with any cake flavor.
It also makes an amazing filling for stuffed cookies and other desserts too! It's so versatile, you can use it for just about anything when it comes to desserts. There are lots of tasty desserts that have buttercream frosting, be sure to check out some of our favorites.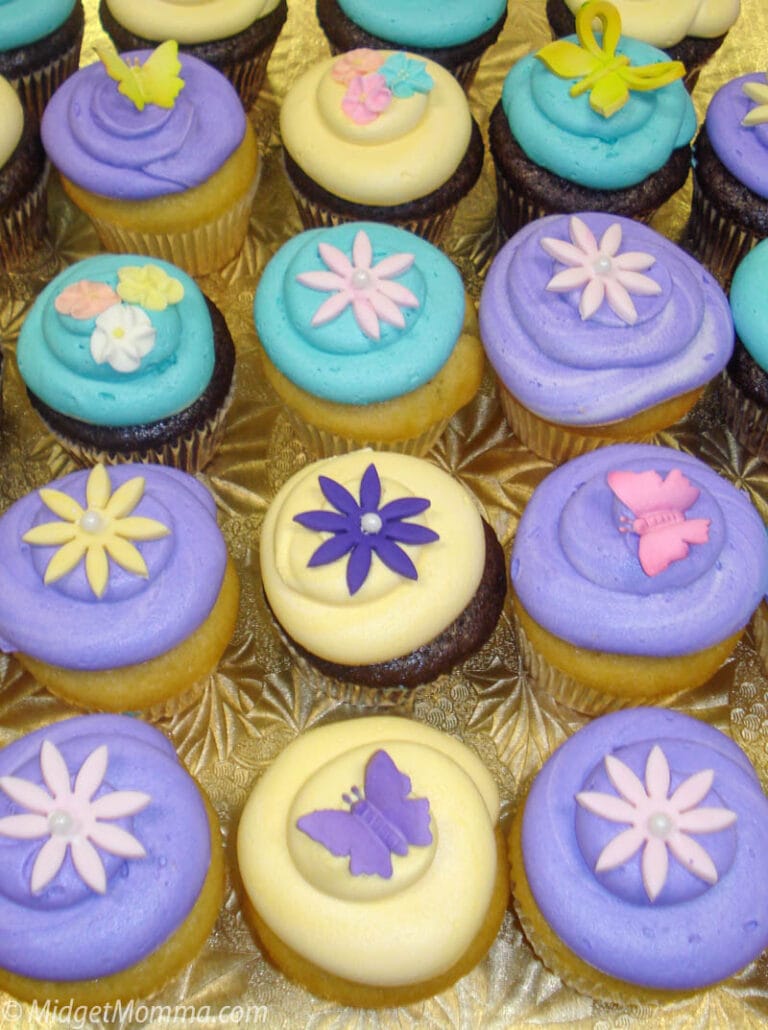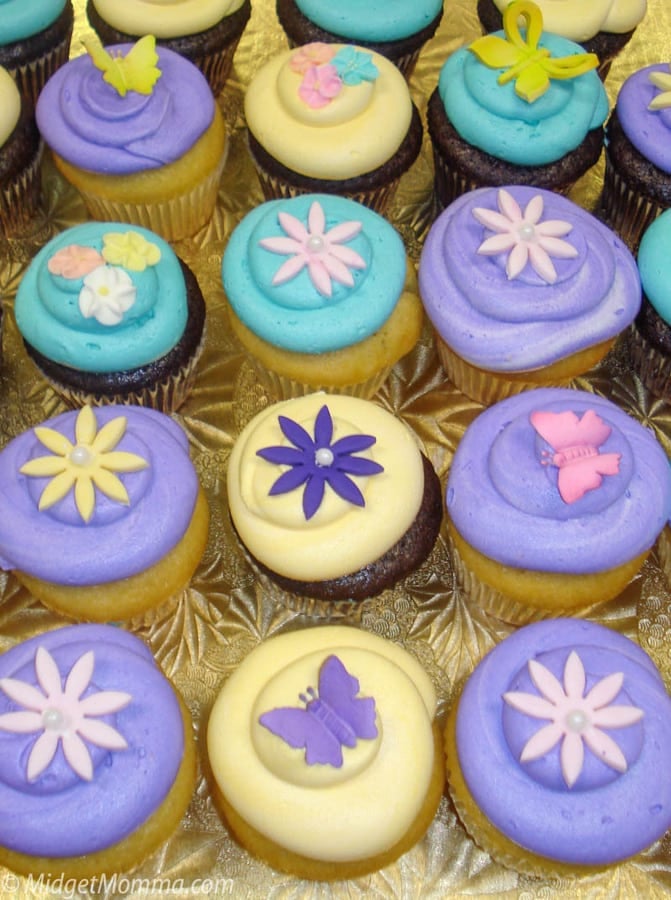 Tips for Making Homemade Vanilla Buttercream Frosting
Make sure your butter is room temperature. Do NOT put it in the microwave to soften, put it on the kitchen counter and soften.
Use the paddle handle on your mixer when you are mixing your frosting.
Be sure you are putting the confectioner's sugar in slowly, otherwise you will end up with a big mess of the confectioner's sugar spewing out of your mixer.
Use homemade Vanilla Extract. I always keep homemade vanilla extract on hand, but if you don't have it you can totally use store bought vanilla extract.
If you live in a humid environment and don't use your powdered sugar much, it may get clumpy and you'll want to sift it.
What can I do if my frosting is runny?
If you find your frosting to be running and is not fluffing up then add more confectioners sugar. At times the humidity where you live and in your home can mean that you need more powdered sugar. Add it little by a little while mixing until you get the texture you are wanting.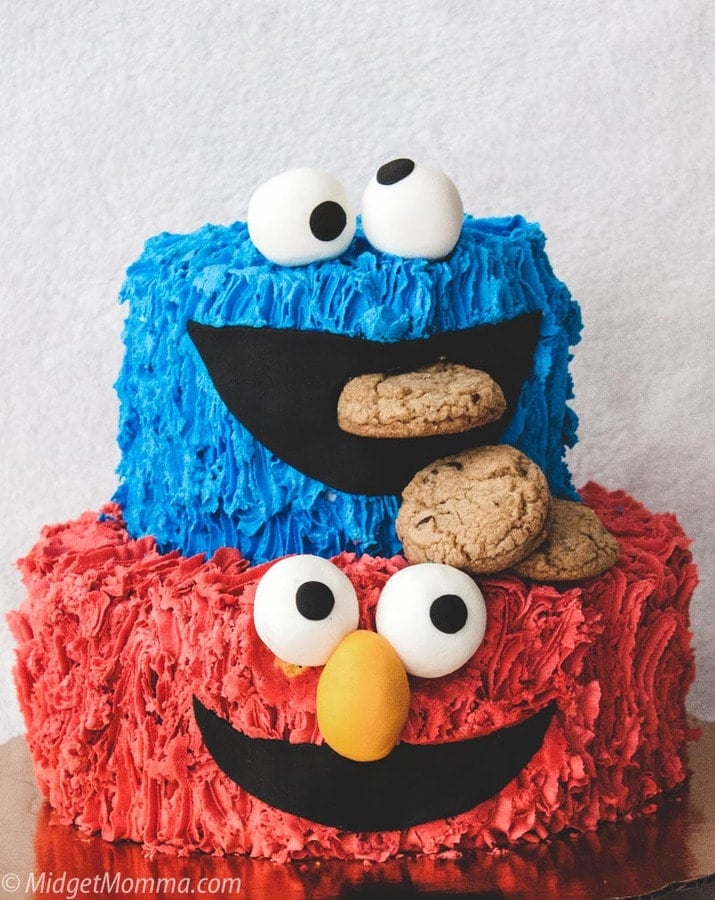 How to Color Vanilla Buttercream Frosting
You will get vibrant colors easily with this vanilla buttercream frosting recipe and coloring frosting is easy to do. All you need is a few drops of food coloring that you will add to the buttercream frosting after you are done with the first mixing.
I highly recommend using gel food coloring. The liquid food coloring I find adds too much liquid to the buttercream and makes it kind of soggy.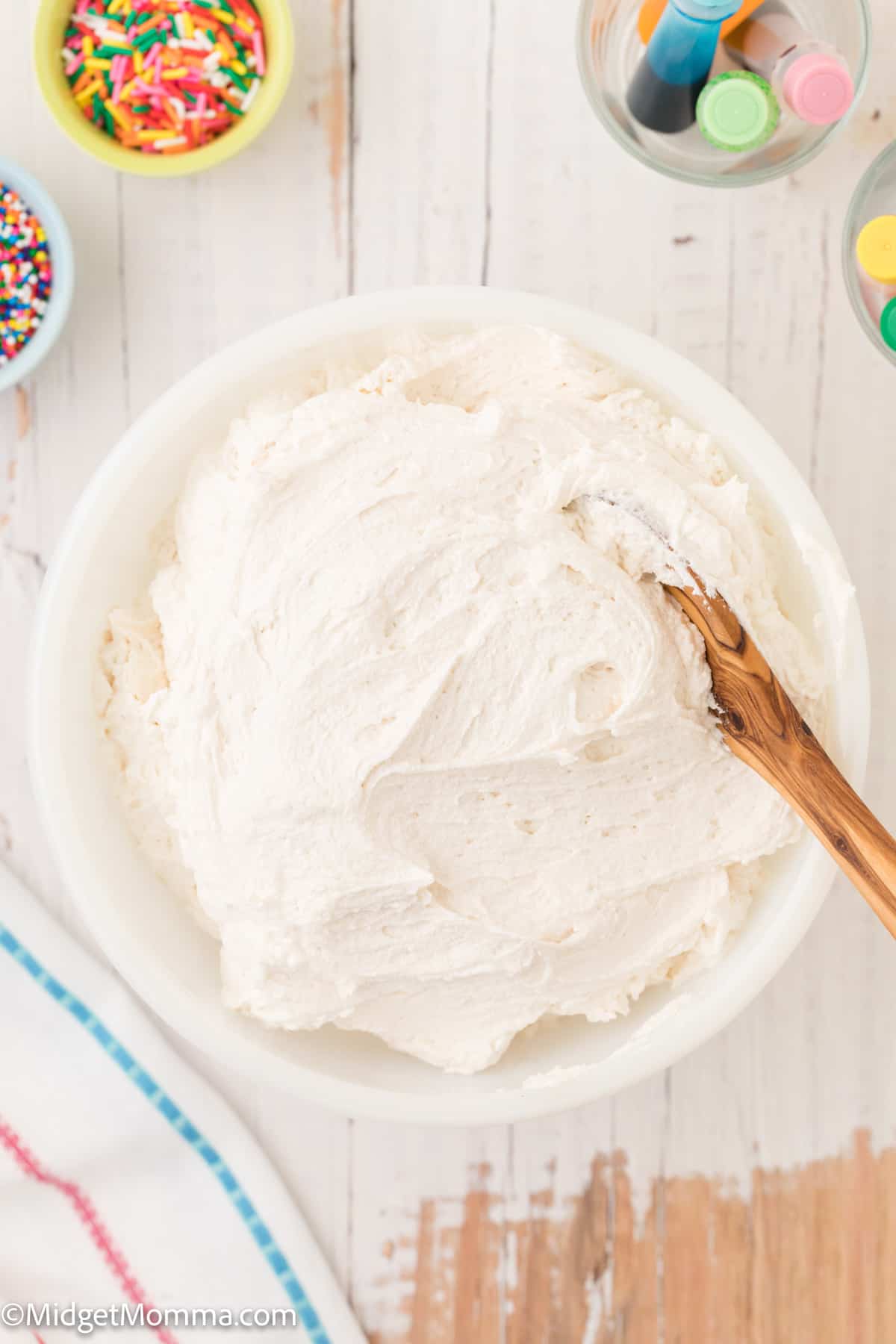 Can I Change the Flavor of this Buttercream Frosting?
The great thing about this homemade buttercream recipe is that you can easily change the flavor from Vanilla buttercream to any other flavor you want.
All you have to do is use a different flavored extract like almond extract or peppermint extract instead of vanilla extract. This buttercream frosting can be used as the base to make many different flavors of buttercream.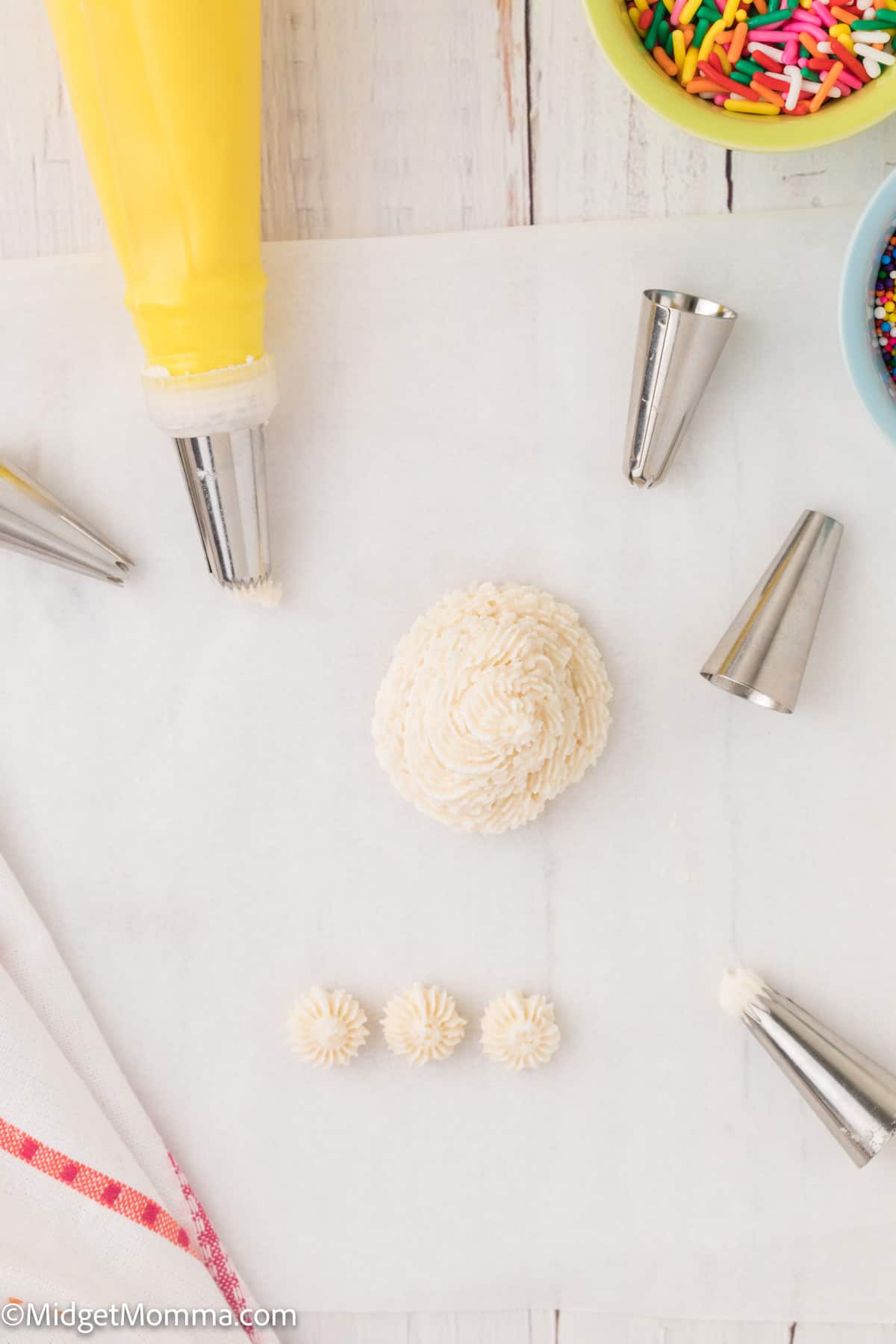 Why Does buttercream have shortening in it?
I know when people think of buttercream frosting they think that it is fully made with buttercream and are shocked to see shortening as an ingredient. Shortening is important to use when you are making buttercream because it is a fat and you need fat in your buttercream to make it perfect.
You need the extra fat to make the buttercream light and fluffy and useable for decorating cakes and cupcakes. If you were to only use butter you would end up with a texture that is not good to work with.
On top of that reason, if you were to only butter and not use the shortening then you are going to end up with a very greasy, very heavy buttered flavor frosting.
What is Shortening?
Shortening is a tasteless fat, that gives the extra fat needed but without giving a heavy butter flavor. We want to be eating frosting, not feel like we are eating a stick of butter.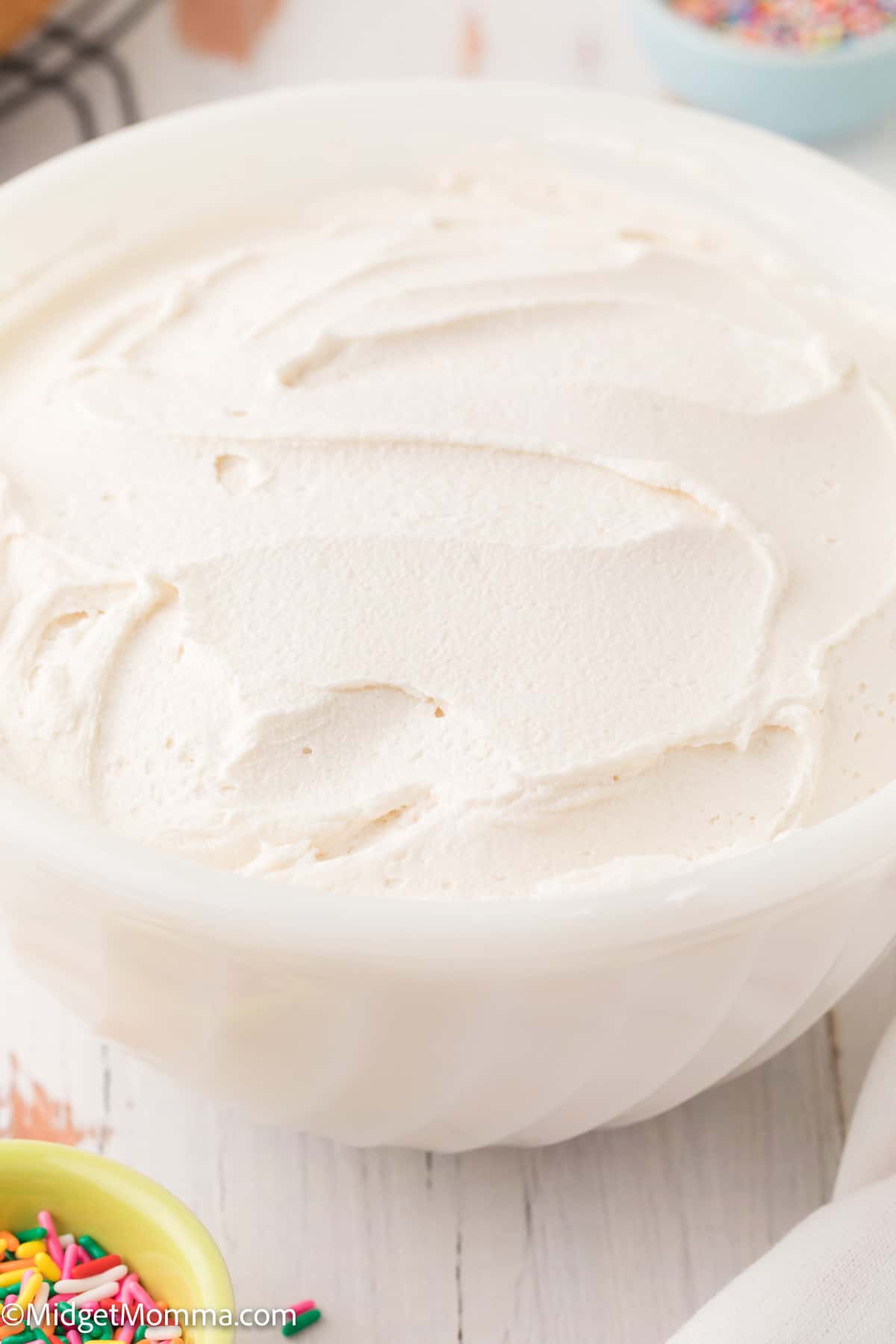 Can I Make Buttercream Ahead?
You can make this vanilla buttercream frosting 3 days in advance of when you want to use it and store it at room temperature. You can make this buttercream frosting up to 2 weeks ahead of time if you are going to store it in the fridge.
How to Store Vanilla Buttercream Frosting
The best vanilla buttercream frosting can be stored at room temperature for up to three days or in the refrigerator for up to two weeks.
How to Make Buttercream Frosting Fluffy After Storing
When you bring it out of the refrigerator let it sit at room temperature for two hours. When you are going to use it, re-whip it for ten minutes in your stand mixer to bring it back to life.
How to Freeze Buttercream Frosting
You can freeze chocolate buttercream frosting for up to 3 months. I suggest using a freezer bag or a plastic airtight container. if you are using a freezer bag be sure to squeeze all of the air out of the bag before putting it in the freezer.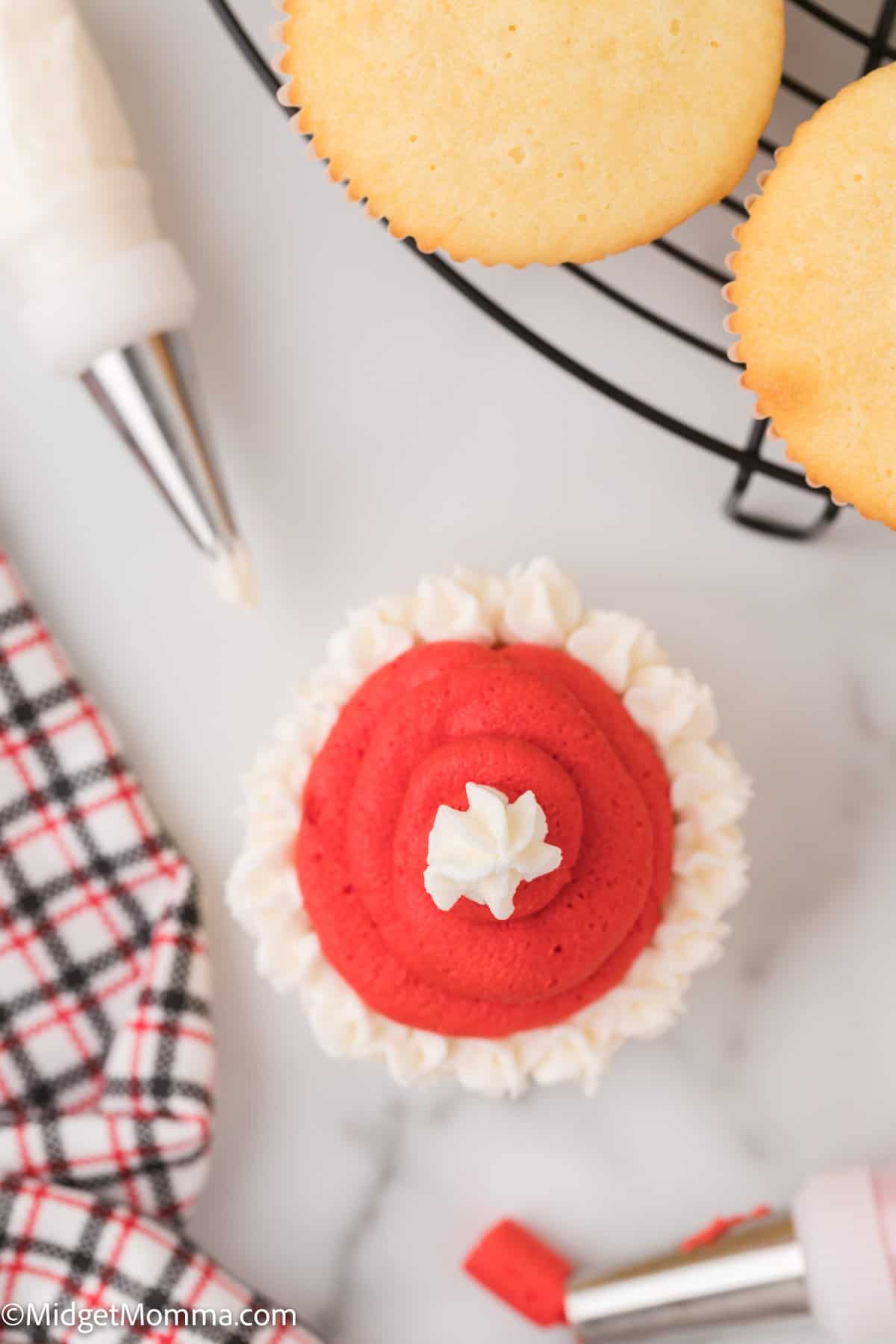 Tips For Decorating with Vanilla Buttercream Frosting
This homemade buttercream frosting is perfect for decorating cakes and cupcakes. It is the perfect texture to spread on a cake and also the perfect texture to pip on cupcakes with a piping bag.
When I make a cake I like to decorate it. Sometimes I go simple and sometimes I go all out it all depends on my mood. This is my favorite cake decorating set to use when I am decorating cakes. It comes with icing bags and lots of different icing bag tips so you can pick which style you want your frosting to be when you are decorating your cakes.
If you have never decorated cupcakes or cakes with frosting before, be sure to check out these posts to help you.
Use a cake stand. To make life easier when decorating a cake, having a cake stand, will help a lot. You can easily spin the cake while you are decorating.
Keep the buttercream stiffer when decorating. If you are wanting to decorate smaller and more intricate designs on the top of a cake you will want the buttercream to be stiffer than when you are only frosting a cake and spreading it.
Use a piping bag when piping cupcakes and cake edging. This homemade frosting is also perfect for piping frosting onto cupcakes with however it works much better to use a piping bag when you are piping designs and cupcakes!
Electric mixer. I use my kitchenAid mixer when making this easy buttercream frosting, but if you do not have a stand mixer then you can use a hand mixer. Either one will do the job, but I prefer using the stand mixer.
Looking for Cake Ideas? Check these out!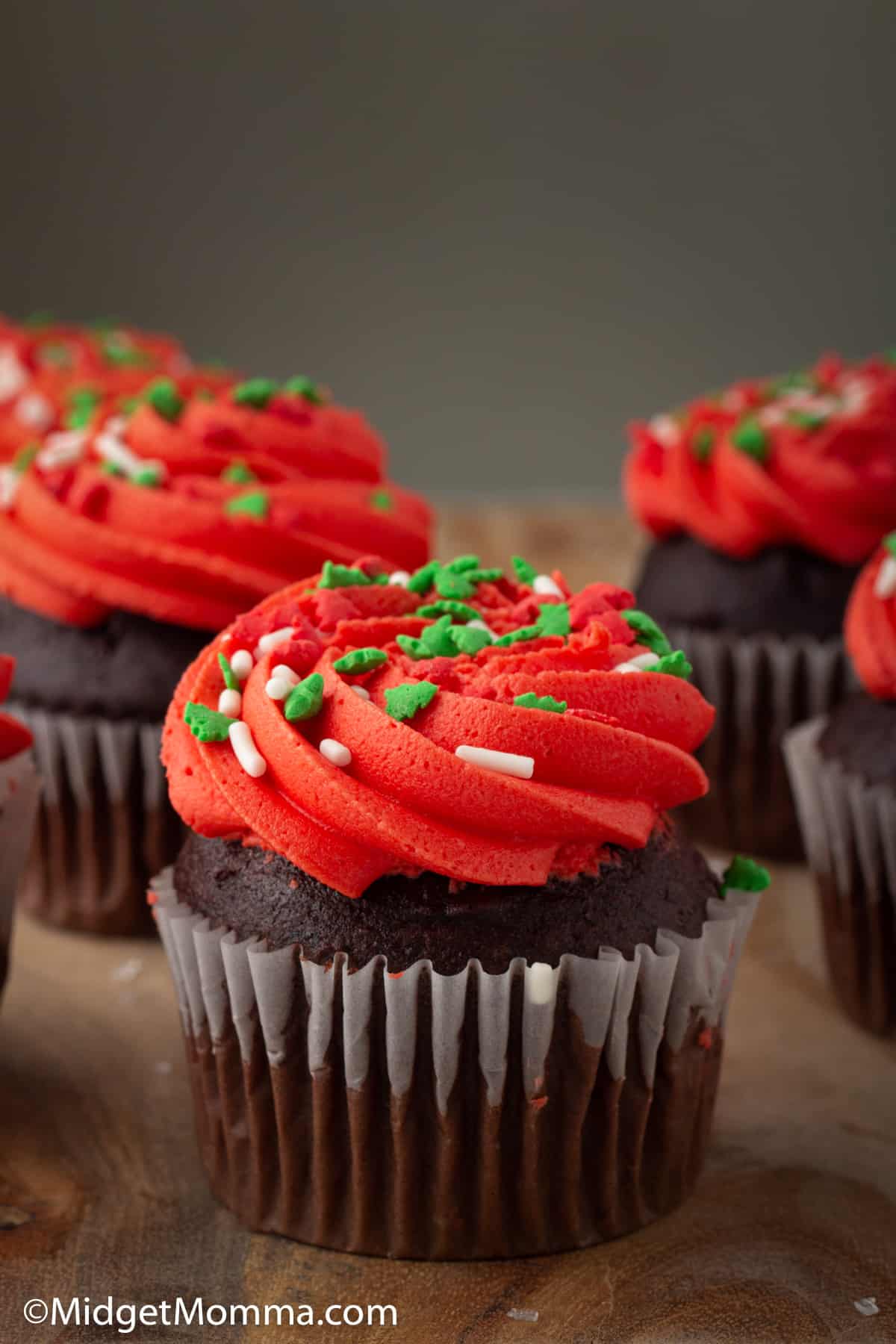 What Flavor Cake Goes with Vanilla Buttercream Frosting?
Just about any cake flavor pairs well with vanilla frosting. I actually can not think of a cake flavor that I haven't paired with this frosting recipe and it worked perfectly.
How Much frosting does this recipe make?
If you are looking for a frosting that you can use to frost a cake this will make enough frosting for 2 8 inch round cakes or 24 cupcakes if doing small swirls, or 12 cupcakes with large frosting swirls.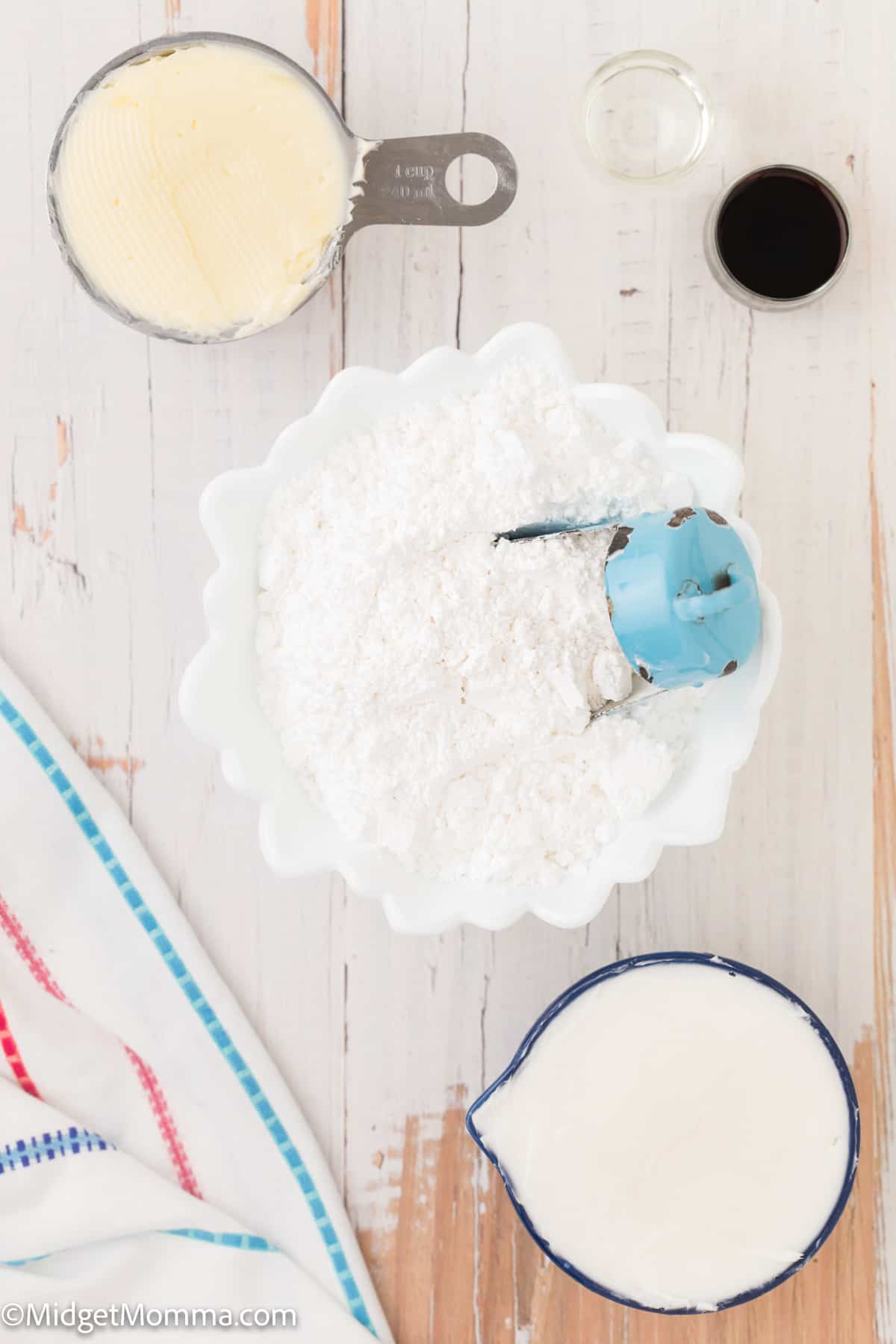 Buttercream Frosting Ingredients
Butter. You want to use unsalted butter. You also want it to be room temperature, It is important that you use softened butter in making fluffy frosting.
confectioners sugar. Powdered sugar is important when making frosting. Granulated sugar will not work when making frosting.
vanilla extract. You can use store bought vanilla extract or homemade, but I do prefer to use homemade vanilla extract.
hot water. You will need a little by little to thin the frosting and the amount will differ depending on how thick you want your buttercream to be.
How to make Vanilla Buttercream Frosting
The first step is to take the butter out and bring it to room temperature on the counter.
In the bowl of a stand mixer with the paddle attachment or whisk attachment, add the butter and shortening and whip until they are both creamed together on medium speed.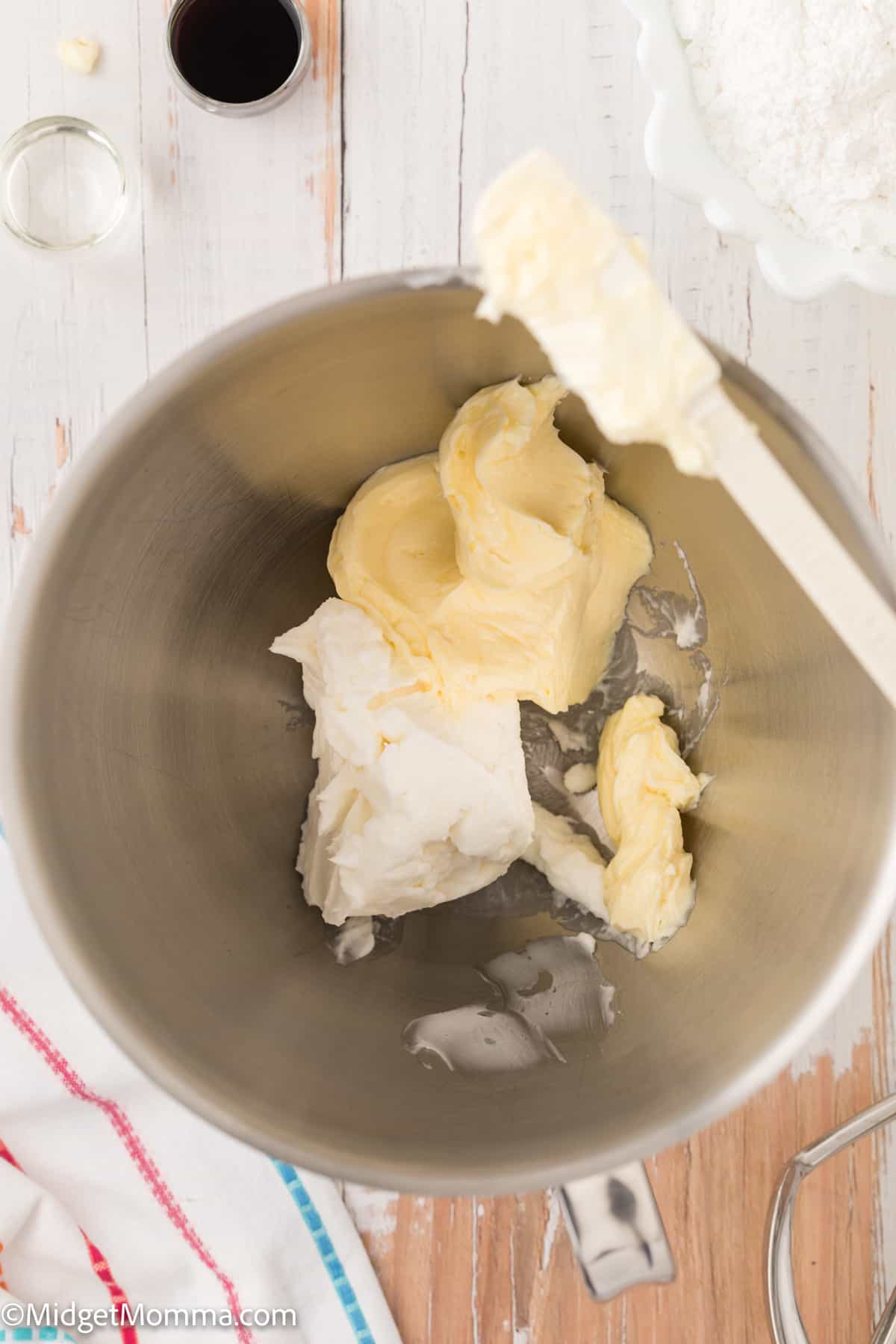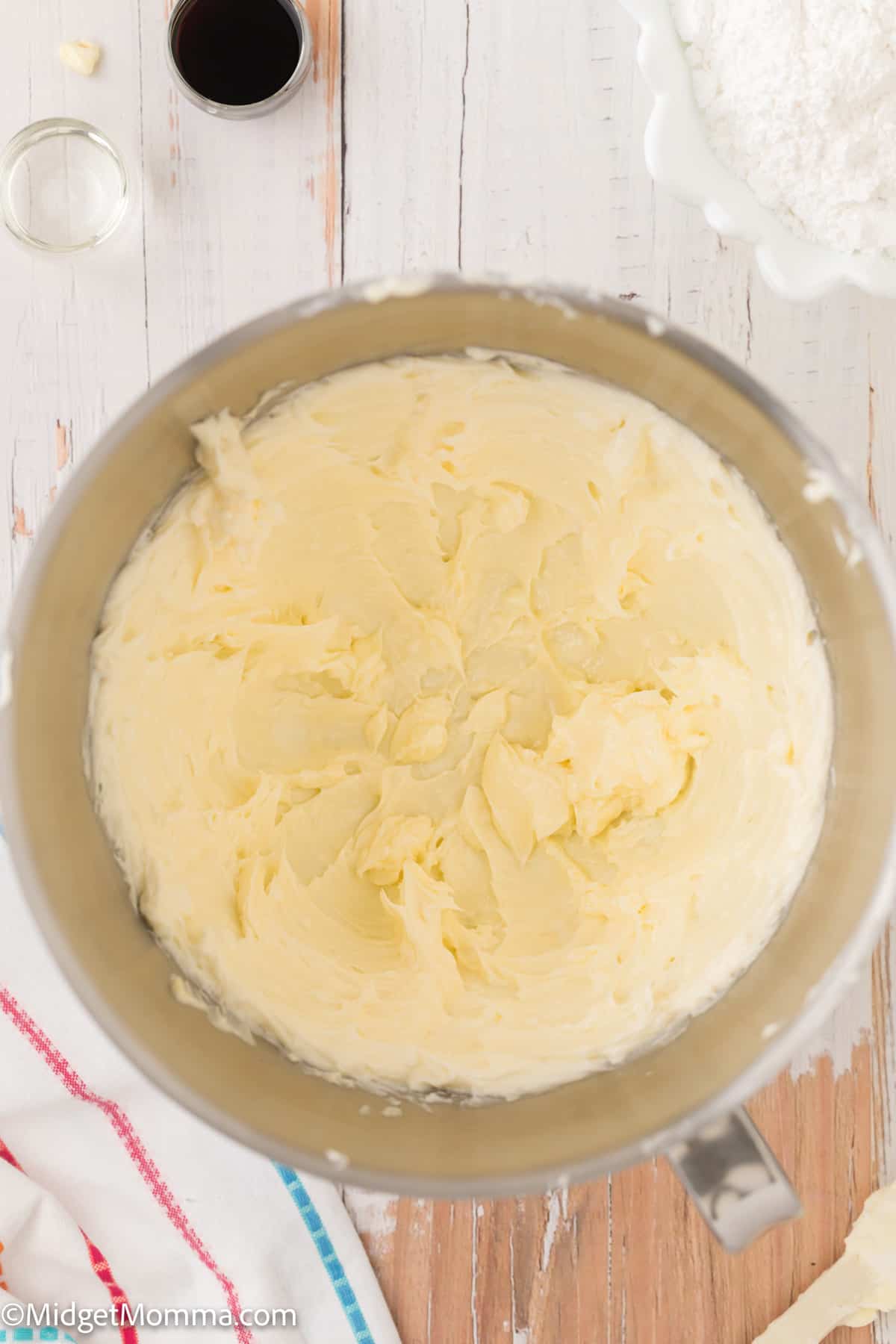 Once the butter and shortening are creamed and whipped lower the mixer speed to low and add the confectioner's sugar little by little until it is all mixed in.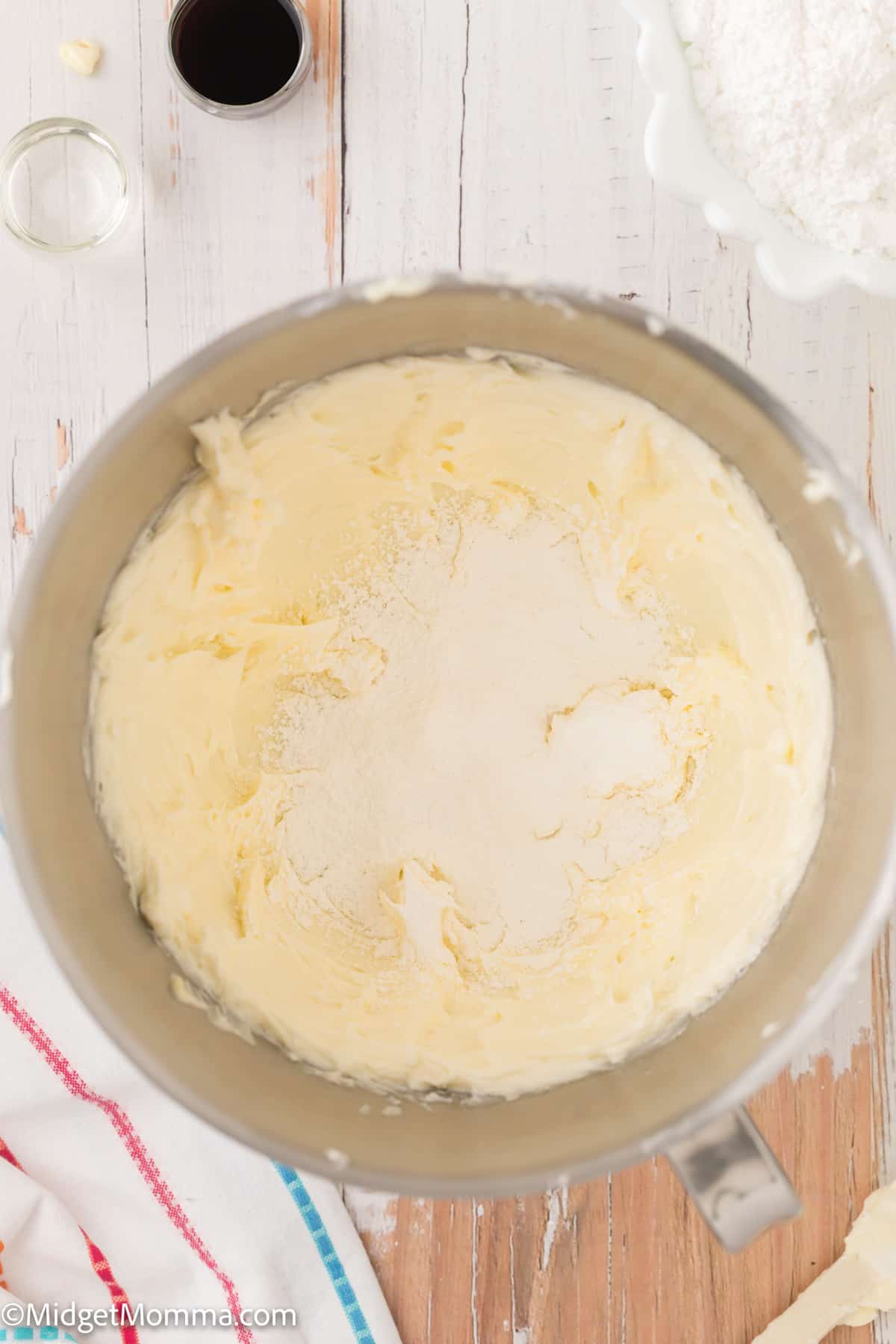 Once the confectioners' sugar is all mixed in add the vanilla extract and turn the mixer up to medium speed and leave the mixer mixing for 5-10 minutes until the frosting is light and fluffy.
Before fluffing the frosting on the higher speed, if you need to scrape the frosting down into the bowl if it is on the side of the bowl do so using a wooden spoon or a silicone utensil.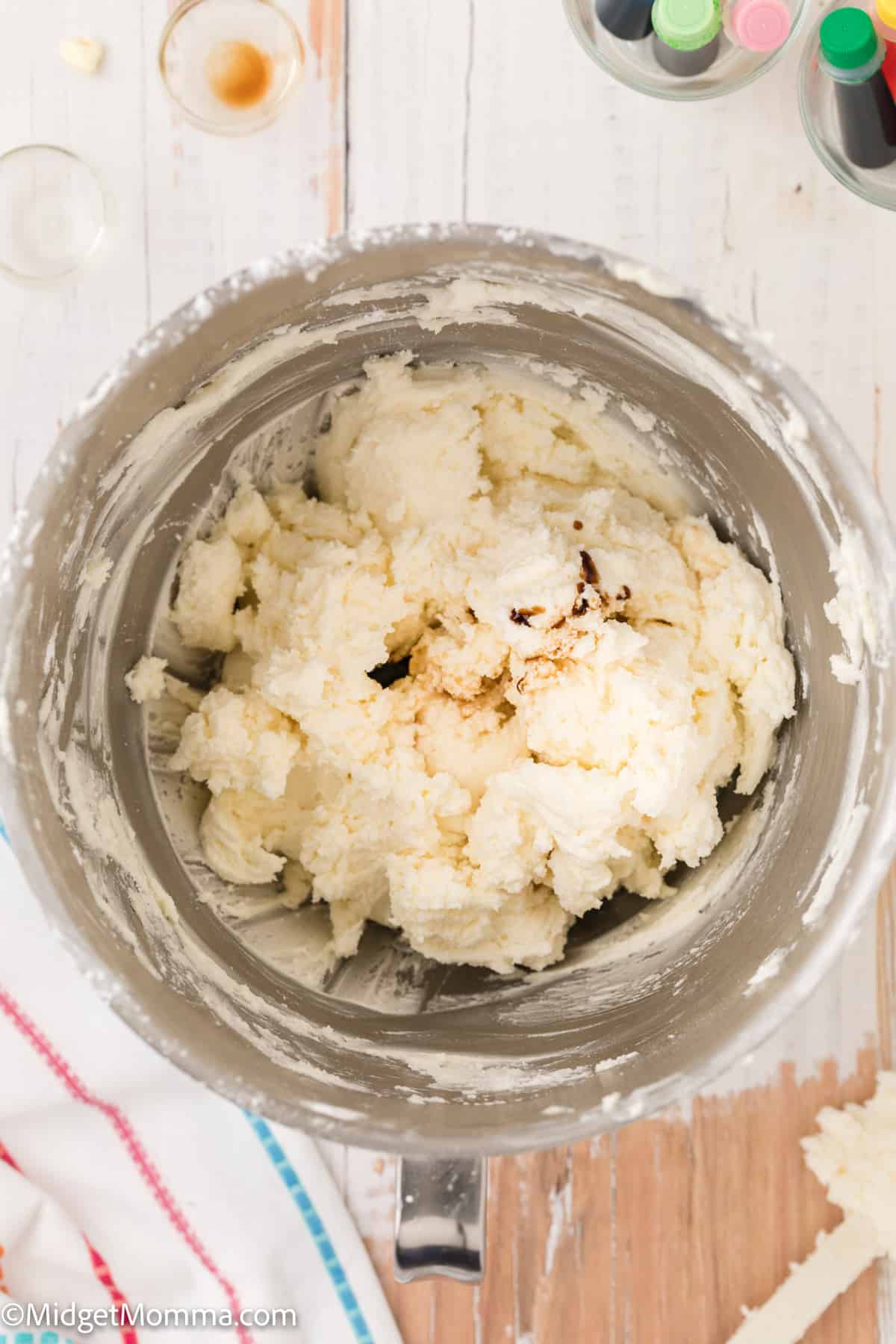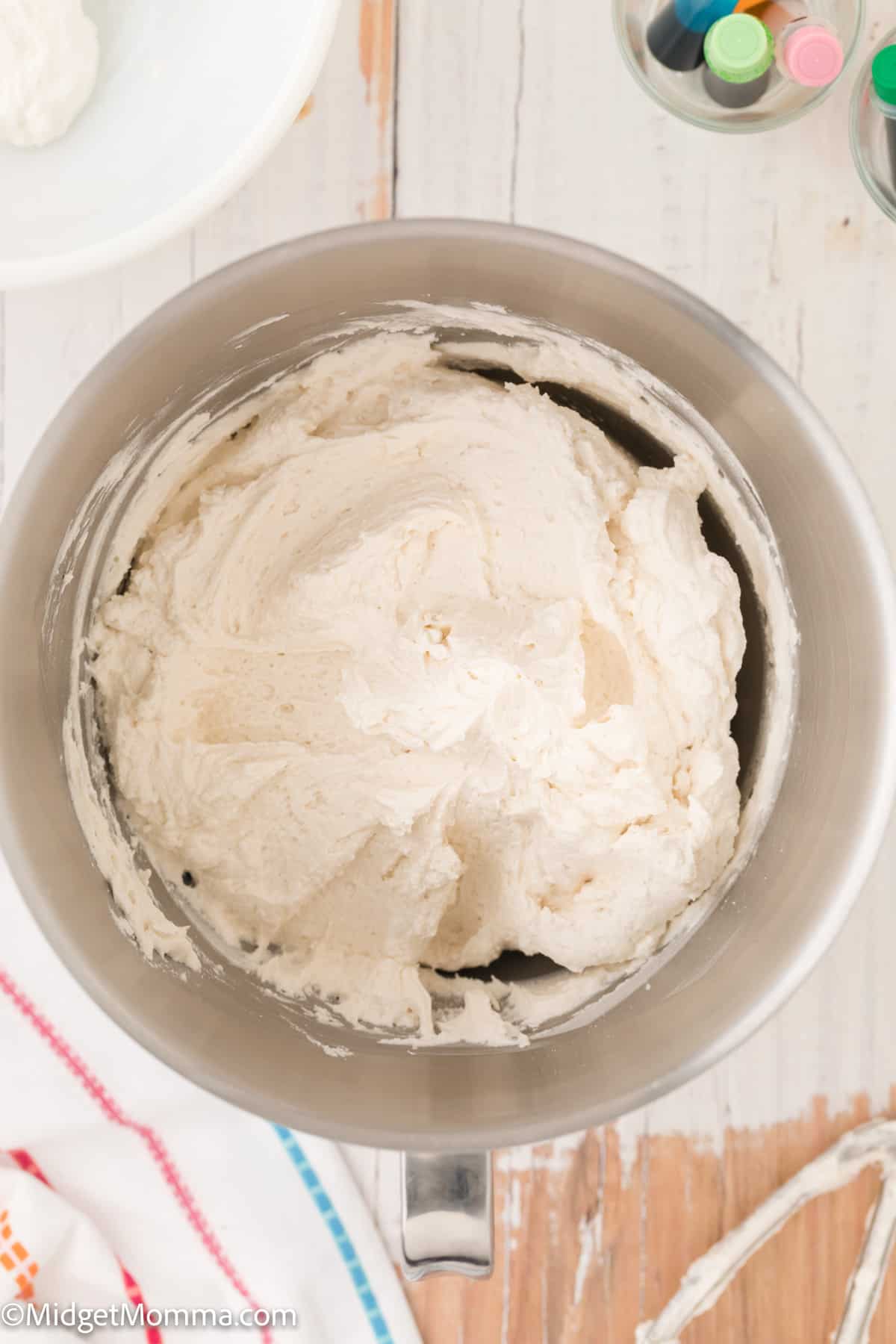 If you need to thicken the frosting you can add a little bit of powdered sugar. If you need to thin the frosting then add hot water 1 tablespoon at a time while it is mixing until it is the desired thickness.
Buttercream Frosting Recipes
Looking for more frosting recipes? Check these out and don't miss this awesome list of cupcake frosting recipes including:
Frosting Supplies
Homemade frosting is so easy! You only need a few ingredients, a hand or stand mixer, and then piping bags & tips to make fun designs!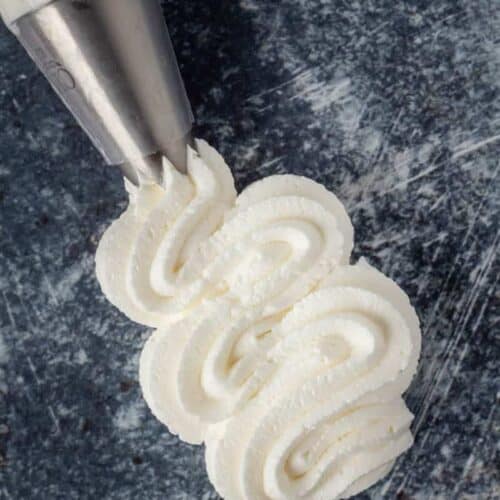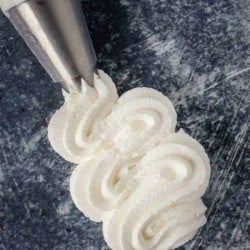 Bakery Style Vanilla Buttercream Frosting
Servings
This Bakery Style Vanilla Buttercream Frosting recipe tastes just like the bakery buttercream frosting you love. Perfect buttercream frosting for decorating cakes and cupcakes.
Instructions
Place your butter and shortening together in the bowl of your mixer. Mix them together on medium speed until they are nice and creamy.

Turn the mixer down to the lowest setting and slowly incorporate the powdered sugar into the shortening mixture.

Once you have added all the powdered sugar in to your mixture, add in the vanilla extract and then the hot water.

Turn the mixer up to medium-high speed and continue mixing for 10 minutes until light and fluffy.

The buttercream can be stored at room temperature for up to three days or in the refrigerator for up to two weeks. When you bring it out of the refrigerator let it sit at room temperature for two hours. Then re-whip it for ten minutes to bring it back to life.
Calories: 291kcal | Carbohydrates: 37g | Fat: 16g | Saturated Fat: 6g | Cholesterol: 20mg | Sodium: 68mg | Potassium: 2mg | Sugar: 37g | Vitamin A: 235IU | Calcium: 2mg
Vanilla Buttercream Frosting
Dessert
16 Weight Watchers SmartPoints per serving on the Freestyle Program
More Frosting Recipes you will love!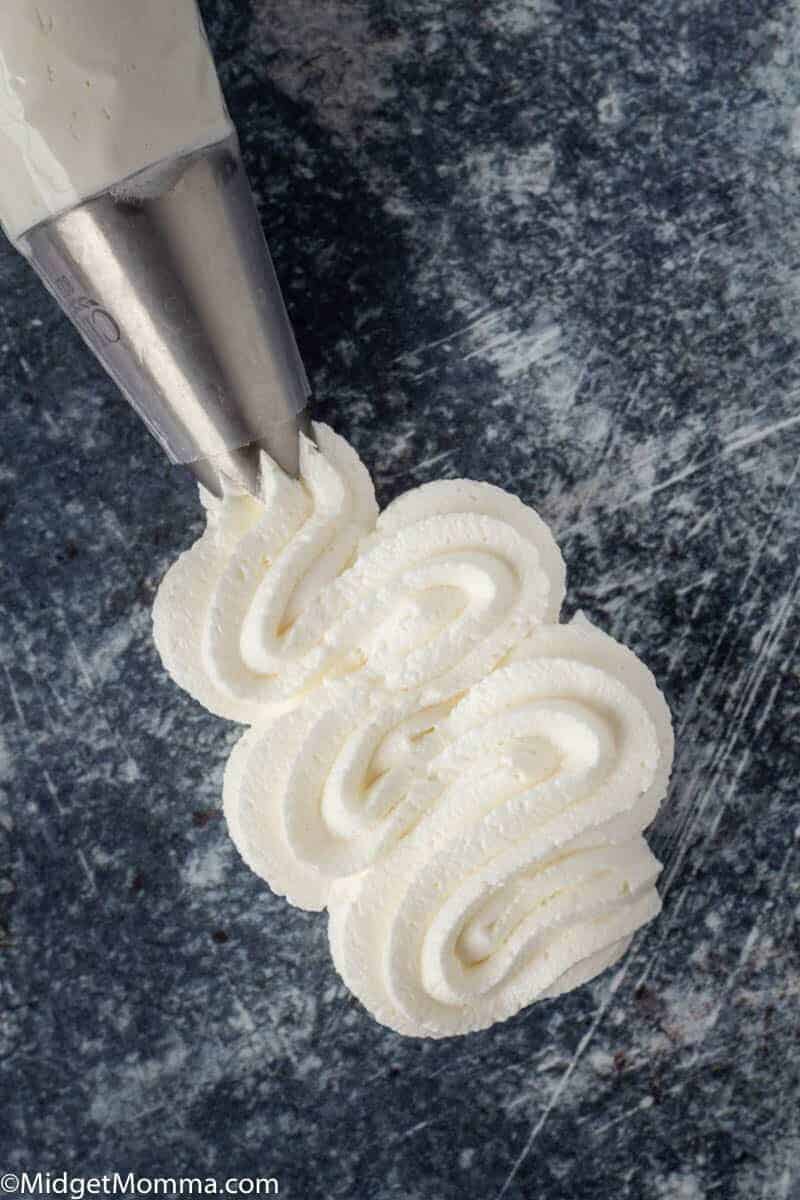 Join the newsletter
Subscribe to get our latest recipes right in your inbox every time we post a new one!