Mocha Buttercream Frosting. The perfect combination of chocolate and coffee in a fluffy homemade buttercream frosting recipe that is super easy to make! This easy-to-make buttercream frosting recipe is perfect for cakes, cupcakes, and brownies!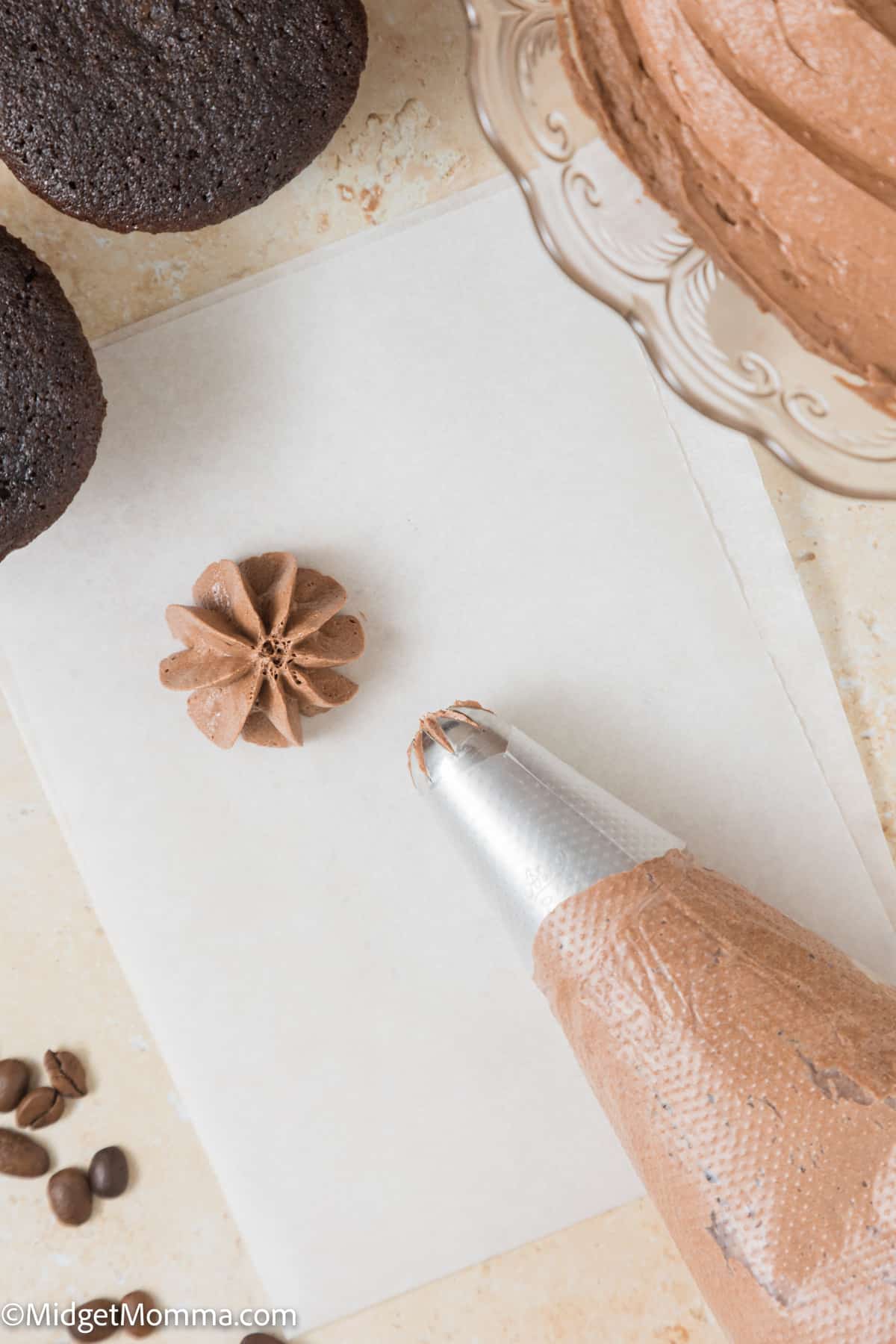 Mocha Buttercream Frosting
You can not have an amazing cake or cupcake without amazing frosting. With this mocha buttercream frosting, you get the best of both worlds, the perfect blend of chocolate and coffee that combine to make an amazing coffee chocolate frosting that is perfect for cakes and cupcakes.
This homemade frosting recipe has the perfect mocha flavor. A rich chocolate flavor with a hint of coffee flavor makes it perfect for anyone who loves chocolate and coffee. I love pairing this frosting with homemade cakes, cupcakes, and on top of freshly made brownies.
Chocolate and coffee naturally just go well together that's why mocha coffee, cappuccinos, and lattes are so popular. If you love mocha then you are going to love this chocolate coffee buttercream.
Homemade Frostings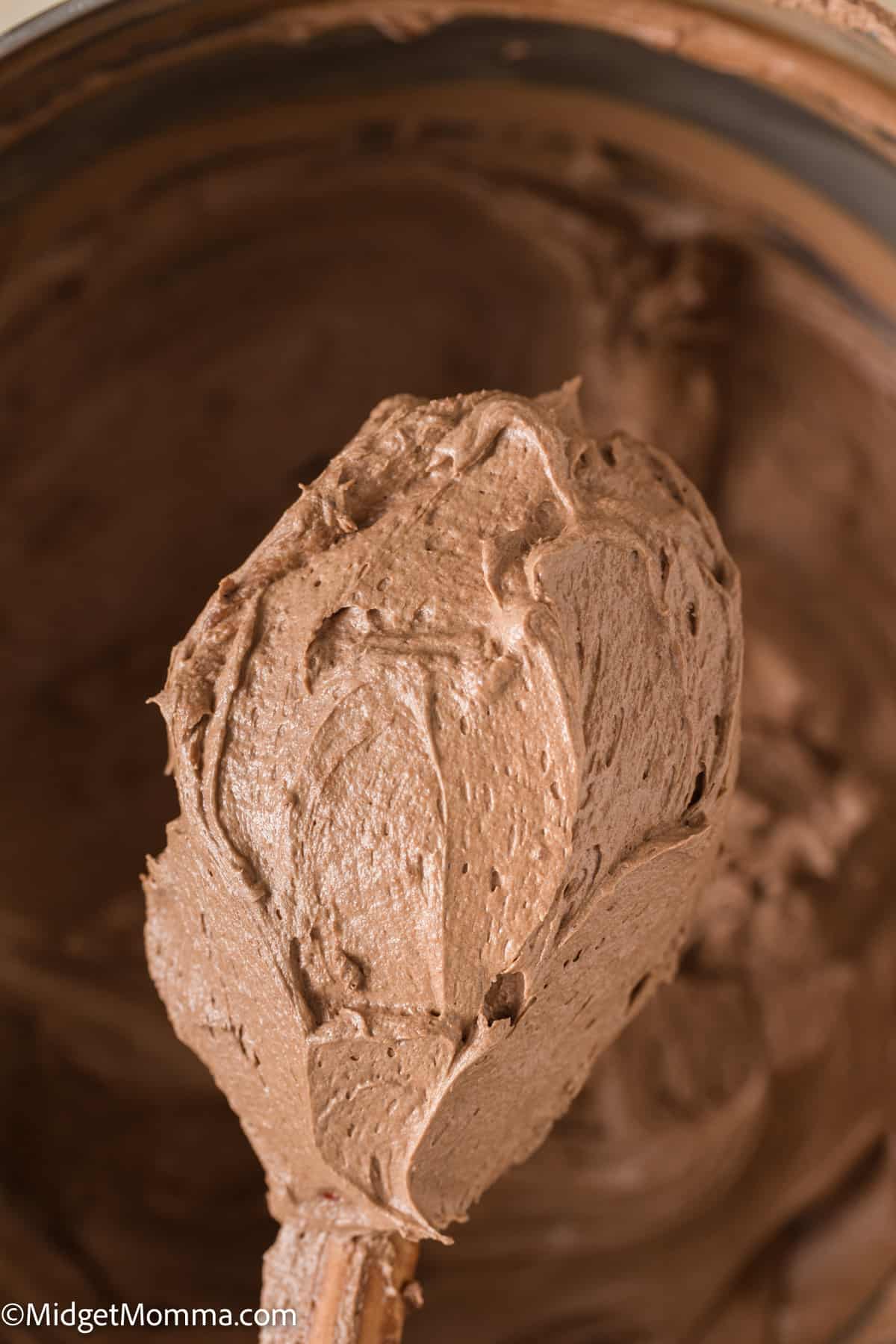 What is mocha frosting made of?
Mocha frosting is made from butter, powdered sugar, cocoa powder, espresso powder, heavy cream, salt, and vanilla extract.
What Can I use Mocha Frosting with?
Mocha frosting is a versatile frosting that can be used to top a variety of desserts. Here are a few of our favorite ways to use this delicious homemade frosting recipe:
Decorating a cake: Mocha frosting pairs perfectly with many cake flavors and it is one of my favorites to use when I am making chocolate birthday cakes. You can spread it over the top of the cake and decorate it with it. It can also be used between layers when making a layer cake. I love making homemade chocolate cake, with this frosting recipe for a delicious mocha-chocolate flavor combination.
Cupcakes. Use mocha frosting to top chocolate or vanilla cupcakes for an indulgent twist on a classic.
Brownies. Spread mocha frosting over a batch of brownies for a decadent and rich treat.
Cookies. Mocha frosting can be used as a filling between two cookies or as a frosting on top of your favorite cookie recipe. I like to change things up and use it when making chocolate chip cookie sandwiches to change things up at times.
Donuts. Use this mocha frosting as a glaze on top of homemade baked donuts.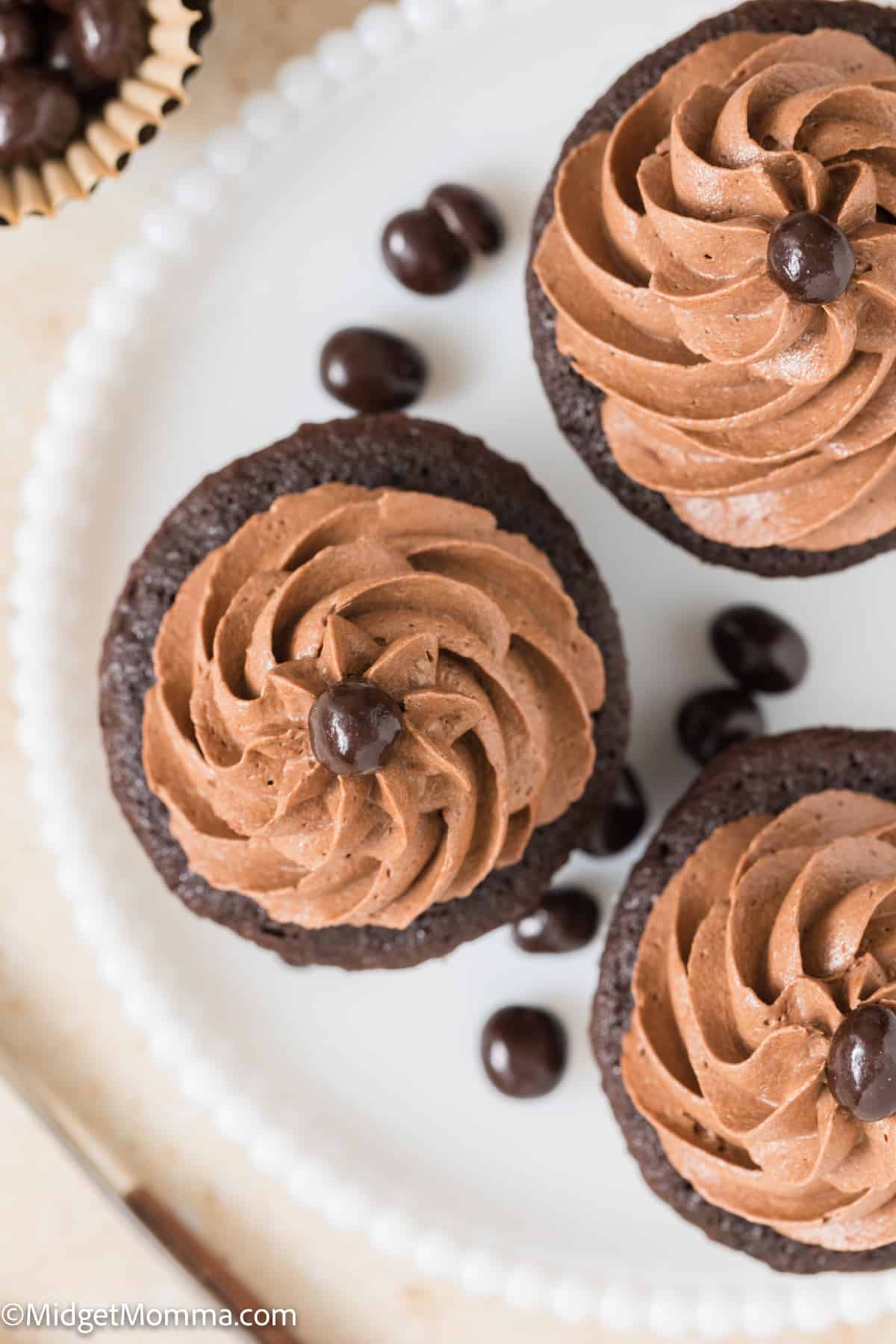 What Cake Flavors go with Mocha Frosting?
I love to pair this buttercream with my chocolate cupcakes and make my Cafe Mocha Cupcakes. You can also pair this amazing frosting with vanilla cupcakes or chocolate chip cupcakes. You can also pair this recipe with our homemade chocolate cake recipe for a delicious combination.
Can I use this frosting to decorate a cake?
Yes! This frosting is a buttercream so it's perfect for all of your cake decorating needs. It is the perfect spreading consistency. This frosting is not too soft that it pours off the cake but not too hard that it tears the side of the cake. It is also perfect for piping on top of cupcakes.
What is the Best Coffee to use for making Mocha Frosting?
You can make this with your choice of instant coffee, my favorite to use is this one. When you're putting the frosting together you're not actually making a cup of coffee from the instant coffee you're only using it dry in the frosting. If you want a stronger flavor then you can use instant espresso powder instead of instant coffee.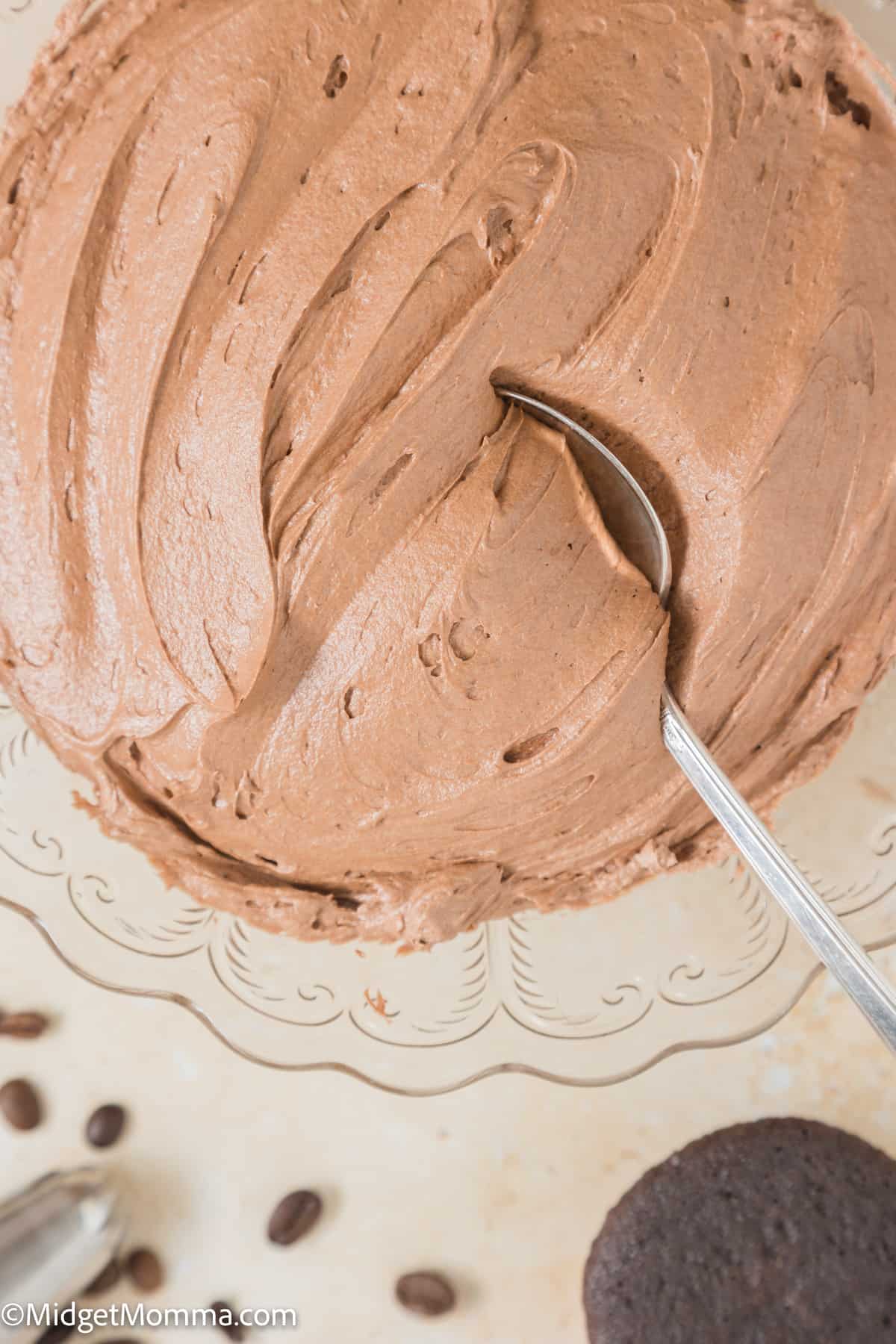 How many days in advance can I make Buttercream frosting?
You can make this buttercream frosting 3 days in advance of when you want to use it and store it at room temperature. You can make this buttercream frosting up to 2 weeks ahead of time if you are going to store it in the fridge.
How long can buttercream frosting sit out?
I store my buttercream in the fridge and then re-whip it when I want to use it. If you have already frosted a cake or cupcakes this buttercream frosting can sit out for up to 3 days.
How to Store Buttercream frosting
The buttercream can be stored at room temperature for up to three days or in the refrigerator for up to two weeks.
Can you Freeze Mocha Buttercream?
You can freeze mocha buttercream frosting for up to 3 months in an airtight container. Allow the frosting to fully thaw and then put it in the bowl of the stand mixer and re-whip until fluffy and smooth.
How do you soften refrigerated buttercream frosting?
When you take the homemade mocha buttercream frosting out of the refrigerator let it sit at room temperature for two hours. Then re-whip it in the bowl of your stand mixer for ten minutes to bring it back to smooth and fluffy.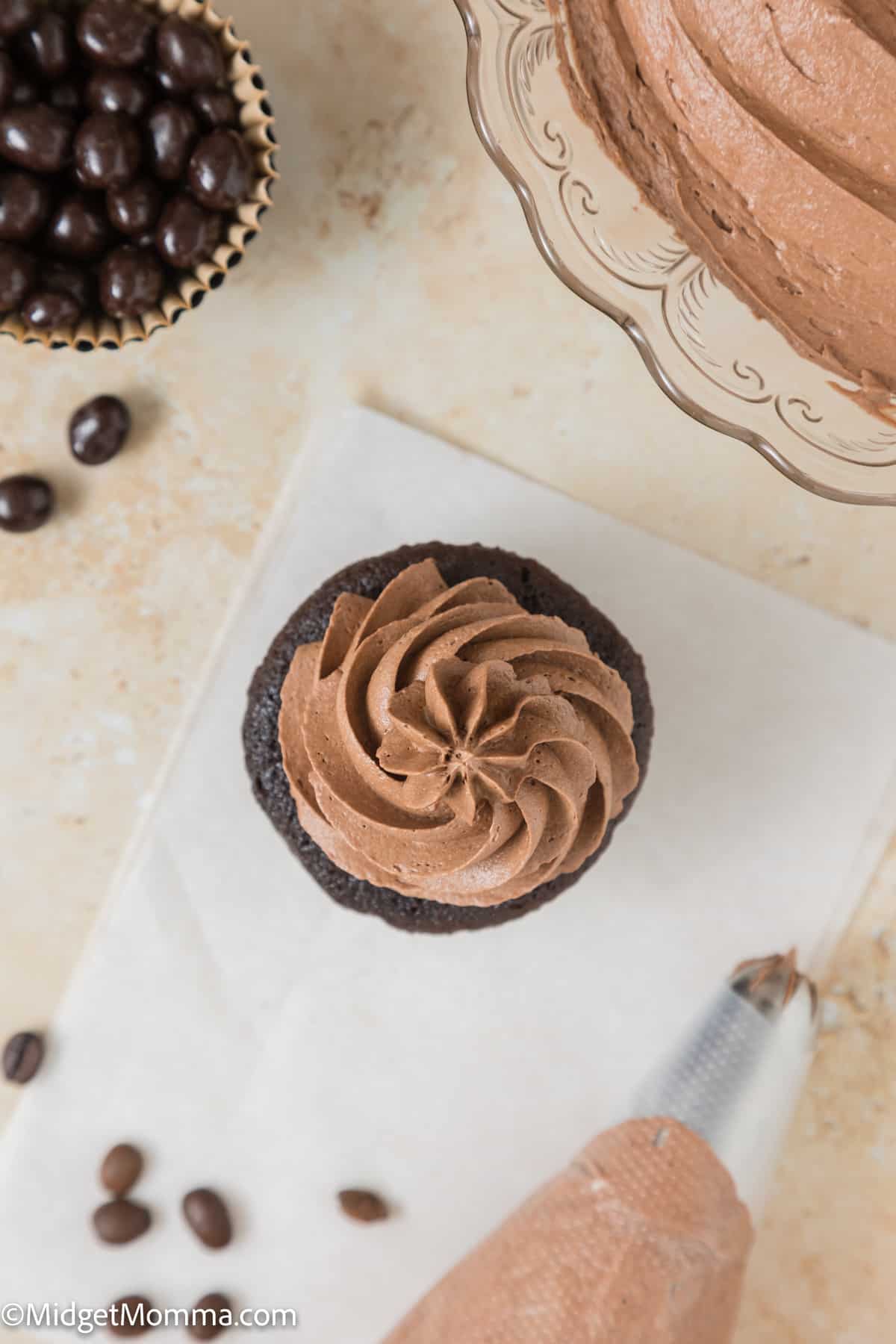 Tips for making Homemade buttercream frosting
Use room-temperature butter. Let the butter sit at room temperature for about an hour before making the frosting. This will ensure that the butter is soft enough to whip into a smooth and creamy consistency. You will also want to use unsalted butter when making this frosting.
Add liquid gradually. Adding too much liquid at once can cause the frosting to become too thin and runny.
Whip the frosting well. Use an electric mixer to whip the frosting until it is light and fluffy. This will incorporate air into the frosting, making it light and airy.
Adjust the consistency. If your frosting is too thin, add more powdered sugar. If it's too thick, add a little more liquid. Keep adjusting until you get the desired consistency.
Use salted butter. If you are using salted butter instead of unsalted butter then just omit the salt when you are making this recipe.
Do I need a stand mixer for this recipe?
No. While I prefer to make all of my homemade frosting recipes in my KitchenAid stand mixer, you can use a large mixing bowl and an electric beater or electric hand mixer to make this frosting.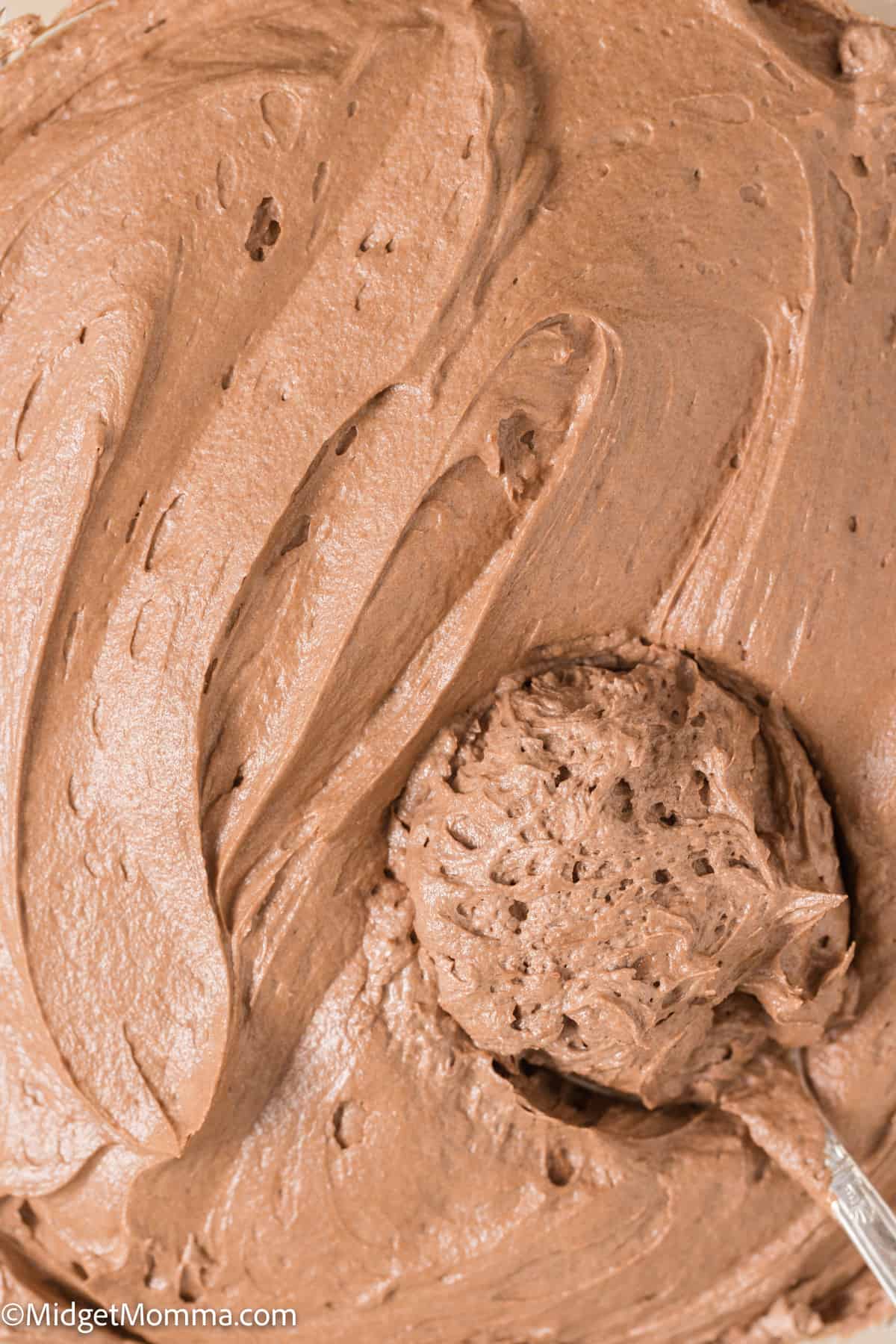 How to thin out buttercream if it is too thick
If you find that your buttercream frosting is too thick you can easily thin it out. To thin out the buttercream add a small amount of liquid and mix until the frosting has reached your desired consistency. I start by adding a tablespoon at a time. For this mocha buttercream, you can use coffee, hot water, or heavy cream.
You can also continue to whip the frosting. Whipping the frosting for a few minutes extra will add air to the frosting and will make it lighter and fluffier which can help thin it out.
How do I thicken a thin buttercream frosting?
There are 2 ways to make your frosting thicker if you need to.
Add more powdered sugar. The most common way to thicken buttercream frosting is by adding more powdered sugar. Start with a small amount, such as a quarter cup, and mix it into the frosting until it is fully incorporated. Continue adding powdered sugar a little at a time until the frosting reaches the desired consistency.
Chill the frosting. If your buttercream is too soft, you can try chilling it in the refrigerator for a few minutes. This will help the butter to firm up and the frosting to thicken.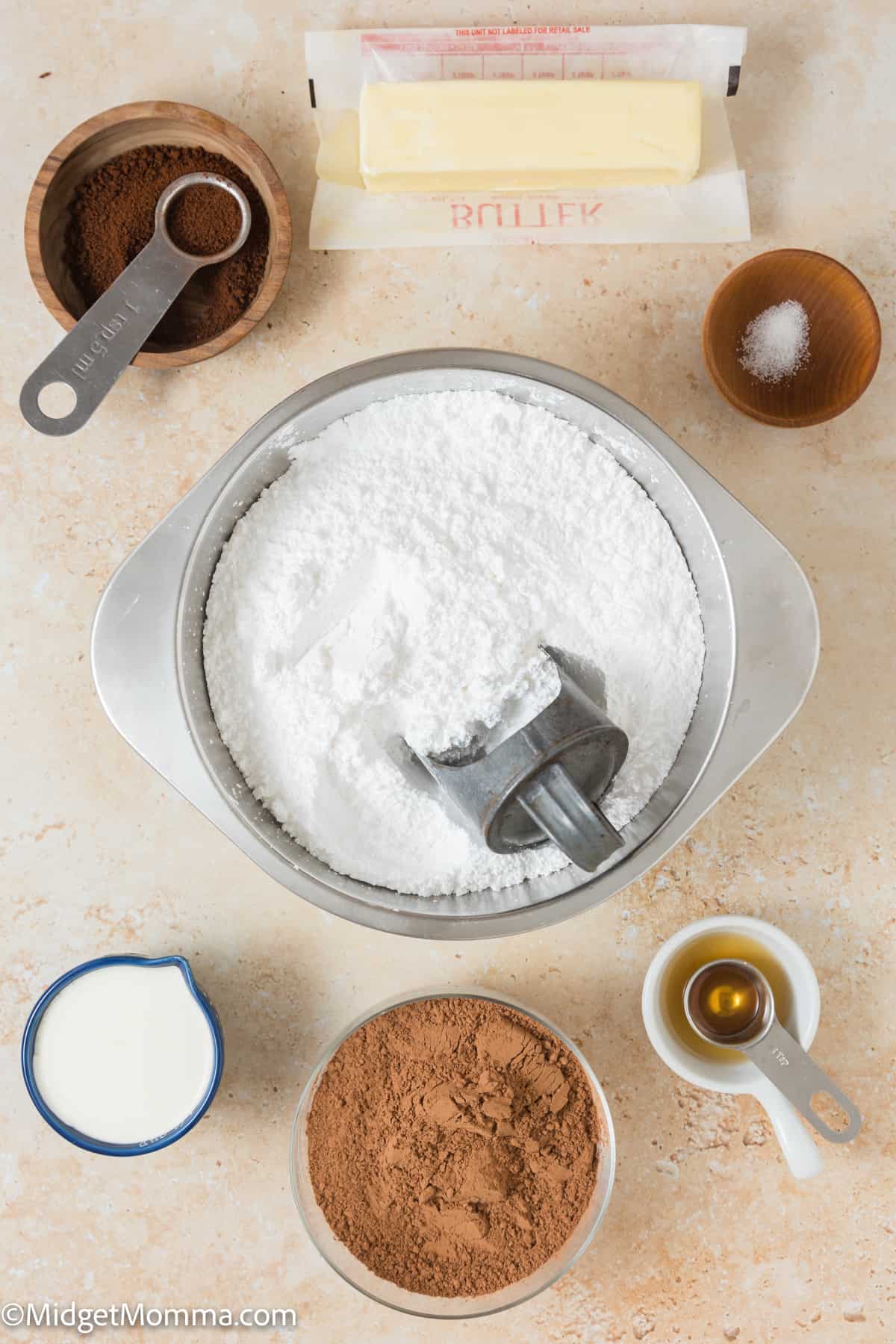 Mocha Buttercream Frosting Ingredients
How to make Mocha Buttercream Frosting
In the bowl of a stand mixer add the butter, using the paddle attachment, and turn the mixer speed to medium and whip until the butter is creamy and fluffy.
Turn the mixer speed to the lowest setting and slowly add the powdered sugar and the cocoa powder and mix until they are well incorporated.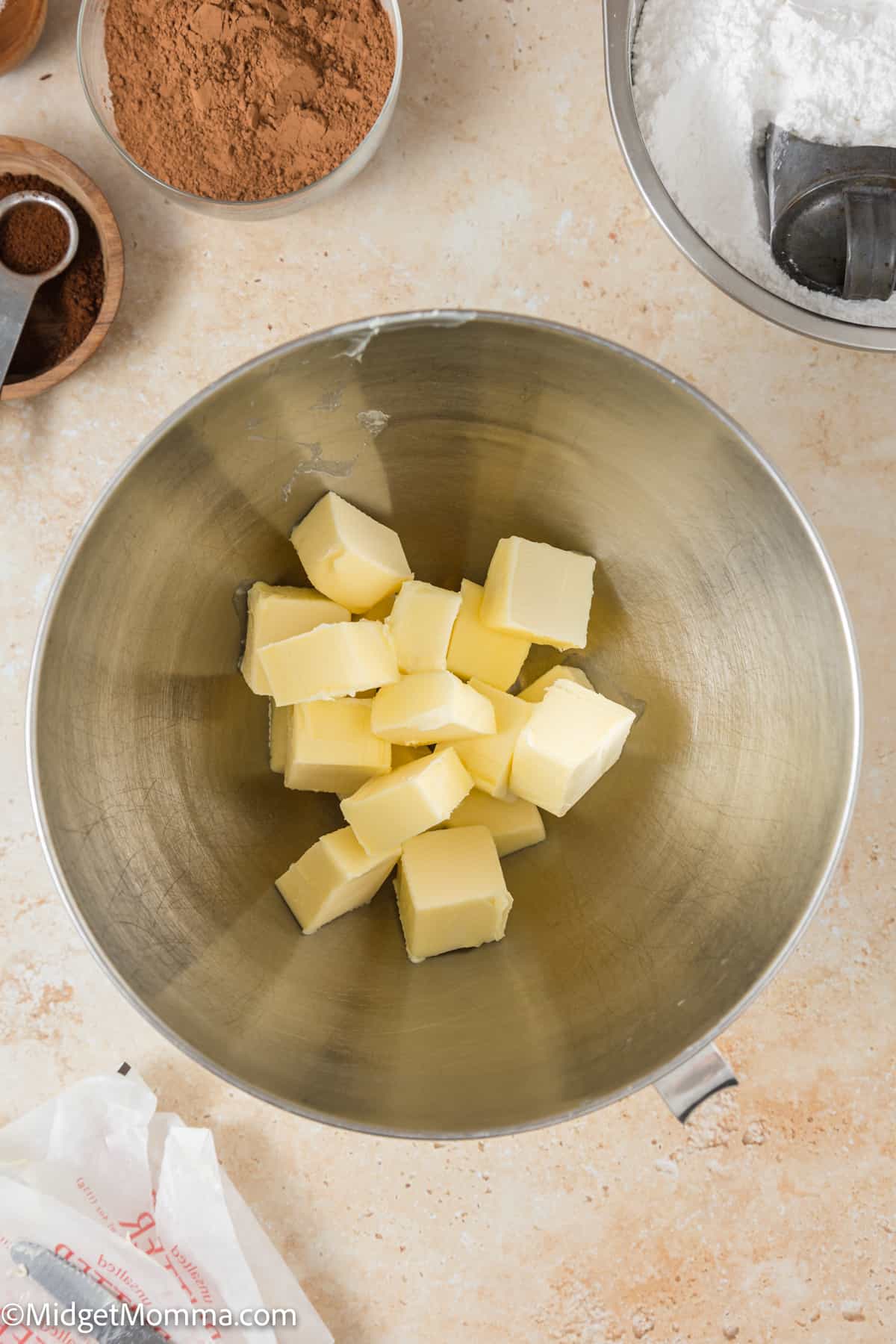 If needed scrape the sides of the bowl so all of the butter and cocoa mixture ingredients are at the bottom of the bowl.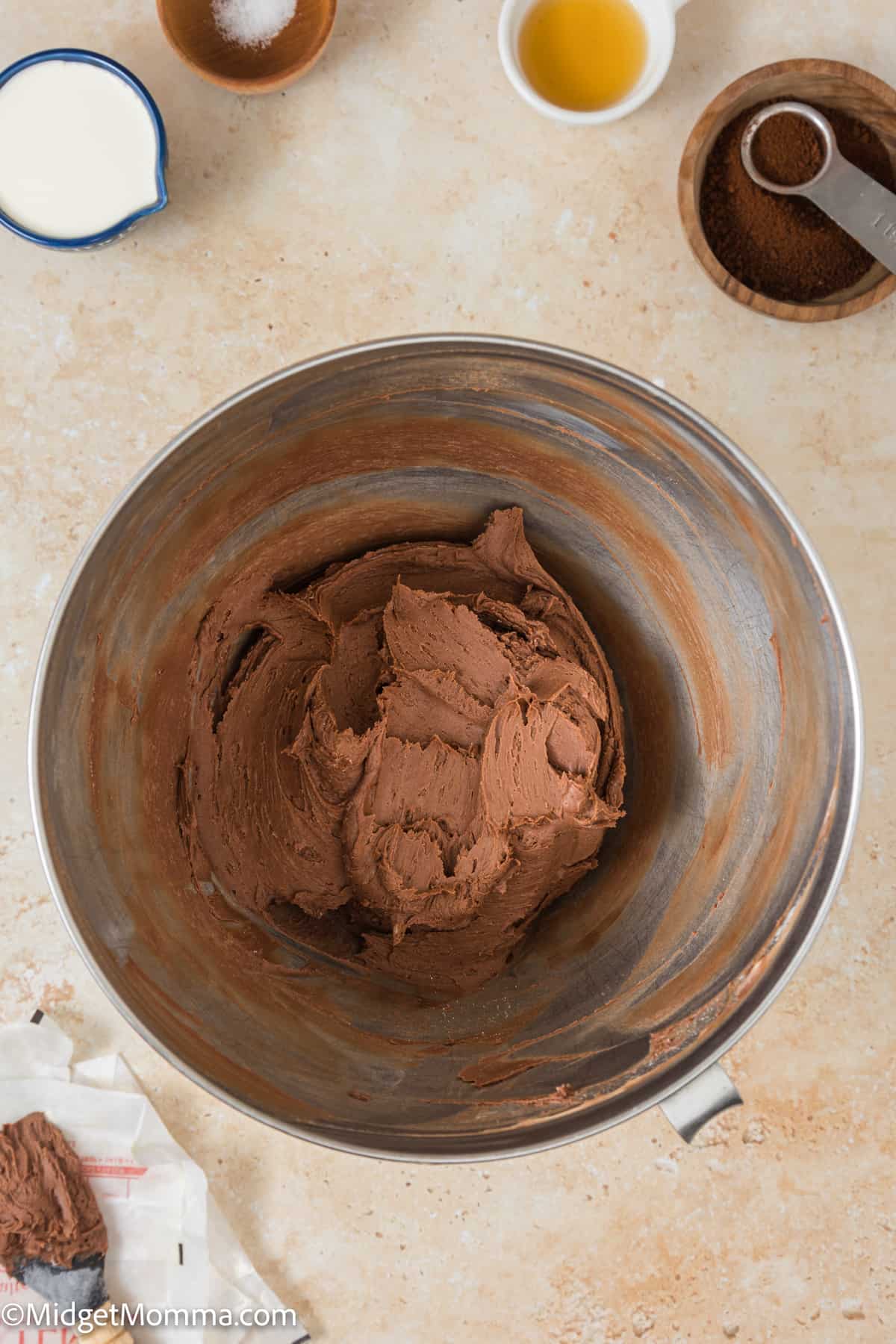 Add in the heavy cream, vanilla, salt, and instant coffee powder, then turn the mixer speed up to medium-high speed.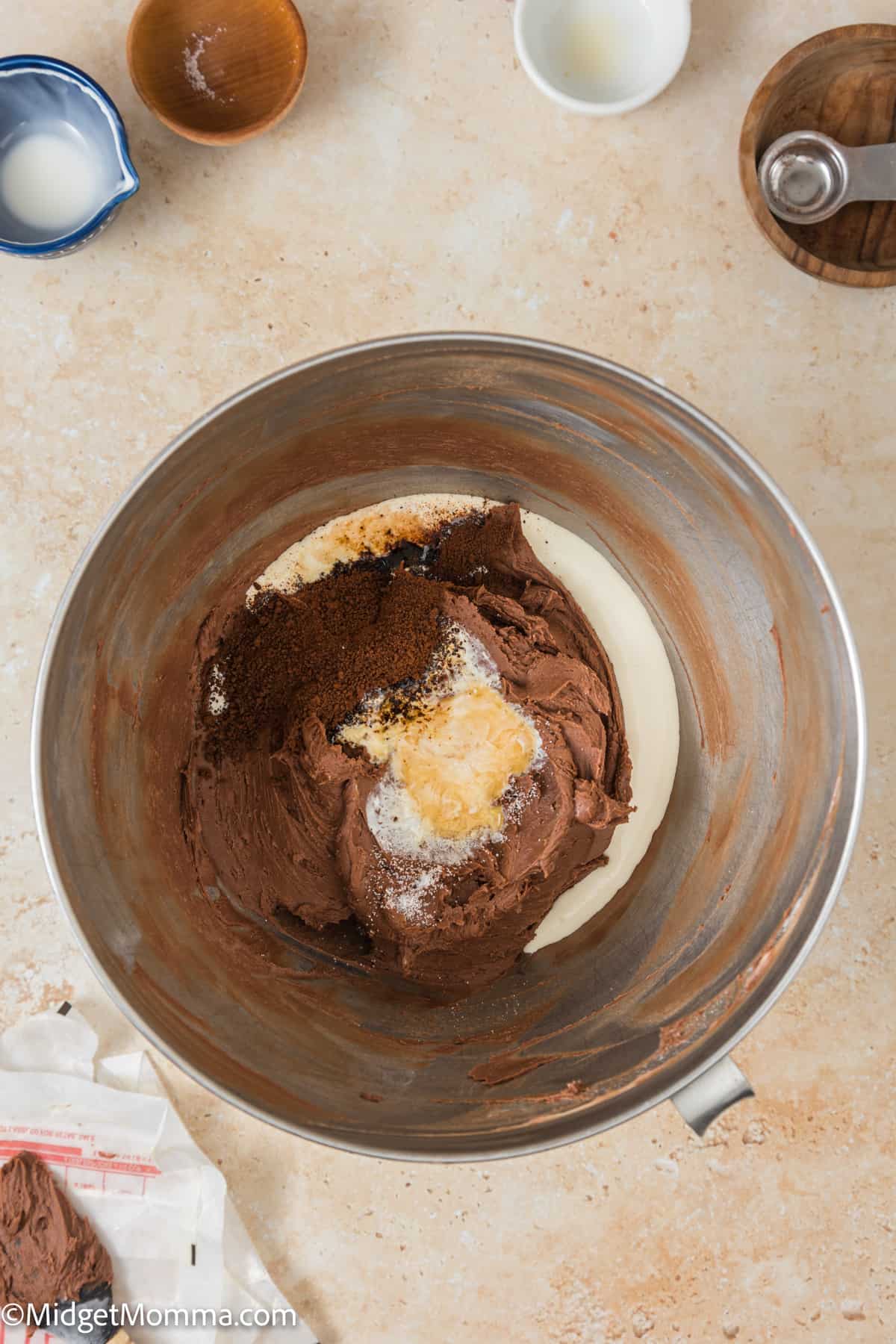 Mix the frosting for 10 minutes until the frosting is light and fluffy and the right consistency.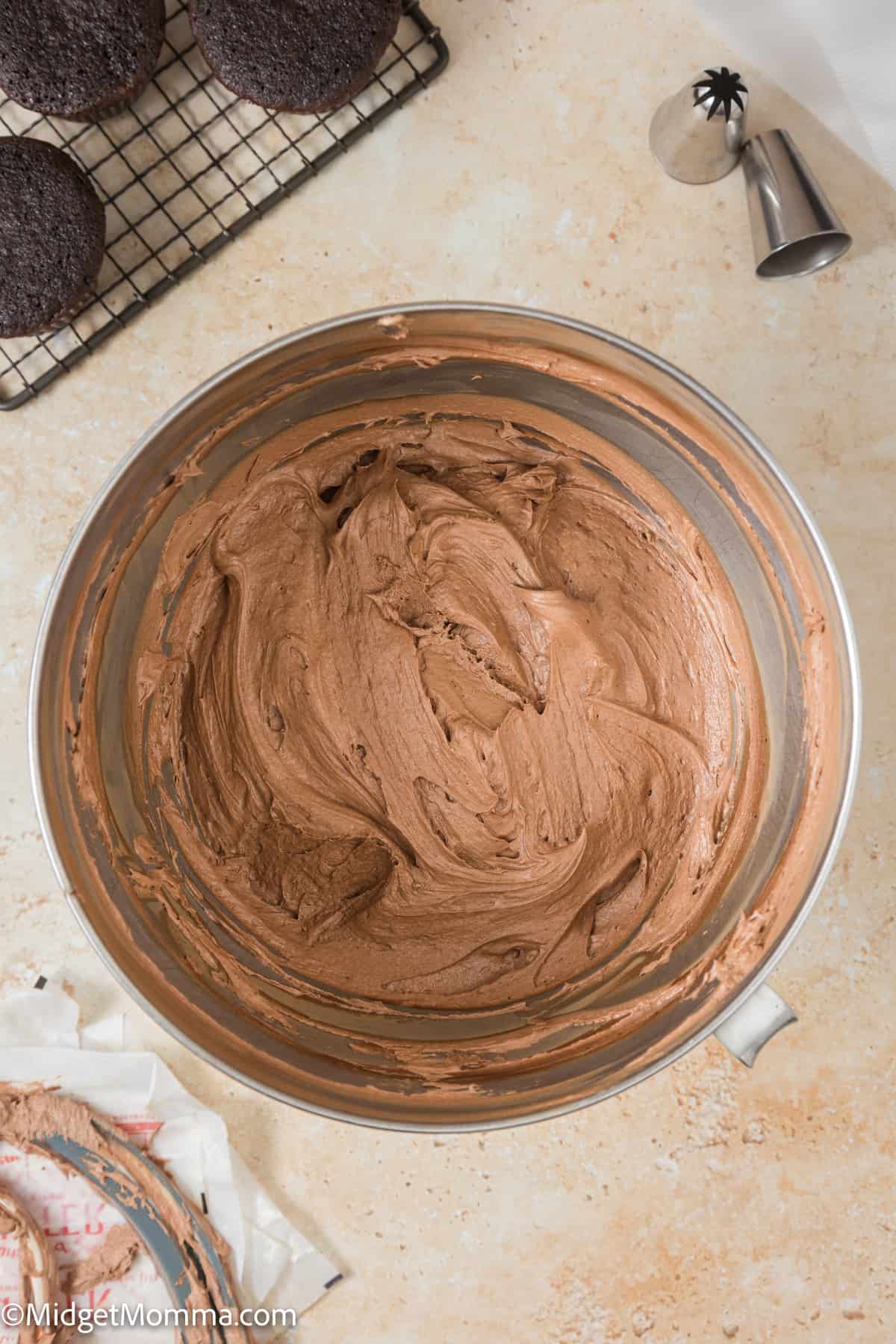 Cupcake Recipes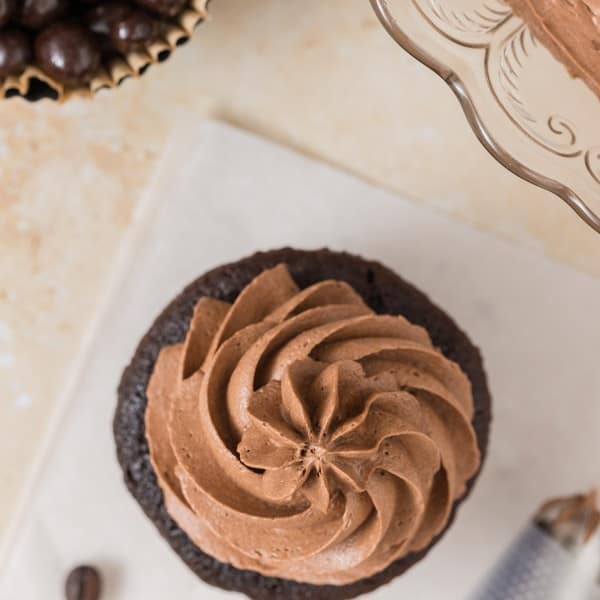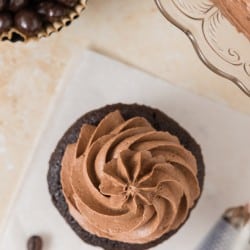 Mocha Buttercream Frosting Recipe
Servings
Mocha Buttercream Frosting is a creamy, rich bakery style buttercream frosting that is perfect for decorating cakes and cupcakes. This Mocha frosting is a bakery style frosting that goes well with many different flavors of cupcakes.
Instructions
In the bowl of your mixer beat the butter on medium speed until nice and creamy.

Turn the mixer down to the lowest setting and slowly incorporate the powdered sugar and cocoa powder into the butter.

Once you have added all the sugar to the mix add the heavy cream, vanilla, salt and instant coffee powder.

Turn the mixer up to medium-high speed and continue mixing for 10 minutes until light and fluffy.
Calories: 4696kcal | Carbohydrates: 521g | Protein: 17g | Fat: 307g | Saturated Fat: 194g | Cholesterol: 814mg | Sodium: 2479mg | Potassium: 1216mg | Fiber: 21g | Sugar: 472g | Vitamin A: 9391IU | Calcium: 203mg | Iron: 9mg
Mocha Buttercream Frosting
Dessert
52 Weight Watchers SmartPoints for the entire batch of icing or about 11 points each when using on cupcakes (not including the cupcakes)
Love cupcakes? Check these out!