I am a big fan of chocolate chip cookies so this Chocolate Chip Cupcakes Recipe is my cupcake version of my favorite cookie.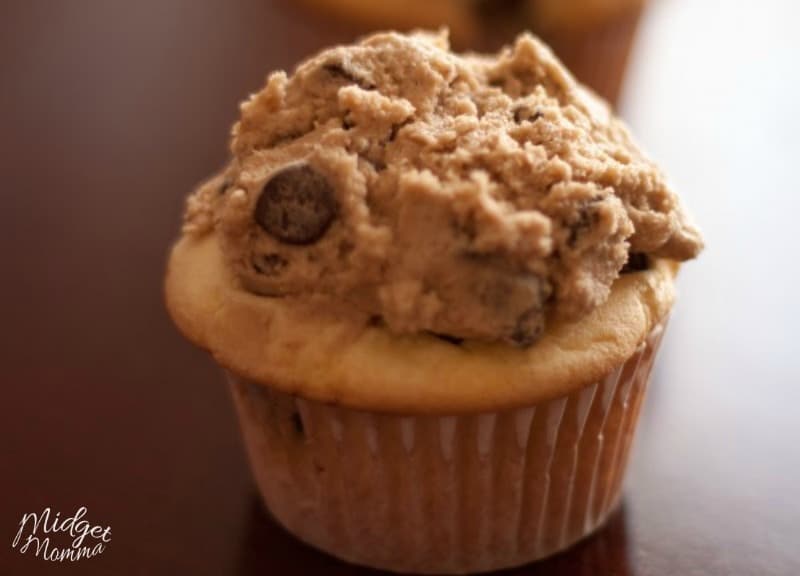 For this cupcake recipe you are going to start with a boxed cake mix. This is the perfect boxed cake mix recipes for someone who is just starting out with baking but wants to go to the next step up from boxed cake mix baking.
If you are looking for amazing frosting recipes to check out to use on top of this amazing chocolate chip cupcake then check these out this list of cupcake frosting recipes, however my favorite cupcake frosting to use with these cupcakes is Chocolate Chip Cookie Dough Frosting.
Chocolate Chip Cupcakes Recipe
Chocolate Chip Cupcakes Recipe Ingredients
1 box vanilla cake mix
1 cup flour
1 cup granulated sugar
Dash of salt
1 cup sour cream
1 cup water
3 whole eggs
1 tablespoon vanilla extract
2 cups chocolate chips
Chocolate Chip Cupcakes Recipe Directions
Preheat the oven to 300 degrees and grease your pans.
In a large bowl whisk together all the dry ingredients.
In a small bowl add the chocolate chips and 1/4 cup of the dry ingredients and stir them together.
In the bowl of your mixer place the wet ingredients. Add about 1/2 of the dry ingredients into the bowl and mix together. Add the rest of the dry ingredients and blend together on medium speed for 2 minutes.
Fill the cupcake pans 2/3 full with the batter.
Bake at 300 degrees for about 15-20 minutes, turn oven up to 325 for another 15-20 minutes.
10 Weight Watchers SmartPoints per serving on the Freestyle Program.
Looking for more amazing cupcakes? Check these out and don't miss this awesome list of cupcake frosting recipes
Join the newsletter
Subscribe to get our latest recipes right in your inbox every time we post a new one!