Summertime and s'mores go together like peanut butter and jelly and these S'mores Cupcakes are the PERFECT combination of flavors.
S'Mores Cupcakes
It's such a fun treat when everyone gathered around the campfire enjoying these chocolatey melty treats. Unfortunately, I don't always have access to a campfire to roast my marshmallows for Smore's. Thankfully I came up with a yummy Smore's cupcakes to satisfy that chocolate marshmallow flavor when I'm not around a campfire.
If you are a big fan of S'mores, be sure to check out these other S'mores Recipes that we love!
For these S'mores Cupcakes, I like to use my chocolate cupcake recipe however I also use this amazing vanilla cupcake recipe at times too and they come out amazing. However my love for chocolate tends to win and I make them with chocolate a majority of the time!
To make these cupcakes extra fun I decided to fill them!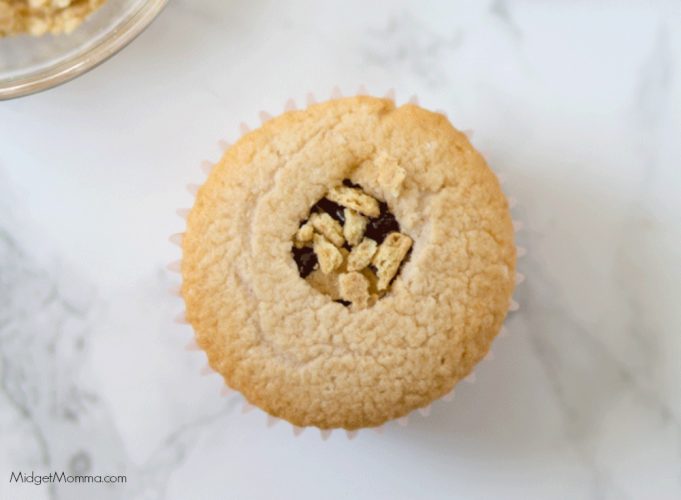 It is so simple when you use a tool you might already have in your kitchen that you actually use for fruit. It's an Apple corer if you don't happen to have one they're really good investments, it is a MUST to have in my kitchen and not just for my fruit!
If you want to get even fancier with these Smore's cupcakes you can make your own homemade marshmallows to use on top instead of store bought.
S'mores Cupcakes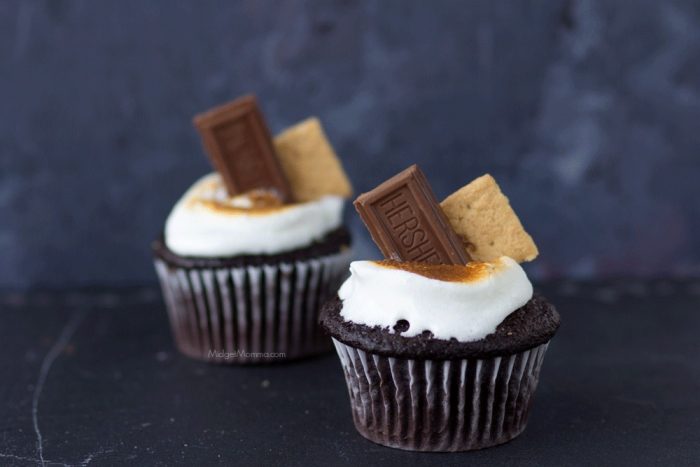 Makes 24 Cupcakes
S'mores Cupcakes Supplies
Stand Mixer
Rubber spatula
Large Cooke Scoop
Cupcake Pan
Apple corer
Piping bags
S'mores Cupcakes Ingredients
S'mores Cupcakes Directions
Place your chopped chocolate in a medium heat-safe bowl.
Bring your heavy cream up to a boil in a medium saucepan, keeping an eye on it so it doesn't boil over.
Pour the heavy cream over the chopped chocolate and cover the bowl with plastic wrap, let it set for 5 minutes.
Using a rubber spatula start stirring the chocolate by making small circles in the middle of the bowl and slowly stirring, making your way to the outside of the bowl until all the heavy cream is incorporated.
Allow the ganache to set for 15 minutes.
Using your apple corer remove about one inch of the center of each cupcake.
Pour your cooled ganache into the piping bag and cup off the bottom of your bag.
Fill each cupcake with the ganache leave a small gap on the top for the graham crackers.
Fill each cupcake hole to the top with the graham cracker crumbs.
Break the graham crackers and chocolate bars into one-inch pieces.
Put the cupcakes onto a sheet pan and top each one with a marshmallow then place the cupcakes under the broiler until they are golden brown.
While the marshmallows are still warm press down on the marshmallows to make them flat then press one piece of the chocolate and graham crackers into the top of each cupcake making sure you reach the cupcake so they don't fall out.
15 Weight Watchers SmartPoints per cupcake on the Freestyle Program.
Check out these other great cupcakes recipes:
Join the newsletter
Subscribe to get our latest content by email.
This post may contain affiliate links. Please read my disclosure policy here