These Boston cream cupcakes taste just like Boston Cream Pie! They are easier to make then Boston Cream Pie, but have all the same amazing flavors.
If you are looking for more amazing cupcake ideas make sure you head on over and check out our crazy for cupcakes Facebook page! It is FILLED with Amazing Cupcake recipes all the time!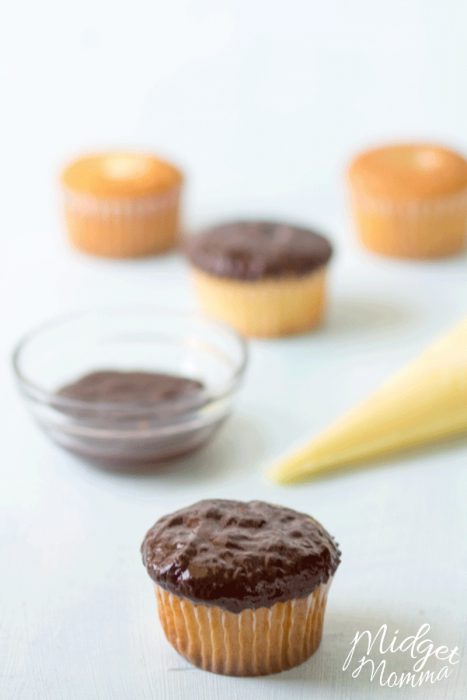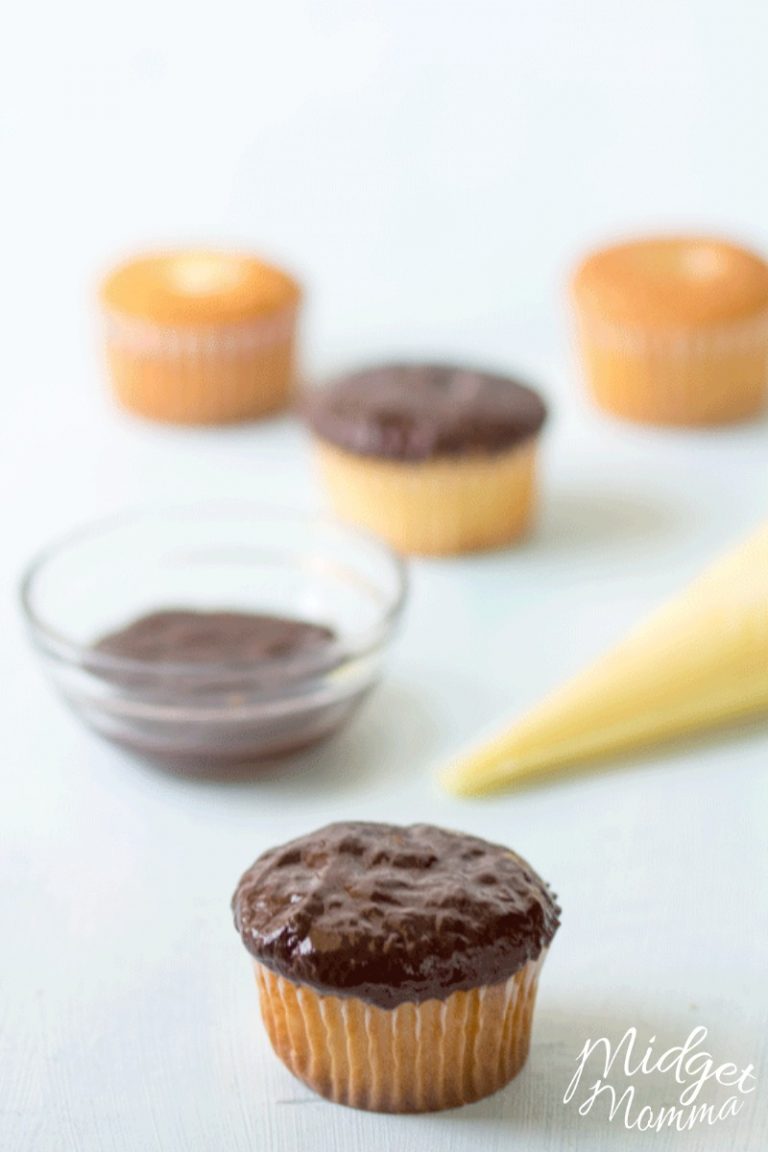 To make these amazing Boston cream cupcakes you might to want to use homemade bavarian Cream instead of vanilla pudding. Whichever one you use they will be amazing! Before making these Boston Cream Cupcakes you will want to have a batch of vanilla cupcakes made and ready to go.
Don't be intimidated by the word ganache! Making ganache for these Boston Cream Cupcakes is so easy!a ganache is just heavy cream mixed with good quailty chocolate.
One important tip when you're making your ganache is to make sure you keep an eye on your heavy cream when it's on the stove. When you're boiling dairy products like milk or cream they tend to boil over very quickly. So as soon as you start to see steam coming off of your heavy cream you need to make sure you stay by the stove so you don't end up with a giant bubbly mess.
Boston Cream Cupcakes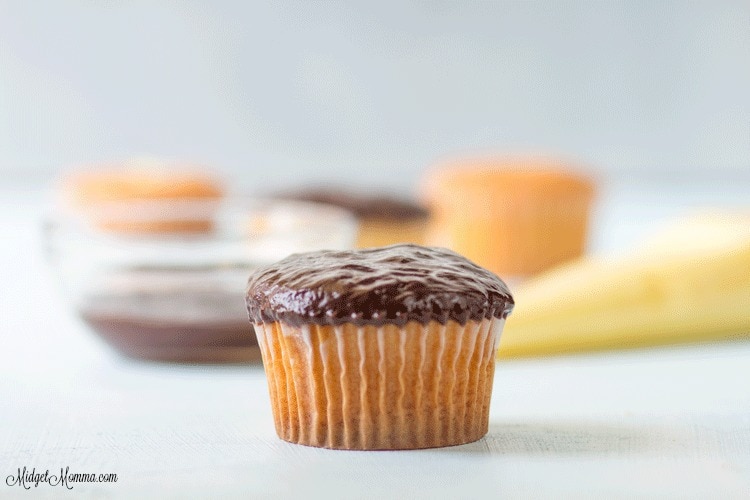 Boston Cream Pie Cupcakes Supplies
Boston Cream Pie Cupcakes Ingredients
1 box vanilla pudding
6 ounces semisweet chocolate, finely chopped
1 tablespoon light corn syrup
2/3 cup heavy cream
Boston Cream Pie Cupcakes Directions
Prepare your vanilla pudding as per the directions on the box. Set the pudding aside.
Place your chocolate and corn syrup in a large heatproof bowl.
In a medium sauce pan bring your heavy cream up to a boil. Pour the heavy cream over your chocolate mixture. Cover your bowl with plastic wrap and allow the chocolate to sit for 5 minutes.
Remove the plastic wrap from the bowl. With a wooden spoon start by making small circles in the middle of the bowl. As the heavy cream and chocolate start to combine you can start making working your way to the outside of the bowl. Set the ganash aside.
Using the apple corer press it into the center of each cupcake and remove about 3/4 inch piece of cake, making sure to save the cake pieces.
Place your vanilla pudding into a pastry or ziptop bag with the corner cut off. Fill the cupcake hole almost to the top with your pudding.
Break just the top off your center piece of cake you had removed. Place that piece of cake back into the cupcake topping the pudding.
Dip the top of the cupcake into your chocolate ganache.
8 Weight Watchers SmartPoints on the Freestyle Program when using Fat free milk and sugar free pudding
Looking for more cupcake recipes? Don't miss these!
Join the newsletter
Subscribe to get our latest content by email.
This post may contain affiliate links. Please read my disclosure policy here