Mint chocolate chip frosting is a smooth and fluffy mint frosting with shavings of chocolate that reminds me of mint chocolate chip ice cream. This mint chocolate chip frosting is perfect for frosting cakes, cupcakes and using as a filling!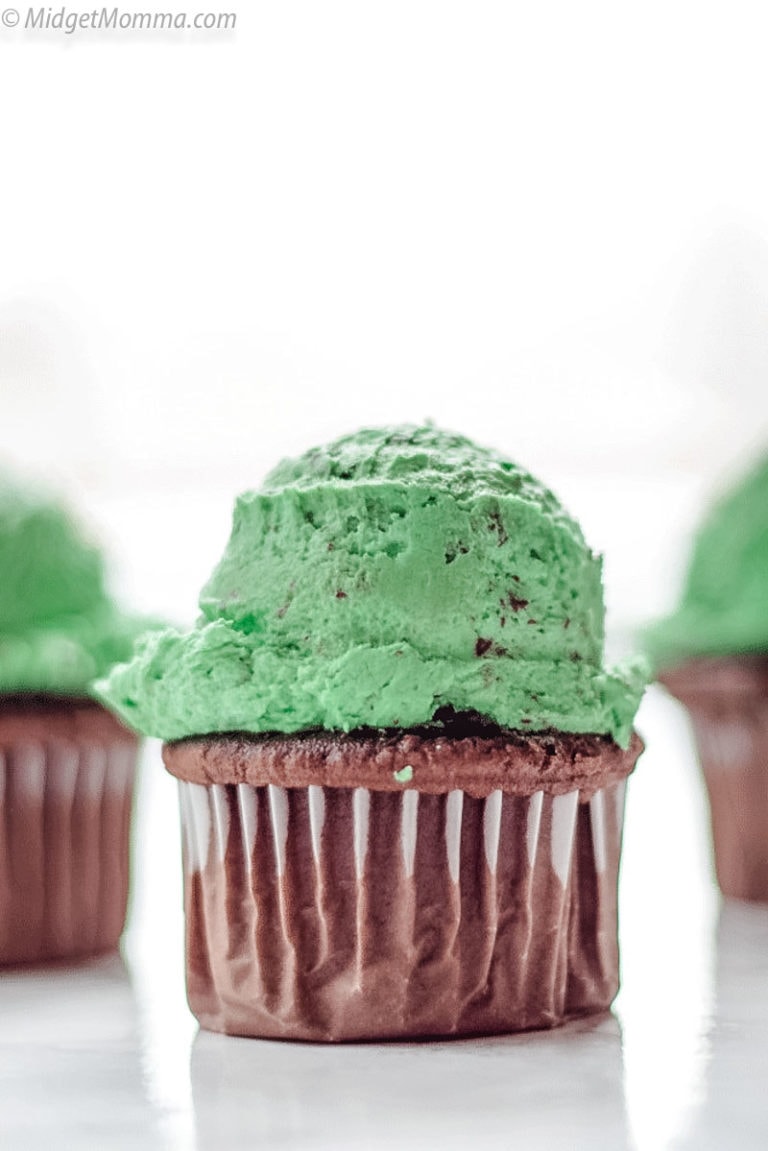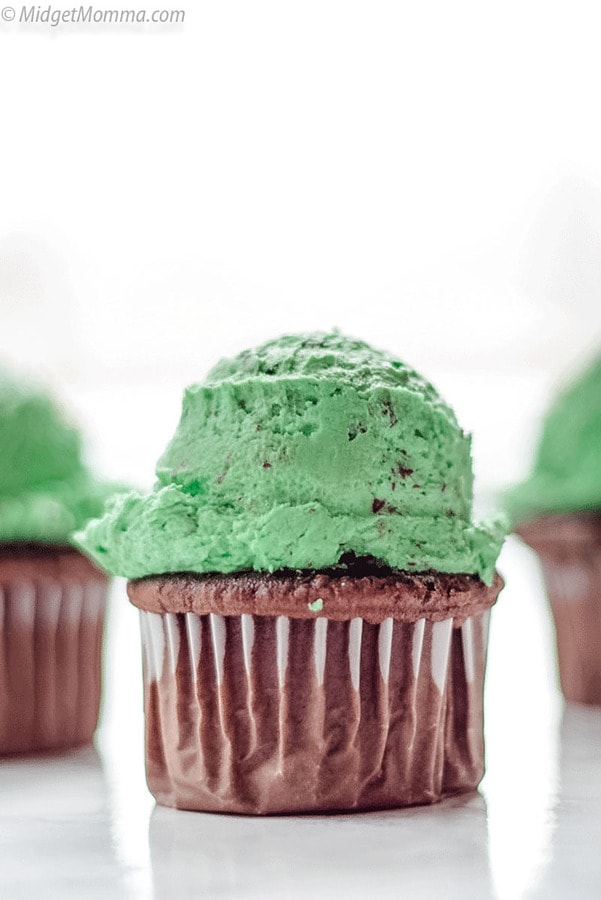 Mint Chocolate Chip Buttercream Frosting
If you love mint chocolate chip ice cream, then this is the frosting recipe that you are going to love! I'm a huge fan of mint chocolate chip ice cream. But it HAS to be the green kind with the chocolate shavings in it, not the giant chocolate chunks.
That combination just creates the best flavor and texture for the perfect mint chocolate chip ice cream. I figured my favorite ice cream flavor would make a really amazing cupcake frosting. I set to work to make a frosting version of my favorite ice cream and I have to say it is the perfect match! This mint chocolate chip frosting is the icing version of mint chocolate chip ice cream. And yes it is so good that you will totally want to eat it by the spoonful!
If you are a fan of mint, but not chocolate then you will totally want to check out my mint buttercream frosting. It is amazing too!
Homemade Buttercream Frosting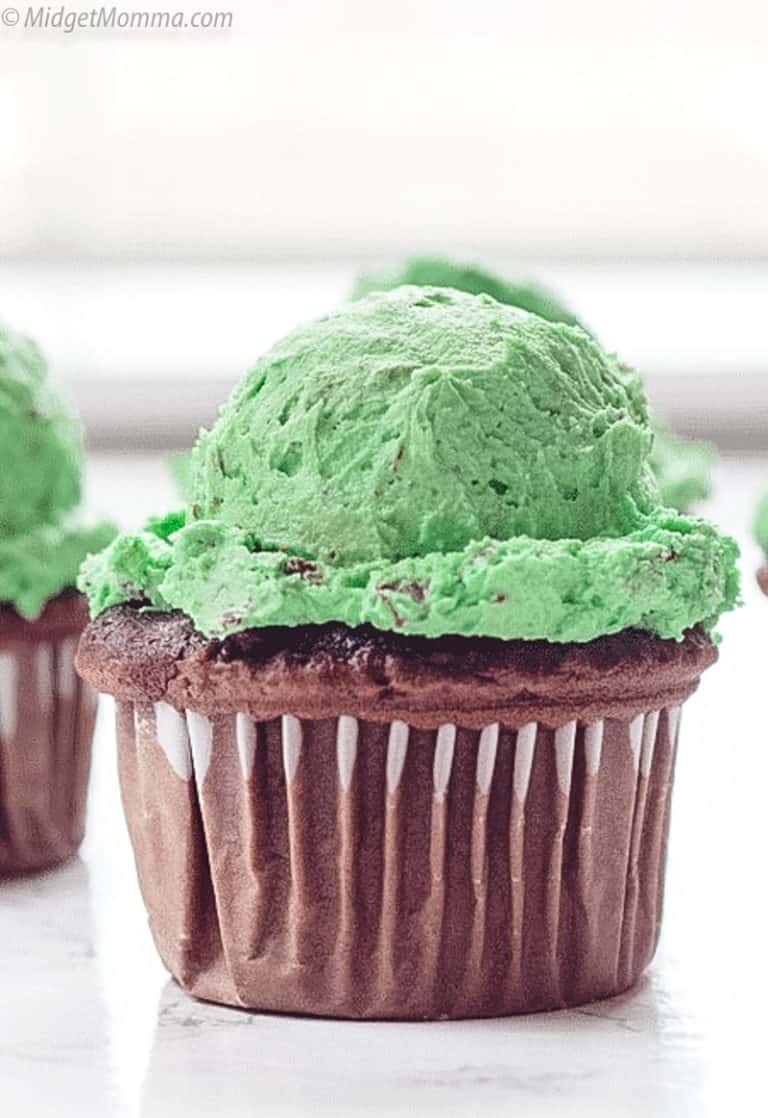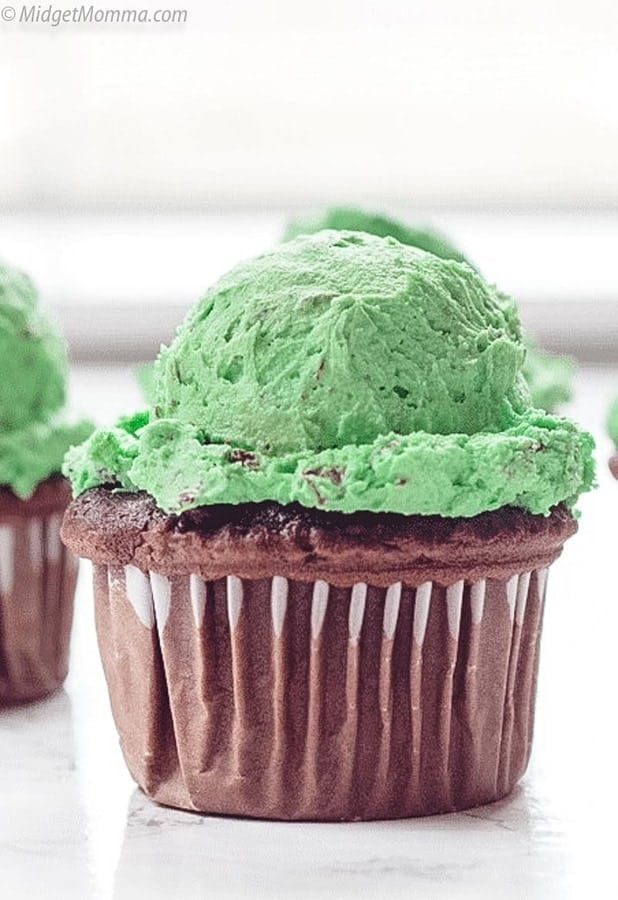 Decorating with Mint Chocolate Chip Frosting
You can use this frosting to decorate any cupcakes or cakes you are wanting to. This homemade frosting also works well as a filling when you are making a homemade cake. This Mint Buttercream frosting goes perfect on top of chocolate cupcakes or vanilla cupcakes. If you are running short on time to make homemade cakes or cupcakes, a few little tweaks to a boxed cake mix will make a boxed cake mix taste homemade!
It also goes perfect with chocolate chip cookies when you are making chocolate chip sandwich cookies. Oh, and homemade brownies! Make them and let them cool and then spread this chocolate mint frosting on the top! OH! SOOO GOOD!
I like to make things fun and use an ice cream scoop when decorating cupcakes so that it looks like there is a scoop of ice cream on top of my cupcakes. To get the great scoop of ice cream frosting you will need a serving scoop. The trick is to make sure you over fill the scoop and really press it down on top of the cupcake.
If you are new to decorating cakes and cupcakes be sure to check out these posts. 
How to Store Buttercream frosting
The buttercream can be stored at room temperature for up to three days or in the refrigerator for up to two weeks.
How to rewhip buttercream frosting after storing
When you bring it out of the refrigerator let it sit at room temperature for two hours. Then re-whip it for ten minutes to bring it back to life.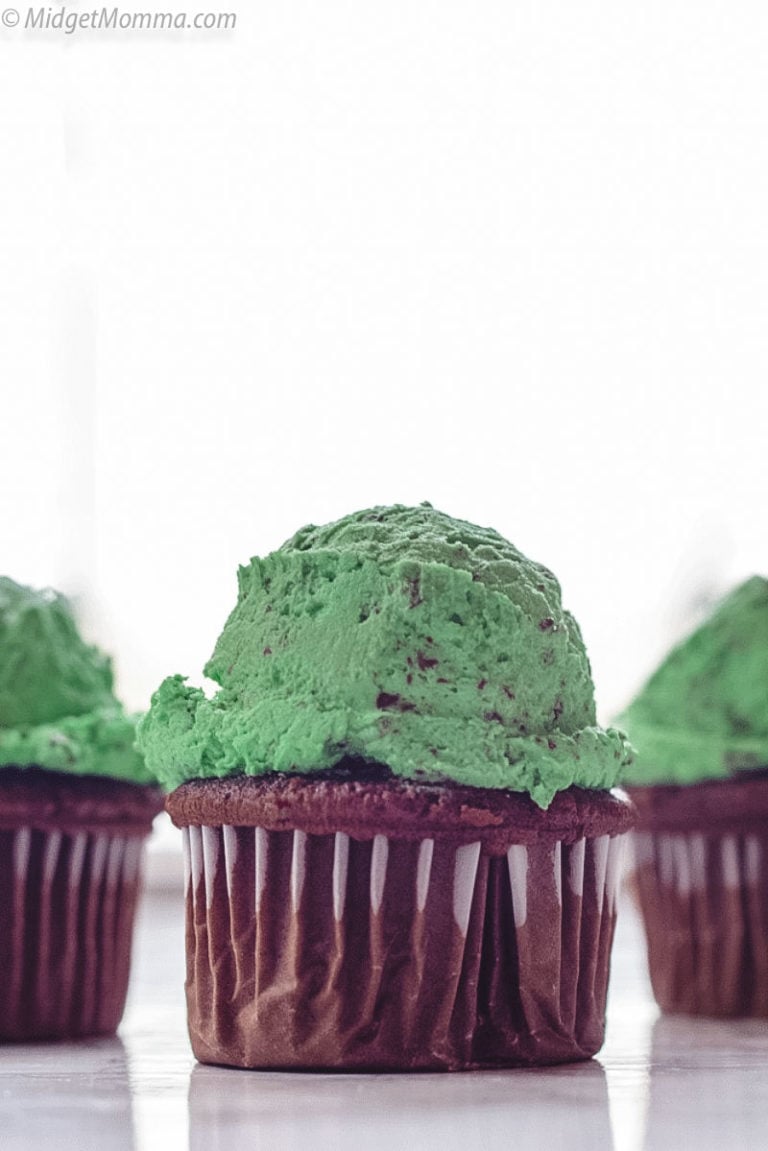 Mint Chocolate Chip Frosting Ingredients
If you're not a fan of using food coloring in your cooking you can always leave out the green food dye and they will taste the same but it will look like you scooped the white mint chocolate chip ice cream on top of the cupcake.
How to Make Chocolate Chip mint frosting
It is super simple to make this homemade mint chocolate chip buttercream frosting. You can use a mixing bowl and a hand mixer or your KitchenAid mixer. Personally I use my KitchenAid because it makes things so easy!
Combine butter and shortening in mixer bowl and whip until combined.
Add powdered sugar and mint extract (and water if needed) and whip till fluffy.
Add in chocolate chips and mix.
Must Try Mint and Chocolate Recipes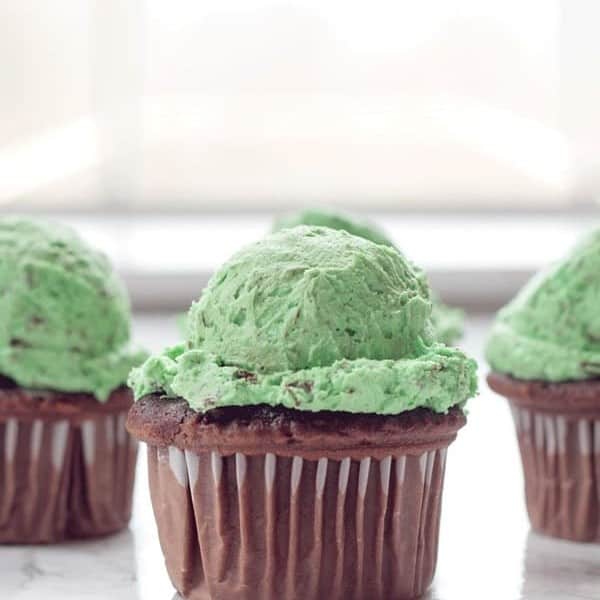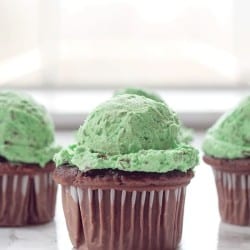 Mint chocolate chip frosting
Servings
This mint chocolate chip frosting is perfect for frosting cakes, cupcakes and using as a filling! Mint chocolate chip cupcakes
Instructions
Start off by mixing the soft butter and shortening together till nice and creamy on medium speed.

Turn the mixer down to the lowest setting and slowly incorporate the powdered sugar into the shortening mixture.

Once you have added all the sugar to the mix add in the hot water and the mint extract.

Turn the mixer up to medium-high speed and continue mixing for 10 minutes until light and fluffy.

Gently fold in the chocolate pieces.

Take big scoop of the frosting with your large cookie scoop and press it into the top of the cupcake pressing the button a few times to release the frosting. Repeat this with the other cupcakes.
Calories: 340kcal | Carbohydrates: 41g | Fat: 19g | Saturated Fat: 9g | Cholesterol: 20mg | Sodium: 70mg | Potassium: 61mg | Sugar: 39g | Vitamin A: 240IU | Calcium: 8mg | Iron: 1mg
mint chocolate chip frosting
Dessert, frosting
18 WeightWatchers SmartPoints on the Freestyle ProgramWe won't send you spam. Unsubscribe at any time.
Love cupcakes? Check these out!
Chocolate Covered Cherry Cupcakes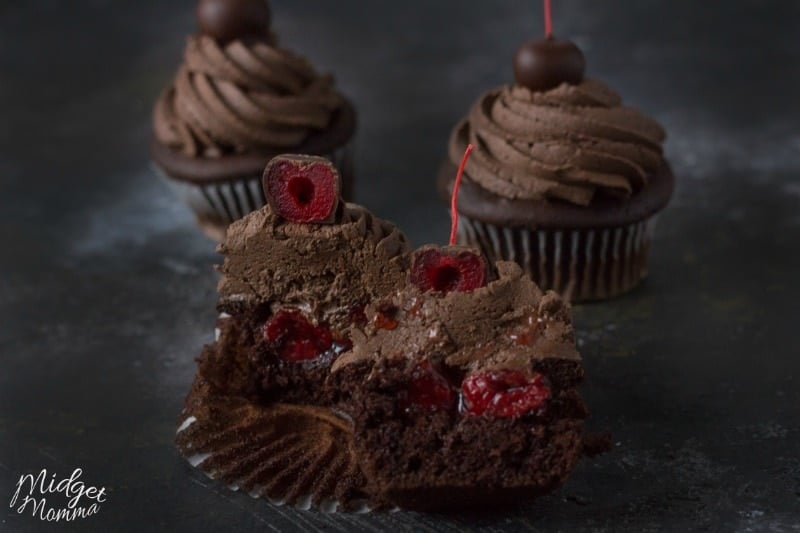 Chocolate Covered Strawberry Cupcakes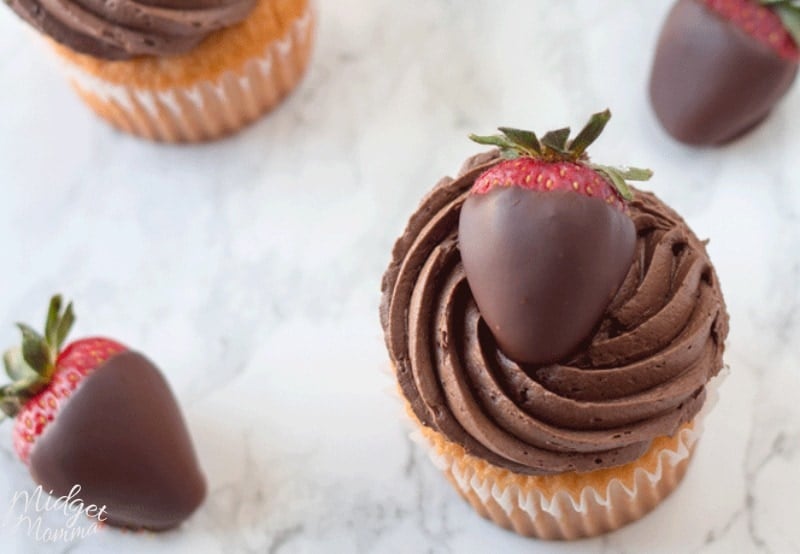 Peanut Butter And Jelly Cupcakes