I might have gone to heaven with these Mint chocolate chip cupcakes! I'm a huge fan of mint chocolate chip ice cream, BUT it HAS to be the green kind with the chocolate shavings in it, not the giant chocolate chunks.
That combination just creates the best flavor and texture for the perfect mint chocolate chip ice cream. I figured my favorite ice cream flavor would make a really amazing cupcake flavor.
If you're not a fan of using food coloring in your cooking you can always leave out the green food dye and they will taste the same but it will look like you scooped the white mint chocolate chip ice cream on top of the cupcake.
Now to get the great scoop of ice cream frosting you will need a serving scoop which you can find here. The trick is to make sure you over fill the scoop and really press it down on top of the cupcake.
Mint chocolate chip cupcakes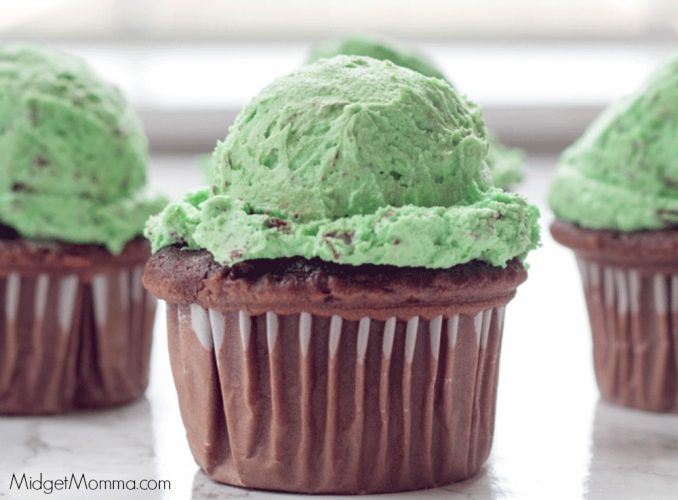 Mint chocolate chip cupcakes Supplies
cupcake pan
mixer
large, cookie scoop
Mint chocolate chip cupcakes Ingredients
1 Cup of Softened butter
1 Cup of vegetable shortening
2 Pounds of confectionery sugar
1 1/2 Tablespoons of hot water
2 Teaspoons of mint extract
7 oz chocolate bar, chopped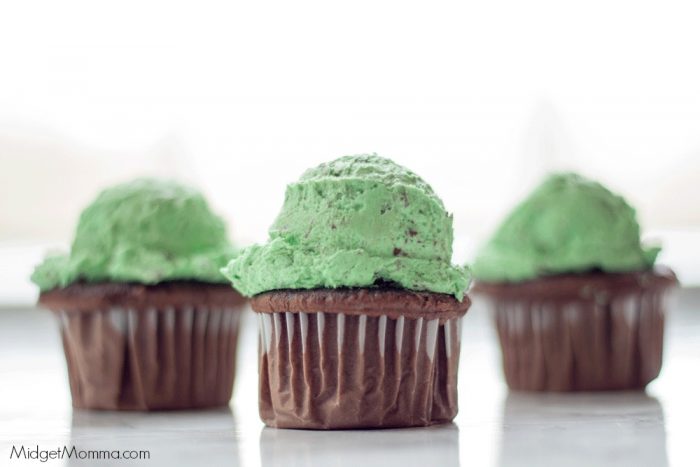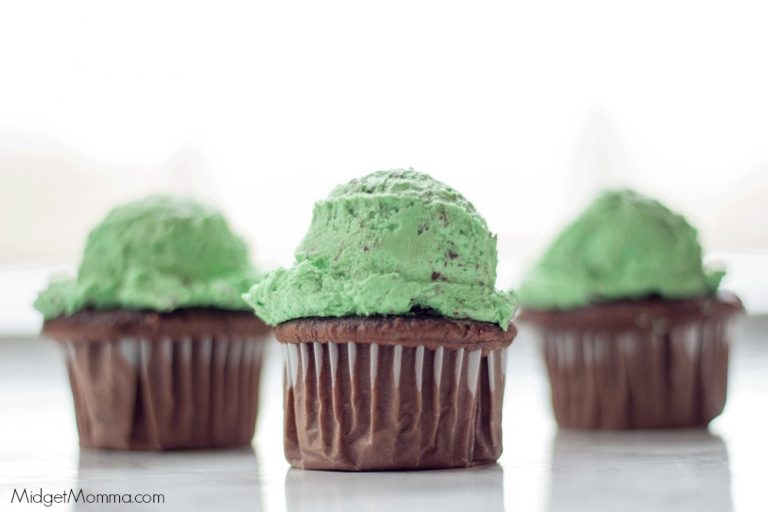 Mint chocolate chip cupcakes Directions
Start off by mixing the soft butter and shortening together till nice and creamy on medium speed.
Turn the mixer down to the lowest setting and slowly incorporate the powdered sugar into the shortening mixture.
Once you have added all the sugar to the mix add in the hot water and the mint extract.
Turn the mixer up to medium-high speed and continue mixing for 10 minutes until light and fluffy.
Gently fold in the chocolate pieces.
Take big scoop of the frosting with your large cookie scoop and press it into the top of the cupcake pressing the button a few times to release the frosting. Repeat this with the other cupcakes.
Love Frosting? Check these out and don't miss this awesome list of frosting recipes!, including:
Love cupcakes? Check these out!