If you are looking for something to take with you to a fourth of July party or just want something fun for the kids to enjoy than give these Homemade Cupcakes a try. If you would like you can even change things up and add some patriotic sprinkles or even use food coloring to dye your cake mix. You are going to want to use this homemade cake recipe from a boxed cake for these Homemade Cupcakes which will give you an amazing cake that tastes like you bought them at a bakery and for the frosting, you want to use this homemade Buttercream frosting that tastes like a bakery frosting. Both recipes are easy to make and they are the best recipes for making cake and frosting at home.
Homemade Cupcakes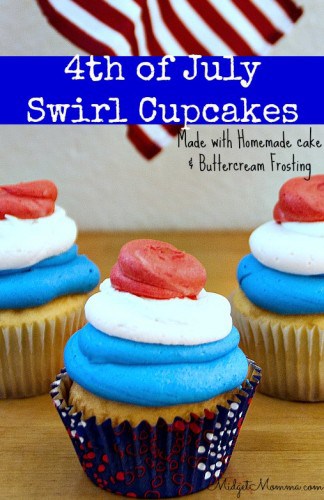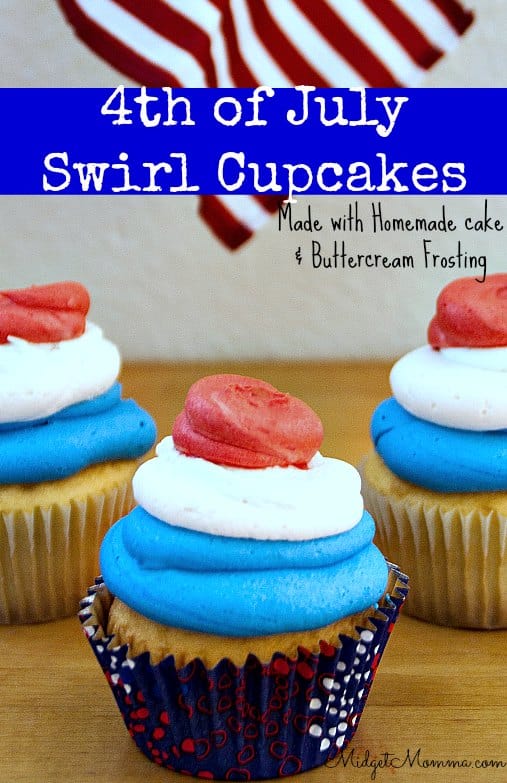 Homemade Cupcakes
What you need to make these homemade cupcakes with Patriotic Swirl
Large piping tip

Pastry bag
Homemade Cupcakes
Homemade Buttercream
Red and blue food coloring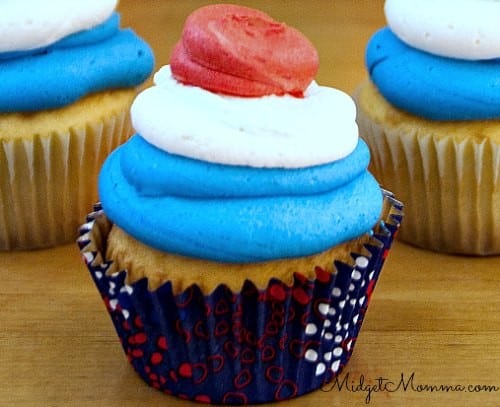 Homemade Cupcakes Directions
How to make your cupcake swirl with Homemade cupcakes 
Make your homemade cupcakes and while they are baking make your buttercream frosting. Once the cupcakes have cooled it is time to get started decorating them!
Divide your buttercream into three parts.
Using food coloring, color one part blue and one part red. You can use 3 different piping bags or one and rinse it out between colors. Use a large pastry tip when prepping your pastry bags.
It is really easy To learn how to do a cupcake swirl following the simple directions here. You will not want to do a full swirl because you will be changing out the color as you go higher. The key is to use a piping tip with an opening as large as a dime

Pipe the red buttercream in a single layer swirl on all the cupcakes.
Then pipe one layer of the white buttercream on top of the blue layer so it's smaller than the red layer.
To finish pipe the red frosting on top of the white layer so it's smaller than the white layer.
Super easy and they look so patriotic!
Join the newsletter
Subscribe to get our latest content by email.
This post may contain affiliate links. Please read my disclosure policy here