Right now I am really wishing it was Girl Scout cookie season. I have been thinking about their caramel coconut cookie, the amazing Samoas Cookies. The Samoas Cookies are my favorite premade cookie EVER. Wanting them so bad and not being able to get them got my baking brain ticking and I am came up with these amazing Girl Scout Samoas Cupcakes! They totally do the trick of curbing the want for Samoas Cookies! 
These Girl Scout Samoas Cupcakes are going to give you that girl scout cookie fix when you can not get your hands on a box of those amazing cookies!
When making these Girl Scout Samoas Cupcakes you are going to need toasted coconut so make sure you check out how to toast your coconut. 
Love Samaoas cookies? Check out some my other fun Girl Scout cookie twist, Girl Scout Cookie Samoas Pie, Girl Scout Cookie Samoas Mini Cakes Recipe.
Oh and did you know they make Girl Scout Cookie Cereal? I know I was shocked when I saw it too! But they do! You can find it on Amazon! I also found these Coconut Fudge and Caramel Cookies, and while they are not exactly the same as Samoas Cookies, they sometimes can do the trick when you are wanting that cookie crunch and flavor!
Girl Scout Samoas Cookies Cupcakes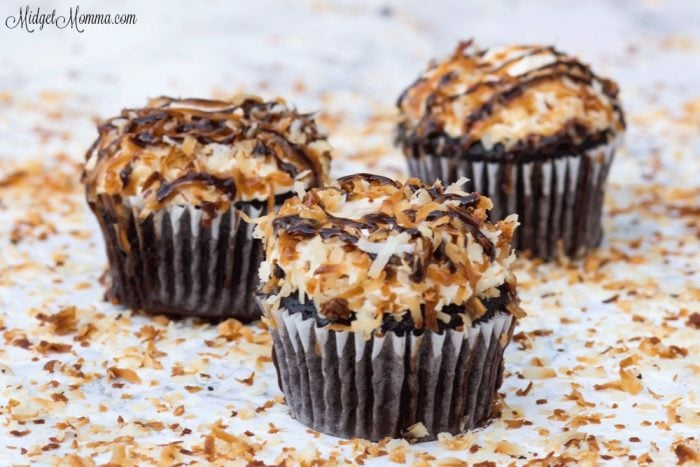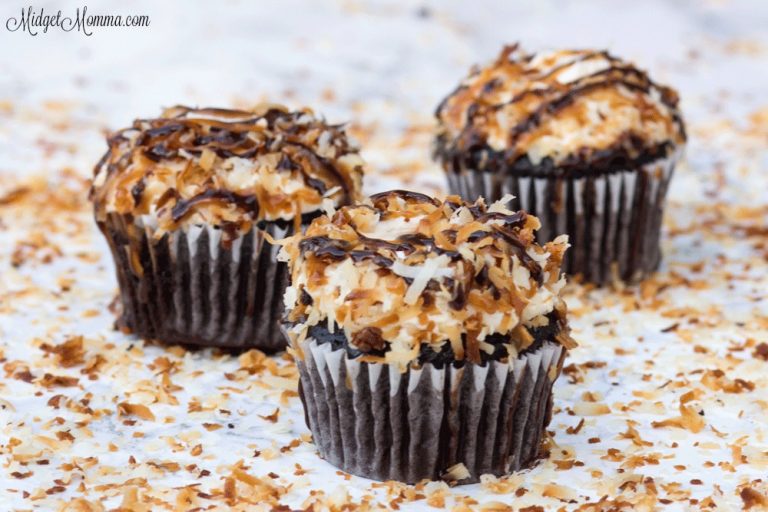 Girl Scout Samoas Cookies Cupcakes Ingredients
Girl Scout Samoas Cookies Cupcakes Directions
Place your caramel buttercream in a piping bag with a large straight piping tip.

Pipe a single layer of buttercream to swirl around the top of each cupcake.

Take a handful of your toasted coconut over a bowl and press the edge of the cupcake into the coconut as you twirl the cupcake around so you end up with a ring of coconut in the shape of a circle around the top of your buttercream. Repeat this to each cupcake.

Place all the cupcakes on to a sheet pan and drizzle the top back-and-forth with that caramel sauce and then the chocolate syrup up so you end up with a little lines of caramel and chocolate.

These Samoas Cookies cupcakes are best served at room temperature.
Looking for more cupcake recipes? Don't miss these!