Chocolate Dipped Smores Cookies take your traditional cookie sandwich up to the top! Smores are one of the most amazing things to enjoy, and with 3 ingredients, cookies, chocolate and marshmallow fluff, you will have these amazing cookies!
Chocolate Dipped Smores Cookies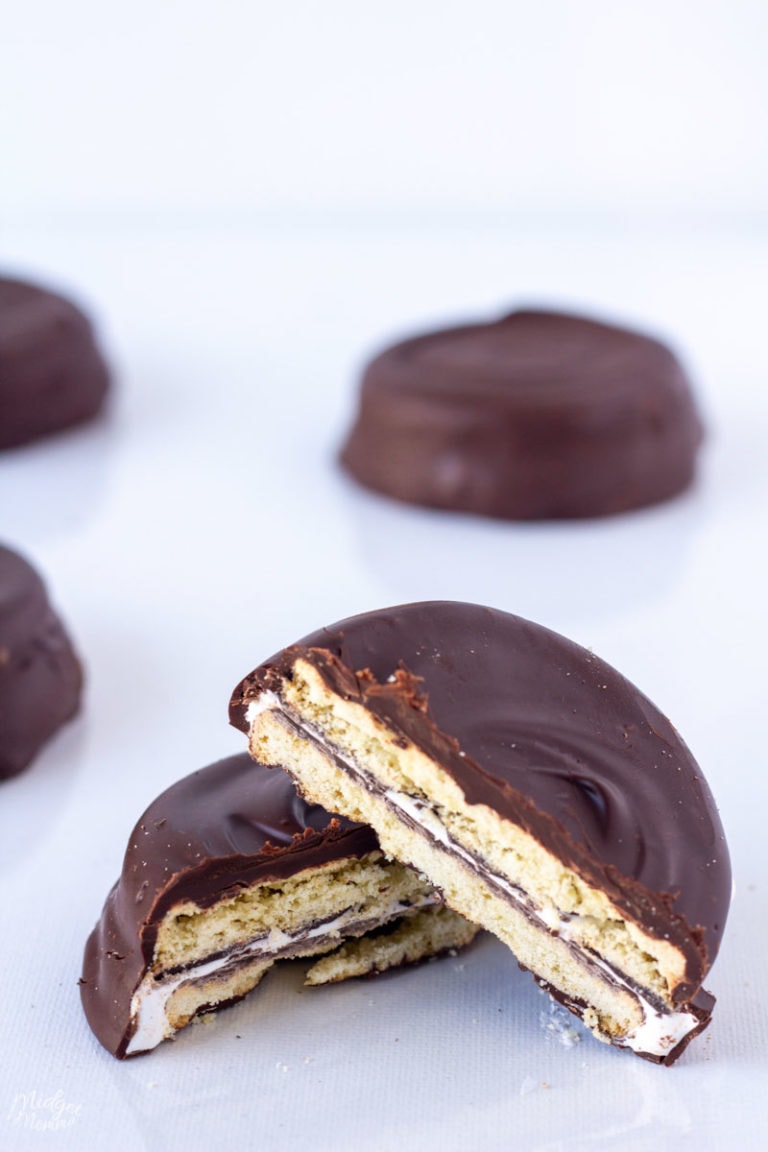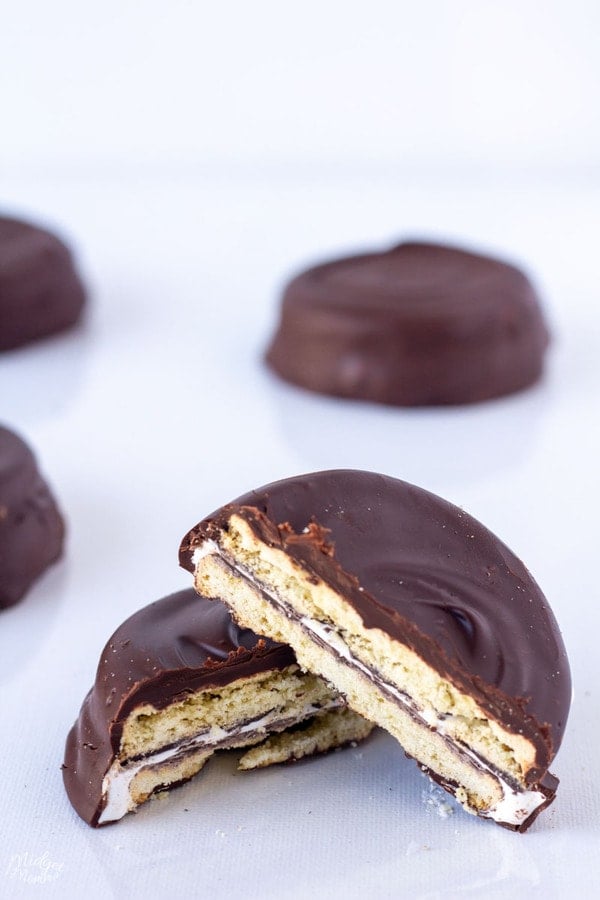 Smores Cookies
I guess you could also call them chocolate dipped marshmallow fluff cookies, but that name is rather long for a cookie, so we are keeping it short with Smores Cookies or Chocolate dipped smores cookies. You can go with whatever name you want to call these amazing cookies!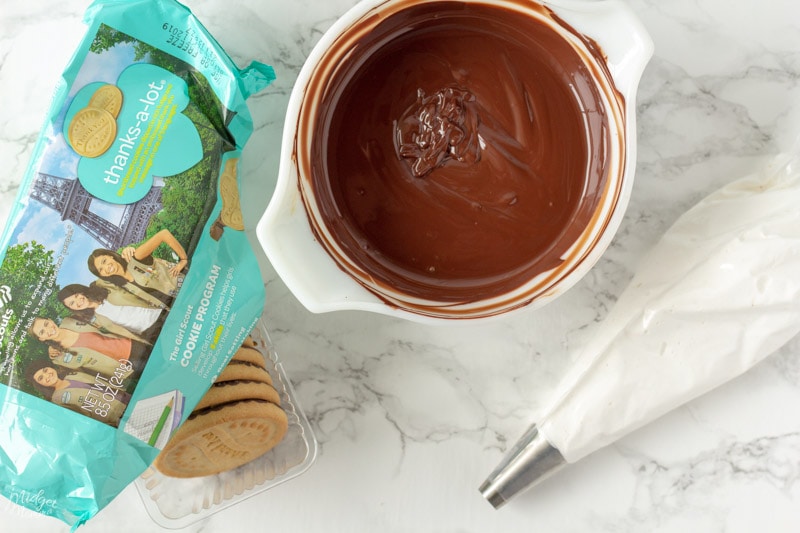 Chocolate Dipped Smores Cookie Ingredients
I love Girl Scout cookies. I love marshmallows. I love chocolate. So the logical thing to do is to combine them all right? Using Girl Scout Thanks A Lot Cookies, I stuffed them full of marshmallow fluff goodness, dipped them in chocolate and then let them cool. Let me tell you, it was a BOOM of flavor in my mouth when I took a bite! It really is a smores cookie flavor, that is totally amazing! It reminds me a bit of the Girl Scout Smores cookies, but better!
Shortbread cookies. I know that Girl Scout cookies are not always available, so if you can not get your hands on them you can grab some chocolate dipped shortbread cookies that will do the trick!
Chocolate. You are going to want to melt your chocolate in a double boiler. If you have never melted chocolate in a double boiler, it is super easy! Just follow the directions for how to melt chocolate in a double boiler. For the dark chocolate, I like to use Ghirardelli dark chocolate. If you have a preferred dark melting chocolate, then use those.
Marshmallow fluff. You can use store bought marshmallow fluff. But I am not a fan of it at all. Homemade marshmallow fluff is all we use in my house because it tastes a million times better then the jarred fluff.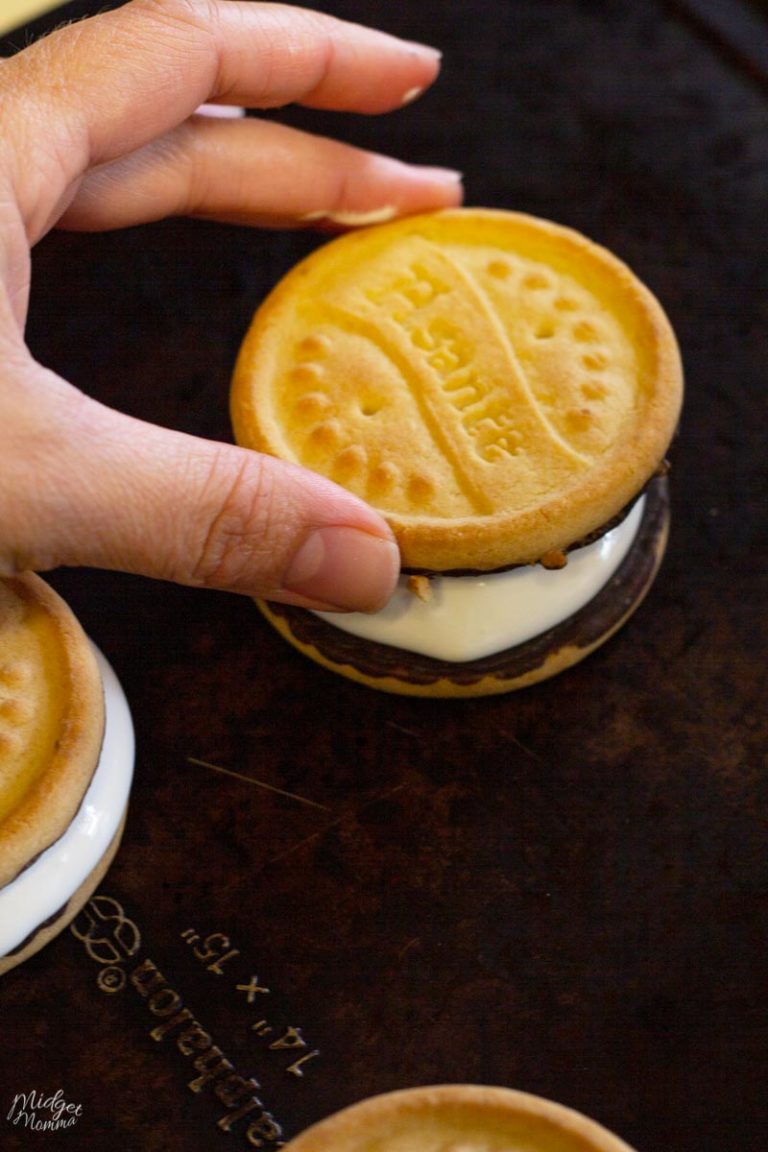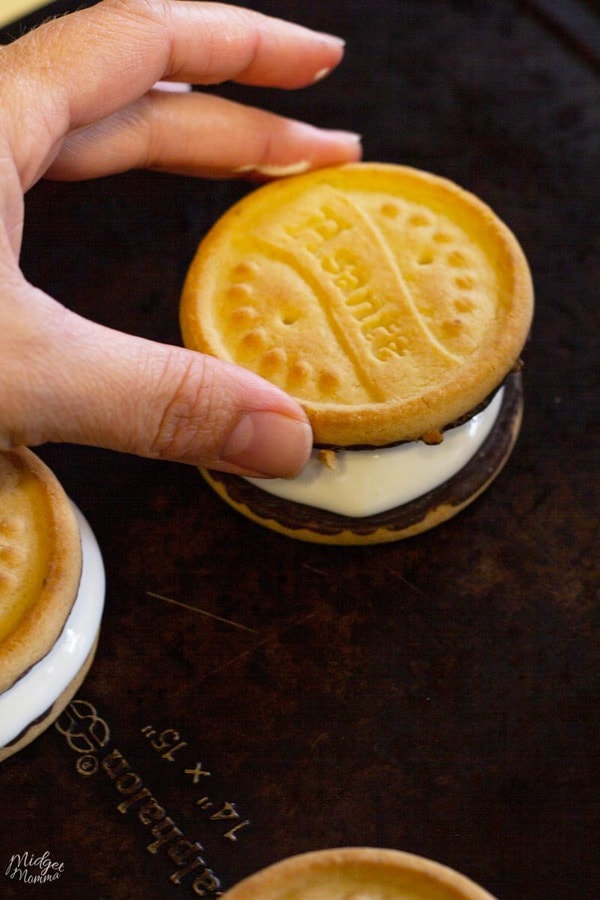 How to Make Chocolate Dipped Smores Cookies
Ingredients
1 pack of thanks a lots
1/2 cup marshmallow fluff
8 oz dark chocolate
Directions
Lay out half the cookies on a parchment lined sheet pan.
Place your marshmallow fluff into a pastry bag and cut the tip off the bag.
Pipe the fluff in the middle of each cookies making sure to leave a gap around the edge of the cookie. Place another cookie on the top of the fluff. Do not press the cookie down hard because the fluff will start to spill out.
Place the cookies into the freezer for 30 minutes.
Melt the chocolate over a double boiler. Making sure to stir to avoid it being burned.
Remove the cookies from the freezer and use your finger to scrape off all fluff that has spilled out.
Place the cookies on a clean sheet of parchment paper on the sheet pan.
Dip the sandwich into the chocolate and tap off the excess chocolate from the cookie. Place them on the sheet pan and using your finger make a swirl on the top of the chocolate.
Place the cookies in the freezer until the chocolate has set up.
8 Servings at 16 Weight Watchers SmartPoints per serving.
Love Girl Scout Cookies? Check out these tasty Recipes!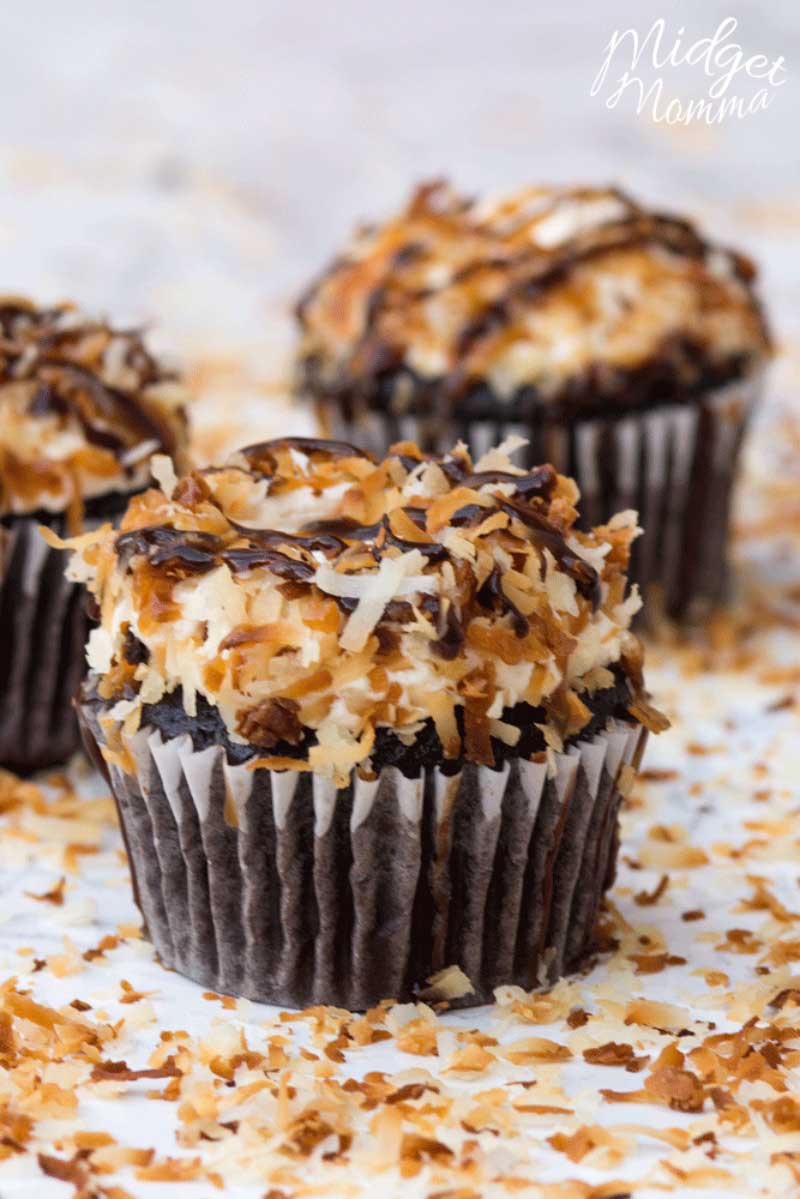 Love Ice cream? Check out these tasty recipes!
Chocolate Chip Cookie Ice Cream Sandwiches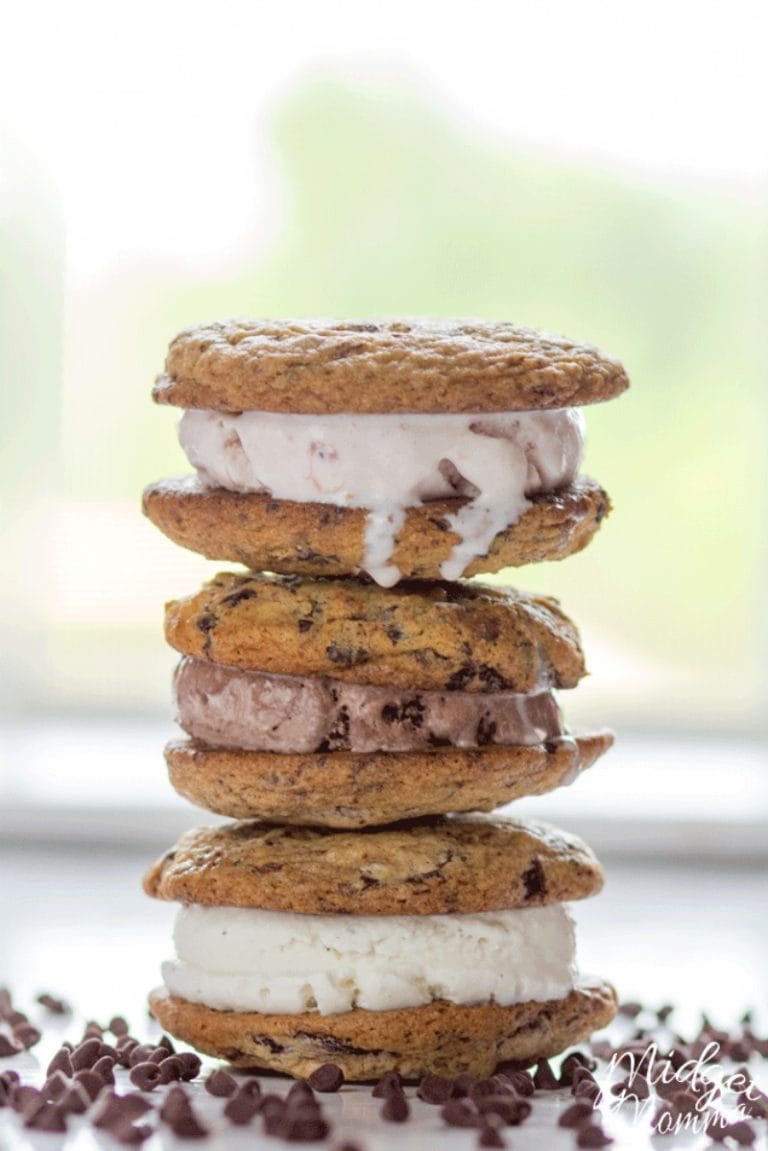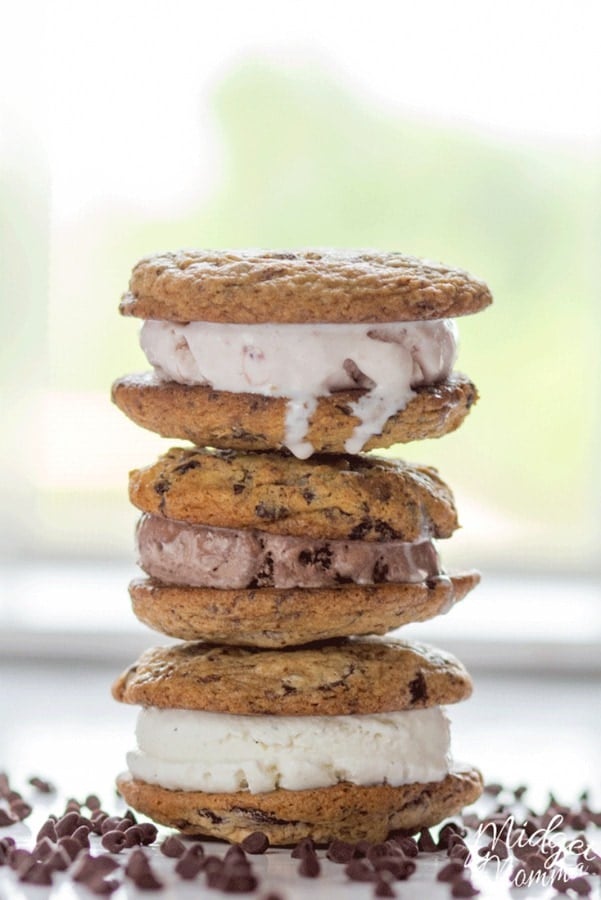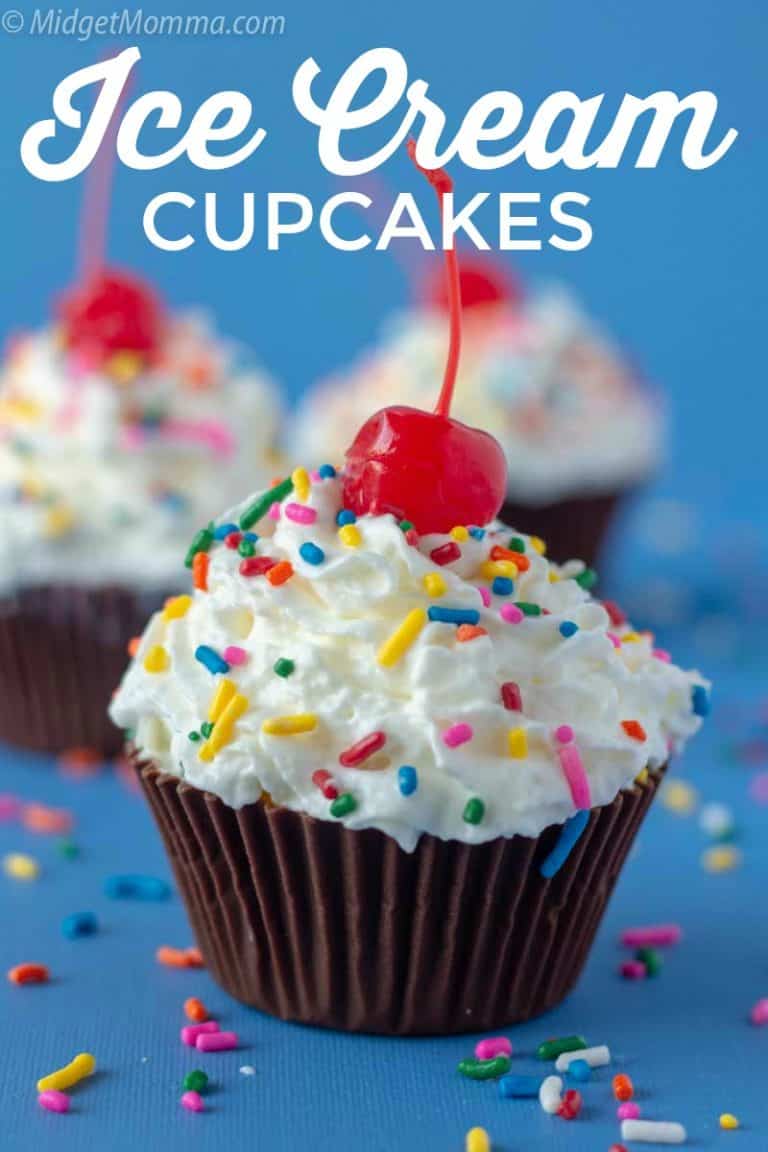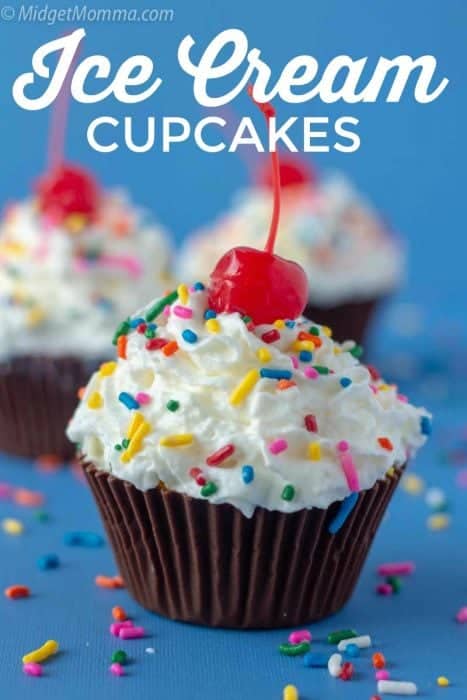 Banana Chocolate Peanut Butter Ice Cream