How To Toast Coconut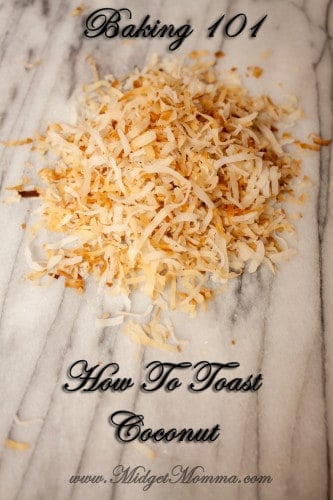 MY LATEST VIDEOS
When I was helping my friend bake up some tasty treats for her family I realized that I need to start off teaching some of the very basics baking techniques. So starting of my baking 101 series I am going to show you how to toast coconut. I tend to use a lot of sweeten coconut for baking and you have to be careful with it because the sugar will brown up the coconut faster. If you only have unsweetened coconut on you hands you can stir two tablespoons of powered sugar with one pound of unsweetened coconut. Also if you only have sweetened coconut you can place it on a flat sieve and rinse it under hot running water. You will see the sugar start rinse right off, just squeeze out all the excise water and than lay it out on some paper towels till completely dry. There are two way you can toast your coconut. There is the stove top method and the oven method. My favorite way is one the stove top because I tend to burn things that I cant see.
Stove Top Method for How To Toast Coconut
In a dry pan over medium heat place your desired amount of coconut.
You will start seeing the coconut going slightly translucent from that point your coconut will start to brown. You will need to keep stirring it to ensure even browning.
Once the coconut has reached golden brown remove from the heat.
Oven Method for How To Toast Coconut
 Preheat the oven to 350 degrees. Place your coconut in a baking pan that has sides. Stir the coconut ever few minutes until golden brown, this should take about 5 – 10 minutes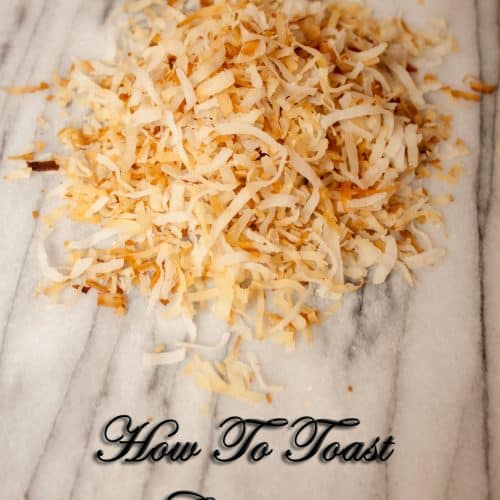 How to Toast Coconut
Pin Recipe
Print Recipe
Ingredients
Instructions
Stove Top Method for How To Toast Coconut

In a dry pan over medium heat place your desired amount of coconut.

You will start seeing the coconut going slightly translucent from that point your coconut will start to brown. You will need to keep stirring it to ensure even browning.

Once the coconut has reached golden brown remove from the heat.

Oven Method for How To Toast Coconut

Preheat the oven to 350 degrees. Place your coconut in a baking pan that has sides. Stir the coconut ever few minutes until golden brown, this should take about 5 - 10 minutes
This post may contain affiliate links. Please read my disclosure policy here