With blueberry picking season in full swing here in New Jersey one of the family fun activities that we do is pick blueberries. Not only is is a great activity that the whole family can enjoy but it saves a lot of money. I end up paying about $1 per pound of blueberries and it does not take very long either, my kids and I can pick about 10 pounds in 30 minutes. Knowing How to Freeze Blueberries will save you a lot of money all year long since you can pick the blueberries and then freeze the blueberries and use them all year long. If you do not have a place to pick blueberries then you can snag them when they are on sale for rock bottom prices and then freeze them.
So we have them all winter long with out having to pay crazy high prices for them I freeze them and it is super easy to do.
How to Freeze Blueberries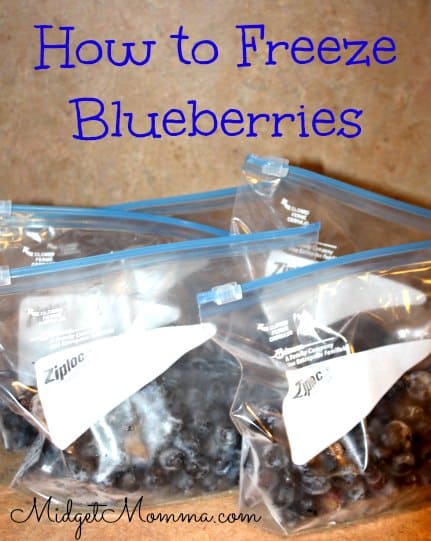 How to Freeze Blueberries Items needed
Blueberries
nonstick spray
baking sheet
freezer bags
How to Freeze Blueberries Directions:
Rinse blueberries
Spray non stick spray on baking sheet
lay blueberries on tray (do not stick blueberries on top of each other)
Put baking sheet into freezer for about 3 hours
Once blueberries are frozen solid remove baking sheet
Take blueberries off baking sheet and put into a freezer bag
Put freezer bag into freezer
It is really simple and does not take much time at all and knowing how to freeze blueberries will save you a lot of money all year long!
Looking for other things to do with Blueberries? Check out blueberry recipes that I have posted
White Chocolate Blueberry Cheesecake Pancakes