Blueberry Streusel Muffins! Soft and tender muffins loaded with blueberries and topped with amazing crunchy Streusel. These homemade blueberry muffins are perfect for breakfast, lunch or a snack!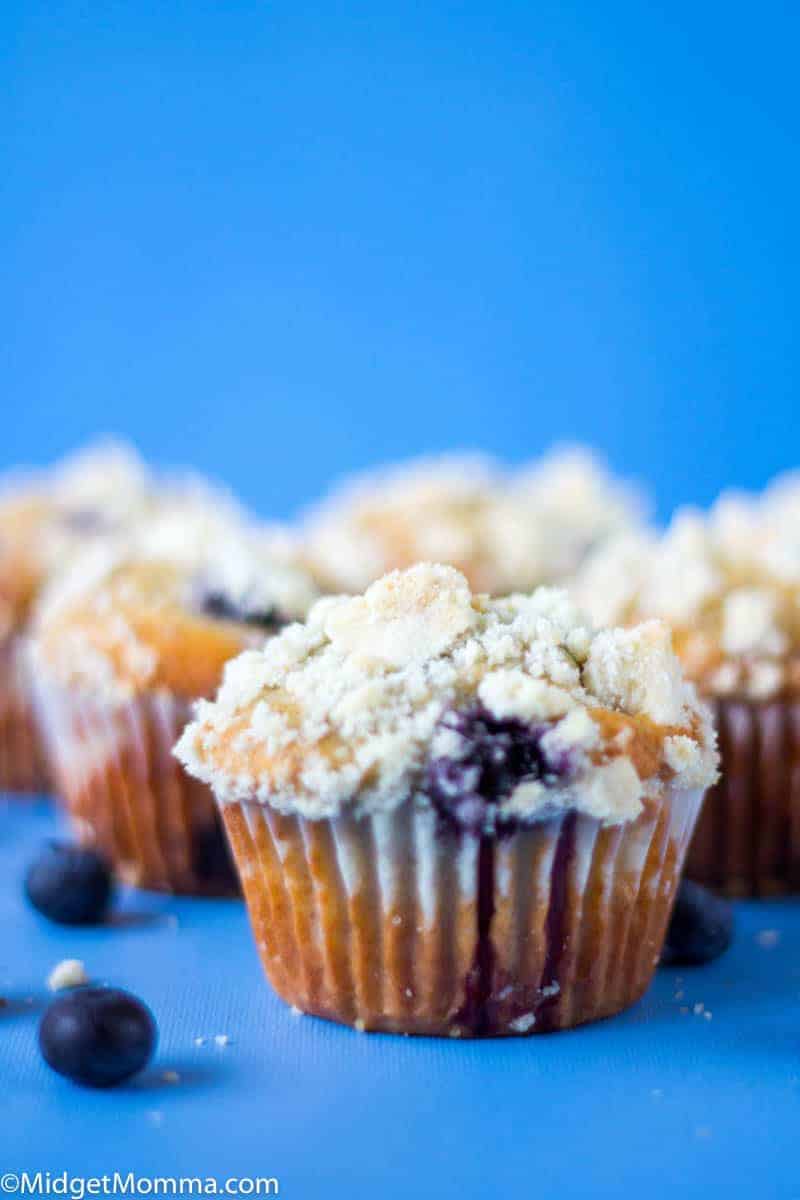 Blueberry Streusel Muffins Recipe
If you are wanting an amazing easy muffin recipe then you need to make these Blueberry Streusel Muffins. This easy blueberry muffins recipe is a family favorite! These muffins are stuffed full of blueberries and the sugar crumb topping on these blueberry muffins gives the perfect crunch when you bite into these soft and tender homemade blueberry muffins.
I love homemade muffins and so do my kids. A cup of coffee with a homemade muffin is one of the best ways to start the day. It is even better if you have made them the night before so you don't have to cook right away when you get up. You can just pop one of these muffins in to the microwave to warm up for a few seconds while the coffee is brewing.
Seriously these easy blueberry muffins are amazing! These blueberry muffins with crumb topping are perfect for when you find blueberries on sale, go blueberry picking or have a TON of blueberries that you do not know what to do with. Which if you are like us happens a lot during the summer months and then we are making blueberry everything all the time!
Love Blueberries? Check these blueberry recipes out!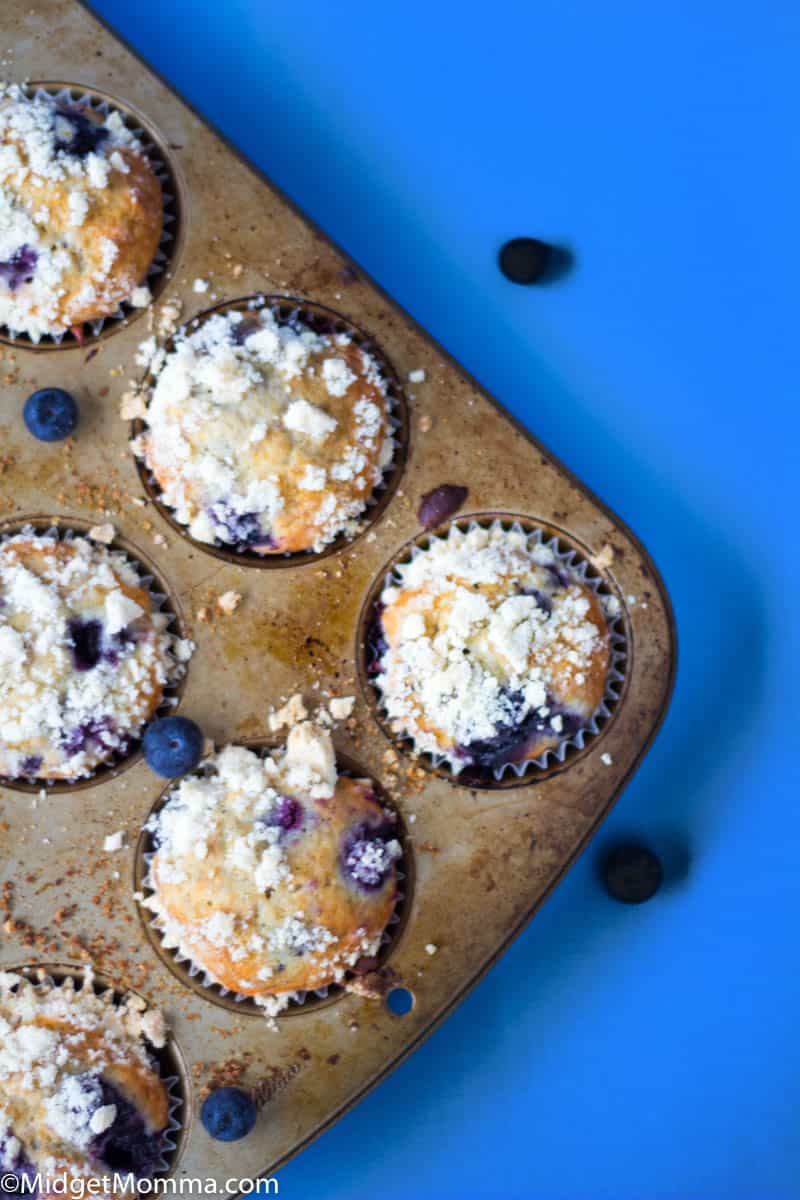 I have to admit though that we are muffin snobs in our house. We do not use boxed muffin mix in our house, blueberry muffins from scratch is the way to go and honestly they are not hard to make at all! It doesn't even take much longer to make homemade blueberry muffins from scratch then it does to make blueberry muffins from a boxed mix.
We love bakery style muffins and we love softt, tender muffins. These homemade blueberry muffins will remind you of those amazing muffins that you get from a bakery. Anytime I make these Blueberry Streusel Muffins they do not last long, so I find myself making double batches at a time!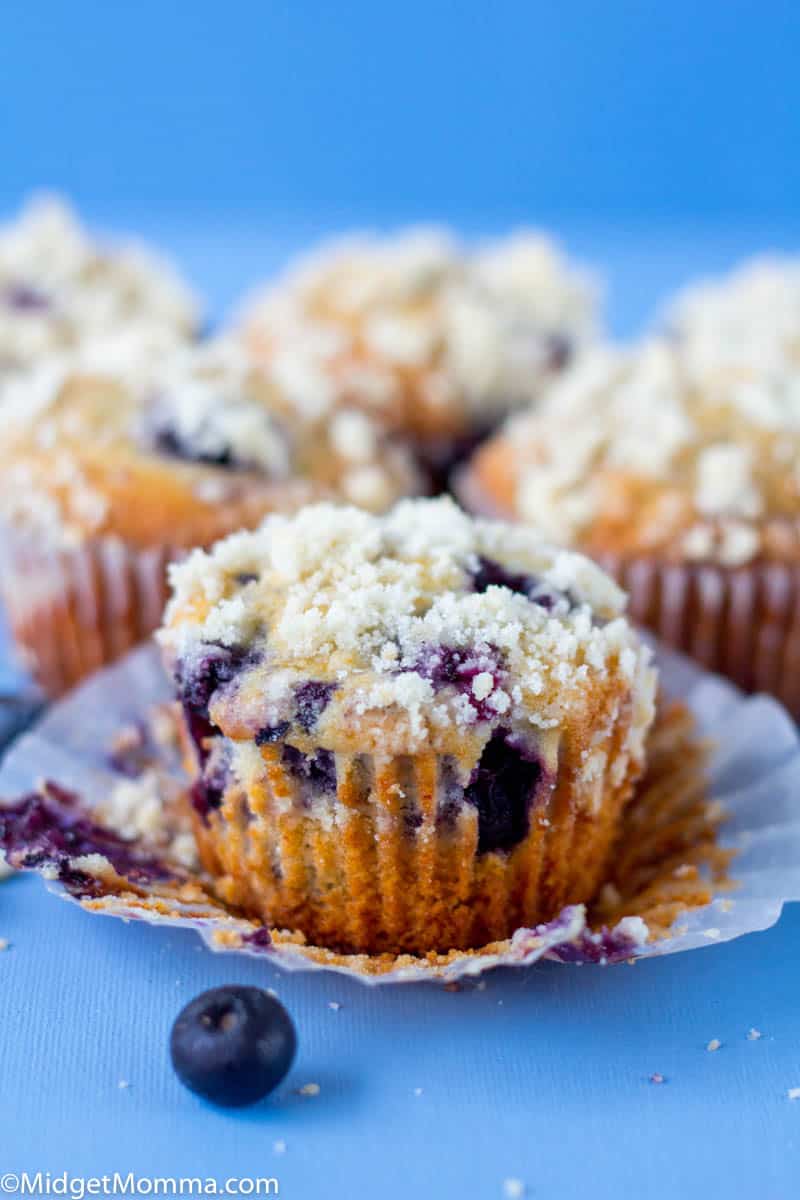 How to Freeze Blueberry Muffins
These blueberry muffins from scratch are something I like to make when we are meal planning. They are always a hit with the kids for breakfast so they are one of the best recipes to keep in the freezer! You can easily double or triple the recipe when making these moist blueberry muffins. But I will give you fair warning even doing that you will probably have to make them often because they won't last long in the house!
Once you have baked your muffins, remove them from the muffin tin and allow them to cool completely. Place them in a single layer in a plastic freezer bag and lay flat in the freezer.
Blueberry muffins will last up to 6 months in the freezer.
To reheat the homemade blueberry muffins remove from the freezer and heat in the microwave for 30-45 seconds.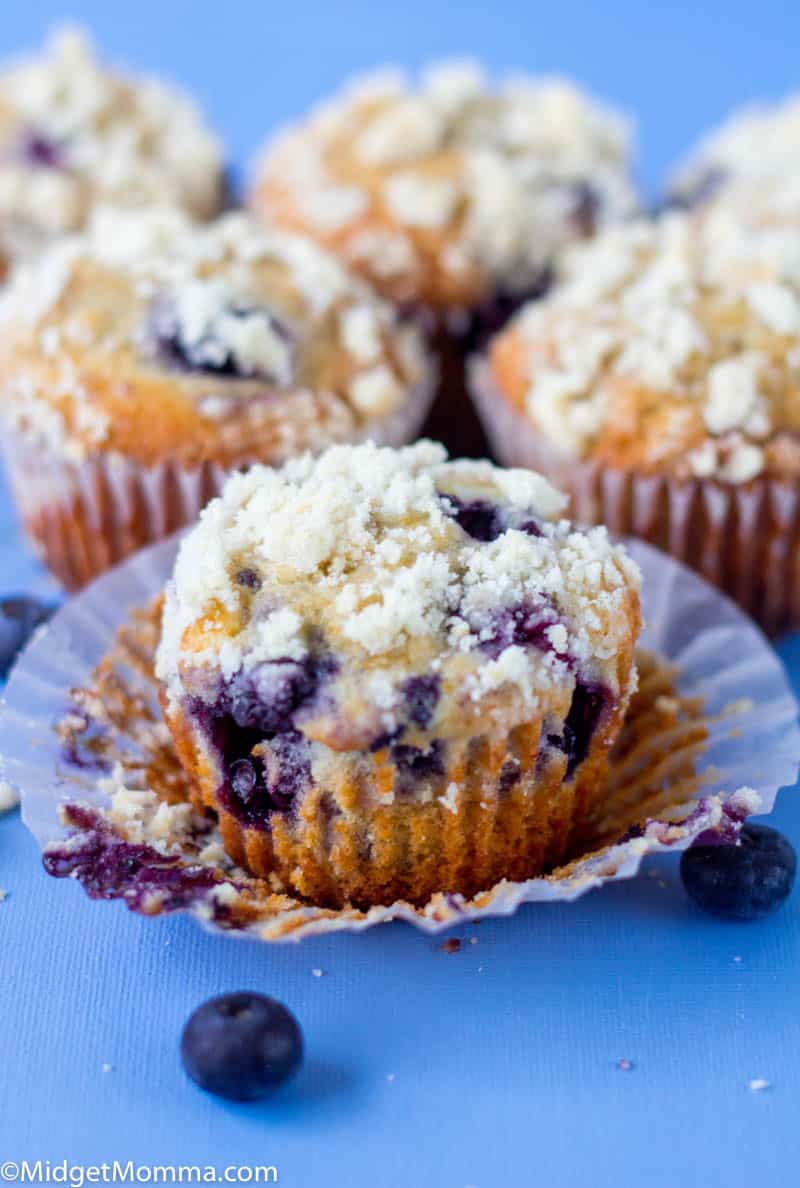 Fresh or Frozen Blueberries?
You can make these blueberry muffins with frozen blueberries or fresh. Personally I love them with fresh the most, but since I freeze blueberries a lot when I buy them in bulk or when we go blueberry picking, when they are in season I also use frozen blueberries at times too.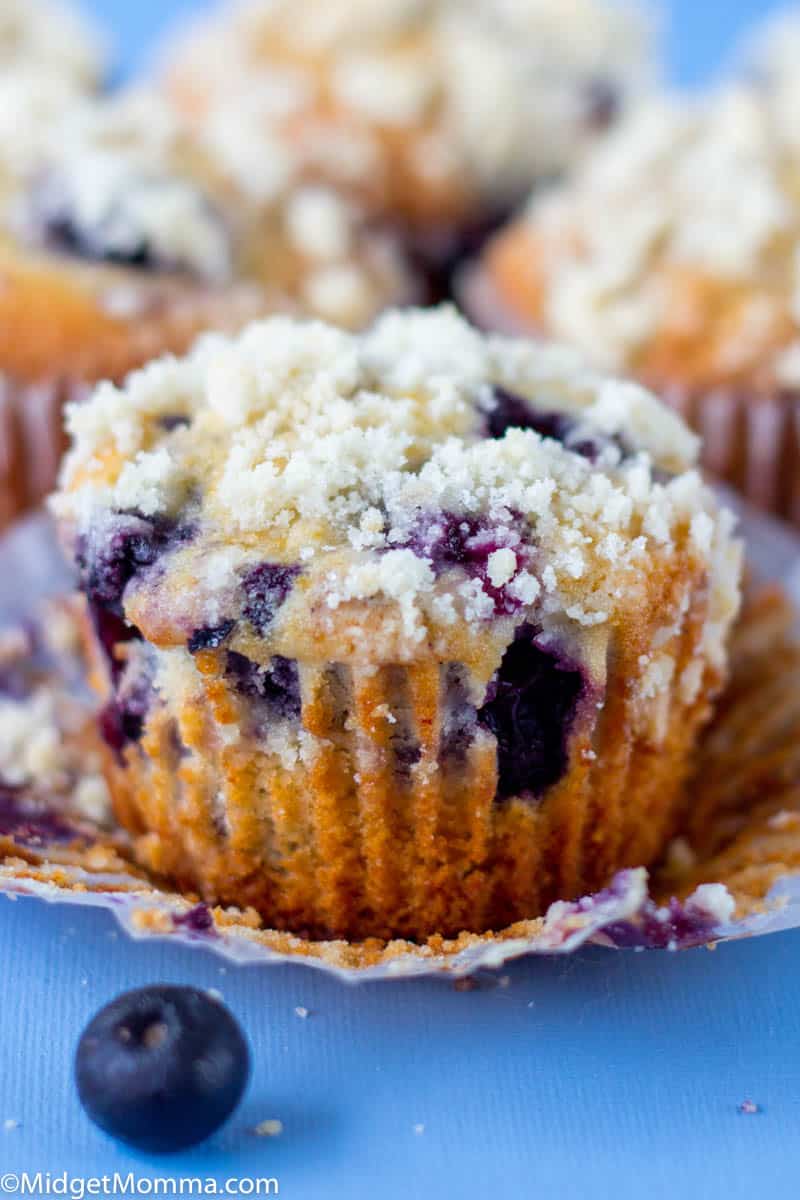 Blueberry Streusel Muffins Ingredients
All purpose flour
Baking powder
Salt
Unsalted butter
Sugar
Eggs
Vanilla extract
Milk
Blueberries
How to make Blueberry Streusel Muffins
When making blueberry muffins my favorite pan to use is my Calphalon Nonstick muffin pan, and then I use paper muffin cups, you can get them quite cheap on amazon! It is like $6 for 300 of them here. 
If you are looking for a less messy way to fill your muffin cups when making blueberry muffins with streusel topping this Batter Dispenser with Measurement for Muffins is perfect!! 
It is really easy to make these homemade Blueberry muffins with streusel topping!
Make the blueberry muffin crumble topping also known as streusel topping by mixing butter, sugar and flour.
Then mix the dry ingredients in one bowl.
Mix the butter and sugar till fluffy.
Add the rest wet ingredients in with the butter and sugar.
Add the Blueberries.
Put batter into muffin cups and top with the streusel topping .
Bake in the oven!
Remove from oven and allow to cool and then enjoy!
Love muffins? Check out these muffin recipes!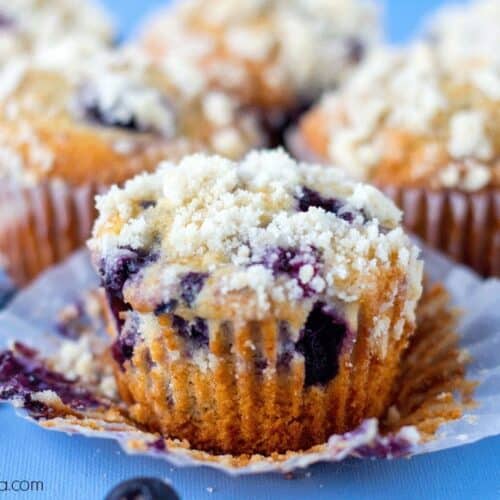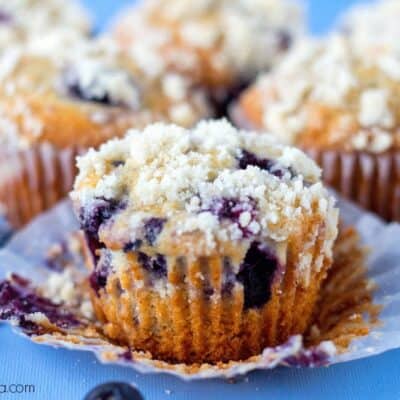 Instructions
Preheat oven to 350 degrees. Line your muffin pan with paper muffin liners.

Start by making your streusel topping. In a small bowl combine the flour, sugar and butter. To make the crumbles start by pinching your fingers together in the mixer until crumbles form. Set aside until your muffin batter is ready.

In a small bowl, whisk together flour, baking powder and salt and set aside. In a large bowl, beat butter and sugar until light and fluffy.

Add eggs, vanilla and milk. Add flour mixture and stir until just combined. Carefully stir in blueberries.

Divide batter evenly into 12 muffin cups. Sprinkle muffins with streusel topping.

Bake for 20 to 25 min, until a tester inserted into the center comes out clean.

When muffins are done, cool for a few minutes in the muffin pan before removing to cool on a wire rack.

Nutrition
Calories: 292kcal | Carbohydrates: 45g | Protein: 4g | Fat: 11g | Saturated Fat: 7g | Cholesterol: 54mg | Sodium: 131mg | Potassium: 121mg | Fiber: 1g | Sugar: 24g | Vitamin A: 364IU | Vitamin C: 2mg | Calcium: 44mg | Iron: 1mg
Share on Facebook
Pin Recipe
Tried this recipe?Mention @midgetmomma or tag #MidgetMommaRecipes
12 Weight Watchers SmartPoints Per serving on the Freestyle Program.
Looking for more breakfast recipes? Check these out!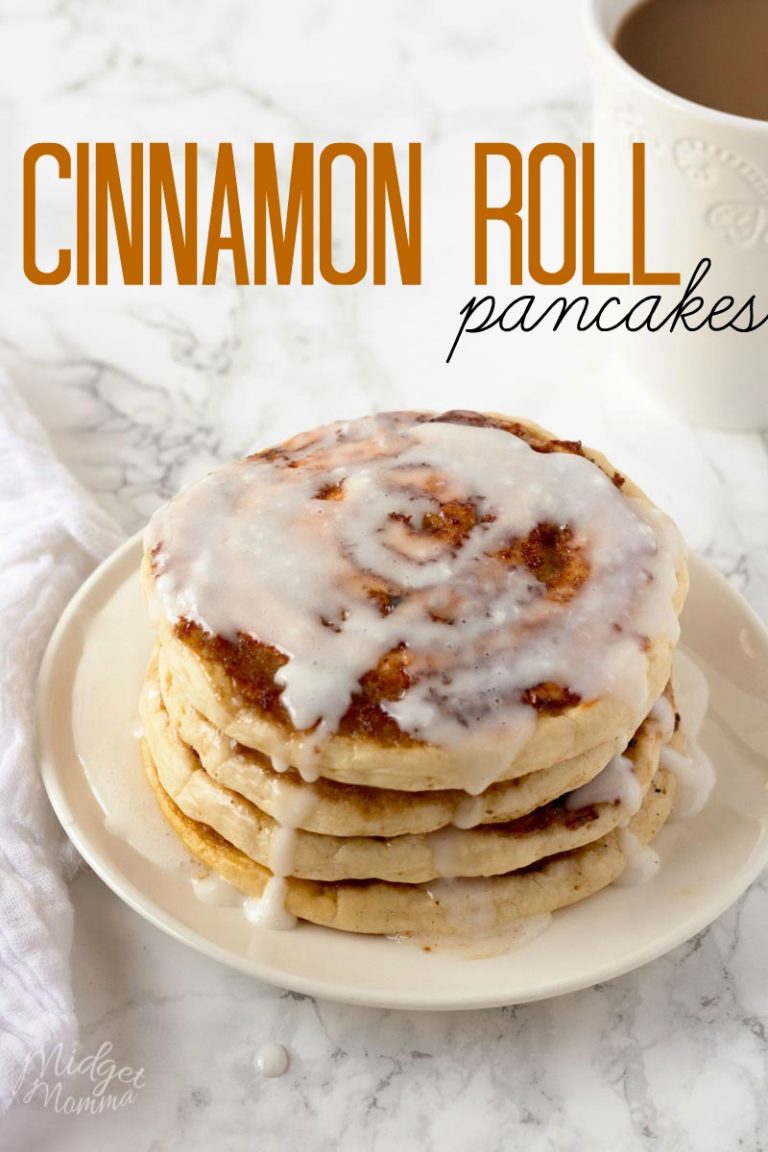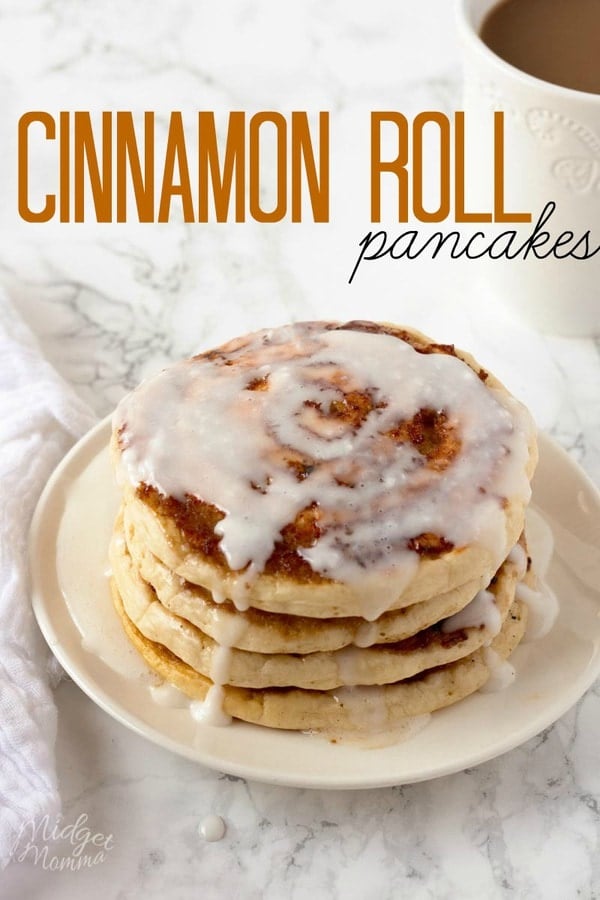 Pumpkin Banana Muffins with Chocolate chips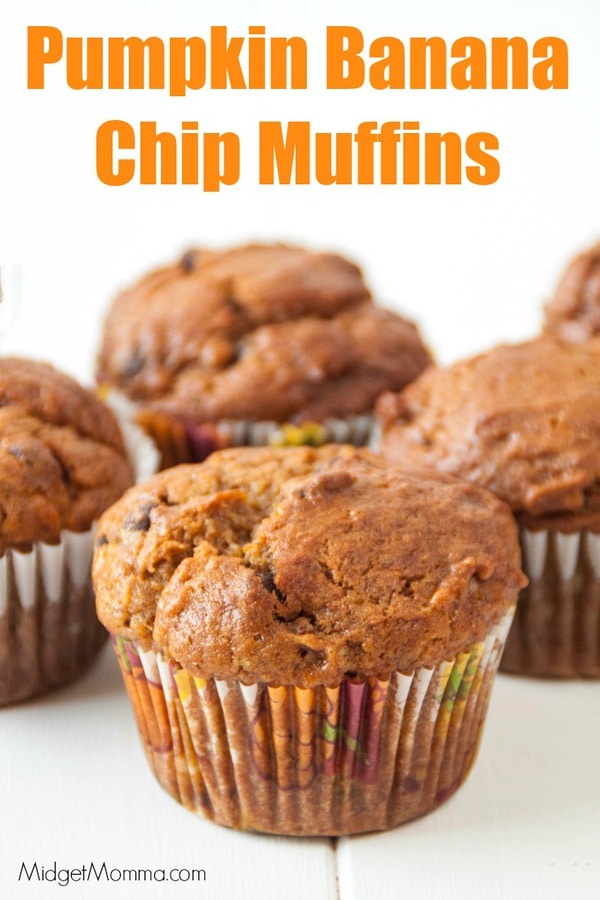 Even more tasty recipes to try!