If you are looking for a sweet but healthier breakfast then Banana Chocolate Chip Muffins are the perfect ones to make! With the perfect balance of chocolate and bananas these banana chocolate chip muffins are amazing! These muffins are moist and delicious!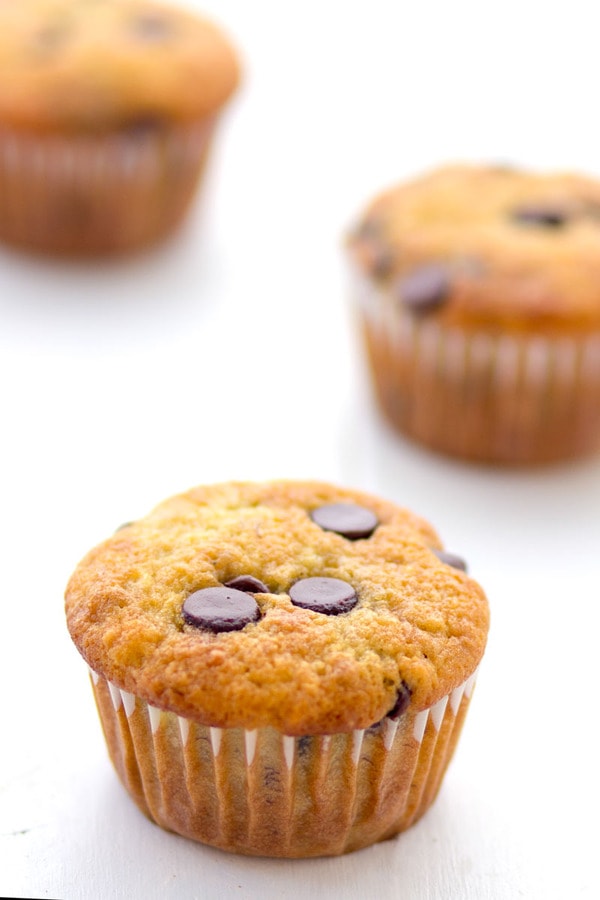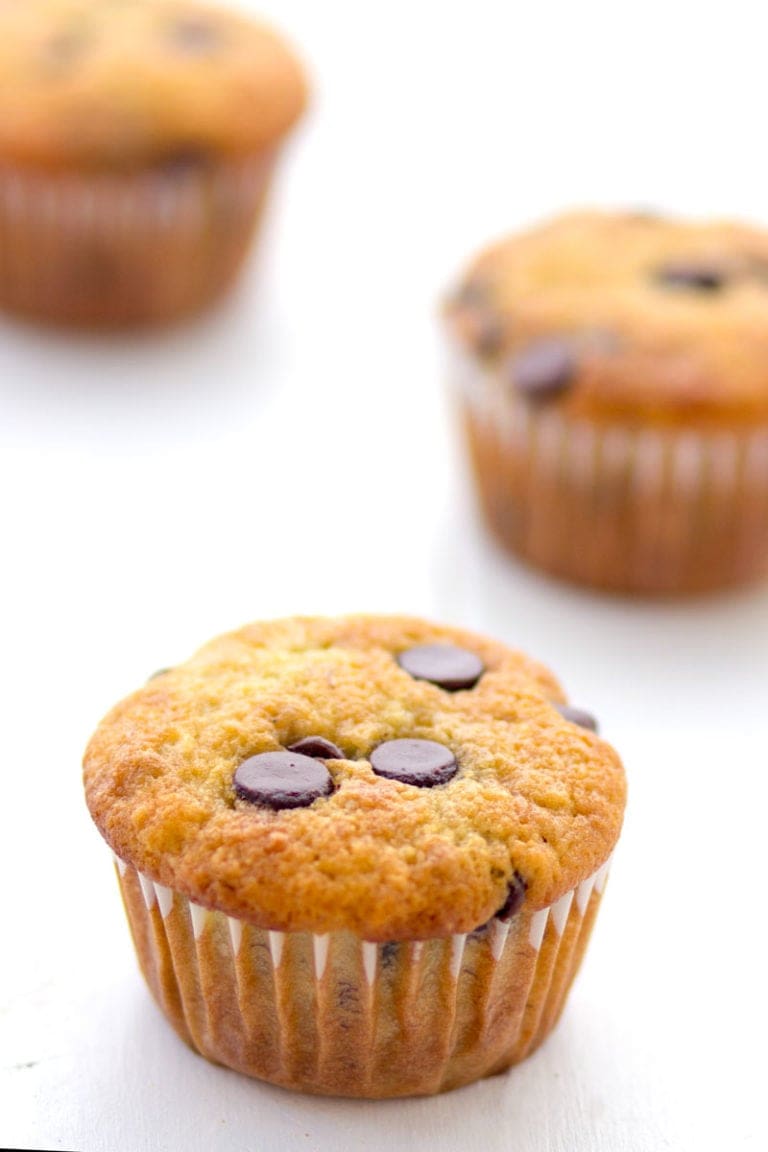 Banana Chocolate Chip Muffins
We love muffins in our house. Muffins are perfect for breakfast, perfect for packing in the kids lunch boxes and perfect for packing with us when we are going on a day trip or a road trip. I wouldn't call these a 100% healthy banana chocolate chip muffin, because it does have sugar in it. But they have bananas and those are very healthy!
My main reasons for loving muffins is that they are single serve, and they are easy to make large batches of. Muffins never last long in our house. I feel like I make them, and take them out of the oven and with in minutes they are gone. Ok, so maybe they are not gone in minutes but it sure feels that way. Often times I will make double batches, and once they are cooled freezer half of them. Then we are able to just pop them in the microwave for a few seconds to heat them up and enjoy them.
If you love different types of banana muffins, be sure to check out the other ones I have shared already!
I also should probably mention that I love making bread too, a few of my favorites are Apple banana bread, Banana bread and pumpkin banana bread.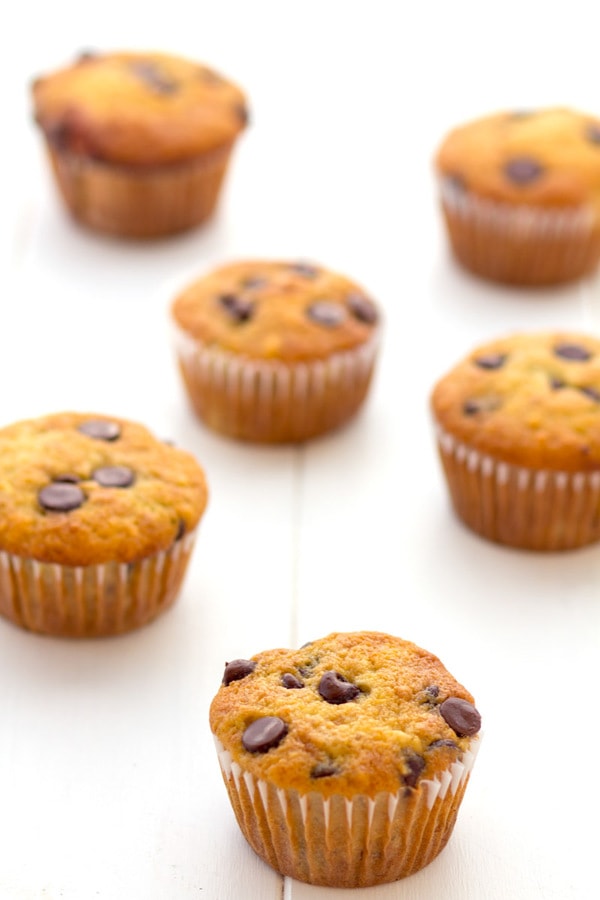 Can you freeze muffins?
You sure can freeze muffins. And it is REALLY easy to do. All you have to do it let them cool once they are baked. They will keep in the freezer for up to 3 months. There are 2 different ways to freeze fresh muffins.
Way to freeze muffins #1.
Let your muffins cool completely. Then individually wrap them in plastic wrap, and put them in a freezer bag.
Way to Freeze muffins #2.
If you do not want to wrap them individually, you can let them cool completely. Once cooled, remove the muffins from the muffin tin and place on a baking sheet in a single layer. Place them in the freezer and  freeze them until they are solid, which takes about an hour.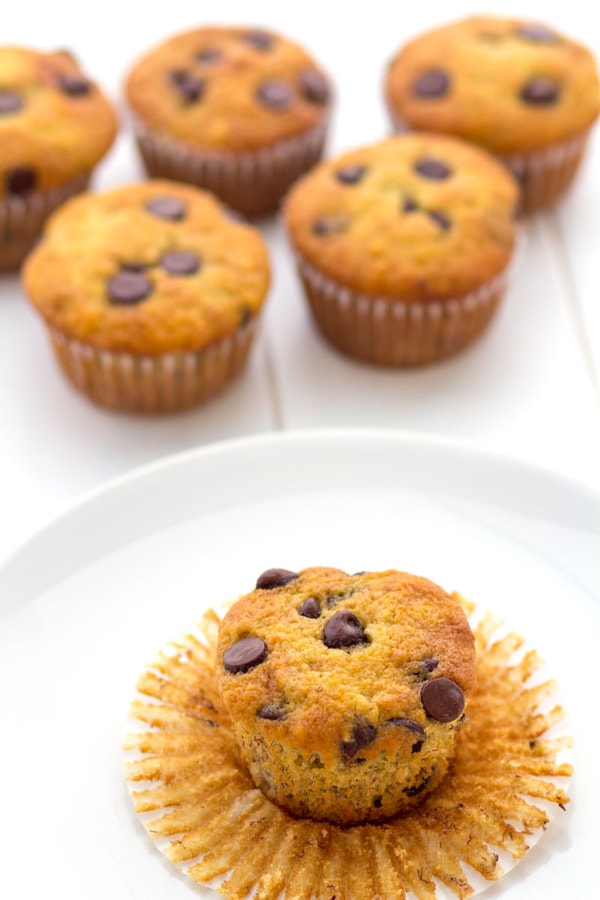 How to defrost frozen muffins
Defrosting frozen muffins is easy and there are a few different ways that you can defrost muffins.
Defrost muffins way #1.
Remove muffins from the freezer and let them defrost at room temperature on the counter.
Defrost muffins way #2.
Remove muffins from the freezer and let them defrost in the fridge.
Defrost muffins way #3.
Remove muffins from the freezer and put them on a microwave safe plate. Then heat them in the microwave for 30-40 seconds.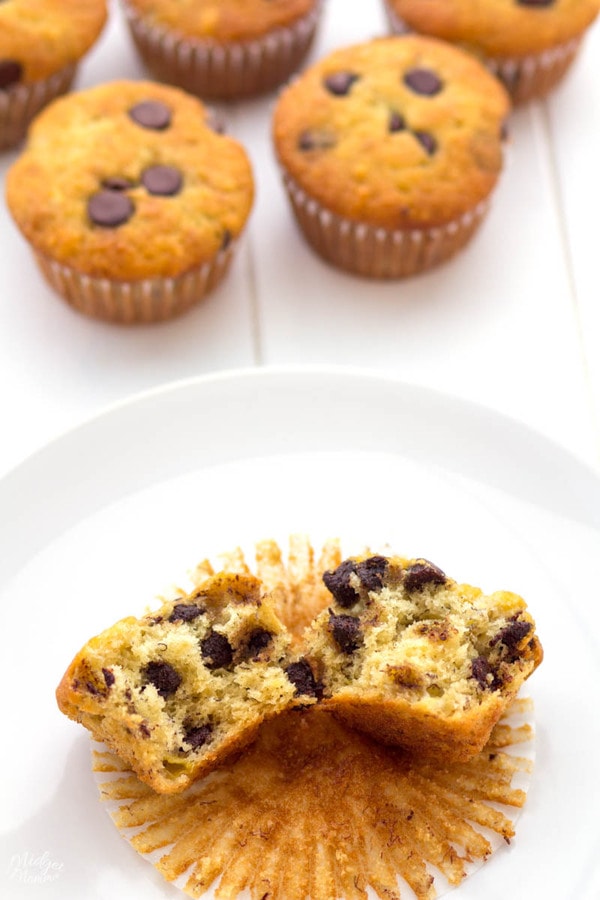 Banana Chocolate Chip Muffins Ingredients
All-purpose flour.
Baking soda.
Salt.
Butter. It is important when making this banana chocolate chip muffin recipe that you use melted butter. To melt your butter, put it in a glass bowl and then microwave it on 30 seconds until it is fully melted.
Egg.
Sugar.
Vanilla extract. I much prefer to use homemade vanilla then the store bought vanilla extract that you get in the store whenever I am baking.
Bananas. It is important that your bananas are overripe bananas and mushy for this banana muffin recipe. You will not get the right results if you are using bananas that are underripe. This is the perfect recipe to use if you have overripe bananas! I also use a potato masher to mash my bananas, it makes getting them perfectly squished so easy!
Chocolate chips. I like to use semi sweet chocolate chips but you can also use milk chocolate chips.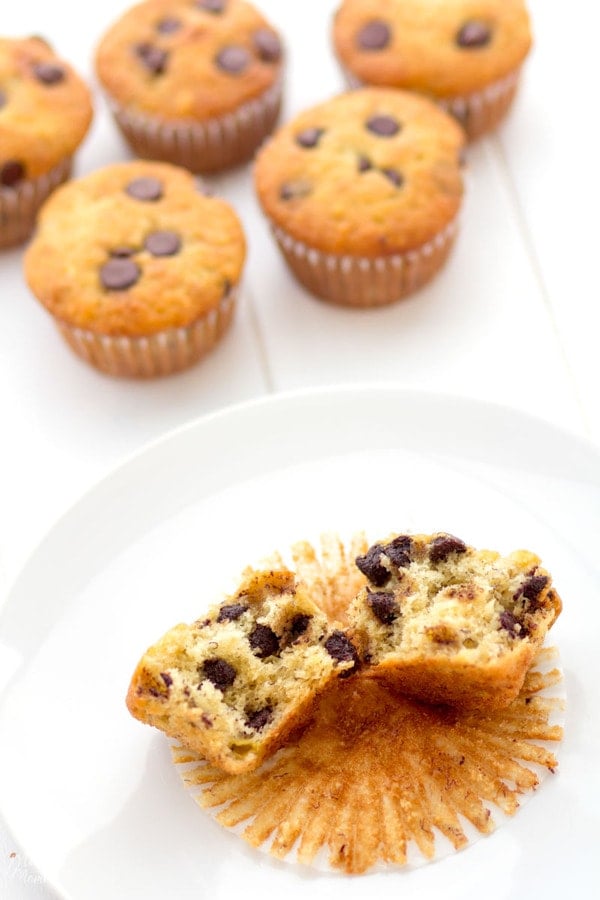 How to Make Banana Chocolate Chip Muffins
You can use a regular sized muffin pan or a mini muffin tin when you are making these muffins. If you are using a mini muffin tin then you will want to cut down on the bake time by half, then check the muffins. You will know they are done when you poke them with a toothpick and it comes out clean. If it is not clean then put the muffins back in for another 3-5 minutes and then check them.
Following Weight Watchers? These Banana Chocolate Chip Muffins are 10 Weight Watchers Points each.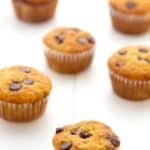 banana chocolate chip muffins
With the perfect balance of chocolate and bananas these banana chocolate chip muffins are amazing!
Pin Recipe
Print Recipe
Instructions
Preheat the oven to 350 degrees.

Line your muffin tins with cupcake liners or coat with nonstick spray.

Whisk together the flour, baking soda, and salt in a medium mixing bowl.

In another mixing bowl combine the butter, eggs, sugar, vanilla and mashed bananas together.

Gently stir the butter mixture into the flour mixture, stir just until combined.

Fold the chocolate chips into the muffin mix.

Fill your muffin tins so they are 3/4 of the way full.

Bake for 24-26 minutes, until a toothpick, comes out clean from the center.

Place on a cooling rack to cool and store in an airtight container.
Nutrition
Calories:
258
kcal
|
Carbohydrates:
41
g
|
Protein:
3
g
|
Fat:
9
g
|
Saturated Fat:
5
g
|
Cholesterol:
29
mg
|
Sodium:
173
mg
|
Potassium:
127
mg
|
Fiber:
1
g
|
Sugar:
25
g
|
Vitamin A:
230
IU
|
Vitamin C:
2.6
mg
|
Calcium:
25
mg
|
Iron:
1
mg
Love Banana and Chocolate together? Be sure to check out these tasty recipes!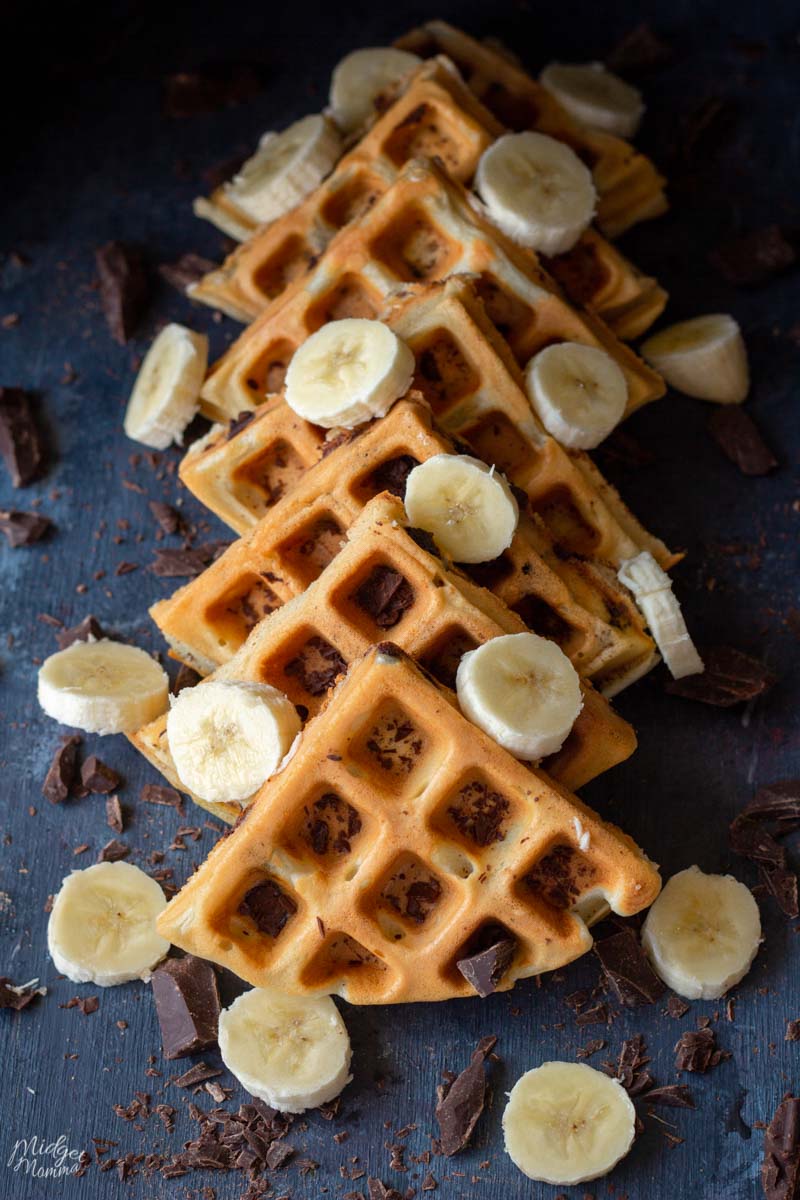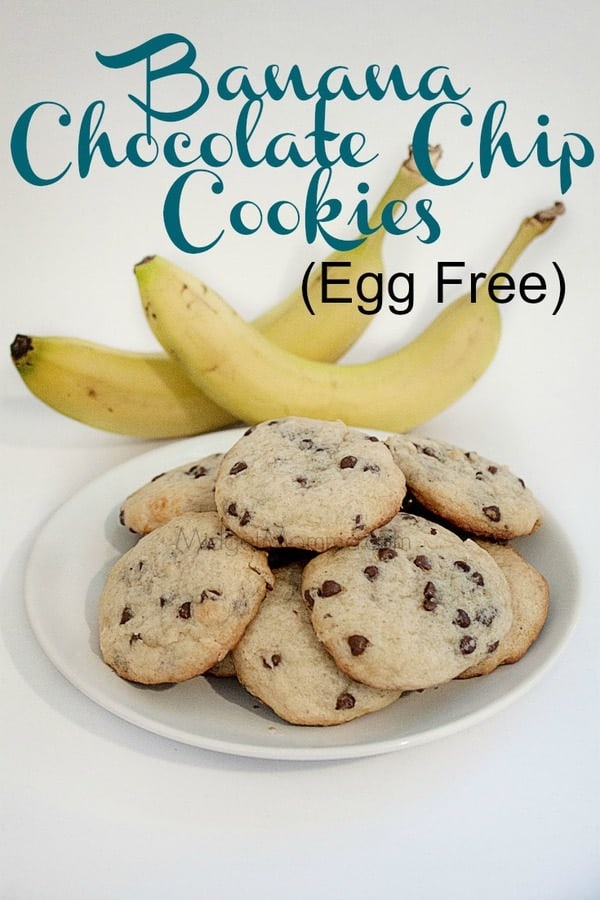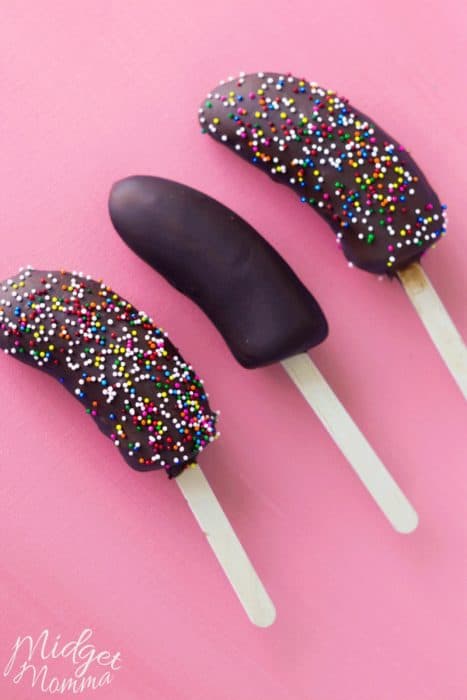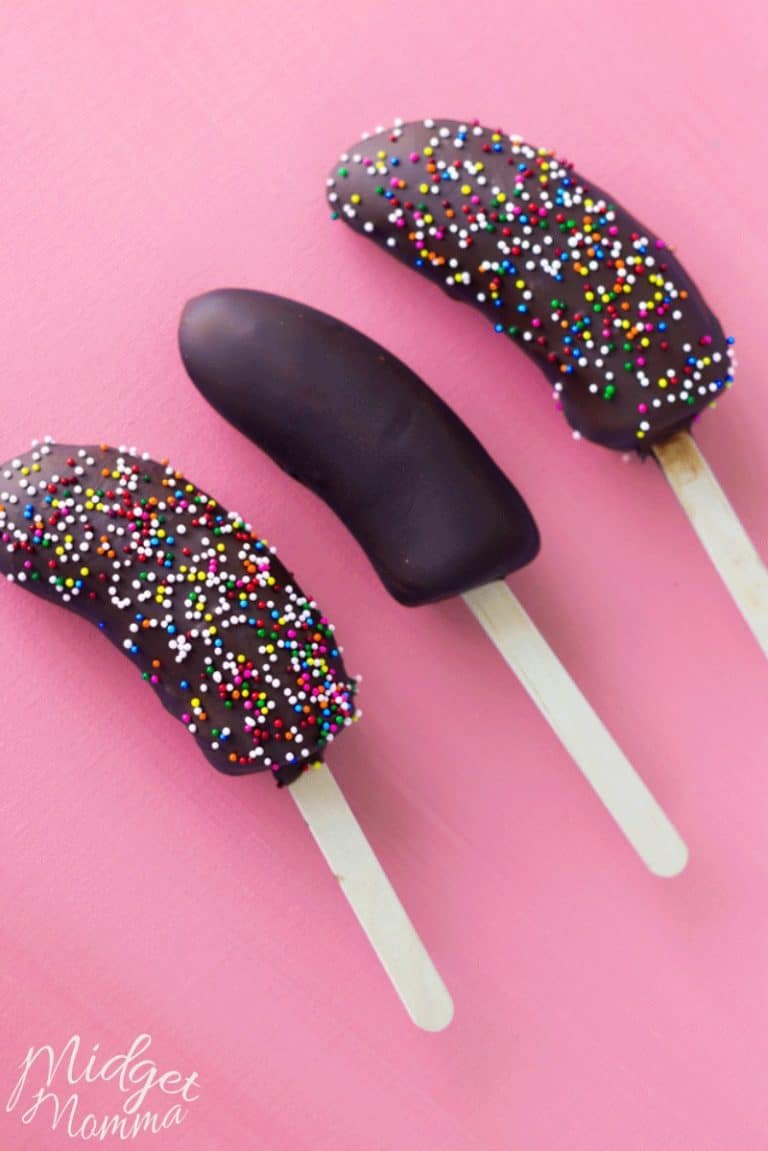 Join the newsletter
Subscribe to get our latest content by email.
This post may contain affiliate links. Please read my disclosure policy here