Apple muffins are one of the best fall breakfasts that I can think of! The amazing flavors of apples and cinnamon and made with whole wheat flour make these apple muffins perfect! Make a batch of these homemade apple muffins and have breakfast covered for the week! 
One of our favorite things to do during the fall is going apple picking. The kids have a ton of fun going thru the apple orchards and picking the apples. Then we come home and make lots of tasty apple treats like homemade apple pie, apple crisp, apple pie oatmeal,  apple waffles, apple cookies, apple dessert cups, apple bread, apple pie roll ups, apple cinnamon rolls, um well I think you get the idea here. LOL! Oh and LOTS of apple pie filling to freeze to use later on in the year.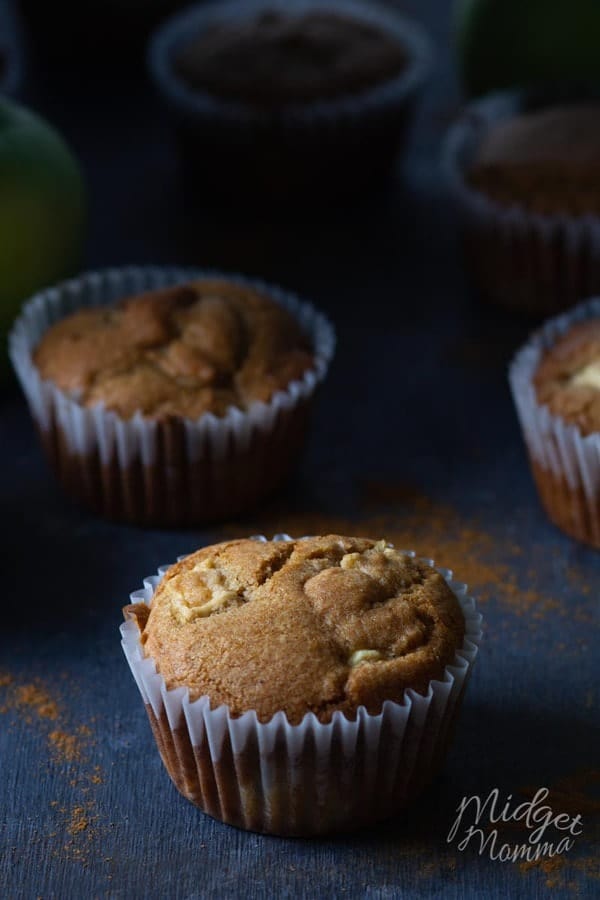 These apple muffins are one of my kids favorite muffins, sometimes I think I am going to have to hide these apple cinnamon muffins from the kids so they don't eat them all in one sitting.
Unlike a lot of apple muffin recipes, there is little sugar in these. The apples give quite a bit of sweetness on their own, so a bunch of added sugar is not needed with this apple muffins recipe. Which is a good thing because I don't like to load the kids up with a lot of sugar as I am sure you guys don't like to either.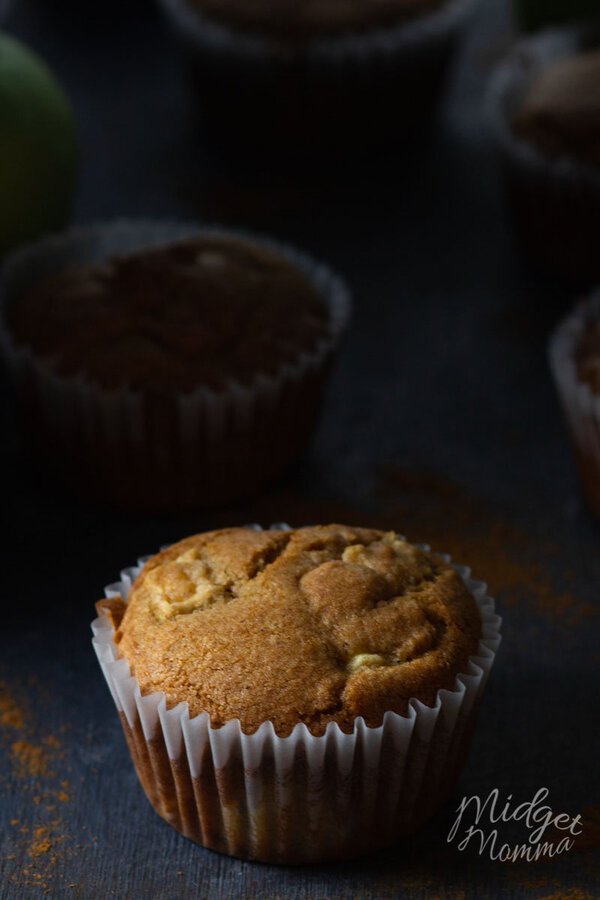 This apple muffin recipe also uses whole wheat flour instead of white flour. Making whole wheat apple muffins is not much different then making apple muffins with white flour, but I do find that I like the flavor much better when making apple muffins with whole wheat flour. If you are looking for an awesome whole wheat muffin recipe this is it!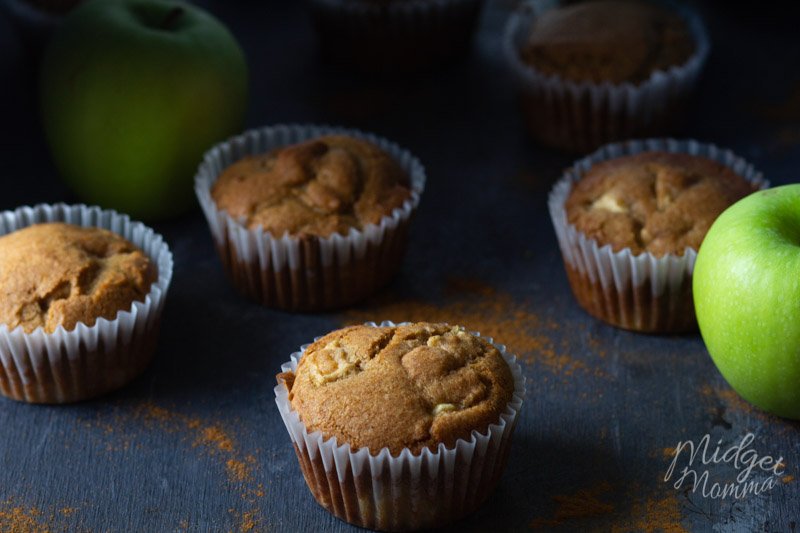 A lot of times when I make these healthy apple muffins I double the recipe. I have found they freeze really well, so I can make a double batch and have them in the freezer. It is easy to defrost these easy apple muffins, just pull them from the freezer the night before and leave them on the counter. If you forget to do that, like I often do then you can heat them in the microwave for 30-45 seconds and they will be nice and warm.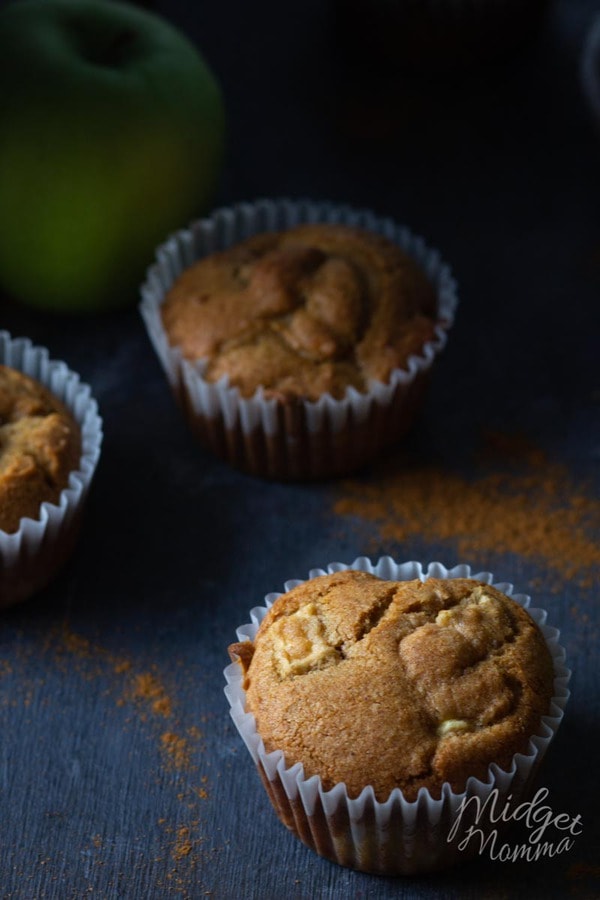 These apple cinnamon muffins are also even more amazing with a tad bit of butter on them. Oh I can just think of them right now, warm, soft, buttery apple muffins for breakfast. With a cup of coffee for myself of course!
How to make Apple Muffins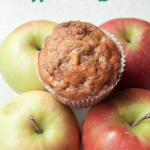 Apple muffins
Apple muffins are one of the best fall breakfasts that I can think of! The amazing flavors of apples and cinnamon and made with whole wheat flour make these apple muffins perfect!
Pin Recipe
Print Recipe
Instructions
Preheat the oven to 450°F. add paper liners to muffin cups and set aside.

Mix together the flour, baking powder, baking soda, salt, and cinnamon, and set aside. In a separate bowl, cream the butter and add the granulated sugar and 1/4 cup of the brown sugar. Beat until fluffy.

Add the egg and mix well, stop once to scrape the sides of the bowl.Mix in the buttermilk gently. If you over-mix, the buttermilk will cause the mixture to curdle.

Stir in the dry ingredients and fold in the apple chunks.

Divide the batter evenly among the prepared muffin cups, sprinkling the remaining 1/4 cup brown sugar on top.

Bake for 10 minutes, turn the heat down to 400°F, and bake for an additional 5 to 10 minutes, or until a toothpick inserted into the center of a muffin comes out clean.

Cool the muffins for 5 minutes in the pan, then place them out onto a wire rack to cool completely.
Nutrition
Calories:
158
kcal
|
Carbohydrates:
25
g
|
Protein:
2
g
|
Fat:
6
g
|
Saturated Fat:
3
g
|
Cholesterol:
24
mg
|
Sodium:
158
mg
|
Potassium:
121
mg
|
Fiber:
2
g
|
Sugar:
14
g
|
Vitamin A:
205
IU
|
Vitamin C:
0.9
mg
|
Calcium:
43
mg
|
Iron:
0.6
mg
6 SmartPoints per muffin on Weight Watchers FreeStyle Plan
Apple muffins are a great breakfast or snack option that everyone loves. These are healthy, delicious, and pretty low in calories. While they do contain butter, you could cut calories by using margarine or a mix of 1/2 the butter with 1/2 unsweetened applesauce for a lower calorie option.
More Muffin Recipes: 
Blueberry Streusel Muffin Recipe
Pumpkin Banana Chocolate Chip Muffins
Banana Chocolate Chocolate Chip Muffins
Join the newsletter
Subscribe to get our latest content by email.
This post may contain affiliate links. Please read my disclosure policy here