I am always looking for a special twist on pumpkin bread, which I love! Since we went apple picking I have so many apples laying around. I thought why not add apples to my pumpkin bread! Apples always add extra moister the breads which helps make it extra yummy. You will love this Pumpkin Apple Bread and it is a great addition to your thanksgiving and holiday dinners! I also like to have pumpkin apple bread for breakfast too!
Pumpkin Apple Bread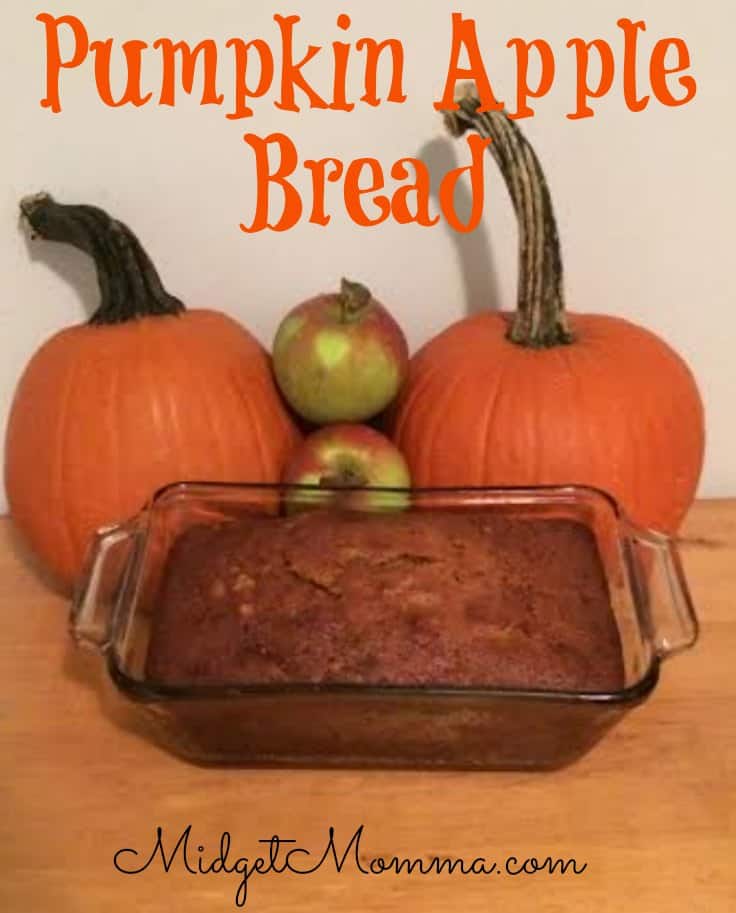 Pumpkin Apple Bread Ingredients
3 cups all-purpose flour
2 teaspoons ground cinnamon
2 teaspoons baking soda
1½ teaspoons salt
3 cups granulated sugar
15 oz Pure Pumpkin
4 large eggs
1 cup vegetable oil
½ cup apple juice
2 large apples, peeled, cored and diced
Pumpkin Apple Bread Directions
Preheat oven to 350° F. Grease two 9 x 5 inch loaf pans. Combine flour, cinnamon, baking soda and salt in large bowl. Combine sugar, pumpkin, eggs, vegetable oil and apple juice in large mixer bowl and mix it until just blended. Add pumpkin mixture to flour mixture; stir just until moistened.  Gently fold in apples. Spoon batter equally into prepared loaf pans. Bake for a hour or until wooden pick inserted in center comes out clean.
Check out these other great Pumpkin Recipes:
Pumpkin Chocolate chip pancakes
This post may contain affiliate links. Please read my disclosure policy here