Homemade Pumpkin Pie is a fall staple dessert! Having a homemade pumpkin pie from scratch recipe is a must in anyone's recipe collection. Top this amazing homemade pumpkin pie with homemade whipped cream or vanilla ice cream you are in for a treat with this easy pumpkin pie recipe! We have also included all the tips you need to make the best pumpkin pie ever.
Homemade Pumpkin Pie Recipe
Once you make a homemade pumpkin pie, there is no going back to those frozen ones! Homemade pumpkin pie with pumpkin Pie filling from scratch is the best pie ever!!!
This simple pumpkin pie recipe has been the only pumpkin pie with real pumpkin recipe we have made for years unless we are making our maple pumpkin pie. Everyone who has made this homemade pie recipe has raved about how easy it is to make and how amazing it tastes.
We have included the options of using a store bought crust and store bought puree, however I will tell you that using homemade pumpkin puree to make the pumpkin pie filling recipe and homemade pie crust makes it even better.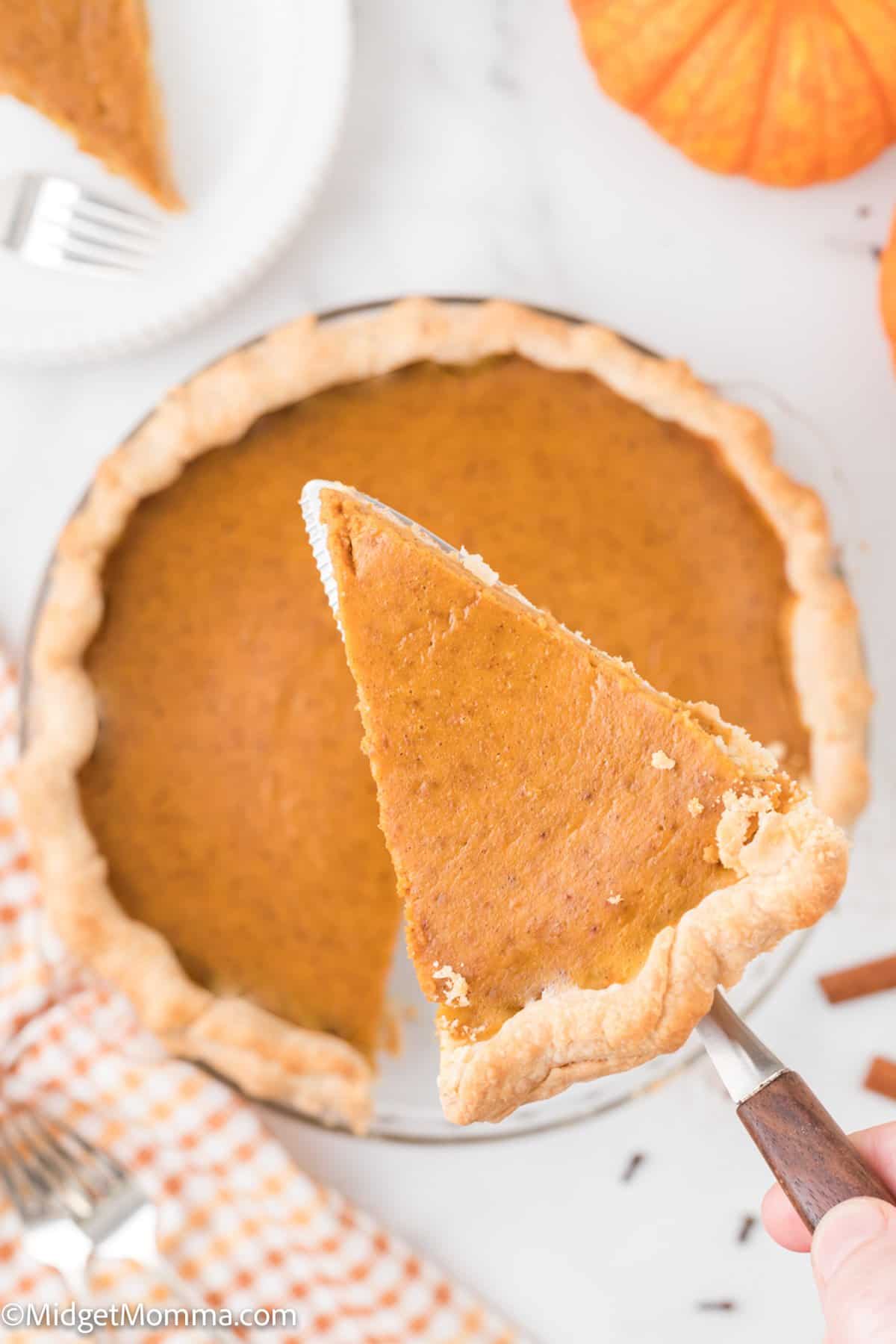 The BEST Pumpkin Pie Recipe
We shared this recipe origionally back in 2013, then we took new photos a few years ago. Then it was time to update this post with all the questions people have been asking over the years. I thought it would be great to take new photos too. I hope you enjoy the new photos as much as I do.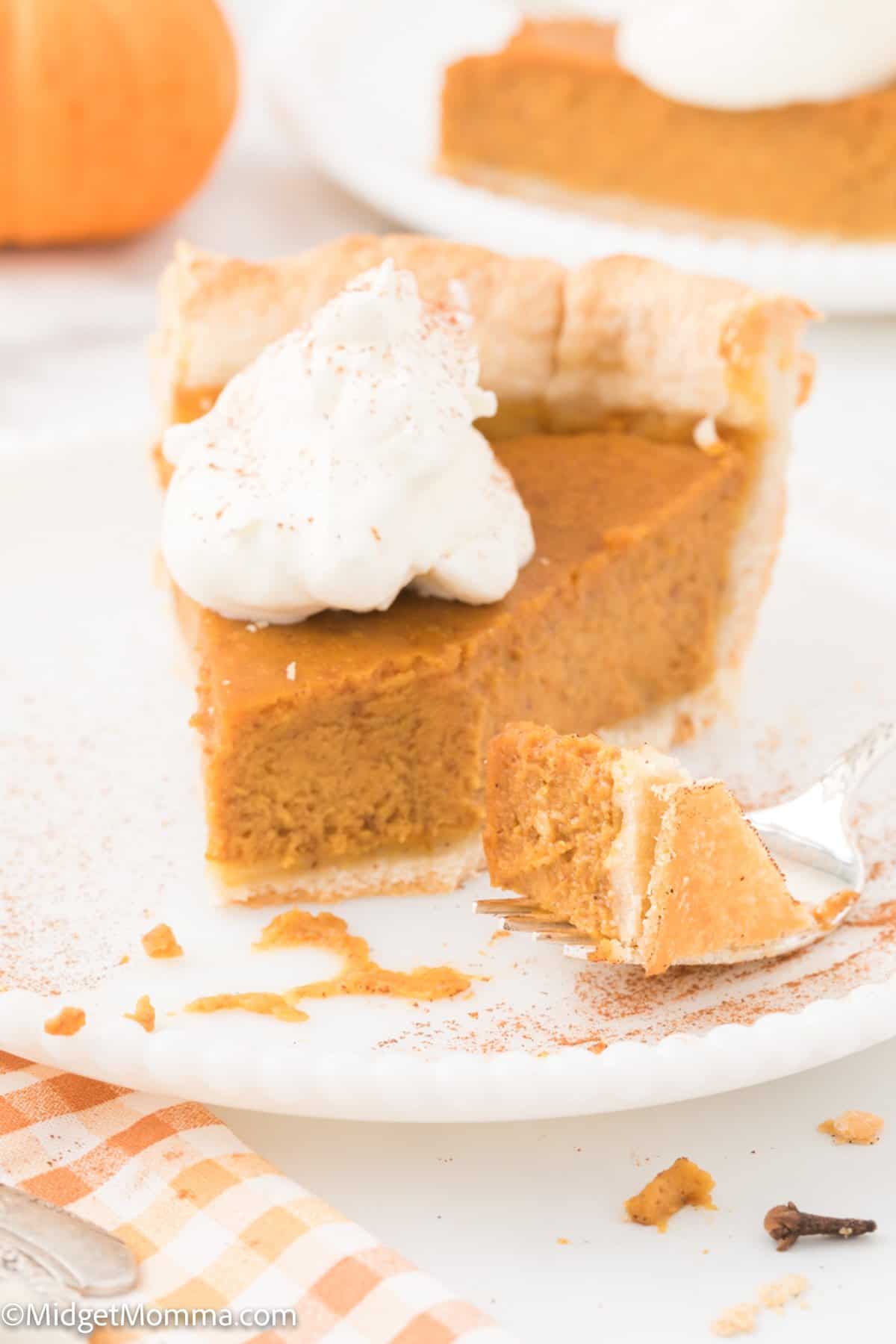 I am in love with from scratch pumpkin pie and after making the best pumpkin pie from scratch recipe for the first time many years ago I knew I was never ever ever going back to the store bought frozen ones or the ones you can buy in the bakery section of the grocery store. I am positive that you won't be going back to the freezer section to grab a pie again either after you make this delicious easy to make pumpkin pie recipe.
Seriously look no further if you are looking for the BEST pumpkin pie recipe ever! Along with tips for how to make the best pie that is better than any bakery! Yes, I know everyone says that about theirs, but I am telling you after having thousands of people make and eat this pie year after year and the e-mails I have gotten about how amazing it is, I know it is the best one you are going to find.
Make The Holiday Easier!
If you are having a holiday get together then you are going to want to include this classic pumpkin pie recipe at the dessert table! This easy pumpkin pie recipe is worth the extra few minutes it takes compared to grabbing a frozen pie at the store. The amazing flavor that you will get from making a pumpkin pie from scratch will blow away any store-bought frozen pie!
But I promise you it is not a hard pie to make! This simple pumpkin Pie is the easiest homemade pumpkin pie recipe I have ever made!
Looking for more dessert pies? Check these out!
When you are having a get together, you are going to want other pies as well I am sure, so make sure you check out our other pie recipes too!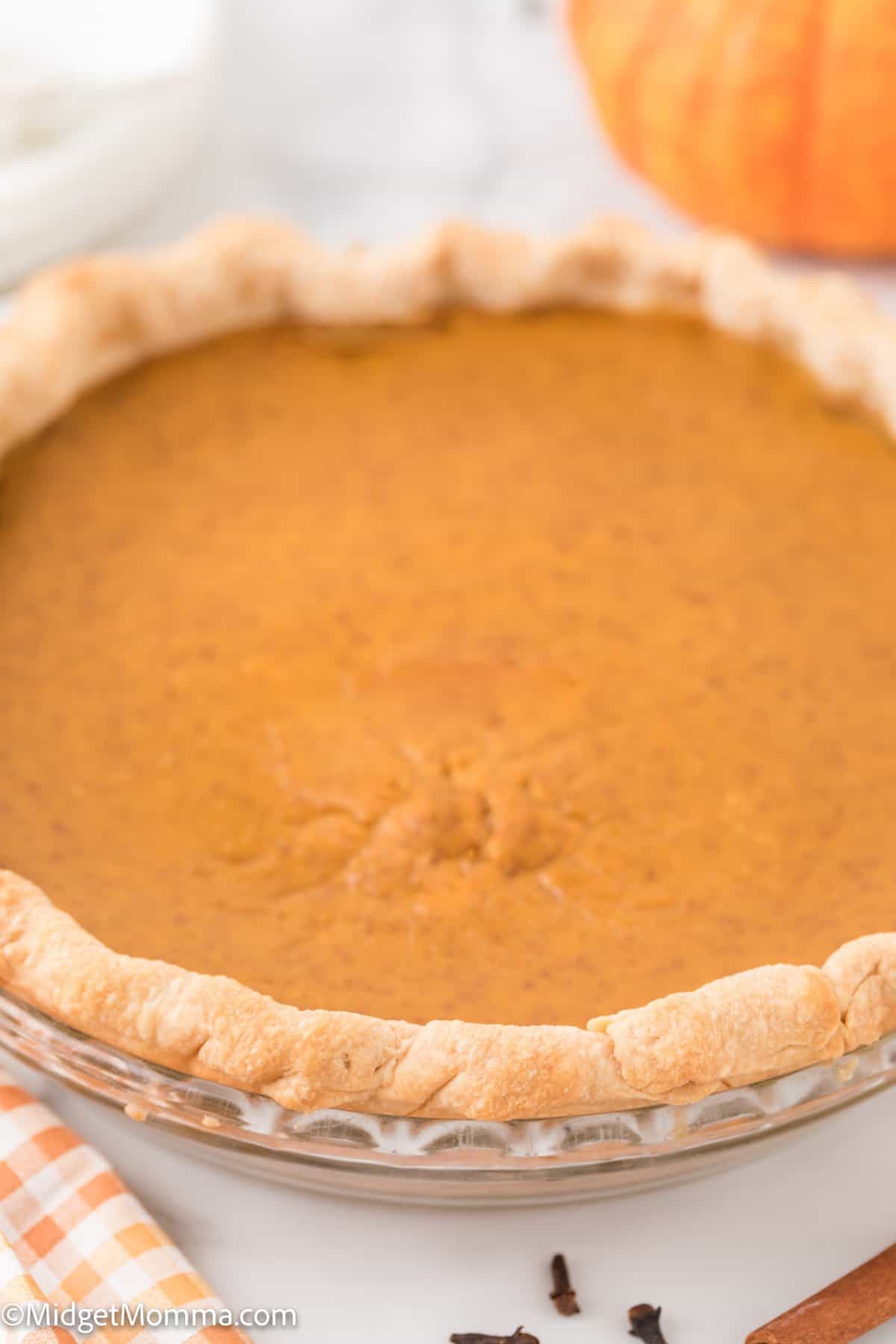 When is it ok to Eat pumpkin pie?
As soon as fall hits (and sometimes sooner) I bring out all things pumpkin. You will find pumpkin spice in just about everything I am enjoying! I can not get enough of it! Yes, I am the one who is buying pumpkin spice soap so I can lather myself in the amazing smell of pumpkin spice! I don't stop there! I bring out the pumpkin chocolate chip pancakes, pumpkin chocolate chip cookies, pumpkin spice creamer, pumpkin spice coffee, pumpkin spice lattes, and anything else pumpkin flavored that I can have that amazing pumpkin and pumpkin spice flavor with!
In our house, homemade pumpkin pie is not just for dessert though. I am totally that mom who lets the kids eat homemade pumpkin pie for breakfast, lunch, snack, dessert… well you get the point! There is no wrong time to enjoy a warm slice of pumpkin pie with vanilla ice cream!
If anyone tells you that pie is not breakfast food, ignore them! They have no idea what they are talking about ;).
If you are looking for the best homemade pumpkin pie recipe for breakfast (or dessert!) then this is the pumpkin pie recipe for you! Seriously everyone will love this Pumpkin Pie from Scratch recipe! Want to change things up? Make the amazing maple pumpkin pie too!
Ok, enough rambling and on to what you are here for, making the most amazing homemade from scratch pumpkin pie. I know a rambled a lot, but once I get started talking it just kind of happens, especially about something I love so much like this homemade pie recipe.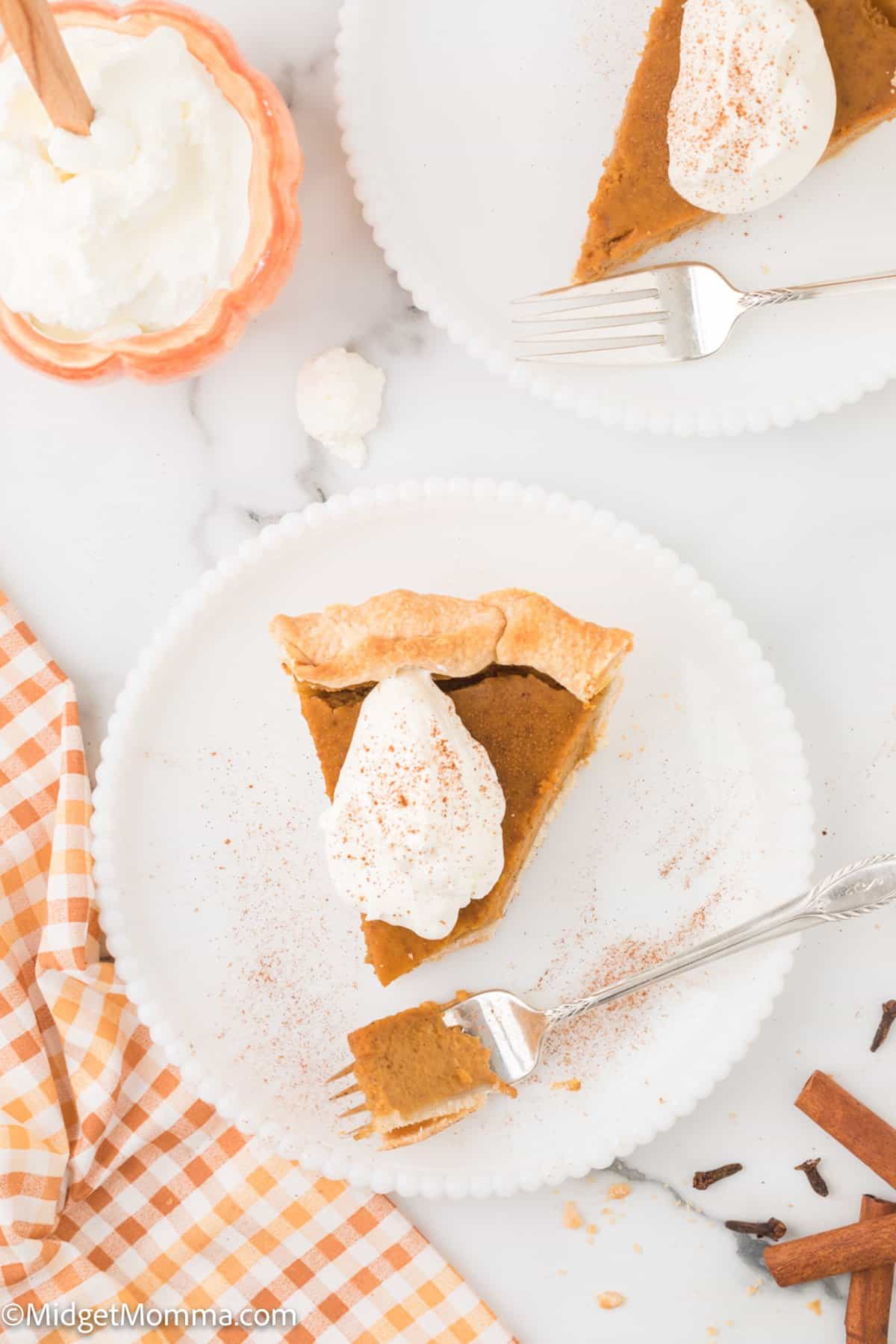 Tips for Making Pumpkin Pie From Scratch
Now there are a few things that are important to know when you are making a Pumpkin Pie from Scratch.
You want to make sure you don't overcook the pie. Overcooking will cause the pie to crack in the center. While cracking of the pie won't ruin the taste of the Pumpkin Pie from Scratch but it will make it not look as pretty as without a crack.
You want to use a pie dish, I personally prefer to use a glass pie dish or a ceramic pie dish when making any type of pie. You can use a metal baking dish, but I just don't like how pumpkin pie bakes in a metal pan. The only time I use a metal pan is if I plan on freezing it, then I use the disposable pie pans.
Make homemade pumpkin pie filling. When you are making the pumpkin pie filling recipe it is best to use homemade pumpkin puree. You can use canned pumpkin (not the pumpkin pie mix canned pumpkin) however when you make the pie filling it comes out best with the homemade puree. When you are making the pumpkin puree you will want to use a pie pumpkin, if you have never made homemade pumpkin puree it is so easy to make, just check out how to make pumpkin puree from a fresh pumpkin.
Make homemade pie crust. While you can use premade refrigerated pie crust, the best pie crust to use is homemade. I like to use food processor pie crust or homemade pie crust.
Put the pie pan on a baking sheet when baking. Putting the pan on a baking sheet when it is baking is the best option when you are baking a pie. It will make it easier to remove from the oven and it will catch any pie overflow that happens when it is baking.
Variations of this recipe
Homemade pumpkin puree or canned pumpkin puree. When you are making this homemade pumpkin pie you can use canned pumpkin, or you can step it up a notch and use homemade pumpkin puree. I personally use homemade because it makes the pie even better! However I have made this recipe so you can use canned pumpkin, just in case you don't have the time to make homemade pumpkin puree.
Homemade pie crust or store bought pie crust. If you want to make it fully homemade you can make homemade pie crust to go with your homemade pumpkin pie filling. Making pie crust is sooo easy! You can use this pie crust in a food processor recipe or this homemade pie crust recipe to make the crust. If you are running short on time then grabbing a premade crust will work too. The most important part of this homemade pie recipe is the amazing filling that has the perfect combination of pumpkin spices.
Add Crust decorations. If you want to add some decorations to the top of the pie, like leaf cutouts on the top, just make extra pie crust and then use a cookie cutter and cut out shapes and place them on top of the pie filling before it goes into the oven.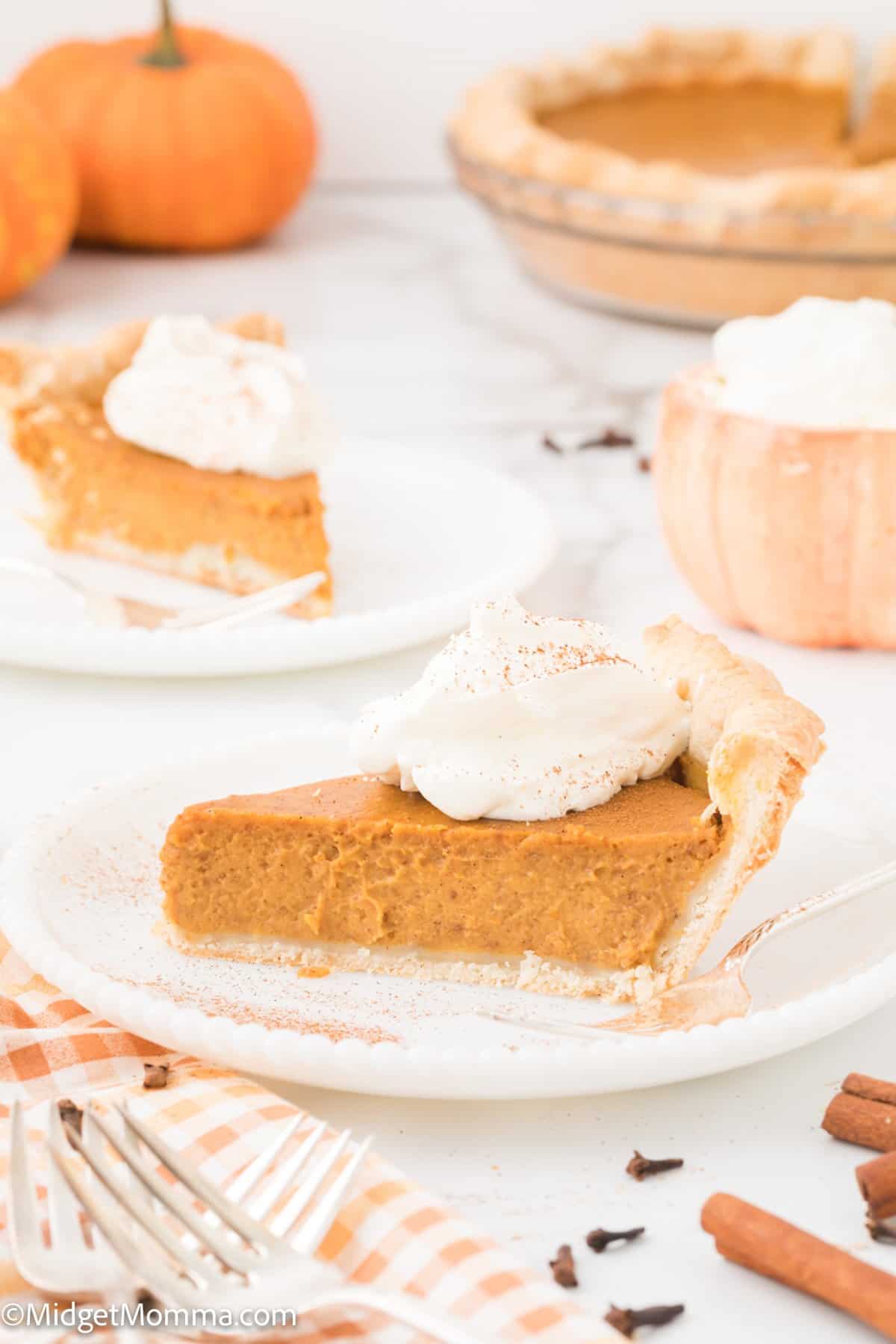 How do you cook pumpkin pie?
Cooking pumpkin pie is super easy. Make the homemade pumpkin pie filling and then make the homemade pie crust. Pour the pumpkin pie filling into the crust and then bake in the oven. Allow the pie to cool once the pie is done baking.
What rack should you bake a pie on?
It is always best to bake a pie on the bottom rack of the oven. Baking on the bottom rack will ensure that your pie crust is baked fully.
How long should a pie sit after baking?
It needs to sit at room temperature to cool for at least 30 minutes, however I find it is best when it has sat for 2 hours undisturbed.
Can I leave pumpkin pie out overnight?
No. The pie needs to be put in the fridge after 2 hours maximum of being out of the oven when it is done baking or 2 hours after it has been removed from the fridge when serving.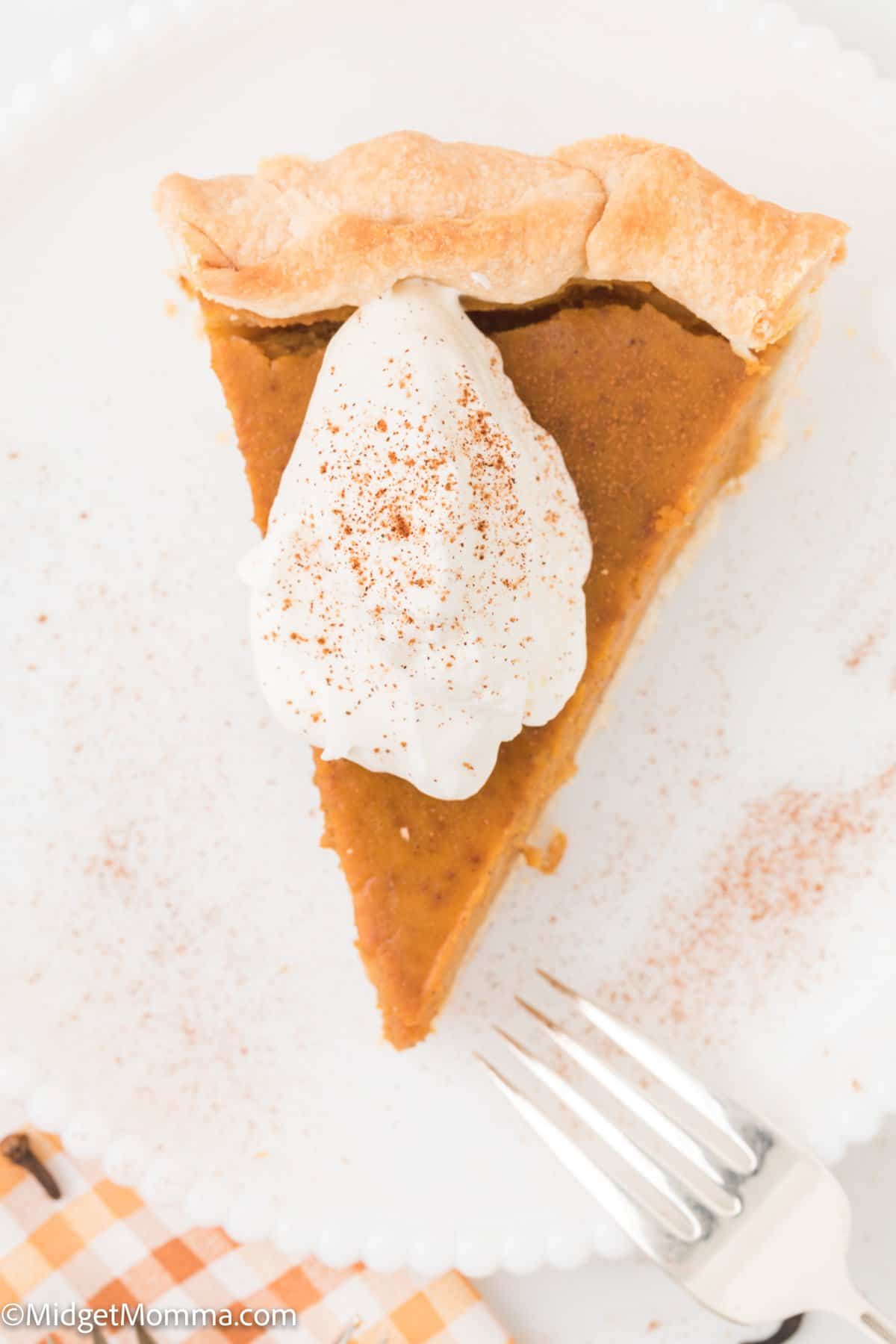 How Long do you bake Pumpkin pie?
For this pie you start out by bake it in the oven heated to 425°F for 15 minutes. Then you will reduce the oven temperature to 350°F and bake the pie for an additional 40-50 minutes, until the pie is fully cooked. The oven time does depend on your oven, as some oven cook faster then others.
How Do you know when Pumpkin Pie is ready?
When you are baking a pumpkin pie you can tell it is done by inserting a butter knife into the center, and if it comes out clean then it is done baking.
You can also do the "pie jiggle test". Jiggle the pie just a bit and if the filling jiggles just a tiny bit in the center of the pie. If the whole pie filling is still jiggling then you need to bake your pie a little bit longer.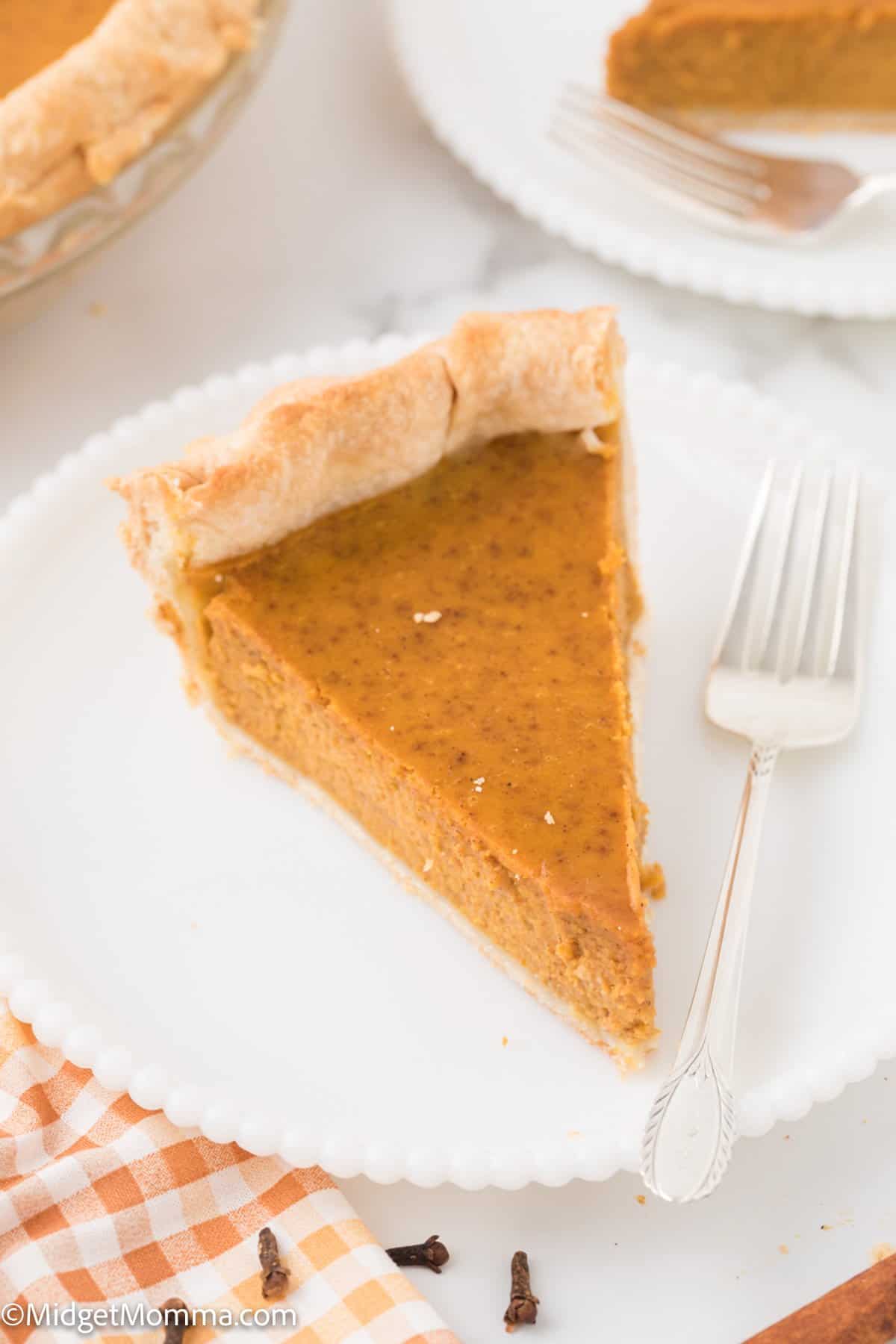 Why did my pumpkin pie crack?
If you find a crack in your pie that means it is overcooked. However that doesn't mean you ruined the pie! The pie will still taste amazing! It takes a few times baking a pumpkin pie to get the baking times just right and to learn when to pull it out of the oven at the perfect time.
How to fix a Cracked Pumpkin Pie
If you end up with a crack on the top just spread some whipped cream on the top and dust with a little cinnamon and act like the crack isn't even there!
Yes, I have done that more times than I want to admit, due to baking all of my Thanksgiving desserts with a bunch of kids running around the house.
How do I stop the filling from separating from the crust?
Filling will always separate from the crust when you are baking because the shrinkage of the filling is normal due to the cooling process. You can avoid shrinkage by storing the pie in a warm spot that is free of drafts when you remove it from the oven and allowing the pie to cool completely at room temperature before putting it into the fridge.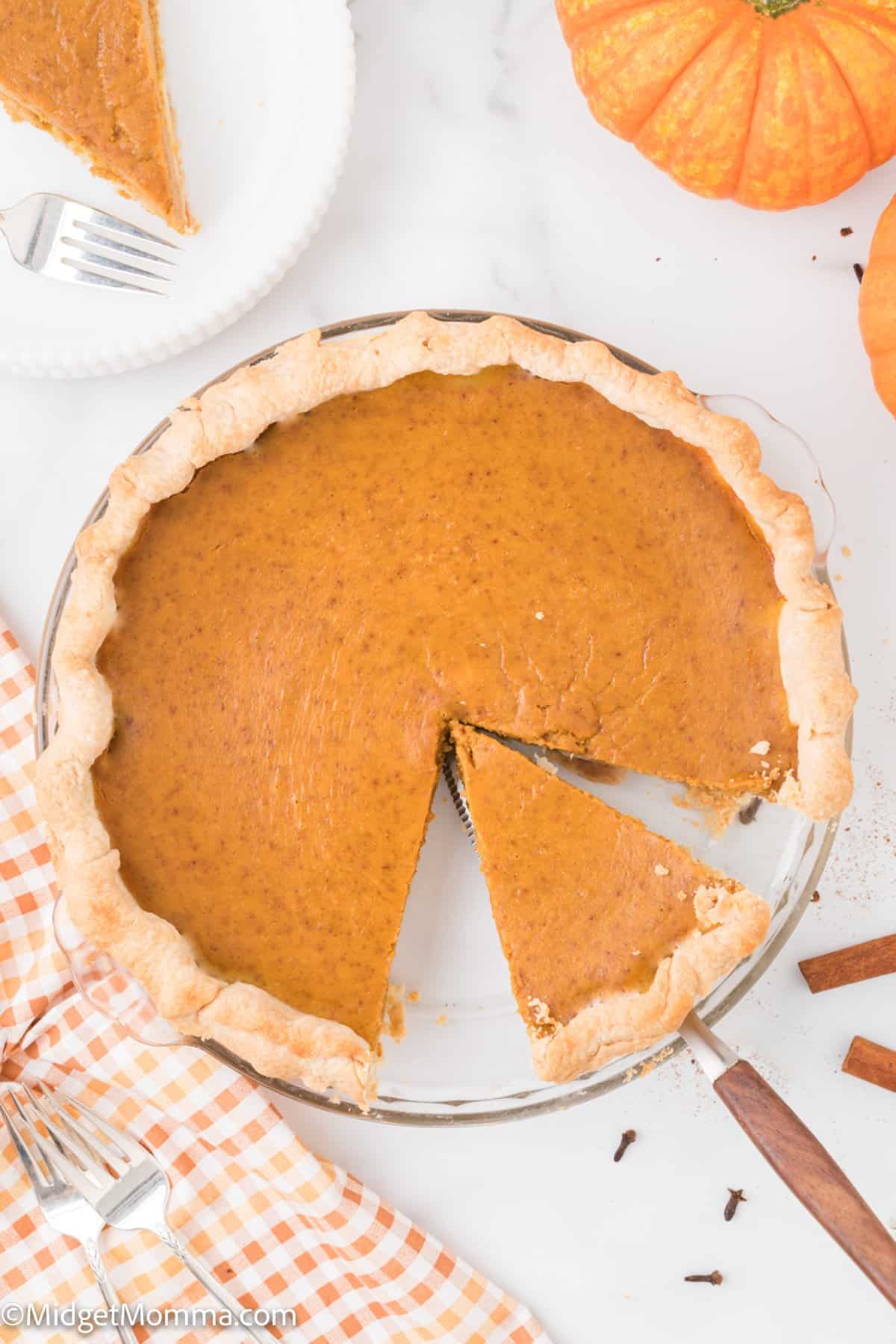 What do you serve with pumpkin pie?
You can serve this pie all by itself. It tastes amazing! If you are wanting to fancy it up, add a scoop of ice cream or you can also add some whipped cream on top if you want to.
What Ice Cream goes with this pie?
You have a few different options of ice creams that pair well, our favorites are vanilla ice cream, cinnamon ice cream, pumpkin pie ice cream, or french vanilla ice cream.
Is this pie served warm or cold?
You can serve it warm or cold, how it is served is a personal preference. If you want to have it warm, heat a slice in the microwave for 30-45 seconds after removing it from the fridge.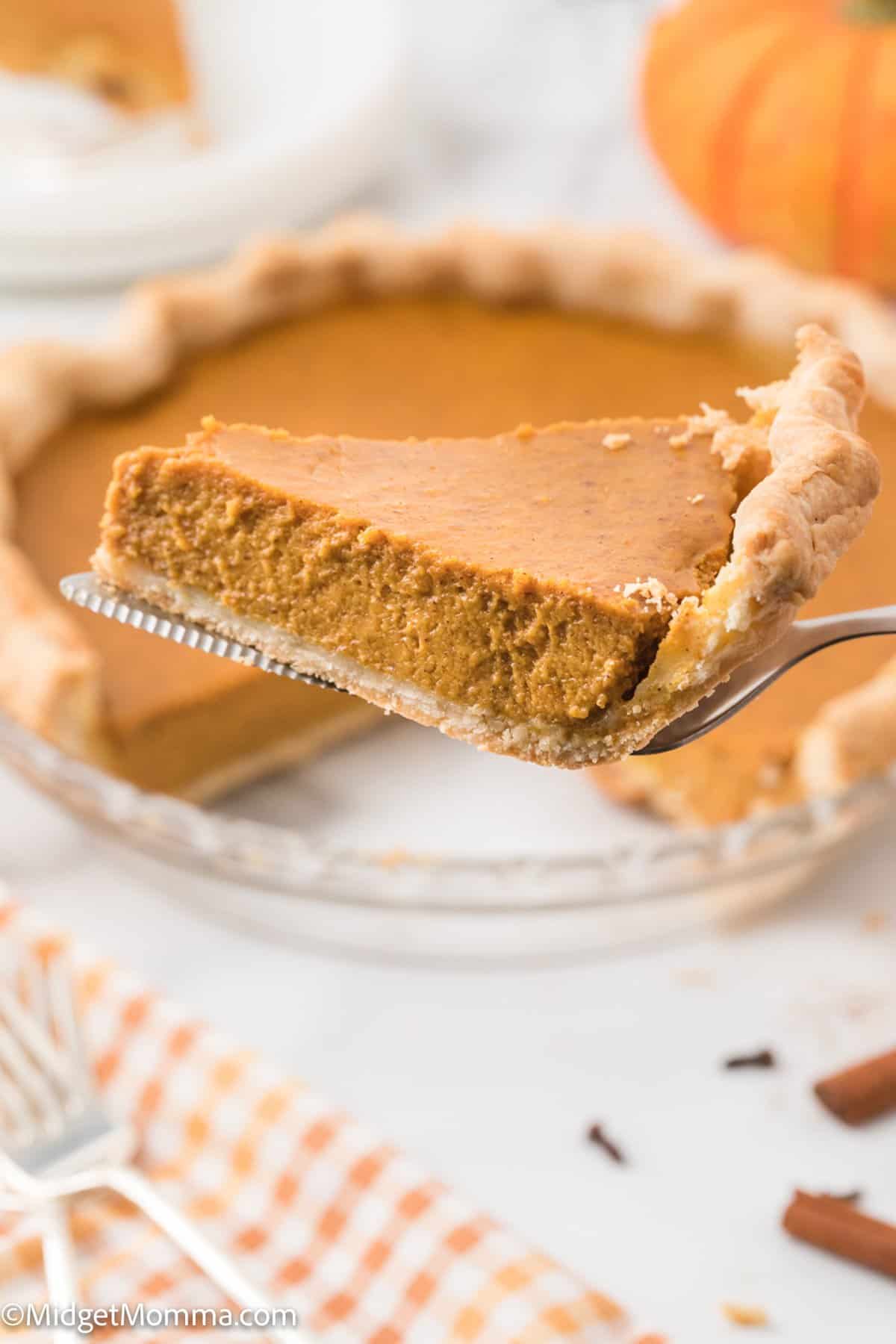 How to Store Pumpkin Pie
If you are not going to serve your pie right away then after it has cooled completely store your pie in the fridge.
Once baked this homemade pie can be stored in the fridge for 3-4 days.
How do you reheat in the oven?
Heat the oven to 300°F and heat the pie for 15 minutes in the oven.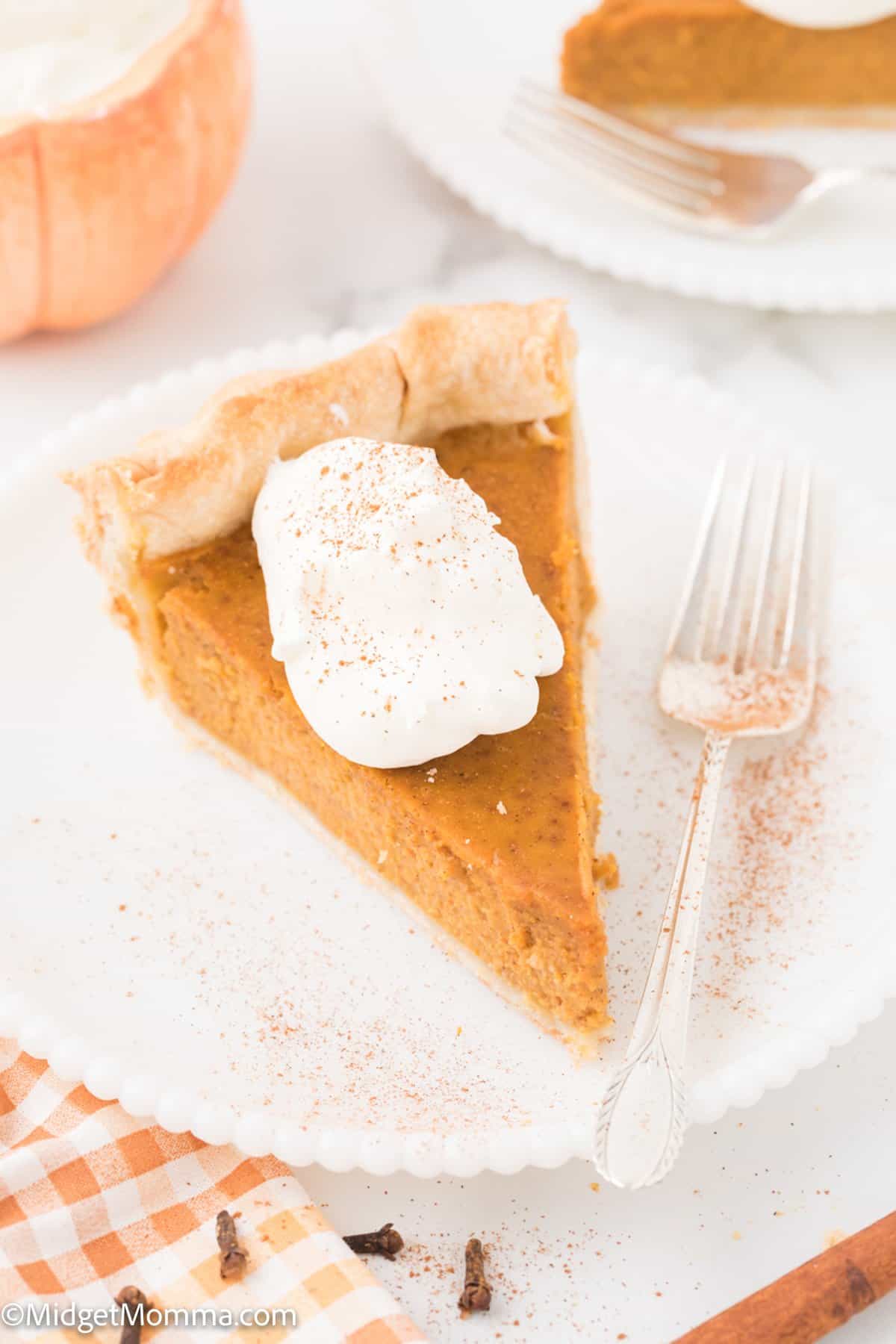 Can you freeze pumpkin pie?
This homemade pie can be frozen. You will loose a bit of the texture when you defrost the pie however you will not lose any of the flavor. To freeze this homemade pie I recommend using a metal pie tin, the pie will freeze quicker in a metal pie tin compared to a glass pie pan.
Once the pie has been baked, cool the pie completely. Next wrap the pie with several layers of plastic wrap and make sure it is sealed tightly. Then wrap the pile completely with one layer of tin foil. Place your pie in the freezer on a level shelf to freeze completely.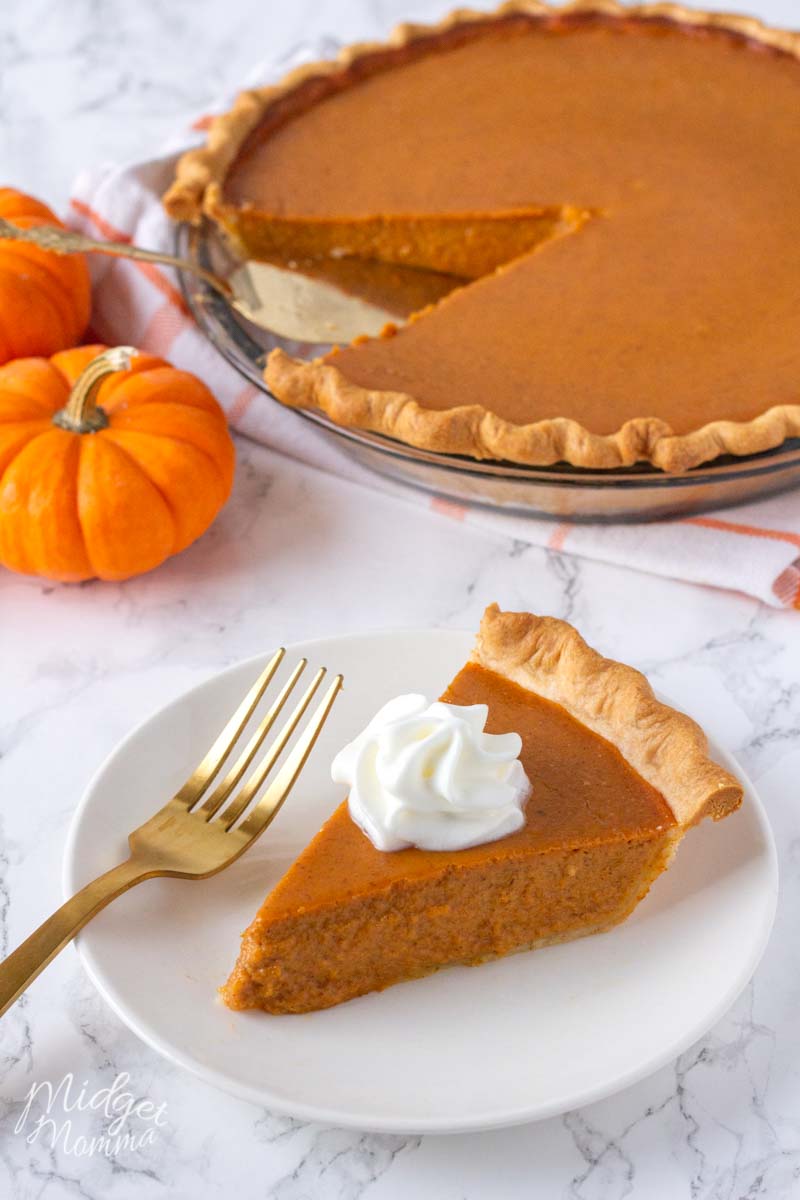 How long will pie last in the freezer?
Once this pie is frozen it will keep in the freezer for thirty days.
How to thaw a frozen homemade pie
Remove the frozen pie from the freezer and place in the fridge 12 hours before you plan to enjoy eating the pie. Within 12 hours the homemade pie will be completely defrosted and ready to enjoy.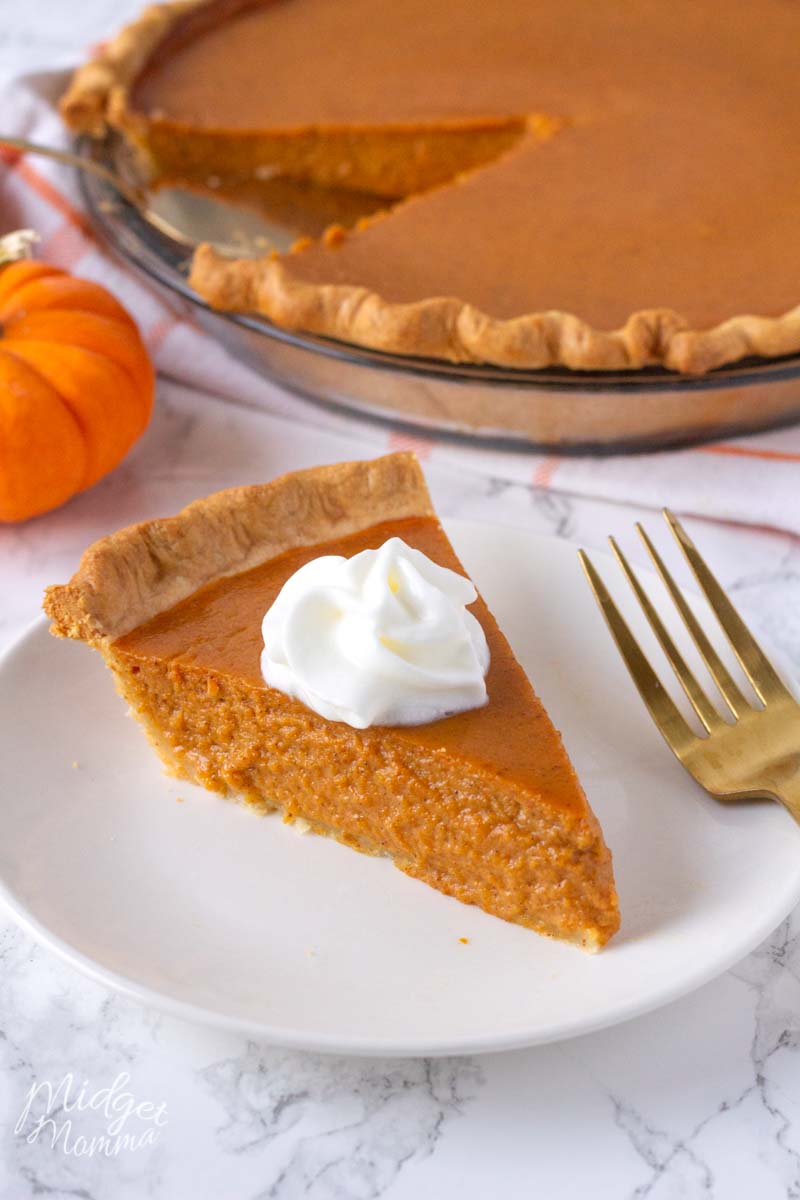 What spices are in Pumpkin Pie?
This pumpkin pie from scratch recipe uses ground cloves, ground ginger and ground cinnamon instead of using pumpkin pie spice. If you want to you can use 1-3/4 teaspoons of pumpkin pie spice instead of the individual spices that are listed in the recipe instructions below.
Pumpkin Pie Ingredients
granulated sugar.
salt.
cinnamon.
ginger.
cloves.
eggs.
pumpkin puree.
evaporated milk.
pie crust.
How to Make Pumpkin Pie
Making this homemade pumpkin pie recipe with fresh pumpkin is easy. Just make your homemade pumpkin puree before getting started making your pie.
If you are going to use a homemade pie crust make that ahead of time as well (just don't bake it before putting the pie filling in!).
Preheat your oven to 425 degrees.
In a small mixing bowl add granulated sugar, salt, ginger, cloves and cinnamon. Give a quick mix with a whisk.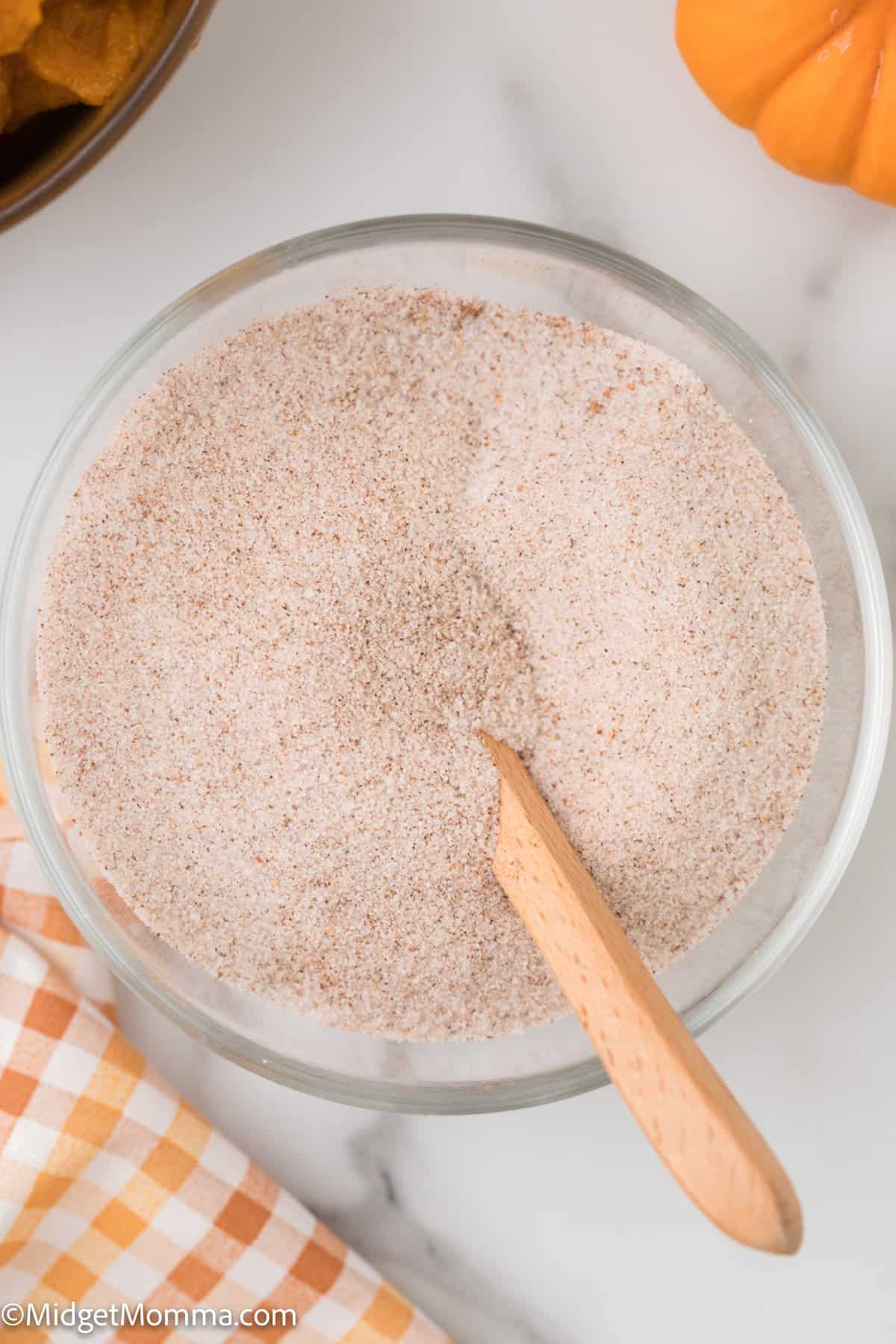 Crack the eggs into a large mixing bowl. Then use a whisk to beat the eggs.
Add the pumpkin puree and the spices mixture to the eggs and mix well.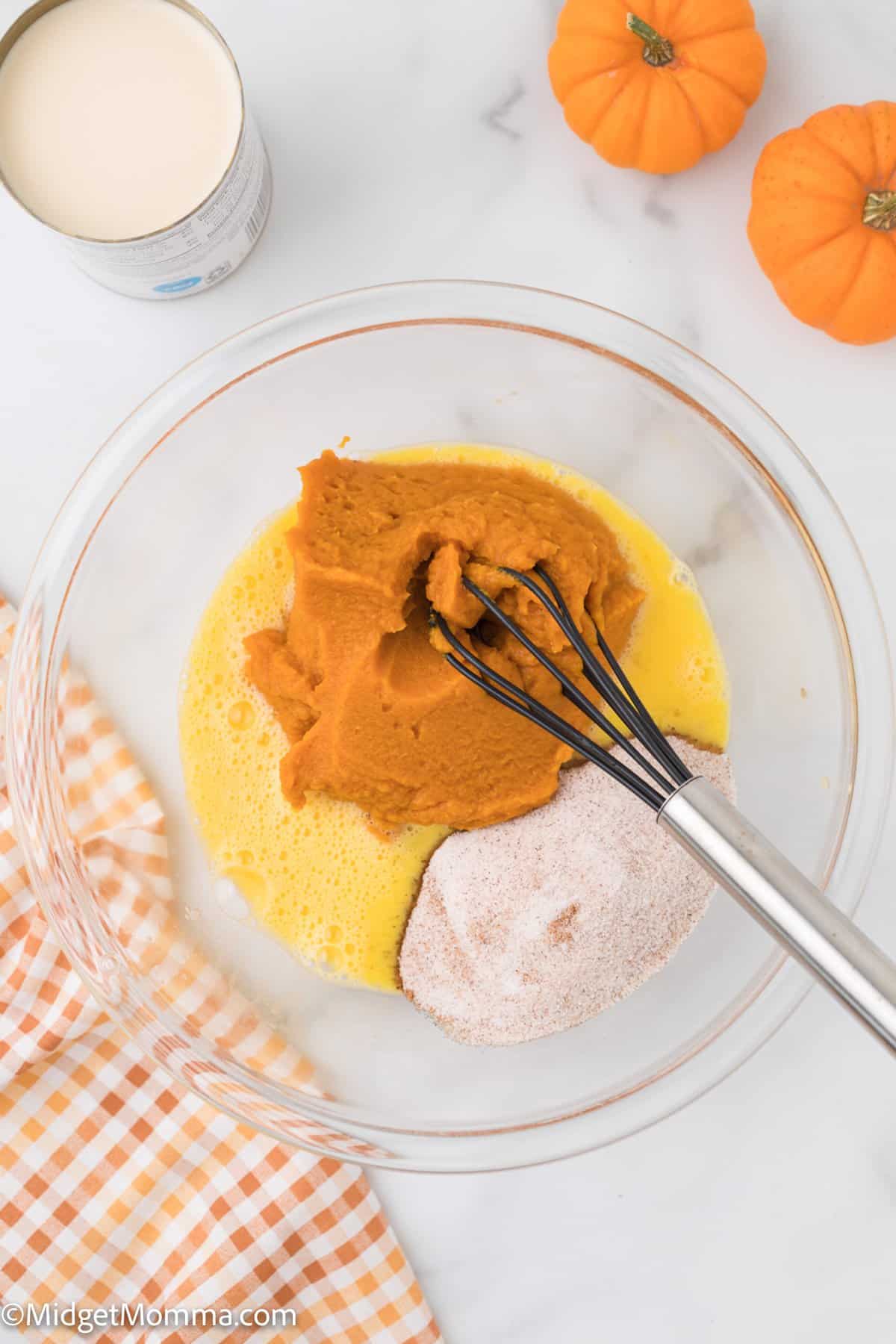 Gradually pour in the evaporated milk while stirring the pumpkin pie filling mixture.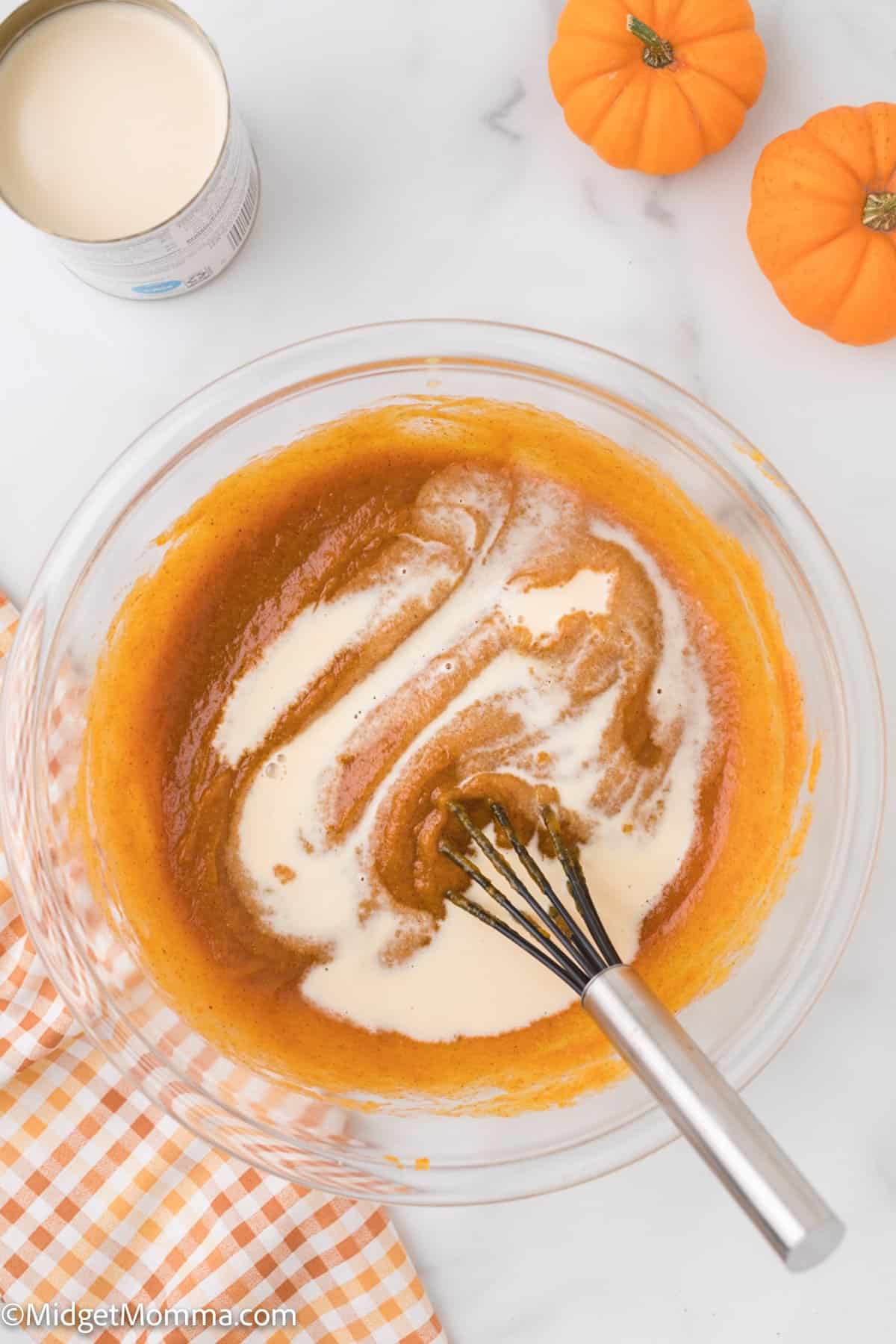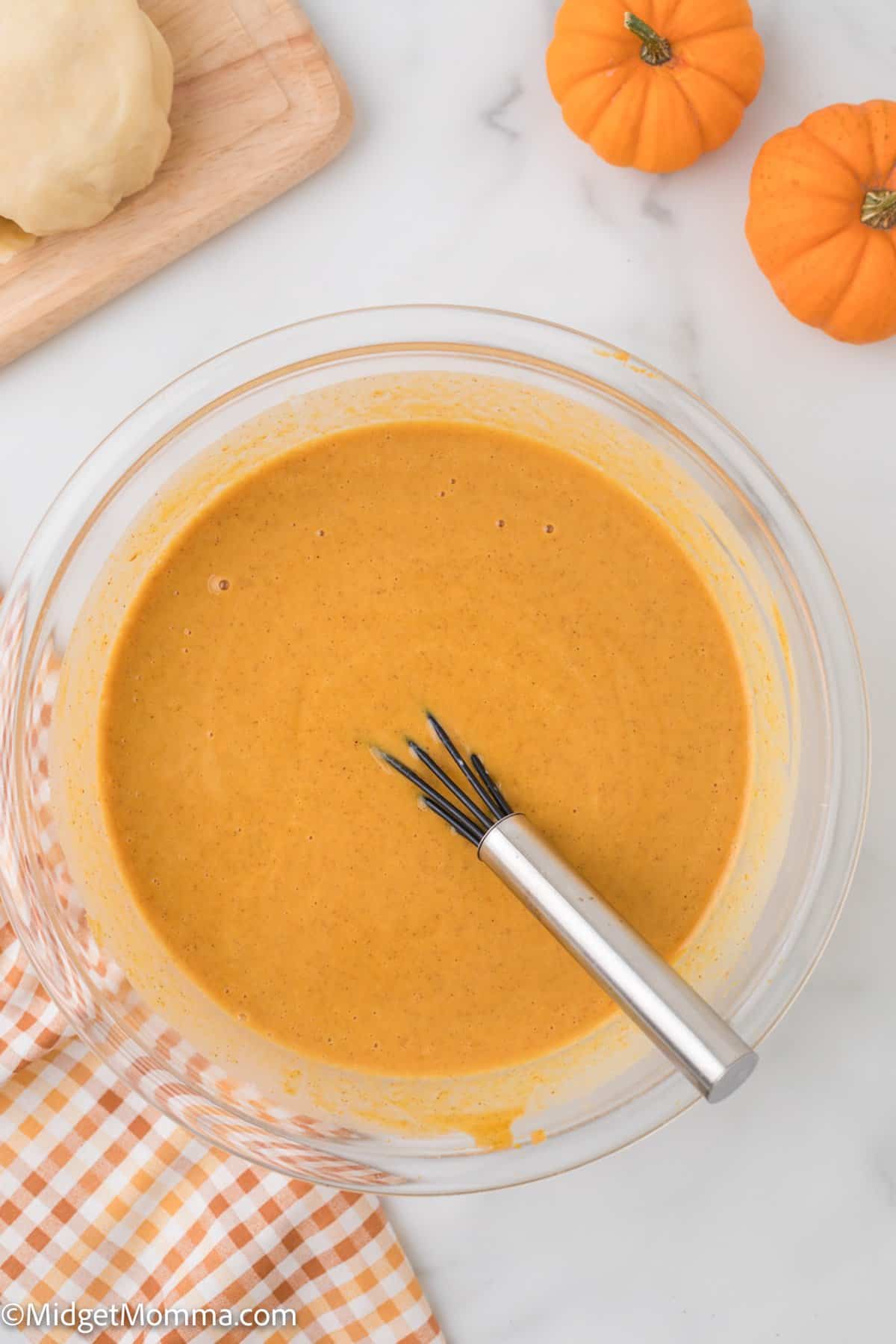 Put the pie crust into your pie pan be sure to also spray your pie dish with non stick spray.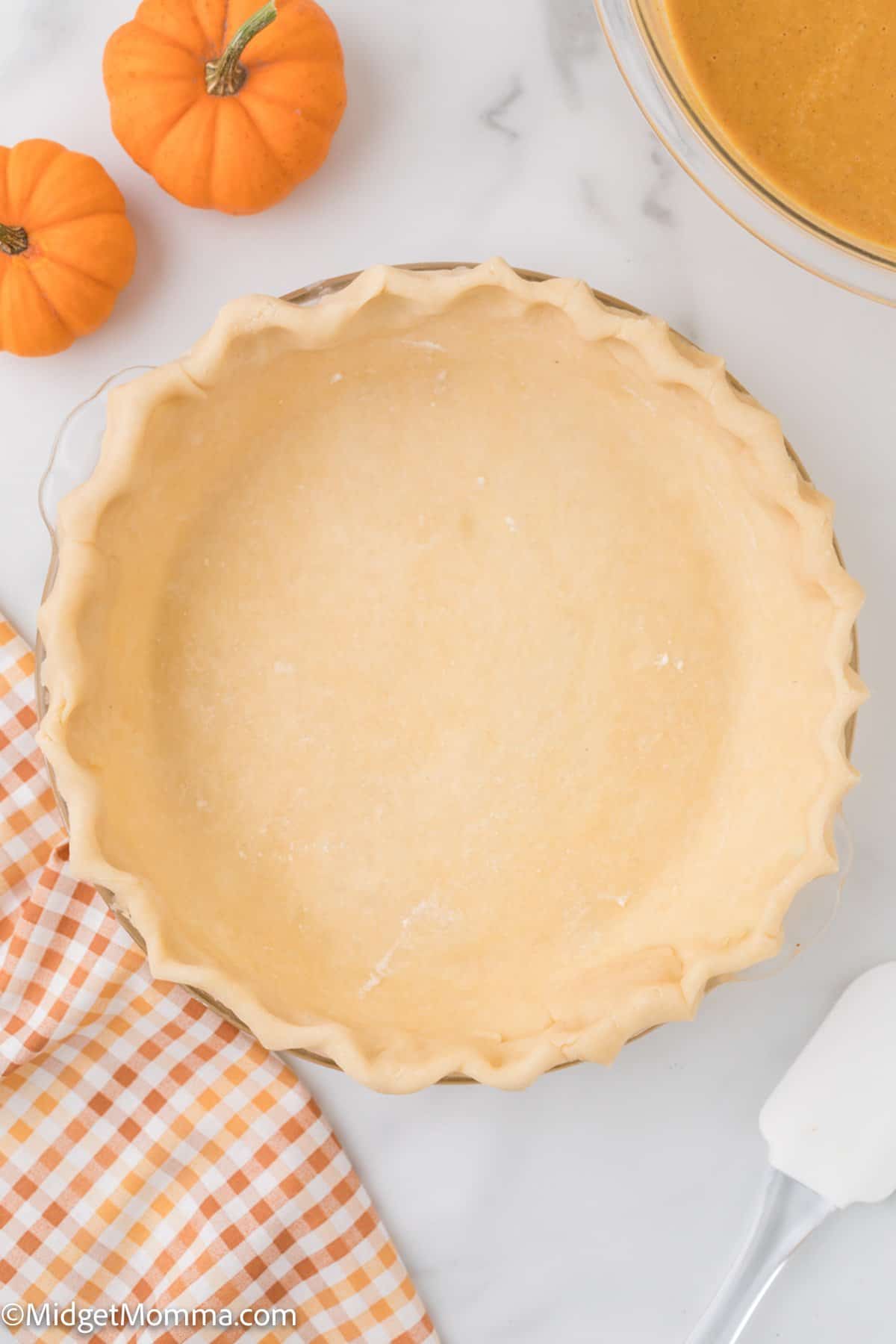 Carefully pour the pumpkin pie filling into the unbaked pie crust.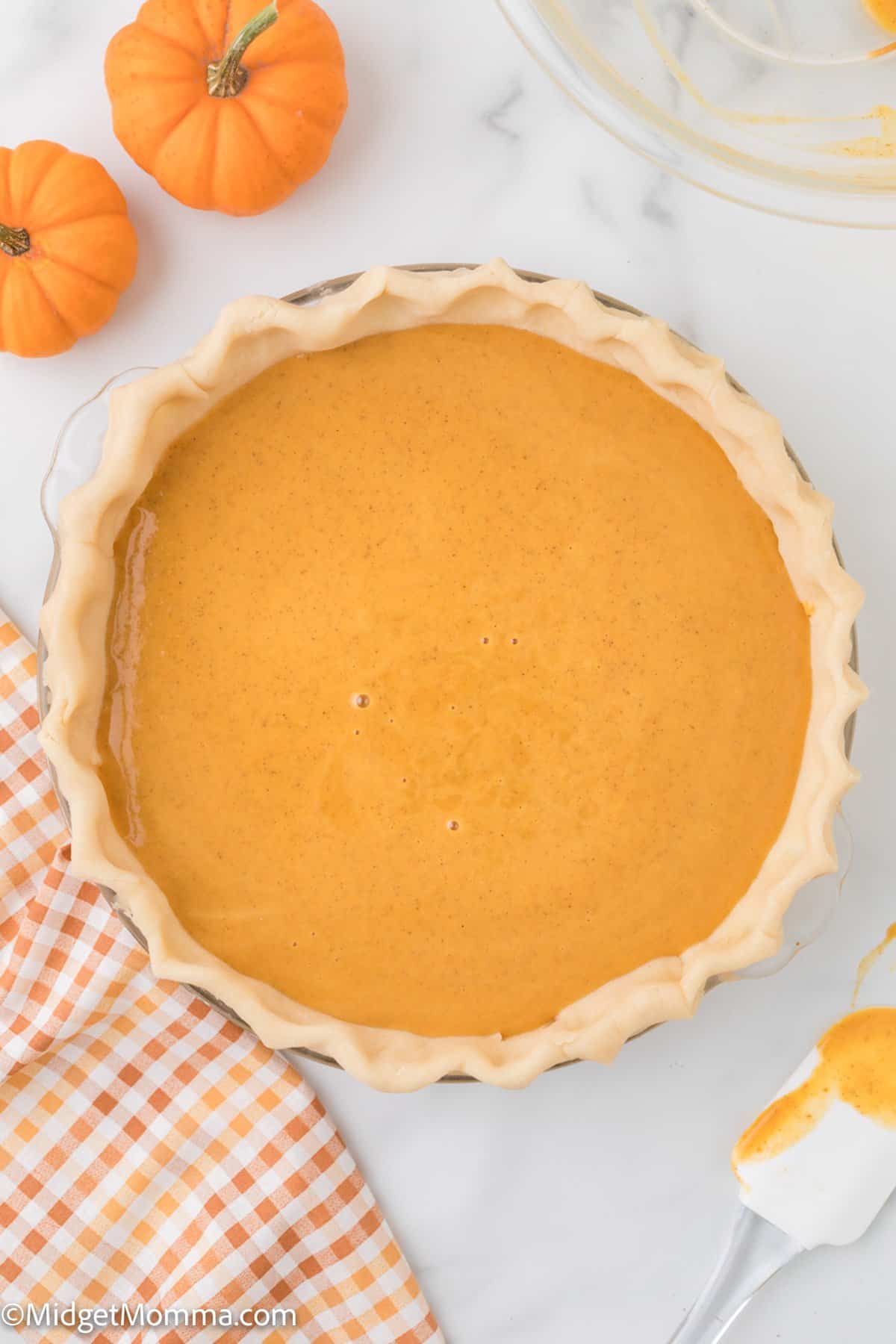 Bake at 425 for 15 minutes.
Reduce the temperature of the oven to 350 degrees. Continue baking the pie for 40-50 minutes, until the pie is fully cooked.
Once pie is cooked, cool the pie on a baking rack for 2 hours.
Thanksgiving Recipes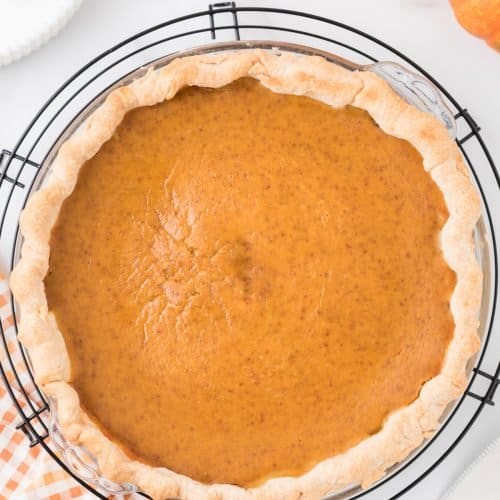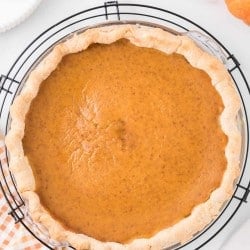 Homemade Pumpkin Pie
Servings
This homemade pumpkin pie recipe is a pumpkin pie from scratch recipe that will complete any of your holiday dinners. Made with real pumpkin (or canned works too) you will have the most amazing easy pumpkin pie on your dessert table!
Ingredients
Pie Crust Ingredients
Pumpkin Pie Filling Ingredients
Instructions
How to Make Homemade Pie Crust
In a large bowl whisk together the flour, sugar and salt.

With the pastry cutter work the butter and flour mixture together until it looks like small pebbles.

Add the water little by little and mix with your hands until the dough comes together.

Divide the dough into two equal balls and press flat onto plastic wrap.

Chill the dough for at least an hour.

Lightly flour your working surface and roll out your dough, turn it a few inches after a few rolls to achieve a round shape.

If it starts to stick add a little extra flour. It should be a little larger than your pie plate.

Roll the dough around your rolling pin to easily place the dough into the pan.

Using a pairing knife or kitchen shears to trim the dough to a one inch over hang.

Fold the dough under and seal to for an edge.

Using your finger tips and knuckles crimp the edges.
How to Make pumpkin pie Filling
Mix sugar, salt, cinnamon, ginger, and cloves in small bowl.

Beat eggs in large bowl.

Stir in pumpkin and sugar-spice mixture.

Gradually stir in evaporated milk.
How to Assemble Pumpkin Pie
Spray the pie pan with nonstick cooking spray. Put the pie crust into the pie dish. Then pour pumpkin pie mixture into pie shell.
How to Bake Pumpkin Pie
Bake at 425 degrees for 15 minutes.

Reduce temperature to 350 degrees. Bake for 40 to 50 minutes or until knife inserted near center comes out clean.

Cool on wire rack for 2 hours. Serve immediately or refrigerate.
Serving: 1slice | Calories: 209kcal | Carbohydrates: 30g | Protein: 4g | Fat: 7g | Saturated Fat: 3g | Cholesterol: 42mg | Sodium: 236mg | Potassium: 219mg | Fiber: 1g | Sugar: 19g | Vitamin A: 6745IU | Vitamin C: 2.4mg | Calcium: 110mg | Iron: 1.3mg
easy pumpkin pie, easy pumpkin pie recipe, homemade pumpkin pie, Pumpkin Pie from Scratch, pumpkin pie recipe, pumpkin pie spice
Dessert
8 WeightWatchers SmartPoints on the Freestyle Program per serving, not including whipped cream
Check out these other great Recipes
Looking for Thanksgiving Recipes? Make sure you check out 65 Amazing Sides Dishes for Thanksgiving!
Join the newsletter
Subscribe to get our latest recipes right in your inbox every time we post a new one!