Pumpkin Spice Creamer, the tasty homemade creamer that screams fall and is a must to have on hand at all times! A blend of coconut milk (or almond milk), sweetener and pumpkin pie spice, makes the most amazing homemade creamer.
Pumpkin Spice Creamer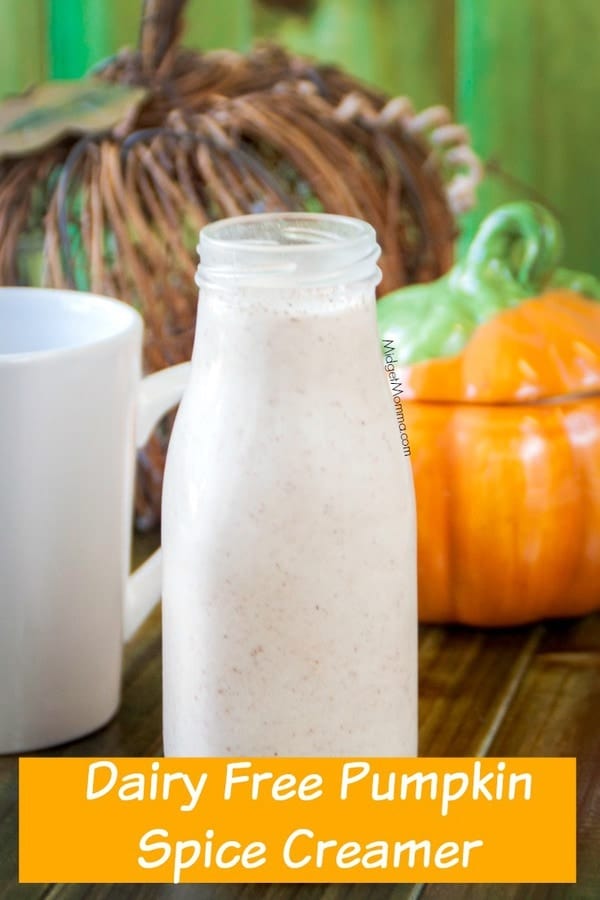 Homemade Pumpkin Spice Creamer
There is something that I can not go all fall without having and that is Pumpkin Spice Coffee Creamer. Seriously I think I might have to give up everything if I had to go with out it.
The pumpkin Spice creamer in the dairy section of the grocery store are a no go for me, which is why I love this low carb dairy free pumpkin spice creamer.
This homemade creamer recipe is so easy to make you will skip buying the store bought stuff!
Everything pumpkin spice!
When fall starts to sneak it head in, I am always the first person I know to jump on the pumpkin spice train. If I am being totally honest here I do not completely ditch pumpkin spice when it "stops being cool" and the warm weather comes. I enjoy pumpkin and pumpkin spice all year long, but I do ramp up pumpkin everything as soon as the chilly fall weather hits. I can not help it, I just love the amazing flavors or pumpkin and pumpkin spice so much!
I love all things pumpkin and pumpkin spice, and pumpkin apple bread, pumpkin chocolate chip cookies, and homemade pumpkin pie are just a few of my favorites.
Homemade Coffee Creamer
This pumpkin spice cream is super tasty homemade coffee creamer. This coffee creamer is also a dairy free creamer that is perfect for those who can not have dairy!
When you are making this coffee creamer you have a few different options when it comes to the base. You can use either almond milk, coconut milk, milk or heavy cream.
If you are using heavy cream then you are going to end up with a thicker creamer then if you are using coconut milk or almond milk.
Looking for amazing breakfast to enjoy with your coffee and pumpkin spice creamer? Check these out!
How to Sweeten Homemade Coffee Creamer
There are a few different ways to sweeten this homemade coffee creamer so that it fits just about any way of eating or diet you are following. Even though it is a sugar free coffee creamer it is still perfectly sweet! This sugar free creamer is one of my favorite recipes!
If you are wanting a refined sugar free creamer, stick with the exact directions and ingredients in the recipe card that use maple syrup.
If you are wanting to use a sugar substitute you can, I suggest using a liquid sweetener instead of a granulated sweetener.
How to Make Low Carb Coffee Creamer
For this recipe I use maple syrup to make it sweet. If you are low carb or Keto then you can switch out the maple syrup for a keto friendly maple syrup like Lakanto Maple Flavored Sugar-Free Syrup.
You can also omit the maple syrup altogether when making this homemade coffee creamer and use swerve or monkfruit.
How you sweeten this homemade creamer is really up to you, which is also something that I really love about this homemade pumpkin spice creamer.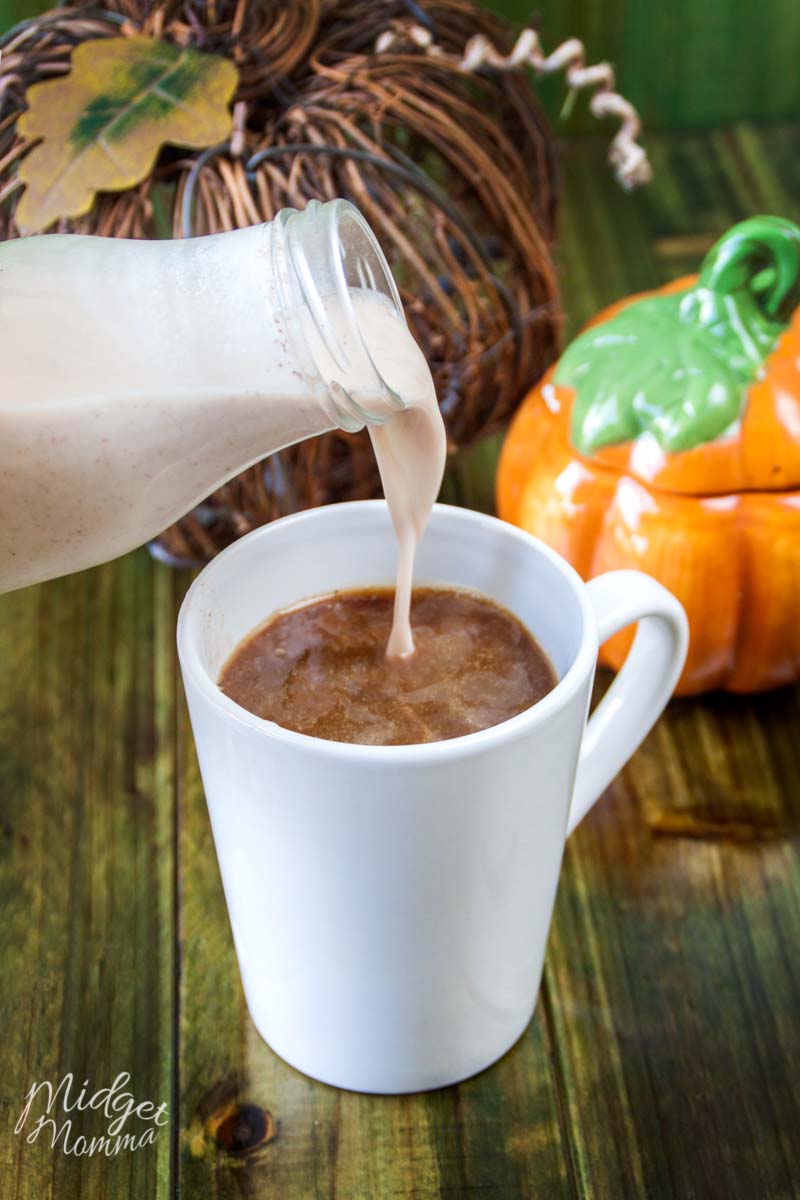 How to Store Homemade Pumpkin Spice Creamer
This homemade coffee creamer needs to be stored in the fridge after you make it. It will keep in the fridge for about a week. If I am being completely honest, it never lasts that long in our house because I drink a lot of coffee.
To make pouring this homemade coffee creamer easier, I store mine in these swing top glass bottles.
Love coffee? Check out these other tasty coffee drinks!
If you want to really fancy up your coffee, top it with this vanilla sweet cream cold foam recipe from cheneetoday.com.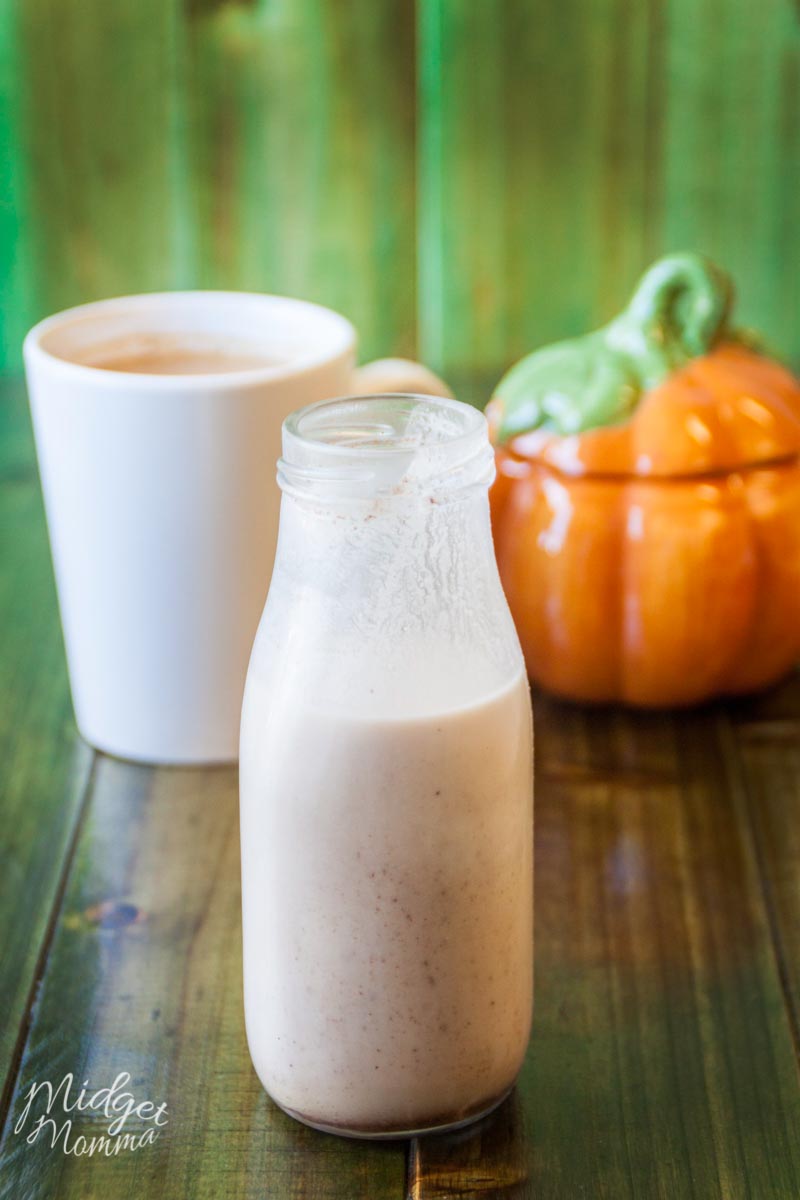 Pumpkin Spice Creamer Ingredients
Coconut milk or almond milk
Sweetener
How to Make Homemade Pumpkin Spice Creamer
You are going to see just how easy this pumpkin spice creamer is to make and wish you had made it sooner. After making this creamer you will want to keep it in your fridge all the time so you have it on hand!
Before you get started making the pumpkin spice creamer you are going to need to make some homemade pumpkin spice mix.
Once you have made a batch of pumpkin spice mix put it all in an air tight container. You will not use all of it for this recipe, but you will want to have it on hand for any other recipes you plan on making that use pumpkin spice.
Over medium heat in a medium sized saucer pan, add in the milk, pumpkin spice and sweetener of your choice.
Next bring the mixture in the sauce pan to a rapid boil. Let boil for 6-8 minutes until you see the mixture start to thicken a bit.
Then remove the creamer from the heat and let it cool. Once cool pour the creamer into a container and store in the fridge.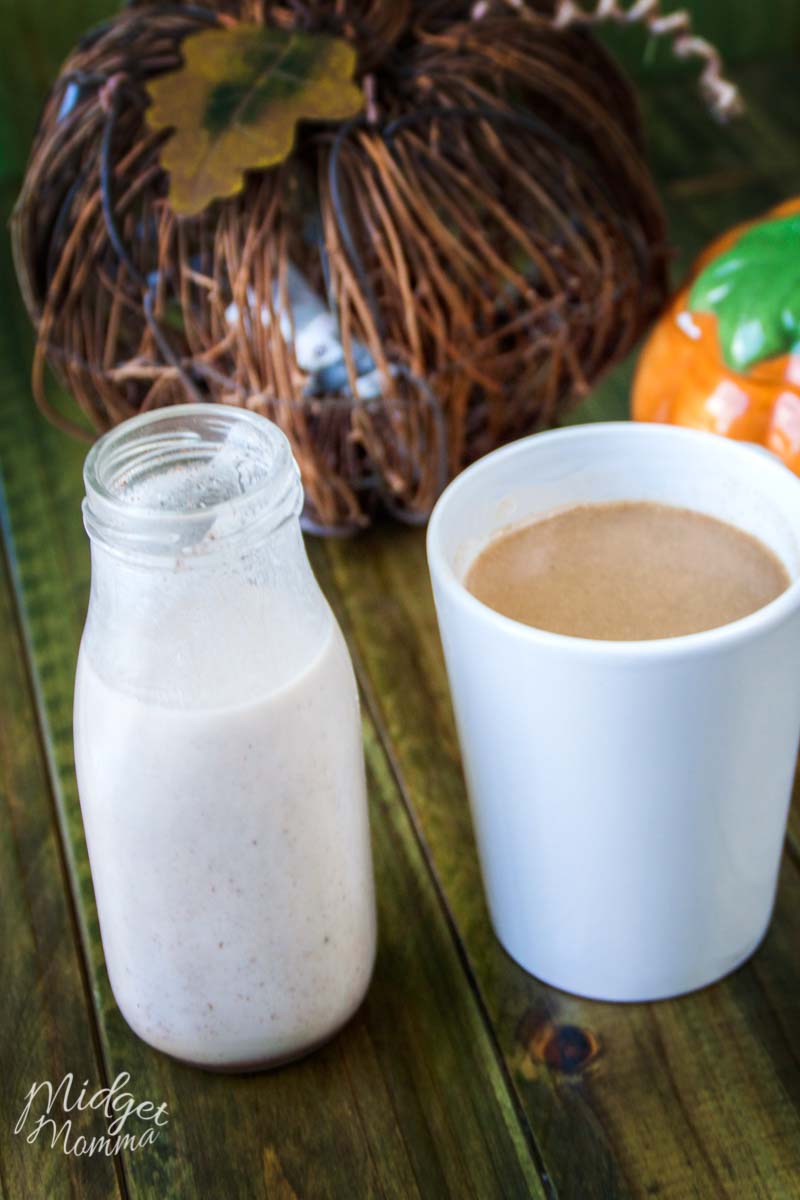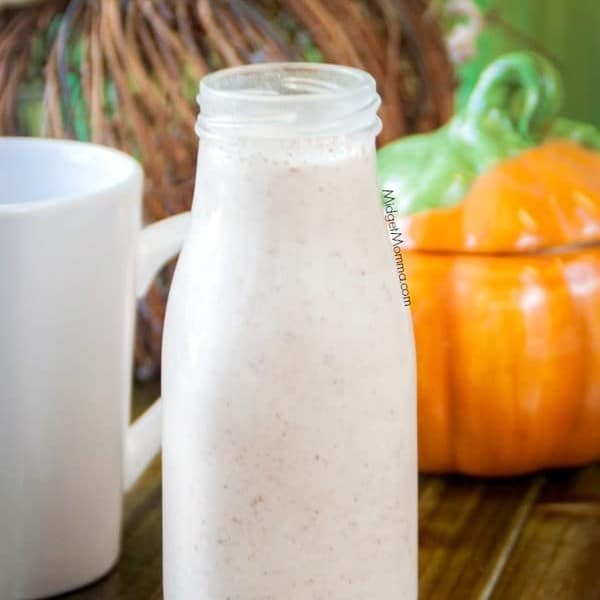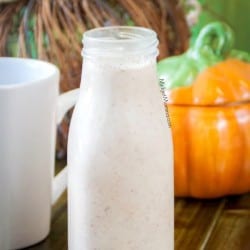 pumpkin spice creamer
Servings
This pumpkin spice creamer is so simple to throw together and store in your fridge for your morning coffee.
Instructions
Combine milk, pumpkin spice and syrup together in a medium sauce pan.

Heat the milk mixture over medium high heat until it comes to a boil, making sure you stir it well.

Move to a airtight container and store in the refrigerator.
Serving: 1tablespoon | Calories: 38kcal | Carbohydrates: 1g | Fat: 3g | Saturated Fat: 3g | Sodium: 2mg | Potassium: 42mg | Sugar: 1g | Vitamin C: 0.4mg | Calcium: 5mg | Iron: 0.3mg
Pumpkin Spice Creamer
Breakfast
2 WeightWatchers SmartPoints using Coconut milk or 0 points using unsweetened almond milk on the Freestyle Program
Love Pumpkin Spice? Check out More Pumpkin Spice Recipe that you'll Love!