My two favorite lattes are a salted caramel and a pumpkin latte. So I thought why not combine them and I came up with this AMAZING Salted Caramel Pumpkin Latte! If you don't have an espresso maker I suggest to get one because you will save so much money by being able to make your own drinks at home.
Having this Salted Caramel Pumpkin Spice Latte at breakfast? Then two of my favorites to have for breakfast with it are Pumpkin Chocolate Chip Muffins or Pumpkin Banana Bread. I am a huge fan of pumpkin so I can never get enough 😉
If  you really want to go all out in the morning, make these pumpkin chocolate chip pancakes! They are seriously amazing and go great with the Salted Caramel Pumpkin Latte. However I tend to be lazy in the mornings so breads and muffins I do because I can make them ahead of time. 😉
Making your latte as a dessert? Then these Salted Caramel Cupcakes are a great dessert!
Salted Caramel Pumpkin Latte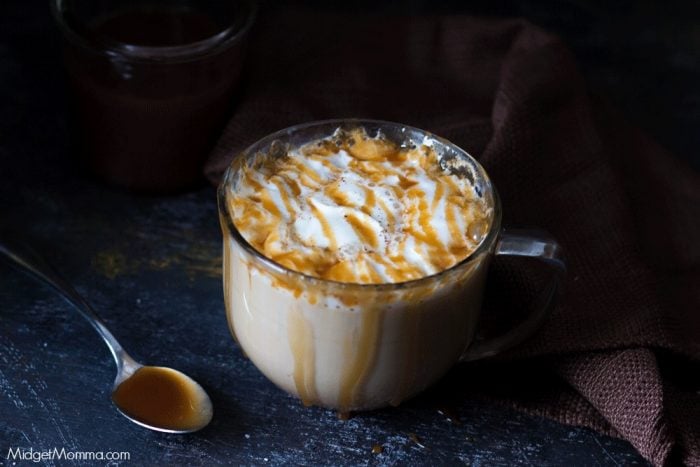 Salted Caramel Pumpkin Latte Ingredients
1 shot of espresso
1/4 teaspoon pumpkin pie spice

2 Tablespoons canned pumpkin

1 1/2 Tablespoons caramel ice cream topping, divided – or if  you want to get really fancy use some

homemade caramel sauce 

1 Tablespoons vanilla

1 cups fat free milk

1/4 cup whip cream

1/8 teaspoon sea salt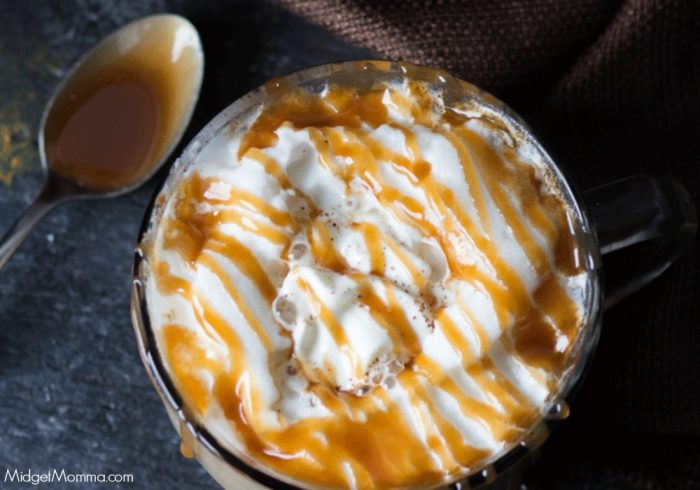 Salted Caramel Pumpkin Latte Directions
Place the espresso grounds and pumpkin pie spice in your espresso maker. In the espresso pot place the pumpkin, caramel, and vanilla, then brew the espresso. Froth your milk as your espresso machine says to. Place your espresso in your mug than top with your froth milk. Top that with the whip cream and sprinkle the salt.
If you don't have a espresso maker you can heat to the milk and pumpkin in a sauce pan than place it in a blender to get it frothy, then mix the rest of the ingredients with a 1/2 cup of strong coffee and to with the frothy milk.
11 Weight Watchers SmartPoints on the Freestyle Program
Love Pumpkin? Check out these amazing Pumpkin Recipes!
Join the newsletter
Subscribe to get our latest content by email.
This post may contain affiliate links. Please read my disclosure policy here