These Pumpkin Gingersnap Cookies are the perfect fall gingersnap cookie. These Pumpkin Gingersnap Cookies are such a great twist on the classic ginger snap cookie. A combination of 2 amazing cookies rolled into one and everyone will love them. It brings out all the classic flavors of fall in one amazing cookie recipe.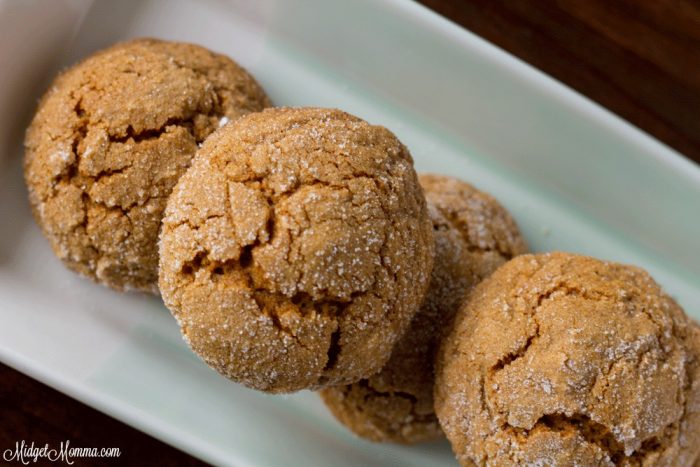 If you are wanting these Pumpkin Gingersnap Cookies to be soft you can, just shorten the baking time to 10-12 minutes. Everyone you know will love these Pumpkin Gingersnap Cookies! I promise!
If you are all about pumpkin like I am, I highly suggest trying the Pumpkin Snickerdoodle cookies also… Oh sooo yummy!
I personally like to use homemade pumpkin puree when making anything pumpkin, however if you are looking for quick and easy you can totally use a can of pumpkin instead of making it yourself.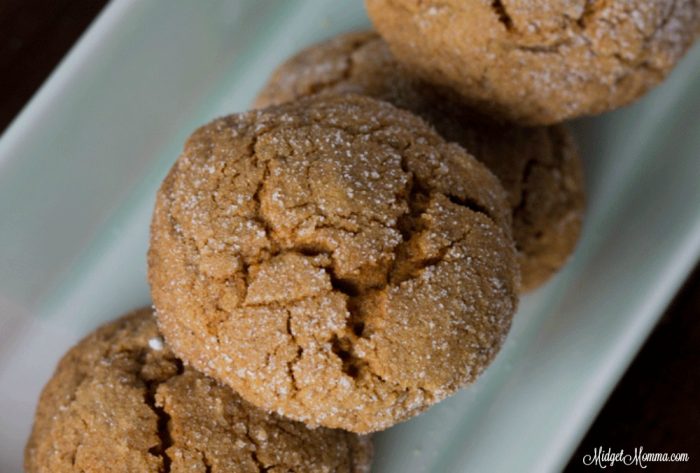 I also suggest that whenever you are making cookies you use silpats, you line your cookie sheet with them. And they make baking cookies so much easier and I think they taste better and bake better on a silpat instead of just the baking sheet!
Pumpkin Gingersnap Cookies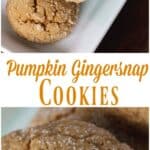 Pumpkin Gingersnap Cookies
Pumpkin Gingersnap Cookies
Pin Recipe
Print Recipe
Instructions
In the bowl of your mixer, beat the butter and sugar together until creamy and smooth.

Add the pumpkin, molasses, egg, and vanilla extract, mix until well combined.

In a medium bowl, whisk together flour, baking soda, spices, and salt.

Add dry ingredients to wet ingredients and mix until combined, do not over mix.

Refrigerate the cookie dough for at least 1 hour.

When you are ready to bake, preheat oven to 350° F. Line a baking sheet with a Silpat or parchment paper.

Place sugar in a small bowl and roll tablespoon-sized balls of dough in sugar until well coated.

Place on prepared baking sheet, about 2 inches apart.

Bake for 14–16 minutes.

Let the cookies cool on the baking sheet for a 2-3 minutes after removing them from the oven, then transfer to a wire rack to cool completely.
Check out these other great Pumpkin Recipes:
Pumpkin Chocolate Chip Cookies Recipe
Pumpkin Snickerdoodle Cookies Recipe
Pecan Maple Streusel Pumpkin Bread
Pumpkin Snickerdoodle cookie Recipe
Join the newsletter
Subscribe to get our latest content by email.
This post may contain affiliate links. Please read my disclosure policy here