I love pumpkin. I love Pumpkin Spice Cake too.
Seriously I am not even joking I could scream if from the roof tops and I am the most excited when it is time for all thing pumpkin. Yes I am that person in the drive thru the first day Dunkin Donuts announces it has pumpkin spice again…
… ok I confess I stalk twitter before hand to find out what day it will be and then I go 😉
But as I said I LOVE pumpkin
and
I LOVE easy recipes!
This 2 ingredient pumpkin spice cake is super easy and taste amazing. Totally hits the spot for my pumpkin love. You do not have to put icing on the top of it, it is amazing by itself but if you like icing on your cake grab a container of the premade creamcheese frosting or make you own, which ever you choose, and just plop some on top.
Seriously don't spread it you are wasting time that you could be eating this amazing pumpkin cake.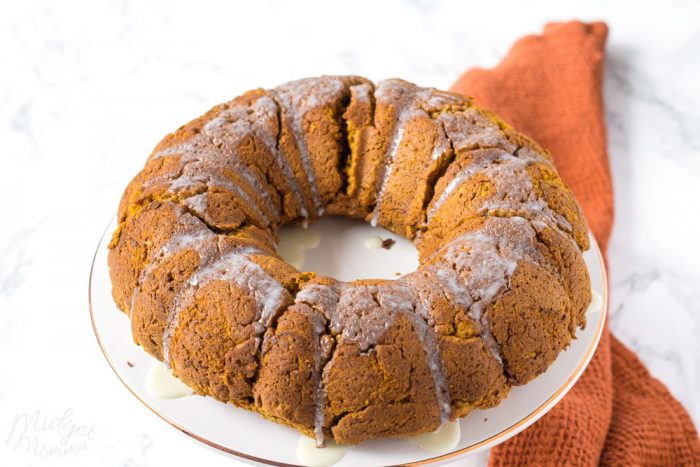 Pumpkin Spice Cake ingredients: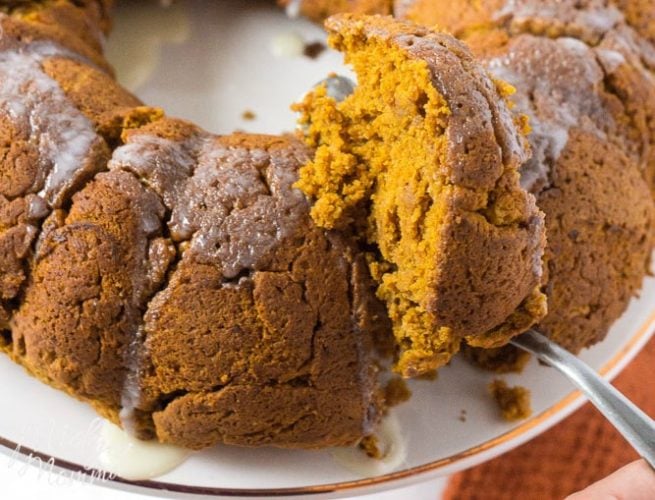 Pumpkin Spice Cake Directions:
Preheat your oven to 350
Get a big bowl, open the box of cake mix and pour it in the bowl then open the can of pumpkin and pour (well scoop since it is thick) the whole can in the bowl and mix well. It is going to be thick, and smell amazing.
Get a 9×13 pan, a bundt cake pan or 2 square ones if you want 2 cakes and spray it with non stick spray or coat with crisco, which ever one is your favorite and makes it so the cake goodness doesn't stick to the pan. It won't ruin the flavor of the cake with out it but what a waste it would be to have this great cake stuck to the pan.
Bake the cake at 350 for 15ish minutes, i set my timer for 15 minutes and then stuck a fork in it to see if it was cooked. You don't want gooey cake to come out on your fork so if it does bake it for a few more minutes and then check it again. It is done when the ooey gooey stuff doesn't stick to your fork when you poke it 🙂
Once you take the cake out you have 2 choices, dive right in with a fork or cut it if you are supposed to be sharing it or let it cool a bit put some icing on top of it. Either one will make you a happy person because you are eating this amazing 2 ingredient Pumpkin Spice Cake!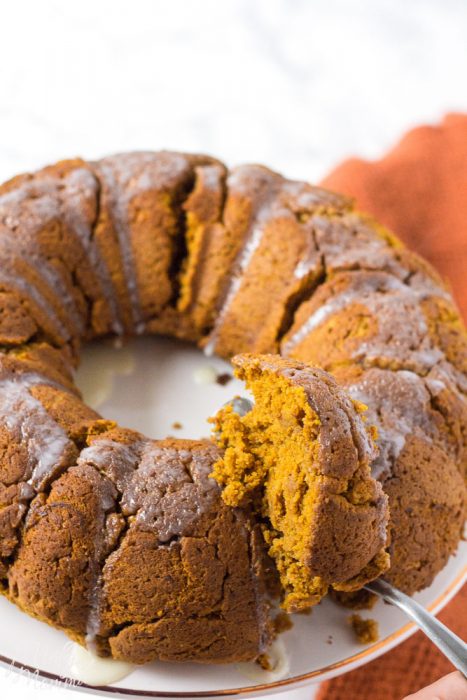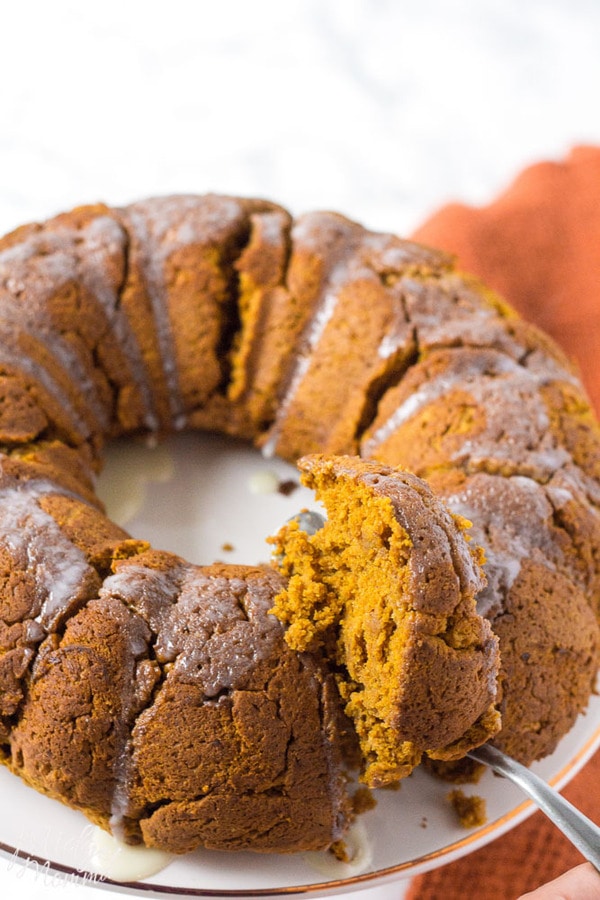 Makes 10 servings
6 SmartPoints on Weight Watchers FreeStyle Plan per serving
Check out these other great Pumpkin Recipes:
Pumpkin Chocolate chip pancakes
Pumpkin Banana Chocolate Chip Muffins
This post may contain affiliate links. Please read my disclosure policy here