So you want to make something for your sweetie but your skills in the kitchen are not that sweet then you will LOVE this 2 Ingredient Cherry Pie.
Don't you worry about the cooking skills because this simple 2 Ingredient Cherry Pie that anyone can throw together is amazing! Looks beautiful too! You will need a small heart cookie cutter which I found here. I like the plastic cookie cutters because they don't get rusty or bend out of shape.
Make sure you also check out these great recipes that will be great for your special Valentine's Day celebrations Heart Shaped cookie for Valentine's Day, and Valentine's Day Pancakes!! This homemade Valentines Day Flower Arrangement is perfect for setting up the dining room table.
2 Ingredient Cherry Pie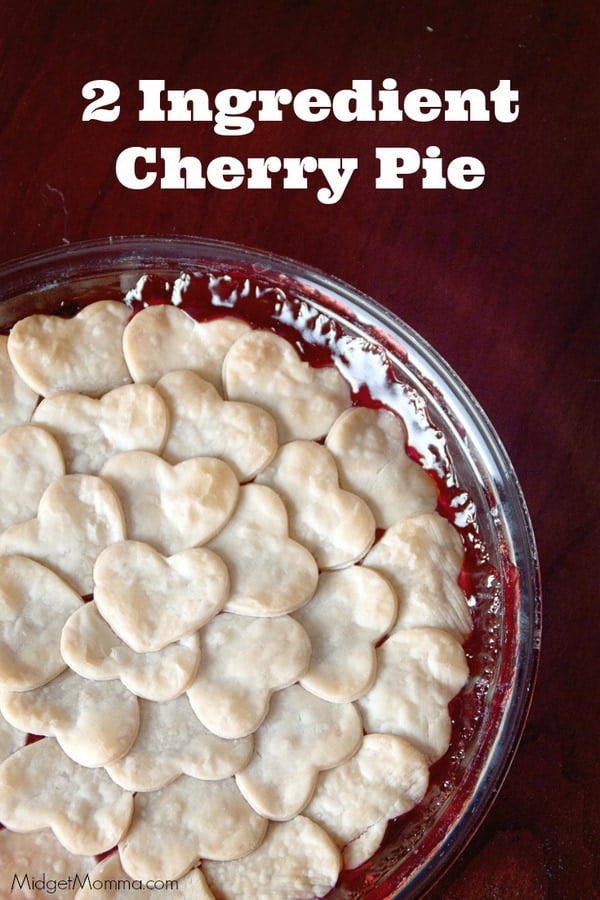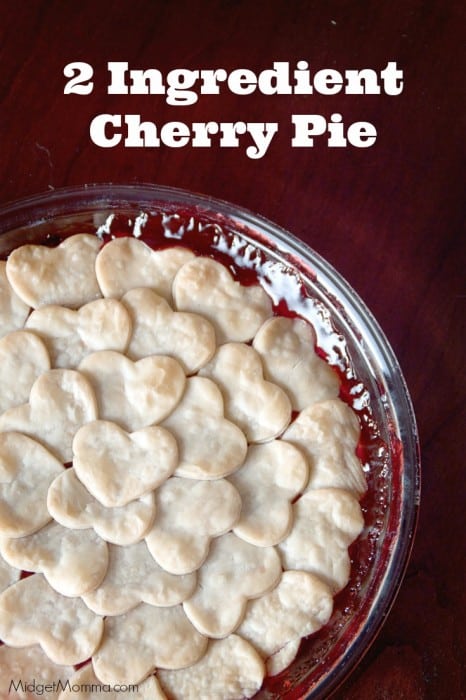 2 Ingredient Cherry Pie Ingredients
2 cans of cherry pie filling
1 pre rolled crust – If you want to make homemade pie crust use this pie crust recipe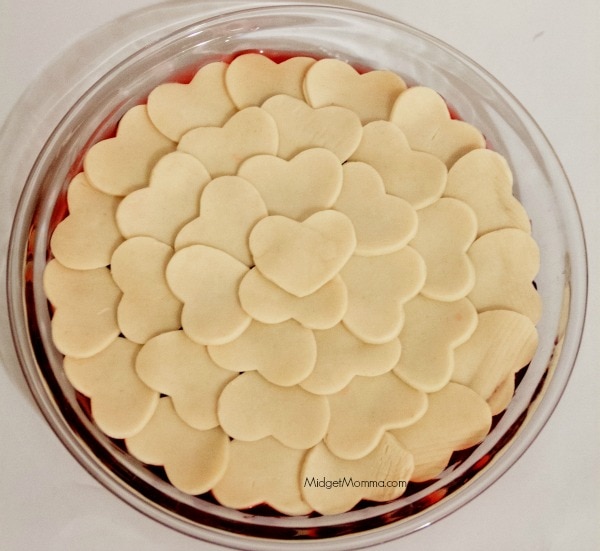 2 Ingredient Cherry Pie Directions
Preheat the oven to 350 degrees.
Pour the cherry pie filling into a pie pan.
Unroll one sheet of the pie crust.
With your small heart cookie cutter, cut out your hearts make sure you keep the as close together as you can.
Starting on the outside, layer your hearts with them just slightly overlapping each other.
Continue doing this in rows till you reach the middle.
If you run out of hearts you will have to press together your scraps or use the other pie crust.
When you are at the middle place one heart in the middle.
Bake for 15 minutes.
Reduce temperature to 325 and bake an additional 30 minutes or until the crusts are golden brown.
You can serve this with vanilla ice cream on top too! Makes it even more tasty! The fact that there is no bottom crust means when you cut the pie you do not have to worry about ruining the crust as is doesn't have a bottom one to fall apart on you 🙂
More Dessert Recipes