If you are looking for the most amazing easiest Ice Cream Cake Recipe ever, then look no further then this recipe. You can easily customize this homemade ice cream cake with your favorite ice cream!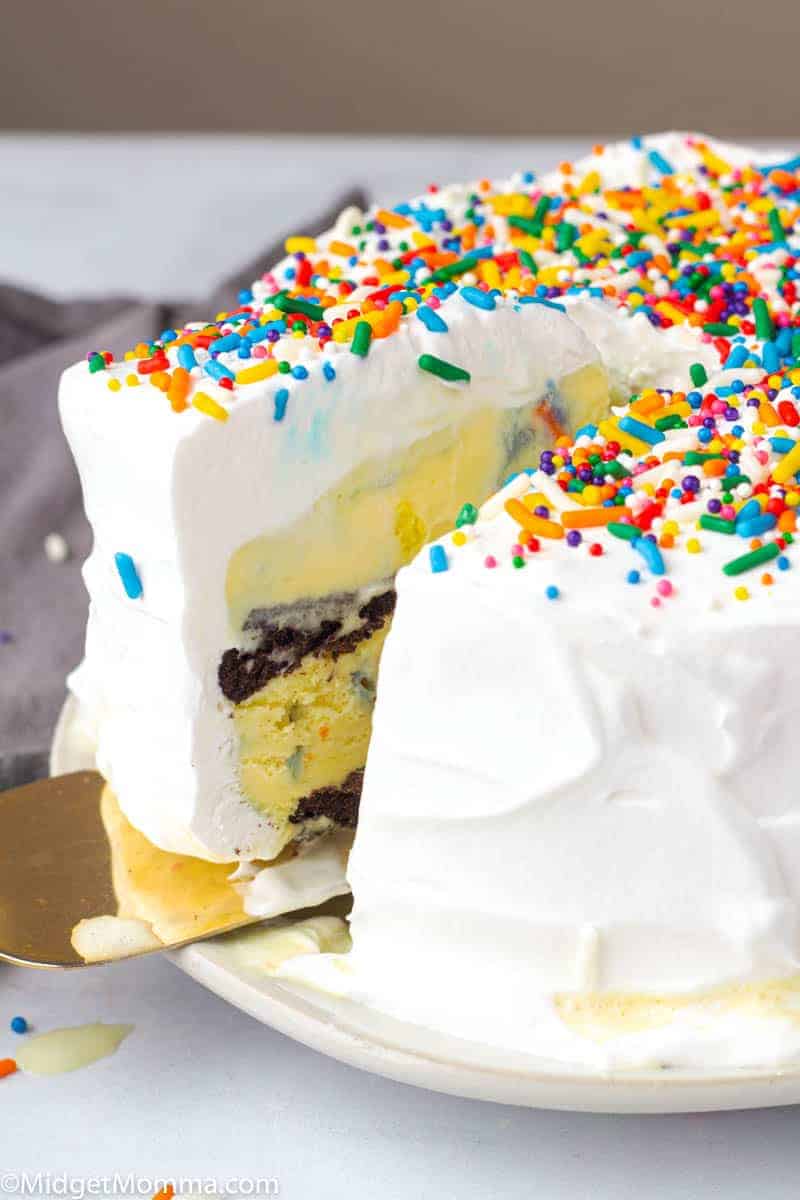 Ice Cream Cake Recipe
I have a confession to make, I am an Ice cream cake FANATIC! I have loved ice cream cakes since I was a little kid. My family always laughed at me when I was younger because I never wanted a regular cake. For any special occasion I had I wanted an ice cream cake. There were a few rare times where I asked for a cookie cake which would throw them for a loop.
You can use homemade ice cream to make ice cream cake but for me that takes to much time so I found a really simple way to make ice cream cake just the way I like it with very little work and I am sure your going to love it.
Easy Ice Cream Dessert Recipes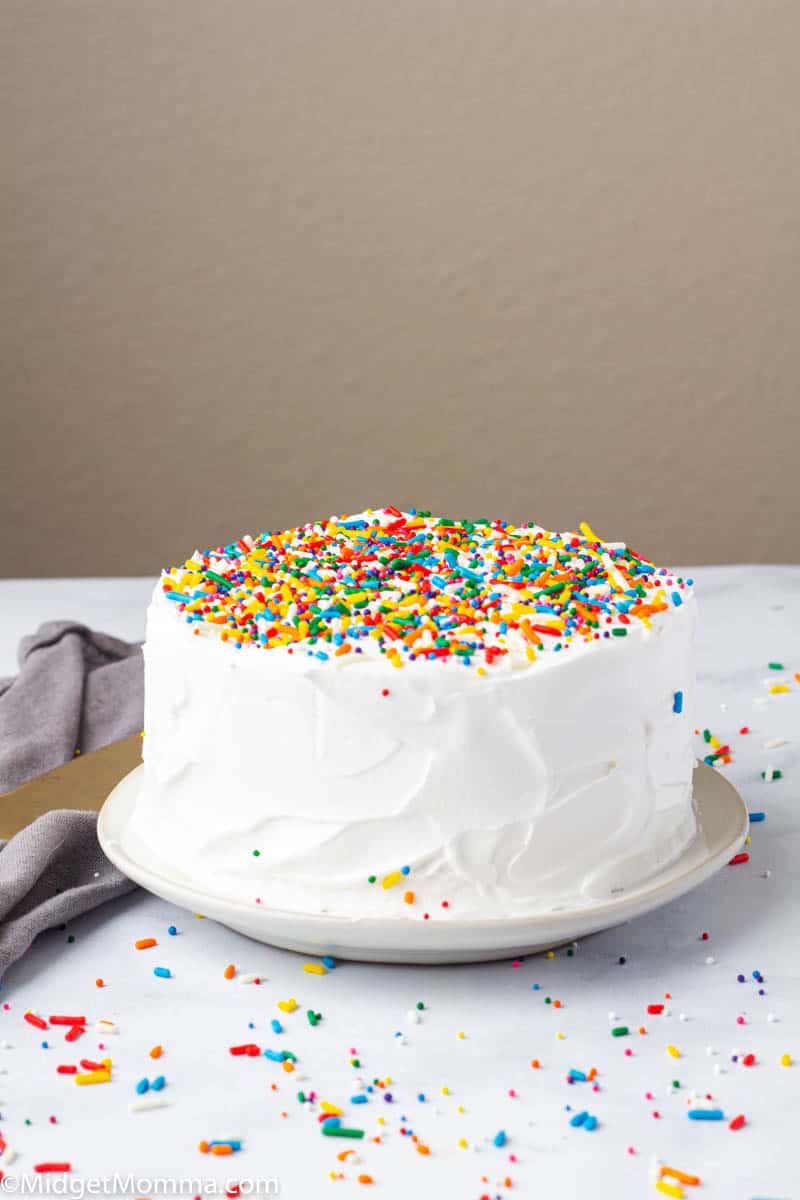 Variations of this Recipe
When you follow these easy steps for how to make ice cream cake you are going to be making ice cream cakes all summer long! It is so simple you are going to be making them more then you make ice cream sundaes!
Change up the Ice Cream. You can easily change up the Ice cream flavors that you use with this recipe. For this homemade ice cream cake, you can use any flavor ice cream that you want to. The only thing you need to make sure of when you make this cake is that you are using ice cream that is in a round container.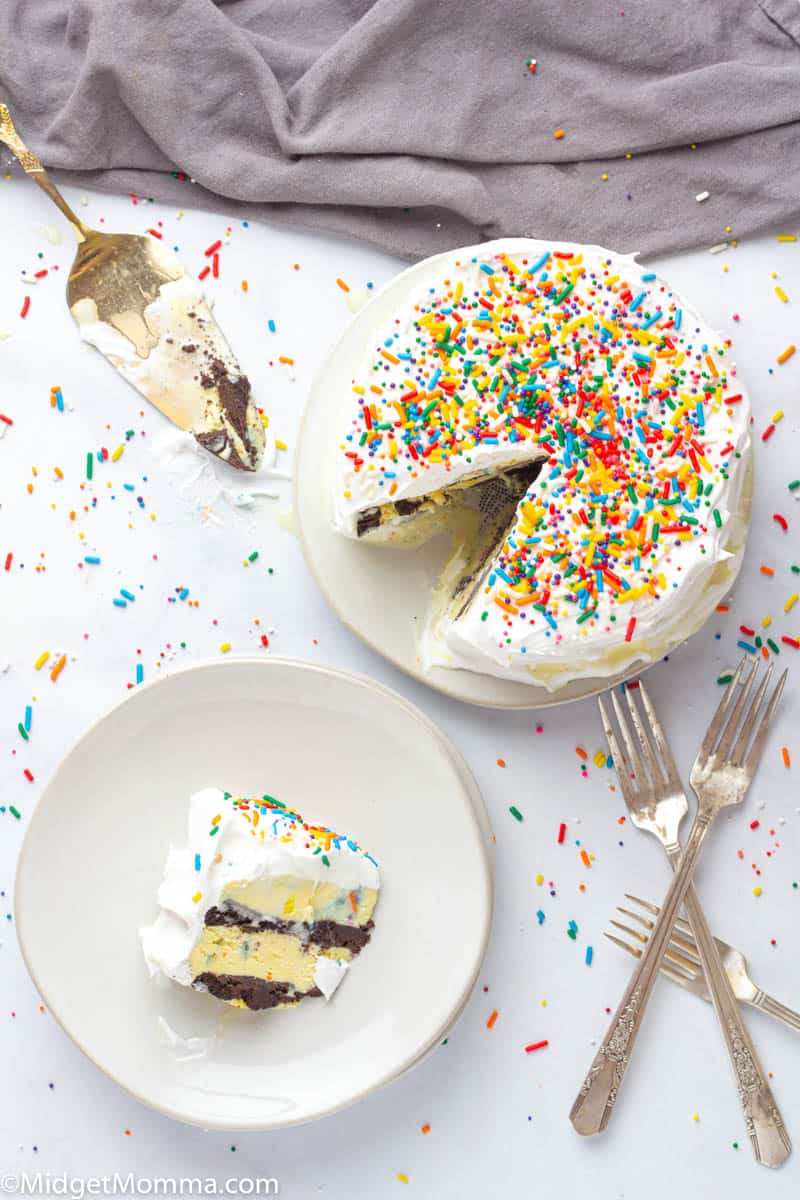 Change up the cookies. My absolute favorite part of any ice cream cakes is the amazing cookie crunch that is between the layers. I could totally eat it by itself, and sometimes make extra just so I can. I am also the one who puts a TON of cookie crunch in between my ice cream cake layers. There are now lots of different Oreo Cookie flavors that you can use. I use the traditional chocolate Oreo with cream in them, but you can totally experiment with different flavor combinations.
Change up the Shell topping. I use the chocolate fudge shell  topping mixed with chocolate Oreos for my ice cream cake cookie crunch, but they also make a Heath Bar shell topping, a Reese's Peanut butter and Chocolate shell topping, Chocolate shell topping and caramel shell topping.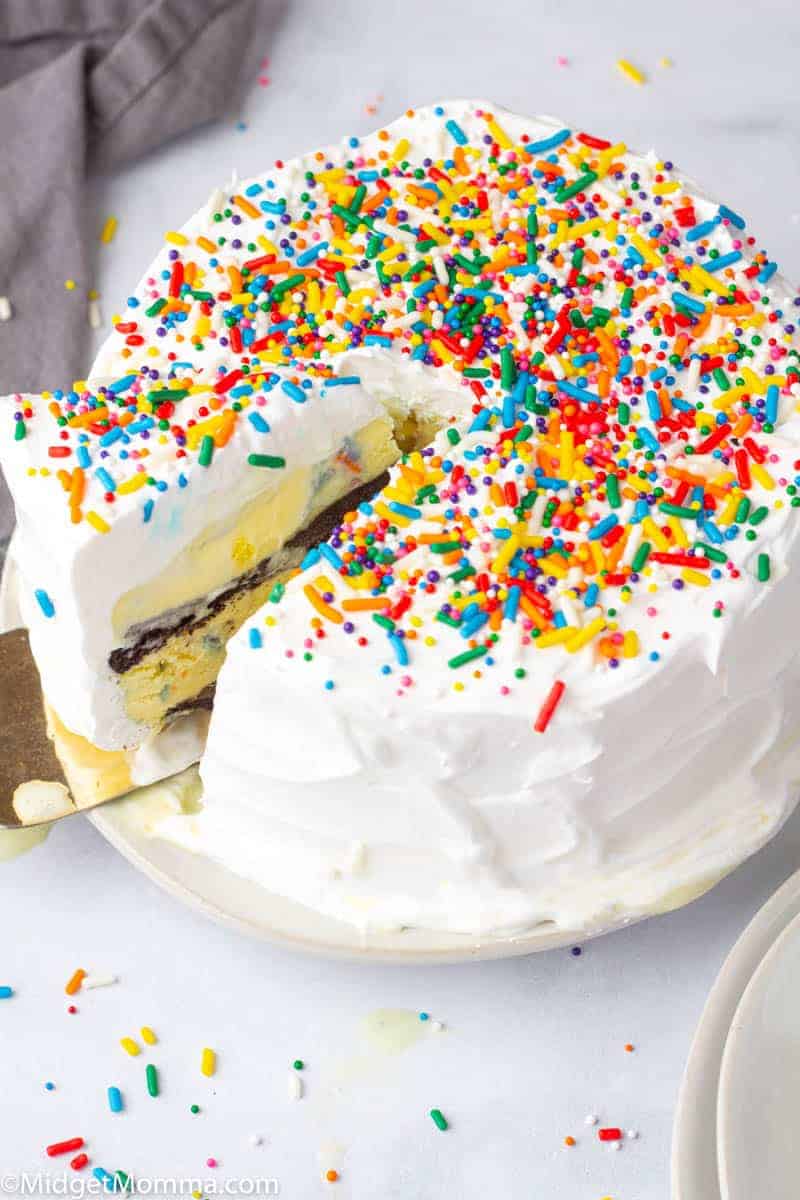 Change up the toppings. For the ice cream cake toppings, you can pick whatever candy you want to that will go with the ice cream flavor you choose. When I use chocolate ice cream my go to is peanut butter cups. If I am using a fruity flavor ice cream I will normally put sprinkles on it, or a fruity candy. You can also used chopped up chocolate bars, sprinkles, cookie crumbles, fruit candy, fruit and even drizzle ice cream shell and sundae syrups on top if you want to.
Change up the size cake. If you want to make a 4 layer ice cream cake then you will want to use the full container of ice cream and double the cookie crumble filling and layer it in between the layer just like if you are only making a 2 layer cake. I stick with 2 layers because a full container of ice cream is a lot for us to eat at once unless we are having a party. If you are having a party you can use the full container to make 2 cakes or to make one large 4 layer ice cream cake.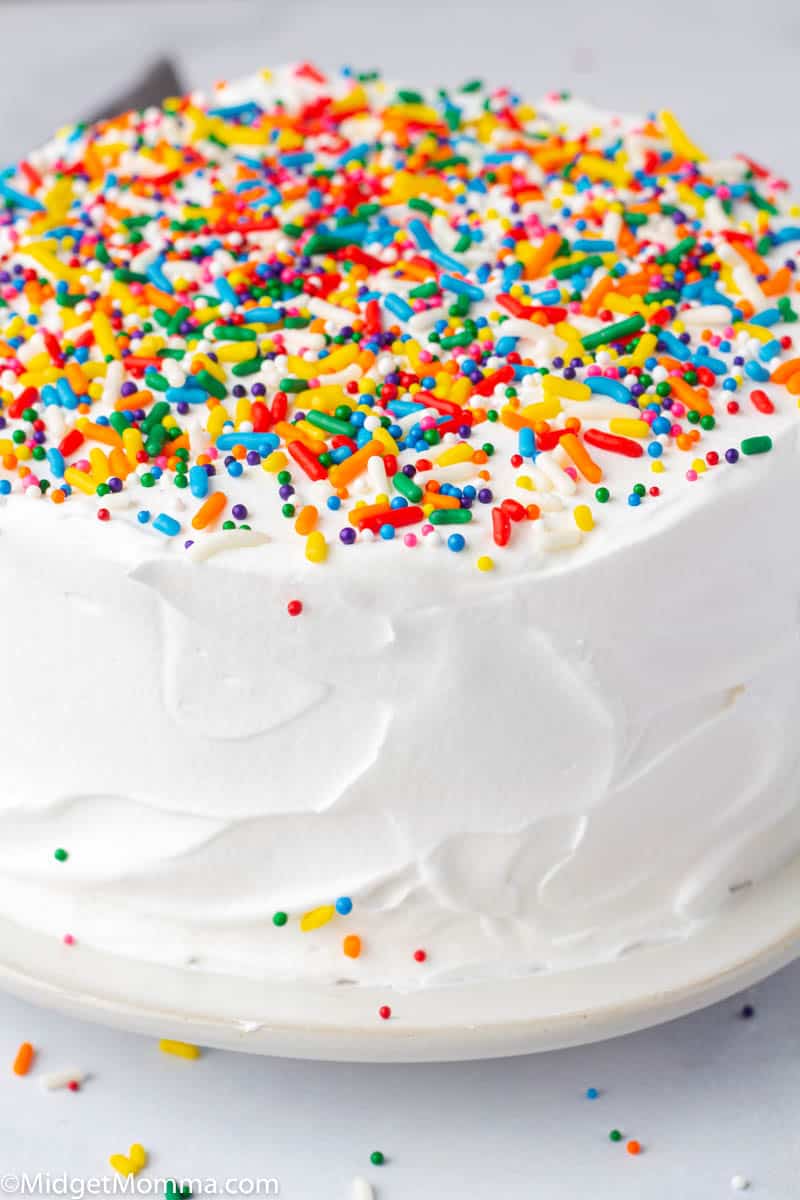 Easy Ice Cream Cake Ingredients
Round Quart of Ice Cream of choice
Magic Shell topping
Oreo Cookies
Toppings of choice
Cool Whip
How to Make Ice Cream Cake
Cut the Ice Cream container in Half using a knife. If making a 2 layer cake cut the ice cream container in half and then one half in half again. Place the other ice cream portion in the freezer.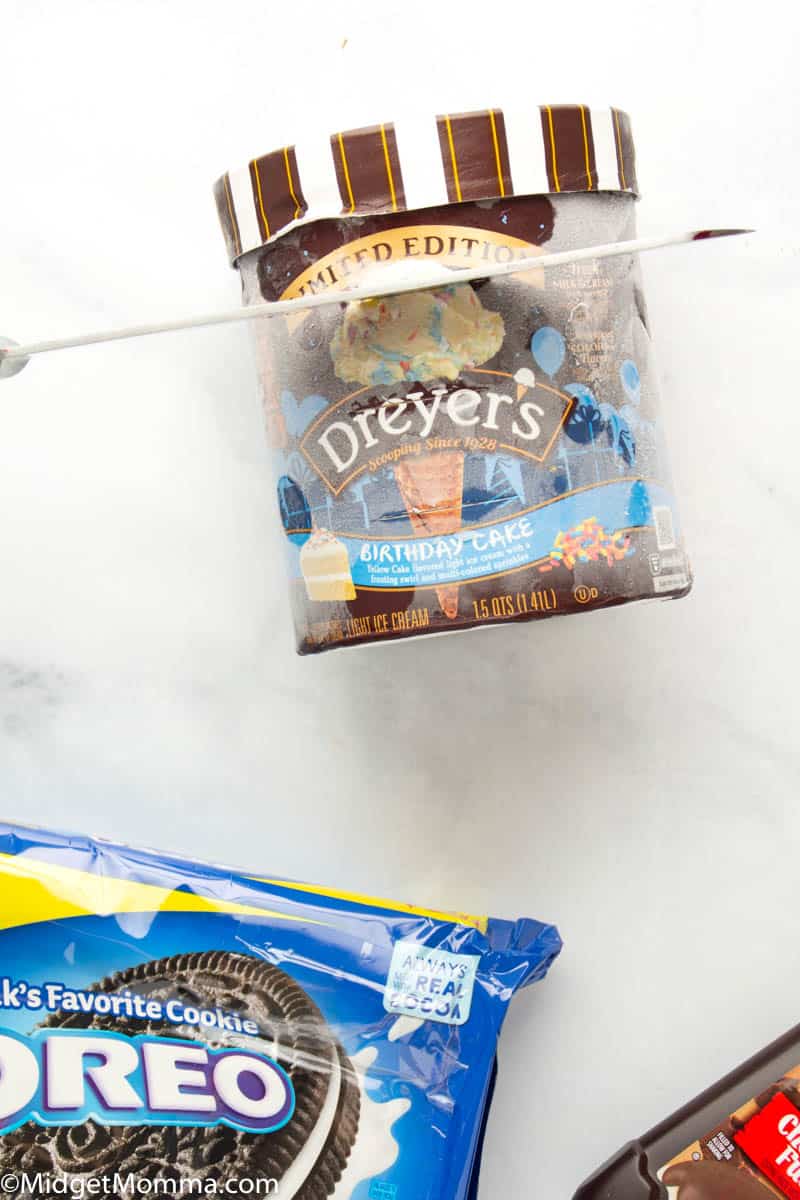 Make the cookie crumble filling. While making the cookie crumble let the cool whip soften on the counter.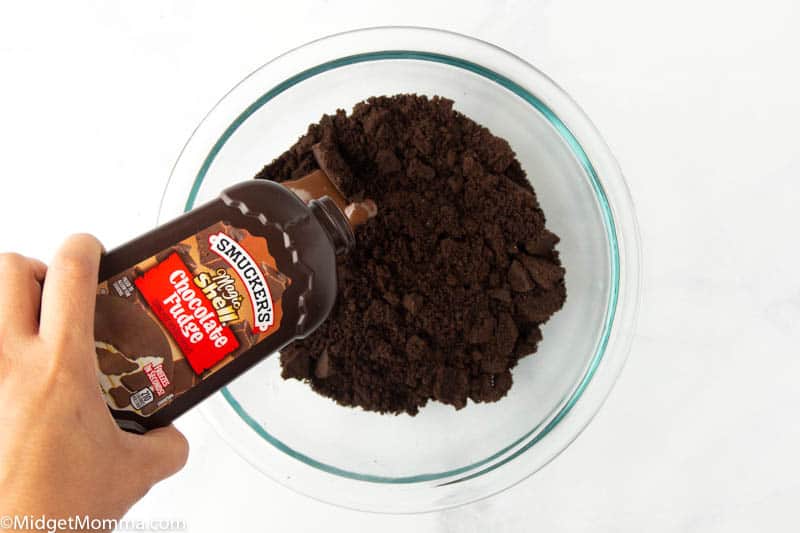 Place parchment paper down on a plate and make a layer of cookie crumble, then layer of ice cream on top then another layer of cookie crumble, the last ice cream layer.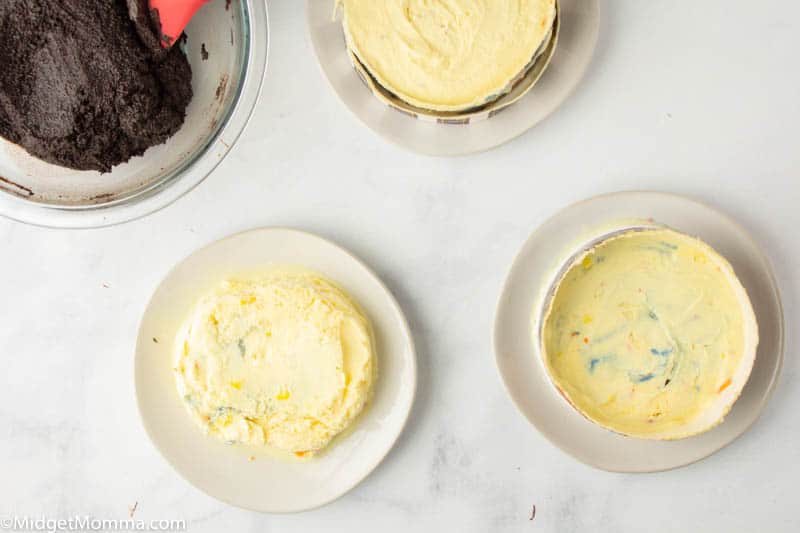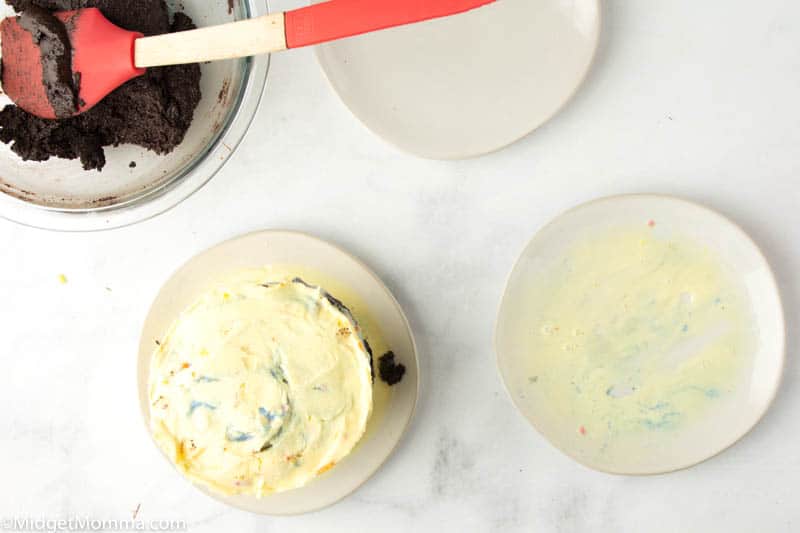 Then frost with cool whip.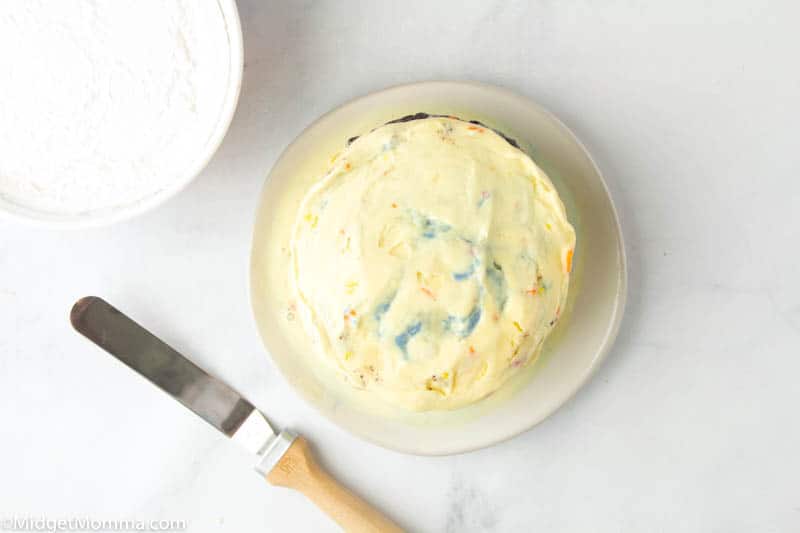 Top with toppings.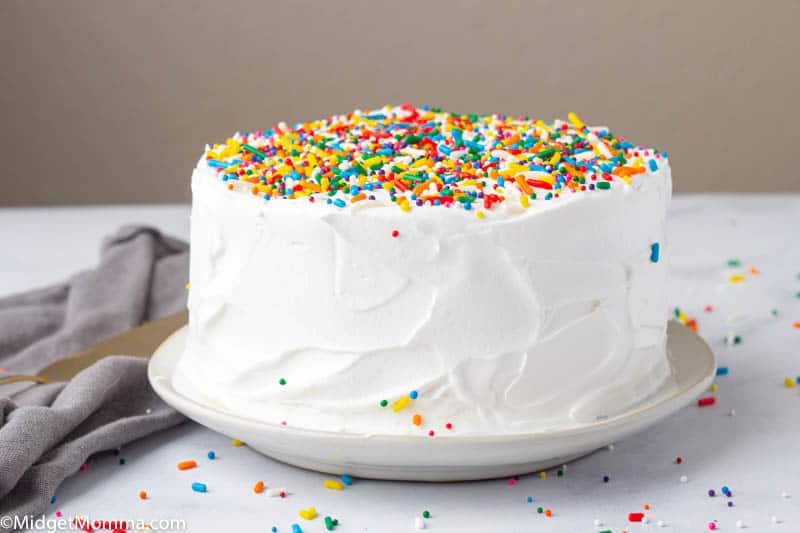 Freeze and then serve as desired.
More Dessert Recipes You'll love!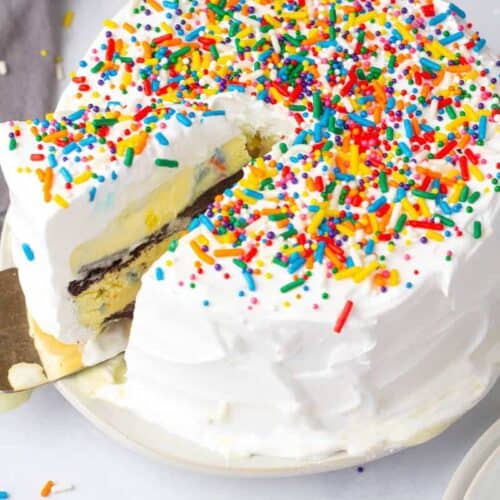 Ice Cream Cake Recipe
Servings
Ice Cream Cake Recipe. This easy ice cream cake recipe is always a hit when I make it. Customize this ice cream cake with any flavor ice cream and toppings you want.
Ingredients
1/2 quart ice cream flavor of choice
15 Chocolate Oreo Cookies
1/2 cup bottle of Magic Shell
8 ounces Cool Whip
1 cup candy of choice for toppings
Instructions
Take a serrated knife and cut the ice cream container in half, then cut the one section in half again. Place the 2 small pieces on a baking sheet and place them back in the freezer for 10 minutes. Wrap the other half of the ice cream container

While they are in the freezer, make the cookie crumble.

Grind up the Oreos into small pieces using a food processor or place them in a closed zip close bag and smash into pieces with a spoon and dump the cookie crumbles in to a bowl.

Pour 1/2 cup of Magic Shell into the Oreo crumbs and stir until combined.

On a plate line it with parchment paper. Spread half the cookie mixture in the size of the sliced ice cream. Take one layer of ice cream and remove the container from it and place on top of cookie crumbles mixture. Spread remaining cookie crunch on top. Then place the second layer of ice cream on top.

Smooth out the side of the cakes with a spatula or a knife.

Using a knife or spatula frost the cake with the cool whip.

Chop up the candy and sprinkle on top.

Freeze for 30 minutes and then serve.
Calories: 284kcal | Carbohydrates: 45g | Protein: 4g | Fat: 10g | Saturated Fat: 3g | Cholesterol: 14mg | Sodium: 213mg | Potassium: 161mg | Fiber: 1g | Sugar: 25g | Vitamin A: 158IU | Calcium: 74mg | Iron: 2mg
Ice Cream Cake Recipe
Dessert