Corn on the cob is a staple in our house during the summer. Some people boil corn on the cob, some steam corn on the cob, in our house we cook corn on the cob on the grill! It is so easy to cook corn on the cob on the grill and it also saves on the mess of having to butter the corn after it has been cooed.
Of course when you are eating corn on the cob you do not want burn your fingers, so make sure you grab these corn holders! To make it super easy making corn on the cob on the grill, I use these tin foil sheets. Then there is no one pulling a massive piece of tin foil, which we all know happens with kids. They are the perfect size for wrapping a piece of corn on the cob!
The BEST Way to Cook Corn on the Cob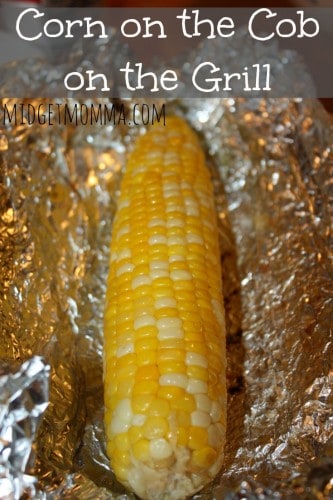 Corn on the Cob on the Grill
First grab the corn from the store. Make sure you are grabbing fresh corn when you are doing your shopping. You want the top part of the husk, those little things that my kids call corn hair (LOL) to be yellow to brown and a bit sticky. If they are black pick a different piece of corn. Make sure there are no tiny brown holes in the husk, if there are that means there are worms in the corn. You don't want worms in your corn!
Grilled Corn Ingredients
Corn on the cob
Butter (we normally use about 3/4 a stick of butter for 5 pieces of corn)
Salt
Pepper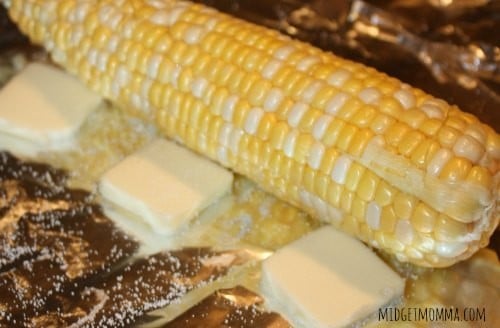 How to cook corn on the cob on the grill
Remove the husks from the corn. This is a job I normally give to one of the kids.
Get enough pieces of tin foil to wrap each piece of corn individually.
Then place the piece of corn in the tin foil, get your stick of butter and slice it into thin slices. Add 3 pieces of butter on top of the corn. (It ends up being about a tablespoon or a little more per piece of corn)
Sprinkle salt and pepper on top.
Then wrap the corn tightly with the tin foil.
Place on top top rack of the grill for 15-20 minutes or the bottom rack for 8-10 minutes.
Remove from grill and let cook for a few minutes, then unwrap the corn from the foil and enjoy!
Looking for more recipes? Check these out! 
Roasted Red Pepper Pasta Salad
Join the newsletter
Subscribe to get our latest content by email.