This no bake chocolate lasagna recipe is the perfect summer dessert. Layers of Oreo cookies, fluffy cheesecake, chocolate pudding, and cool whip topped with chocolate chips.
One of my favorite things about this Oreo Lasagna is that there is no baking needed! No-bake desserts are perfect for summer days!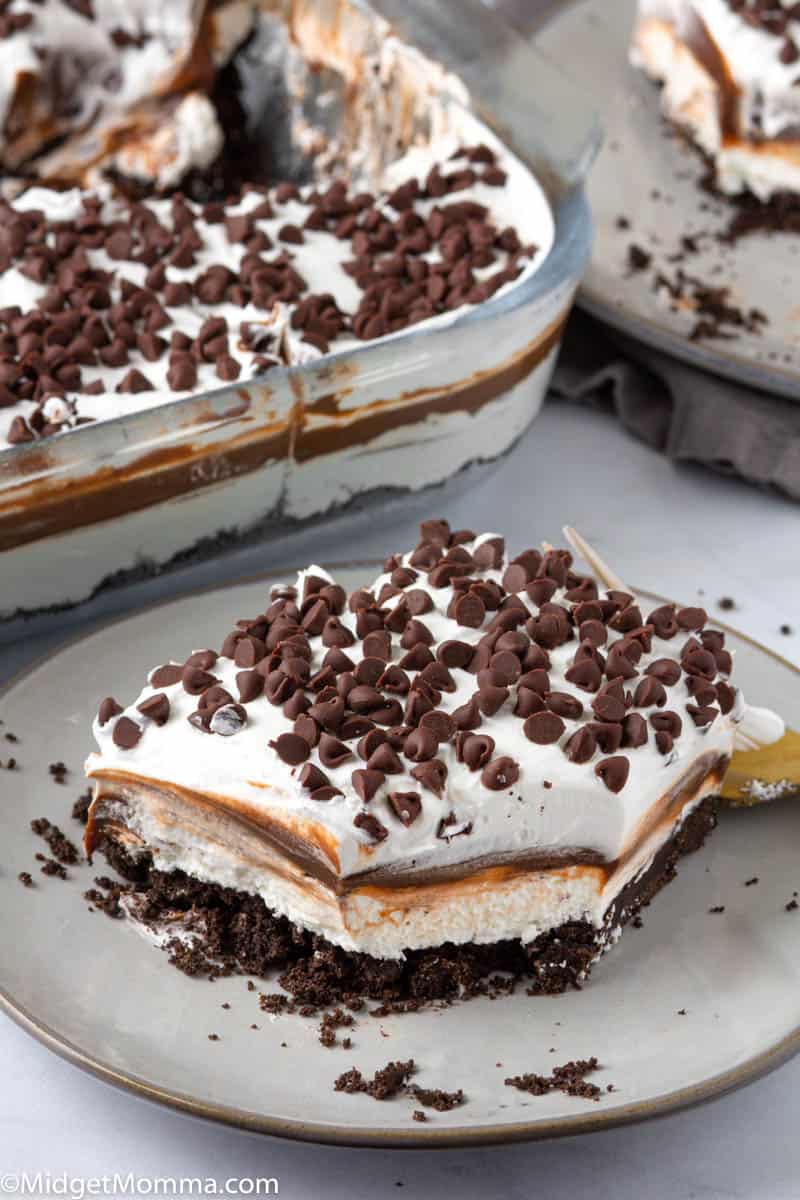 Chocolate Lasagna Recipe
I have been making this chocolate lasagna recipe for as long as I can remember. I originally was introduced to this no-bake dessert about 10 years ago when my friend Kim made it for a get together we were having. Everyone devoured it and then it because "Kim's thing" to make any time we were having a party or potluck and we all brought dishes.
After a few times of her bringing this amazing dessert, I finally asked her for the recipe and she took a photo and allowed me to post it on MidgetMomma.com so I would never lose it. Now Kim lives in Florida and I live in Pennsylvania so our get-togethers don't happen like they used to but I am still making Kim's amazing chocolate lasagna dessert.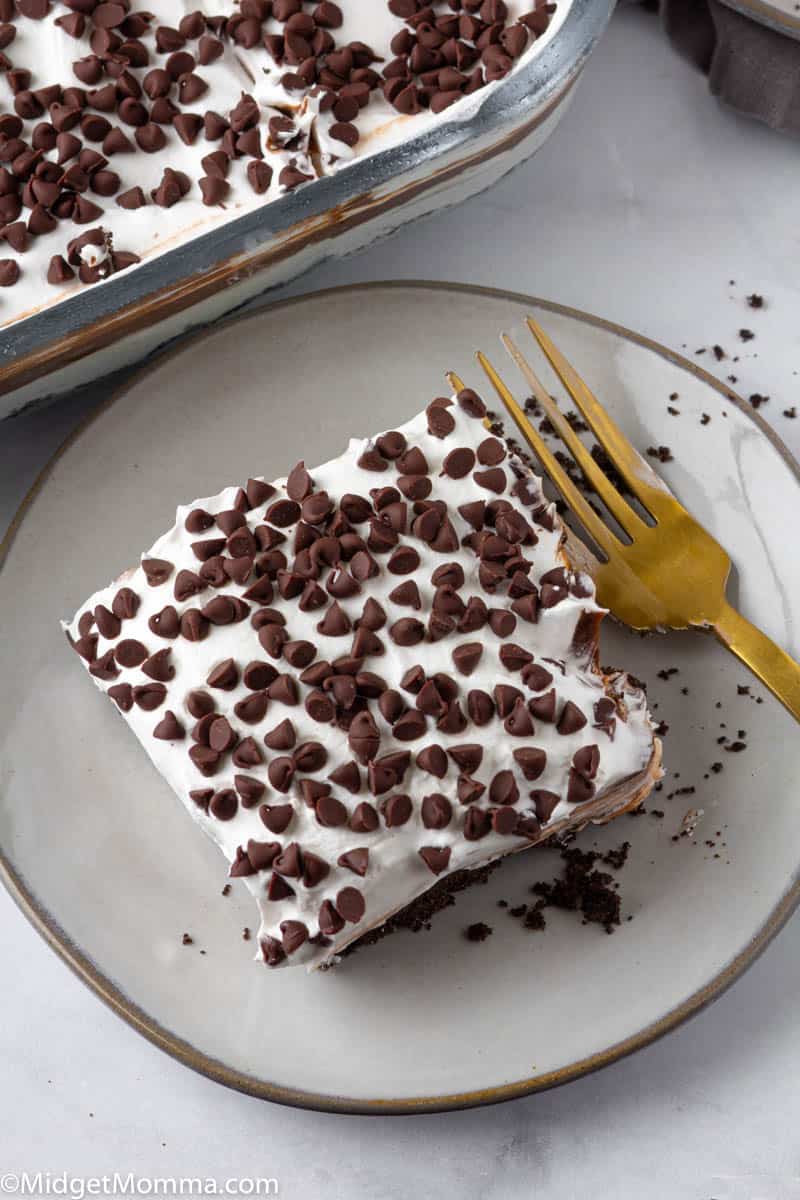 I am not sure if it is the crunchy Oreo crust, creamy chocolate pudding, the fluffy cream cheese layer or the fact that it is a dessert that is called lasagna that I love the most. But I do know that this dessert has always been a hit for years and now we have taken some better photos so you can see how amazing it looks. P.s It tastes even better then it looks!
Oreo Dessert Recipes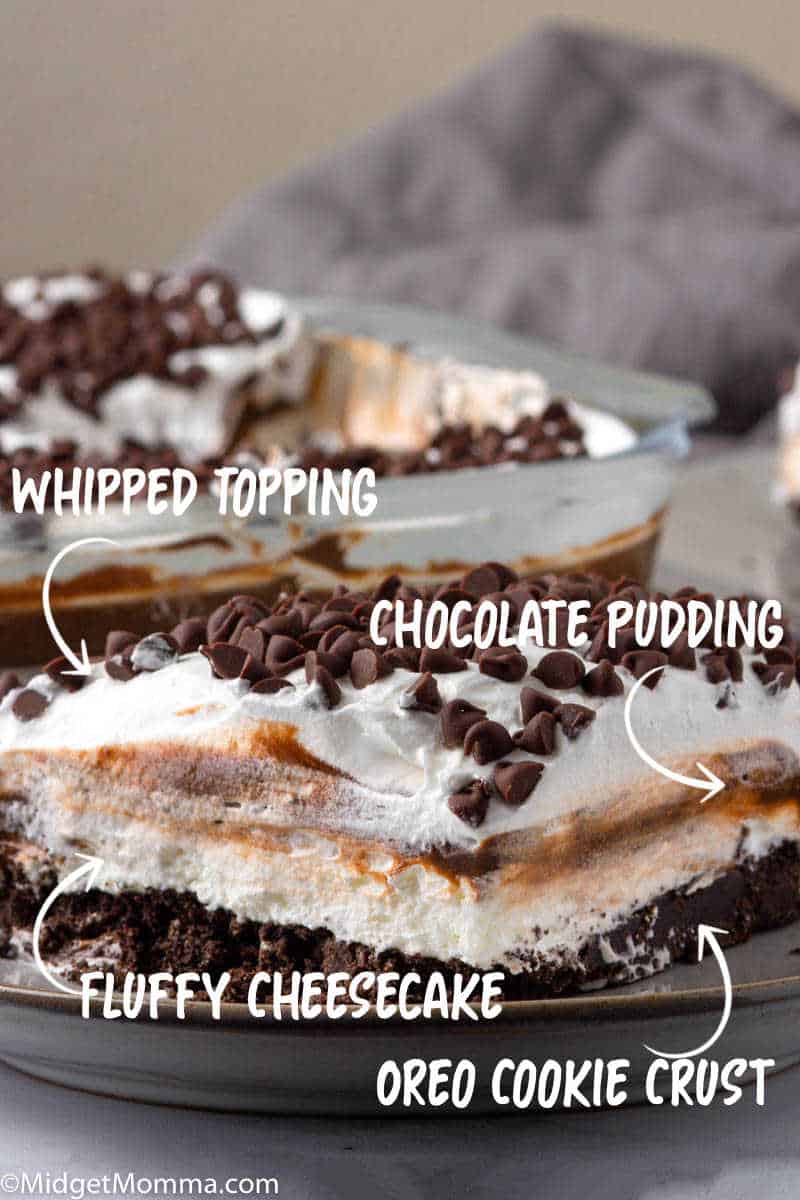 Easy to Make Layers!
Chocolate Oreo Cookie layer. When I am making this cookie crust layer I use chocolate Oreos. You can get creative if you wish and use other flavors of Oreos if you want to. This layer is a simple Oreo cookie crust made with Oreo cookies (including the filling) and butter.
Creamy Cheesecake layer. A mix of cream cheese, sugar, and milk using a hand mixer or your stand mixer then mix the whipped topping with it and it makes this layer fluffy and sweet. I call it a cheesecake layer because it tastes just like cheesecake to me!
Chocolate Pudding layer. This simple layer is made with instant chocolate pudding. You can use whichever chocolate pudding flavor you want to. I personally use either Chocolate pudding or chocolate fudge pudding. You do need to make sure that you are using instant pudding and not the stovetop cook pudding.
Whipped Topping layer. This top layer is super easy, spread whipped topping and then sprinkle with mini milk chocolate chips to finish off this easy layer dessert.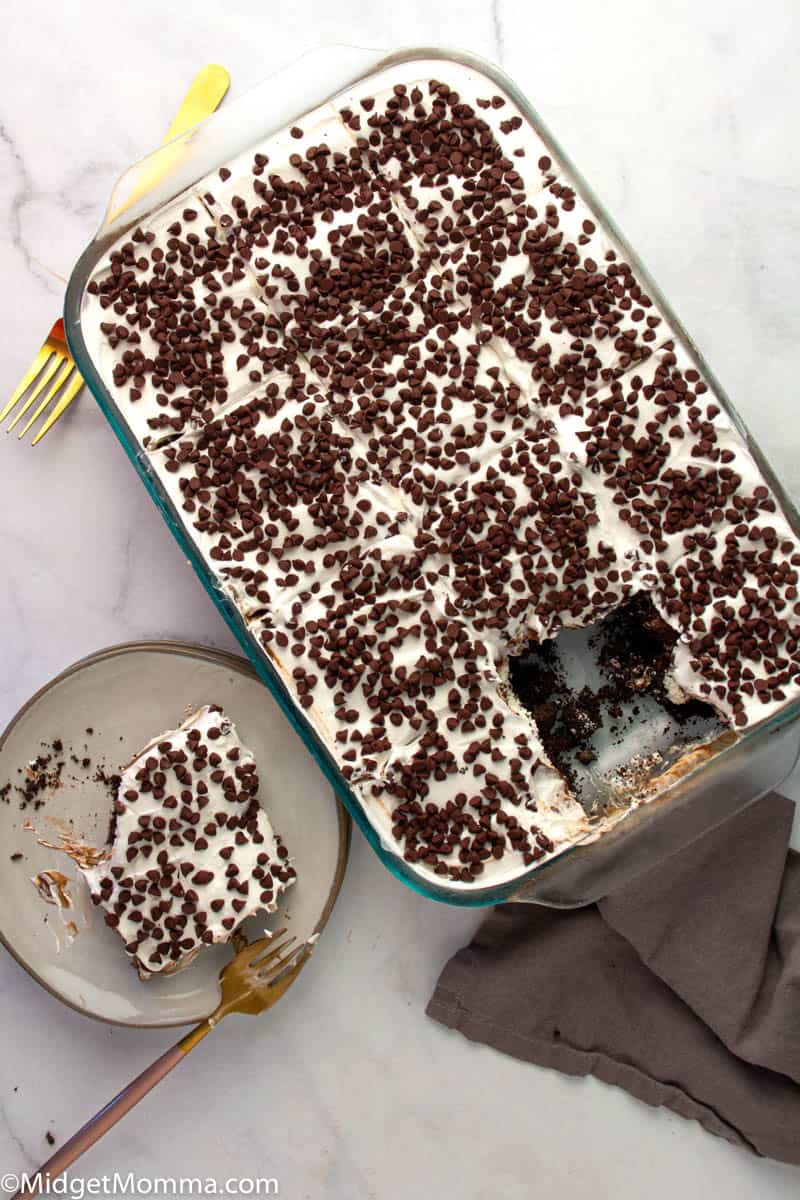 Variations of this Recipe
Change up the toppings. One thing we like to change up from time to time is the toppings. Sometimes instead of mini chocolate chips we will use crushed Oreo cookies, peanut butter chips or white chocolate chips. You can even drizzle some chocolate syrup on top too!
Change up the pudding! You can make this recipe using Vanilla instant pudding instead of chocolate pudding.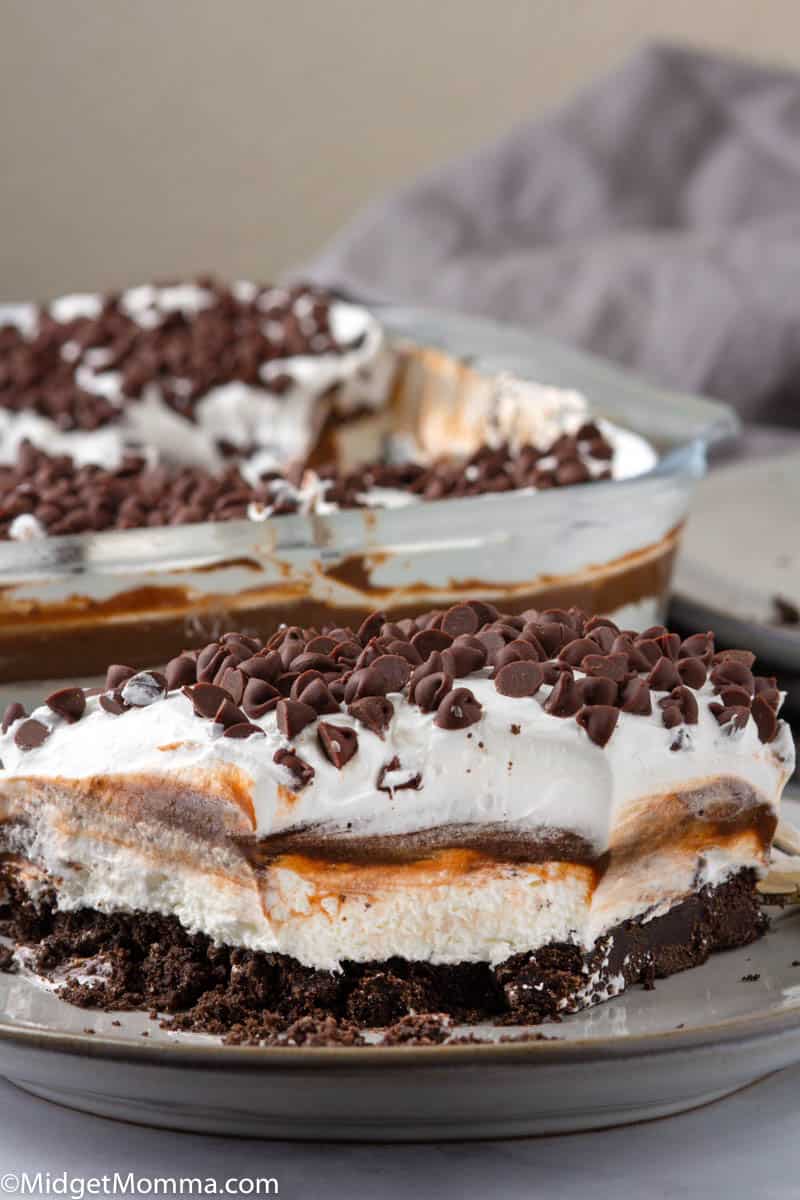 Tips for Making this Recipe
Use Regular Oreos, not the double stuffed. You will also be leaving the filling in the cookie when you crush them.
Allow cream cheese and cool whip to that a little bit so it is easier to mix and spread.
Fully allow the pudding layer to set before adding the whipped topping layer.
Can I make this dessert ahead of time?
You will want to make this dessert ahead of time so that it has enough time to set. However, I find that it is best served the same day it is made if it is stored in the fridge.
You want to keep this dish in the fridge right up until serving. Having it at room temperature for a long time will cause the layers to get runny.
You can speed up the setting time by placing this dish in the freezer for one hour instead of in the fridge for 3-4 after you have made it.
Can I freeze this dessert?
Yes. You can totally put some aluminum foil on top of the pan and place it in the freezer. You will want to give it a few hours in the fridge to thaw after removing it from the freezer. If you plan on making it a few days in advance to serving, I suggest making it and putting it in the freezer. Then placing it in the fridge to thaw the night before you are going to serve it.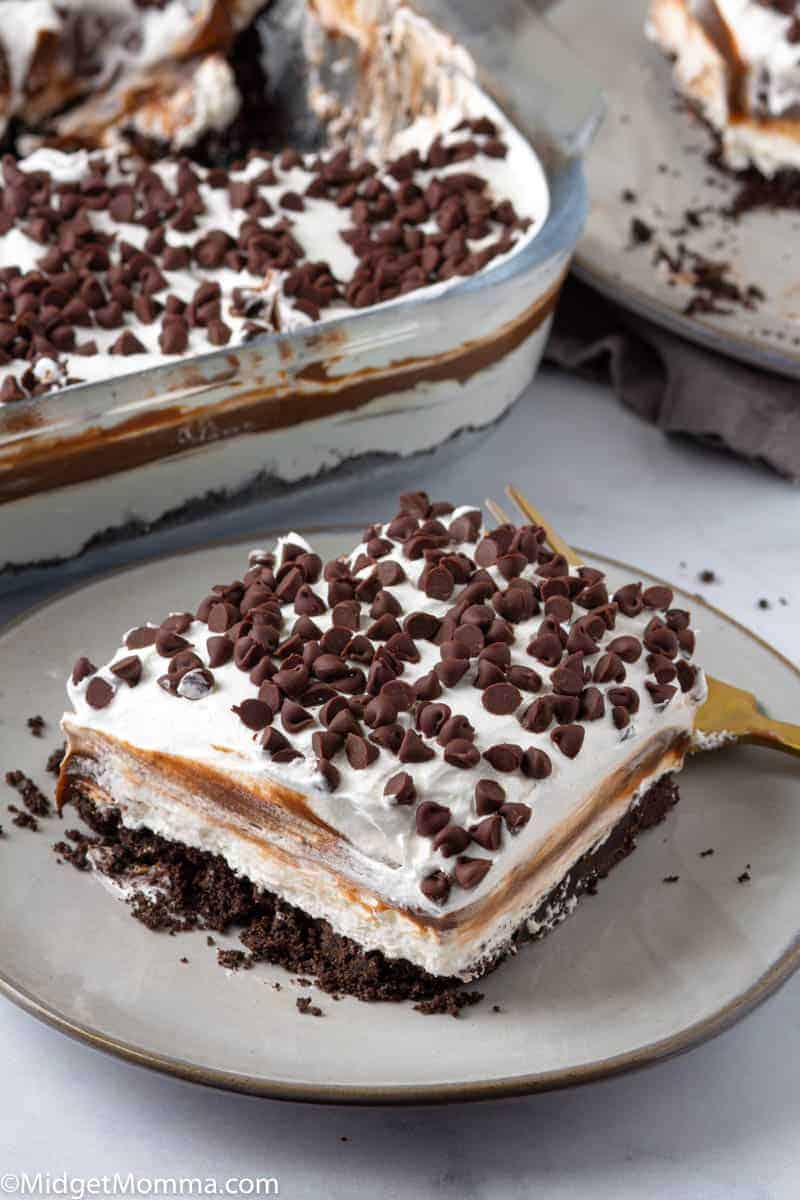 Chocolate Lasagna Ingredients
Regular Chocolate Oreo cookies
butter
cream cheese
sugar
cold milk
Cool Whip
Instant chocolate pudding
Mini chocolate chips
How to Make Chocolate Lasagna
Make the Oreo Cookie Layer and refrigerate.
Then cheesecake layer, then pudding layer and top with whipped topping.
Add toppings of choice.
Refrigerate or freeze until serving.
Easy Dessert Recipes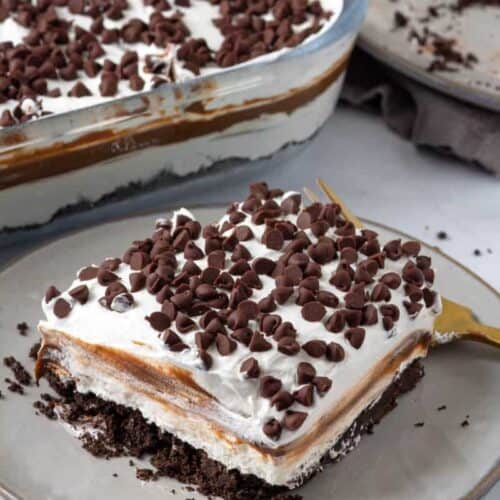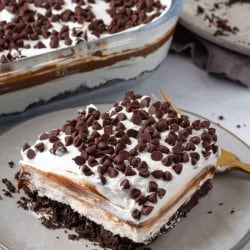 Chocolate Lasagna
Servings
This no bake chocolate lasagna is the perfect summer dessert. Layers of Oreo cookies, fluffy cheesecake, chocolate pudding and cool whip topped with chocolate chips.
Ingredients
36 regular Oreo cookies
6 Tablespoon butter
8 ounces cream cheese softened
1/4 cup granulated white sugar
2 Tablespoons cold milk
16 ounces Cool Whip 2 8 ounce tubs cool whip
7.8 ounces instant chocolate pudding 2 3.9 ounce packages instant chocolate pudding
3 1/4 cups cold milk
1/2 cup Mini chocolate chips
Instructions
Set the cool whip and cream cheese on the counter to soften.

Add the Oreo cookies to a food processor and grind until semi fine pieces. If you do not have a food processor you can put the cookies into a gallon size freezer bag and zip it closed, then using a rolling pin crush the Oreos into small pieces.

Add the 6 tablespoons of butter to a microwave safe bowl and heat for 30-45 seconds until the butter is melted.

Dump the crushed Oreo cookies into a bowl, add the melted butter and use a fork to incorporate the butter into the cookie crumbs.

Spray a 9x13 pan with nonstick cooking spray. Using a spatula press the crumbs into the bottom of the pan.

Place the baking dish into the refrigerator while you work on the additional layers.

In a medium sized bowl use a hand mixer and mix the cream cheese with a mixer until light and fluffy.

Once fluffy add in 2 Tablespoons of milk, and sugar, and mix well. Stir in 1 and 1/4 cups Cool Whip.

Remove the crust from refrigerator and spread the mixture on top. Place back into the refrigerator.

In another bowl combine instant pudding with 3 and 1/4 cups cold milk. Whisk for several minutes until the pudding starts to thicken. Use a spatula to spread the mixture over the cream cheese layer and place back in the fridge for 5 minutes.

Spread the remaining Cool Whip over the top.

Sprinkle mini chocolate chips evenly over the top.

Place in the freezer for 1 hour, or the refrigerator for 3-4 hours before serving.
Calories: 505kcal | Carbohydrates: 64g | Protein: 7g | Fat: 25g | Saturated Fat: 13g | Cholesterol: 50mg | Sodium: 601mg | Potassium: 278mg | Fiber: 2g | Sugar: 46g | Vitamin A: 619IU | Calcium: 157mg | Iron: 4mg
chocolate lasagna
Dessert
Join the newsletter
Subscribe to get our latest recipes right in your inbox every time we post a new one!