No Bake Chocolate Dream Lasagna Dessert Recipe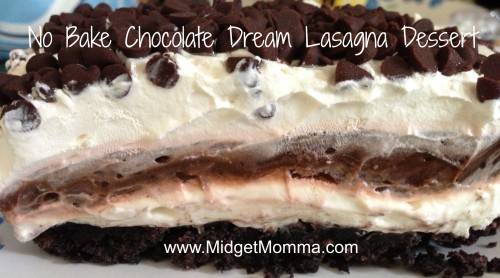 I am going to warn you ahead of time, that once you try this you are going to yell at me for how good it is and how you can't stop eating it 😀 This will make the perfect summer time dessert or anytime you are craving a chocolaty treat 🙂 It is also super easy to make and one that you could easily get the kids No Bake Chocolate Dream Lasagna Dessert involved in making 🙂
My friend Kim brought this over for our Easter Dinner this weekend and it was AMAZING and so I had her give me the recipe so I could share it with you 🙂
Ingredients:
1 package regular Oreo cookies ( I used the chocolate cream ones)
6 Tablespoon butter, melted
1- 8 ounce package cream cheese, softened
1/4 cup sugar
2 Tablespoons cold milk
2- 12 ounce tubs Cool Whip, divided
2 – 3.9 ounce packages chocolate fudge pudding (any flavor of chocolate works)
3 1/4 cups cold milk
Mini chocolate chips for garnishing
Directions:
Begin by crushing 36 Oreo cookies either by food processor or do like I did and put them and a ziplock back and beat with a rolling pin. Hey it will get out any aggression you may have 😉
Transfer the Oreo crumbs to a large bowl. Stir in 6 tablespoons melted butter and use a fork to incorporate the butter into the cookie crumbs. When the butter is distributed, transfer the mixture to a 9 x 13 inch baking dish. Press the crumbs into the bottom of the pan. Place the pan in the refrigerator while you work on the additional layers.
Mix the cream cheese with a mixer until light and fluffy. Add in 2 Tablespoons of milk, and sugar, and mix well. Stir in 1 and 1/4 cups Cool Whip. Spread this mixture over the crust.
In a bowl, combine instant pudding with 3 and 1/4 cups cold milk. Whisk for several minutes until the pudding starts to thicken. Use a spatula to spread the mixture over the previous cream cheese layer. Allow the dessert to rest for about 5 minutes so that the pudding can firm up further.
Spread the remaining Cool Whip over the top. Sprinkle mini chocolate chips evenly over the top. Place in the freezer for 1 hour, or the refrigerator for 4 hours before serving.
More Tasty Desserts! 
Join the newsletter
Subscribe to get our latest content by email.
This post may contain affiliate links. Please read my disclosure policy here