I love chocolate covered fruit, one of my favorites is chocolate covered cherries. With only 2 ingredients needed, these chocolate covered cherries are super easy to make! Not only are chocolate covered cherries a tasty easy chocolate dessert, but they also look beautiful when set out on a platter.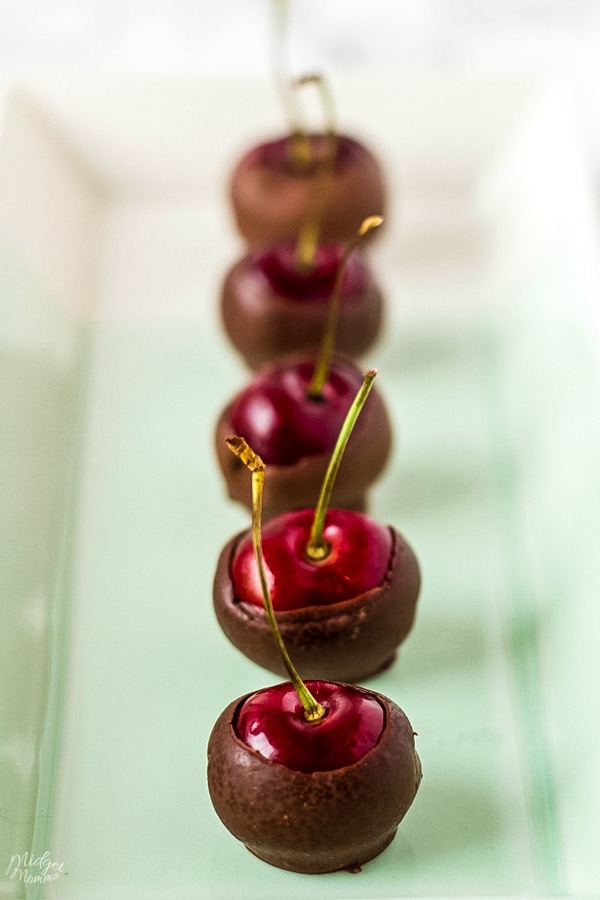 Chocolate Covered Cherries
As much as I love chocolate covered cherries, they are expensive when I buy them from the store or one of those fruit bouquet places. It is much cheaper for me to make them at home, and it is super easy to make them too.
If you are a chocolate and cherry lover like I am then you are going to love learning how to make chocolate covered cherries. You won't ever go and buy chocolate cherries in the store, since you will be able to rock making them at home!
Love dipping things in chocolate? Check out these other amazing chocolate dipped treats.
How to tell if Cherries are ripe
When you are making chocolate covered cherries the important thing is to use fresh ripe cherries. You do not want them over ripe, you want them just at the perfect sweet spot stage. Cherries are a nonclimacteric fruit and they do not ripen once they are picked from the tree, so once you pick them that is as far as they are going to go with the exception of going bad.
If you are picking fresh cherries at a you pick then you want to make sure they are . That is how you will know they are ripe. If you are buying them at the grocery store then they are already ripe.
How to Know if Cherries have gone bad
You will know cherries have gone bad when they are mushy, have a soft texture along with some discoloration and bruising. As they go bad mold will start to appear beginning where the stem was attached when they are rotten. You do NOT want to use cherries like this when you are making chocolate dipped cherries.
Can you Freeze Chocolate Covered Cherries?
You can freeze chocolate covered cherries to make the chocolate harden quicker, however storing them in the freezer is not recommended. After you are done making them place the tray of cherries dipped in chocolate in the freezer for 45 minutes to an hour. Do not let them freeze longer then an hour or your cherries will get freezer burnt. It is best to freeze them and then store them in the fridge.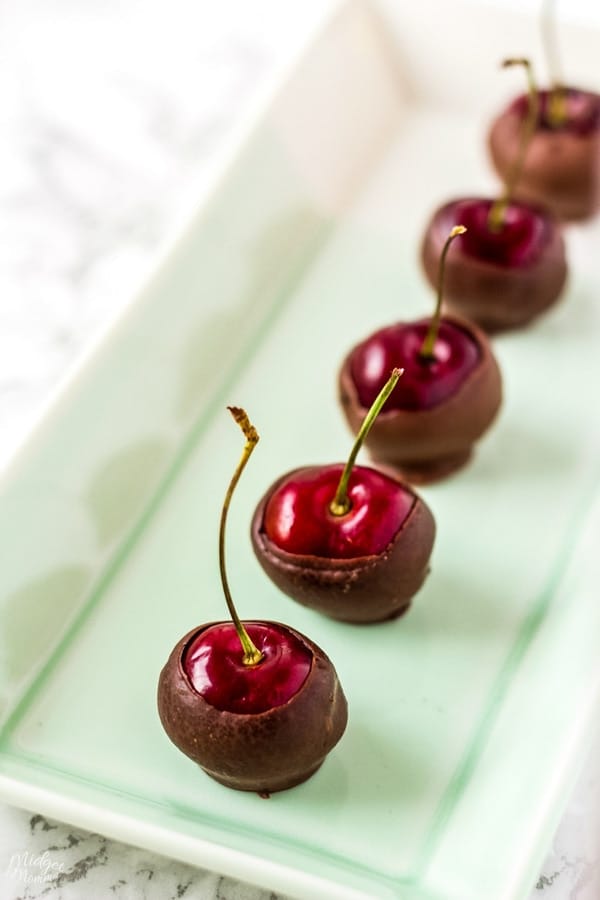 How long do Chocolate Covered Cherries last?
When you are making chocolate covered cherries it is best to make them as close to when you will want to enjoy them as possible. They will stay fresh in the fridge for up to 2 days as long as they are stored in an air tight container.
Are Chocolate Covered Cherries healthy?
Dark chocolate is loaded with nutrients that can positively affect your health. Cherries are also filled with nutrients that are good for you. So if you are looking for a healthier sweet treats, making chocolate covered cherries is a good option.
What Chocolate to use for Chocolate Covered Cherries
You can make chocolate covered cherries with just about all chocolate types following the directions below.
If you want dark chocolate covered cherries you will want to use dark chocolate.
If you are wanting milk chocolate covered cherries you will want to use milk chocolate.
You can also make white chocolate covered strawberries, just use white chocolate.
If you want sugar free chocolate covered cherries you will want to use a chocolate like Lily's chocolate chips.
How to Melt Chocolate for Chocolate Covered Cherries
When you are making this chocolate dessert you are going to needed melted chocolate. I know some people say to melt chocolate in the microwave but since chocolate can easily be burnt I highly suggest melting chocolate with a double boiler. If you do not know how check out how to melt chocolate with a double boiler.
How to Remove Cherry Pits
You do not want to have the pits inside there cherries when you are making chocolate covered cherries. The worst thing ever is biting into a cherry and finding the pit. The easiest way to remove the cherry pit is by using a hard plastic straw. The straws from reusable tumblers work perfect for this. All you have to do is through the side of the cherry and the pit will pop out. Yes you will end up with a small hole in your cheery, but that is ok. That small hole will fill up with melted chocolate and no one will even know it is there.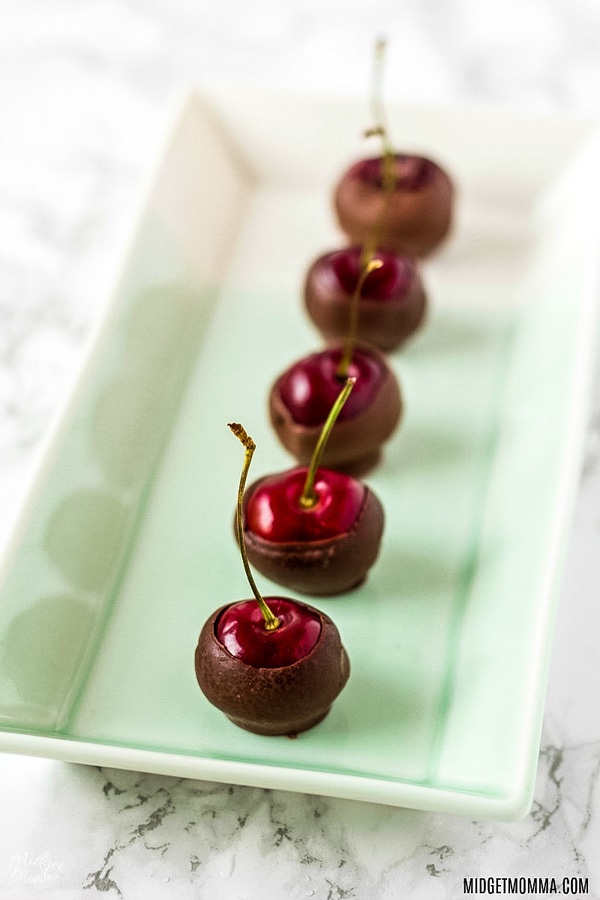 Chocolate Covered Cherries Ingredients
8 ounces of chocolate. You can use dark chocolate, milk chocolate and even sugar free chocolate.
1 pound of fresh cherries with the pits removed. This is about 40 fresh cherries.
How to Make Chocolate Covered Cherries
There are roughly 80 cherries in a pound of cherries. Each serving is 10 cherries.
If you are using Lily's chocolate to make these cherries there are 7g net carbs per 5 cherries.
Following Weight Watchers? Each serving of these cherries is 8 points.
If you need to harden the chocolate faster, you can pop the tray in the freezer but do not leave the cherries in the freezer longer then 1 hour or the cherries will get freezer burn.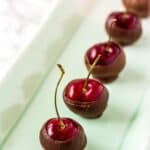 Chocolate Covered Cherries
With only 2 ingredients needed, these chocolate covered cherries are super easy to make!
Pin Recipe
Print Recipe
Instructions
Prep your cherries by washing them, drying them and then removing the pits.

Line a sheet pan with parchment paper or wax paper.

Melt your chocolate with the double boiler.

Dip the cherry into the melted chocolate, swirl the cherry around to get it fully covered with chocolate and place on the sheet pan.

Place the tray of cherries into the fridge for about an hour or until the chocolate has set.
Nutrition
Serving:
10
cherries
|
Calories:
205
kcal
|
Carbohydrates:
22
g
|
Protein:
2
g
|
Fat:
12
g
|
Saturated Fat:
6
g
|
Sodium:
5
mg
|
Potassium:
328
mg
|
Fiber:
4
g
|
Sugar:
14
g
|
Vitamin A:
45
IU
|
Vitamin C:
4
mg
|
Calcium:
28
mg
|
Iron:
3.6
mg
More tasty recipes you will love!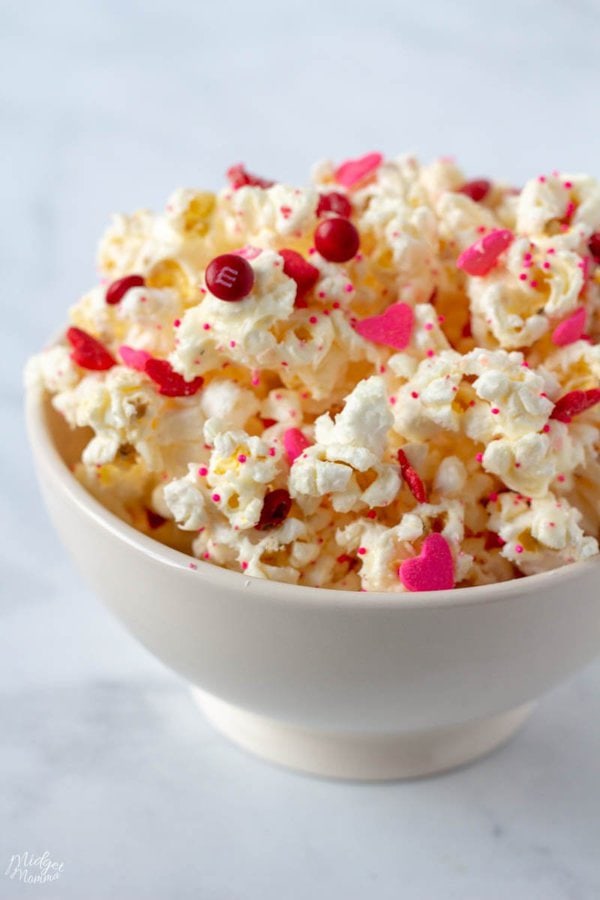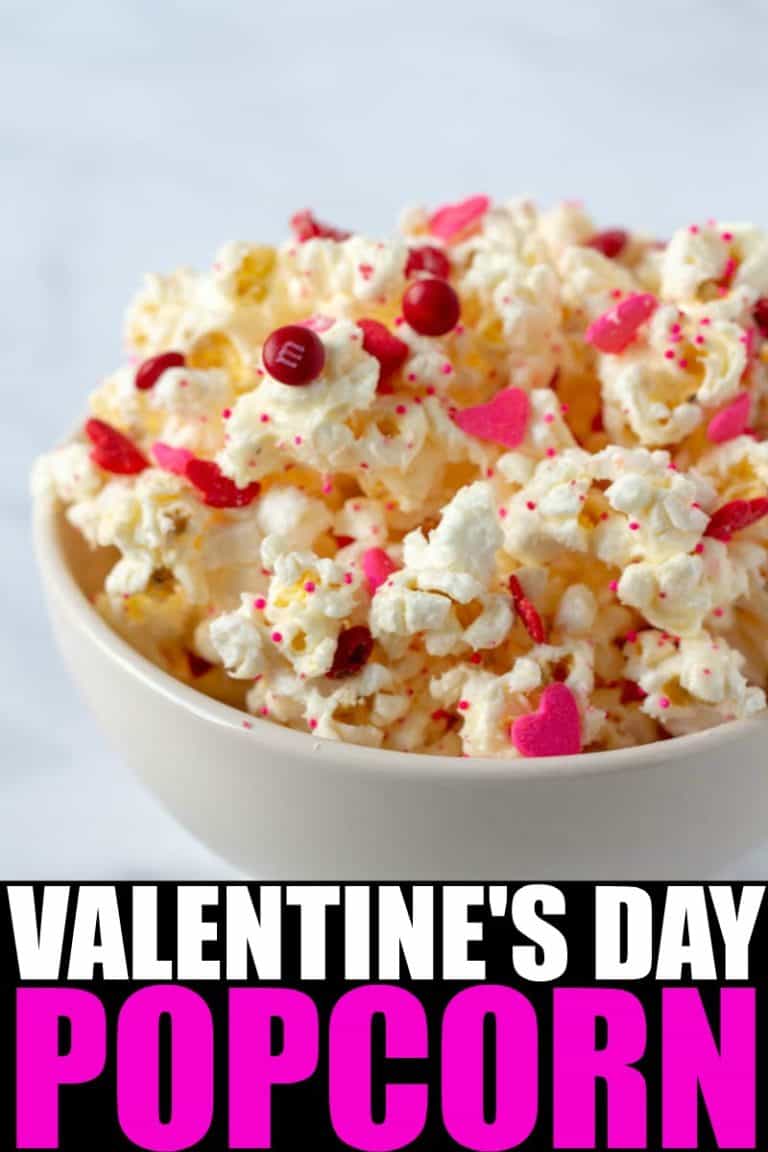 Caramel Macchiat0 Starbucks Recipe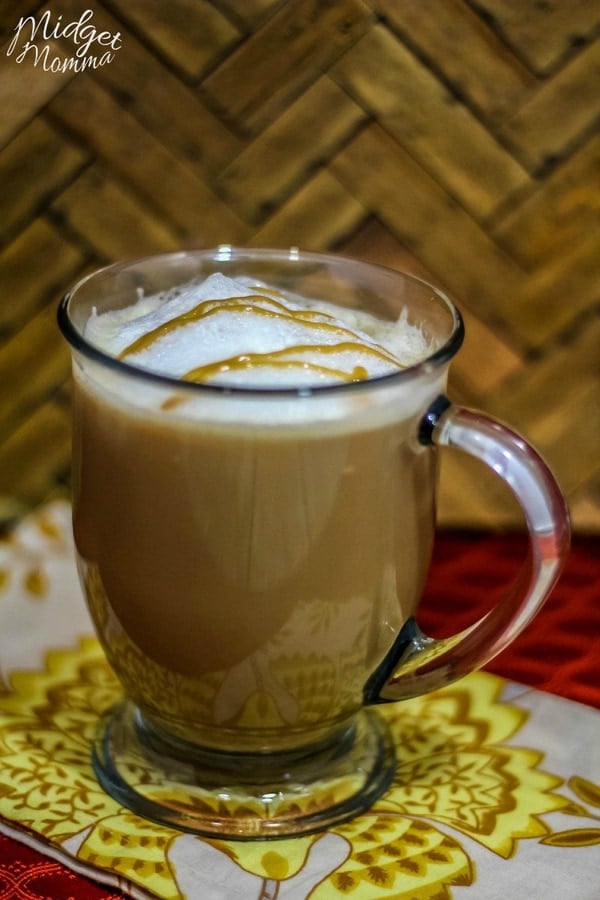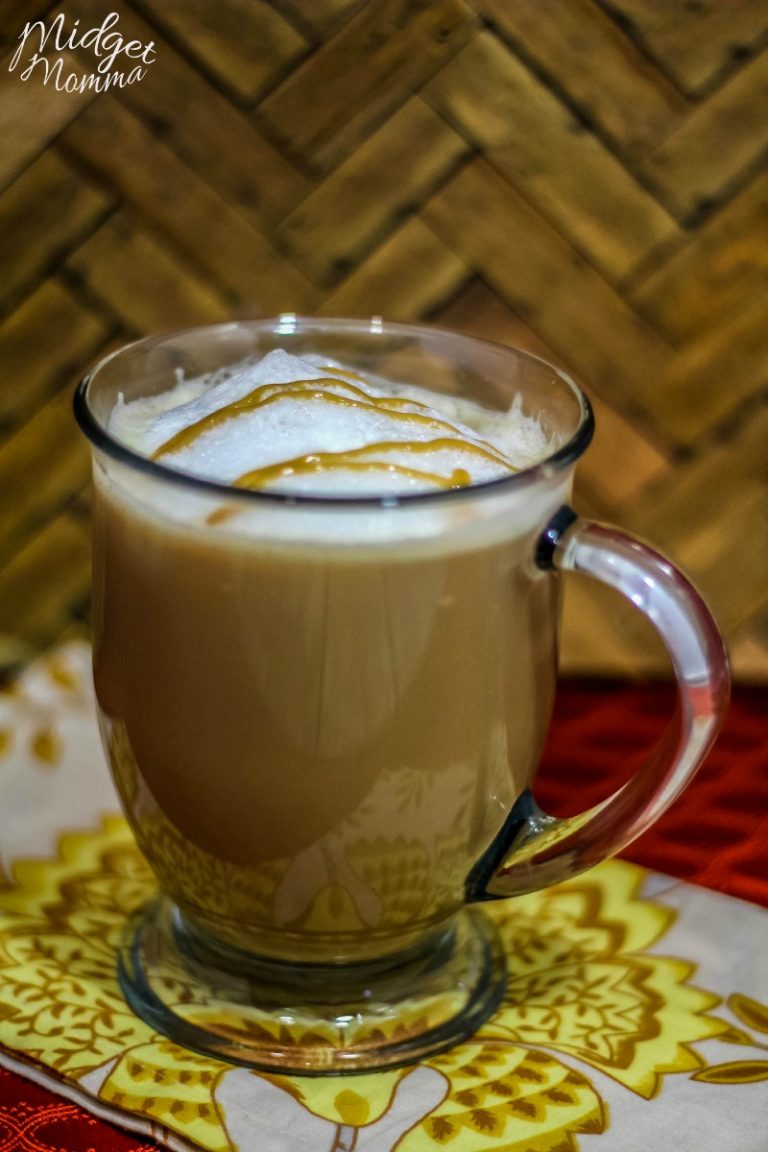 Do yourself a favor and print out the How Many Pints in a Quart? and other liquid measurements printable to help you with your measurements in the kitchen! I have mine hanging on my fridge. It makes a super easy cheat sheet for whenever I am cooking and need to use liquid measurements.
Join the newsletter
Subscribe to get our latest content by email.
This post may contain affiliate links. Please read my disclosure policy here