Over the last few years my husband has become a big Patriots fan. He even bought our son two jerseys for christmas this year. I thought some football chocolate covered strawberries would go great with the baseball chocolate covered strawberries.
What dad wouldn't love to get some food decorated in the style of sport he loves.If you are new to working with chocolate make sure you learn how to melt your chocolate , it is really easy to do with those step by step directions. You will need a very small piping tip to get these kind of details, I was able to find one here.
Football Chocolate Covered Strawberries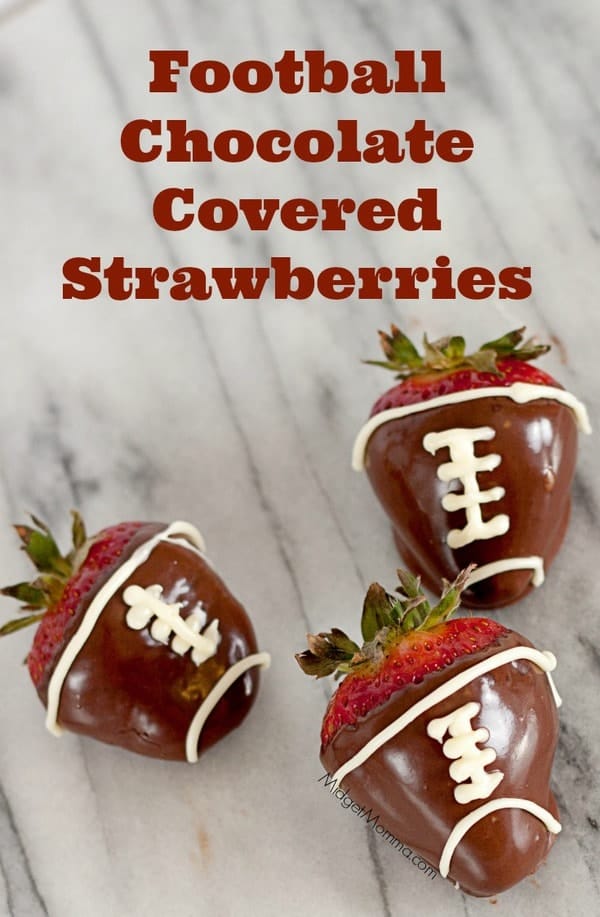 Football Chocolate Covered Strawberries Ingredients
1 pound of fresh, ripe but not too ripe strawberries
8 ounces of quality milk dipping chocolate
3 ounces of quality white dipping chocolate
double zero size round piping tip
freezer bags
Football Chocolate Covered Strawberries Directions
Thoroughly wash and dry your strawberries. To be certain they were dry I used a paper towel on each berry, including the green tops before dipping. You will want them to room temperature before dipping. Line a large tray with wax paper or a silicon mat. Melt your chocolate separately according to the package instructions. Dip the strawberries into the milk chocolate, after dipping carefully place each strawberry on the tray with enough space that they will not touch. Let the chocolate set up while you move on to the white chocolate. Cut the dip off of a freezer bag and place in the piping tip. Pour your white chocolate into the bag. Pipe two lines one on the top and one on the bottom on each strawberry. Adding a line down the middle of the strawberry and add four line across that line. Let set up full then cover or transfer to an airtight container and store in the refrigerator. Best when enjoyed the same day.