Dark Chocolate and Nonpareil dipped Strawberries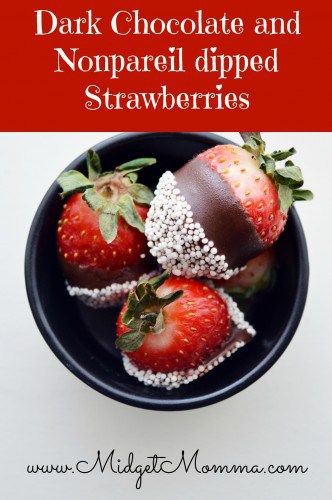 Dark Chocolate and Nonpareil dipped Strawberries Ingredients:
1 pound of fresh, ripe but not too ripe strawberries
8 ounces of quality dark chocolate
½ cup white nonpareils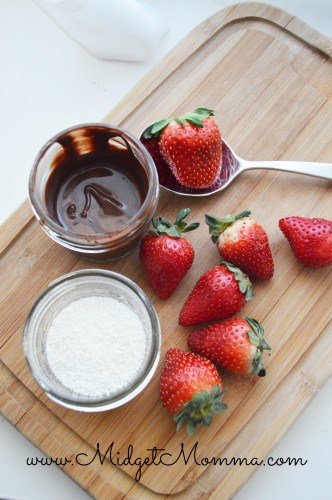 Dark Chocolate and Nonpareil dipped Strawberries Directions:
Carefully wash and hand dry your strawberries. To be certain they were dry I used a paper towel on each berry, including the green tops before dipping. You will want them to be at room temperature before dipping. Melt your chocolate according to the package instructions. Have a tray lined with wax paper ready to go along with your chocolate and nonpareils in bowls that can easily be dipped into before starting. Moving quickly dip the strawberries into and swirl in the dark chocolate then into the nonpareils before the chocolate starts to set. (The chocolate will harden faster than you might expect-in only a few minutes). After dipping carefully place each strawberry on the tray with enough space that they will not touch. Let set up full then cover or transfer to an air tight container and store in the refrigerator. Best when enjoyed the same day.