For my daughter's first birthday we decided to go with a Minnie Mouse theme. I knew rice Krispie treats would be an easy treat to make for the dessert table so I made this Minnie Mouse Rice Krispie treats.
I wanted to make them look extra special so I figured some pink chocolate would do the trick. Make sure you check out this post on how to melt dipping chocolate. I found the Mickey cookie cutter here. I was able to find the pearl sprinkles through Wilton here.
Chocolate Covered Minnie Mouse Rice Krispie Treats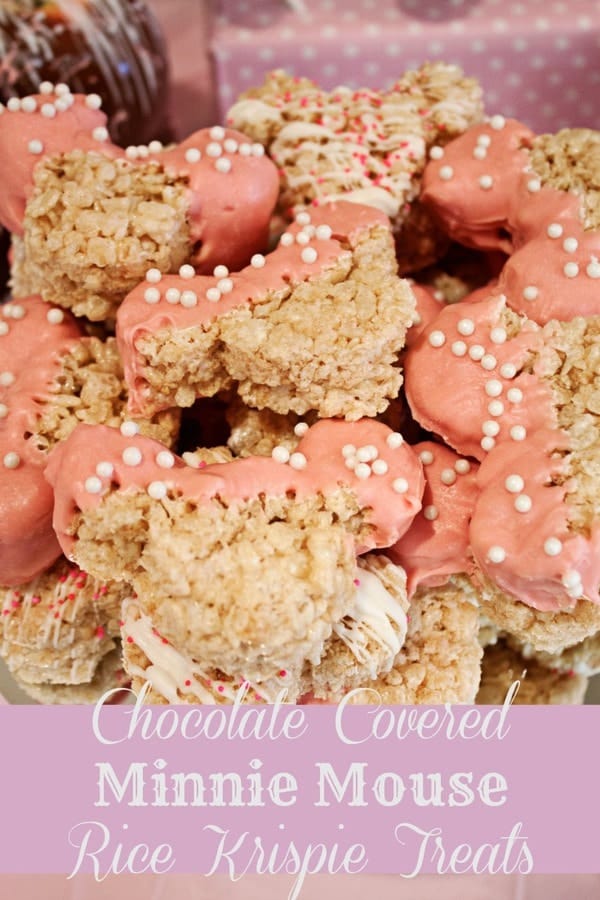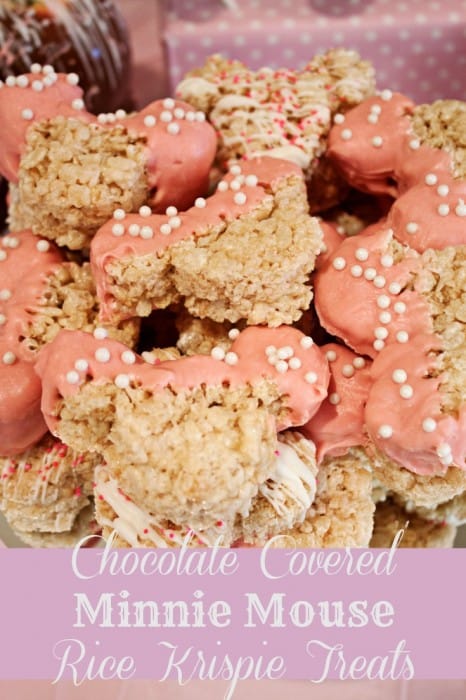 Chocolate Covered Minnie Mouse Rice Krispie Treats Ingredients
3 tablespoons butter
1 pack (10 oz) Marshmallows
6 cup Rice Krispies cereal
Baking spray
1 bag pink dipping chocolate
white pearl sprinkles
Chocolate Covered Minnie Mouse Rice Krispie Treats Directions
Get a large pot and heat your stove on low heat. Melt the butter. Once the butter is melted add in the marshmallows and stir until they are melted. Once melted remove from heat.
Gently stir in your rice Krispies until they are well combined.
Spray the cookie sheet with the cooking spray and press the rice krispie mixture into the cookie sheet. Allow the rice Krispies to cool.
Using the Mickey Mouse Head cookie cutter begin cutting out Minnie and then place the rice krispie Minnies on a clean cookie sheet.
Melt your chocolate in a double boiler.
Dip the ears of the Minnies into the chocolate and sprinkle the wet chocolate with the pearls. Set them on a piece of parchment paper to dry.
Place the Minnie treats onto a platter and enjoy!
Tips for Making Rice Krispie Treats
Prevent Sticking. When you are making these line your baking dish with greased parchment paper. If you don't have parchment paper on hand make sure you grease your baking dish well. I use nonstick baking spray to grease my baking dishes and parchment paper.
Do not pack rice krispie treats mixture in to the pan. To achieve soft, and chewy while being crispy marshmallow rice krispie treats you want to be gentle when pressing the mixture into your baking pan.
Use a silicone spatula. I find it best to use a silicone spatula or spoon and spray it generously with non stick spray. Then I gently spread with out pushing down hard, the cereal and marshmallow mixture into my baking dish. This gives the perfect rice krispie treats with out them being hard.