I have always dreamed about going to Paris and to be able to stand in front of the Eiffel tower. My husband was on a deployment to Germany that gave me the chance to visit him and us to take a quick little trip over to Paris. It was dreams come true but, little did I know how confusing it would be Getting Around In Paris when you didn't know the language. Yes I could have taken the time to study the language before I went but we were only going for 3 days and I am a busy mom of two toddlers who doesn't even get a second to go to the bathroom alone.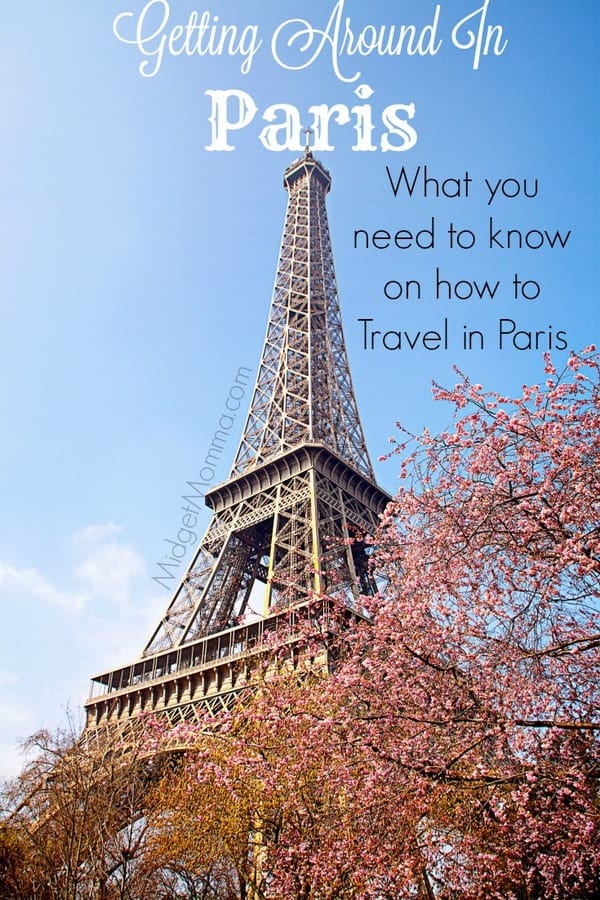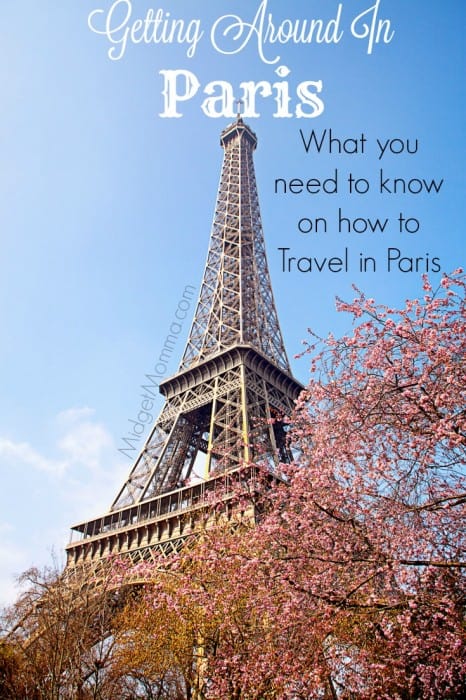 I was very excited to see how much English people spoke, being in a different country and having people speak the language I know helped a lot when it came to getting around in Paris. These are my tips on getting around in Paris, so that when you take your trip you can know ahead of time the different ways to travel in paris along with the ways to travel to your hotel from the airport in Paris.
Getting Around In Paris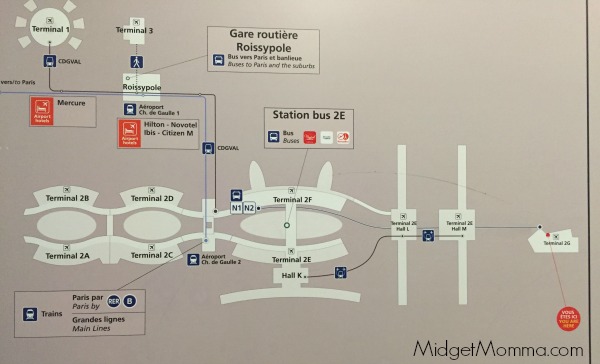 Getting Around In Paris From The Airport
Hotel Shuttle– If you are staying at on of the larger hotels they might provide a shuttle right from the airport to your hotel. You will need to contact your hotel to let them know that you landed and are in need of a shuttle. This is good thing to find out if your hotel provides a shuttle before you arrive in Paris.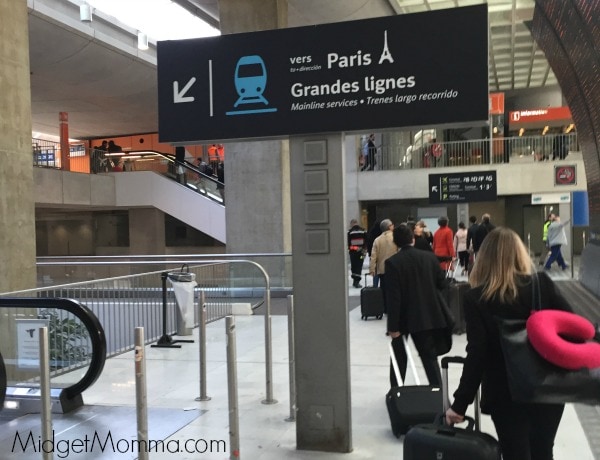 Taxi– When you enter the terminal you will find a taxi area. There you will be able to hope on a taxi on a flat rate to Paris for around 55 Euros. This will be the simplest way to get to your hotel if they don't offer a shuttle.
Train– When you are exiting the terminal you will need to get to the main terminal. If you are not in the main terminal you will take a bus to the main terminal. Once there you will need to follow the signs to the train station. You will find escalators to the left in the main building. You will follow that hallway down until you reach a second set of escalators, you will follow those all the way down to the bottom floor. Than you will be in the main station. You will see ticket machines where you will be able to buy a one way ticket or a round trip ticket. If you are not sure what line you need there is a information center in the middle of the station. If you are going into the city you will want to hop on the blue cars so you will have less stops.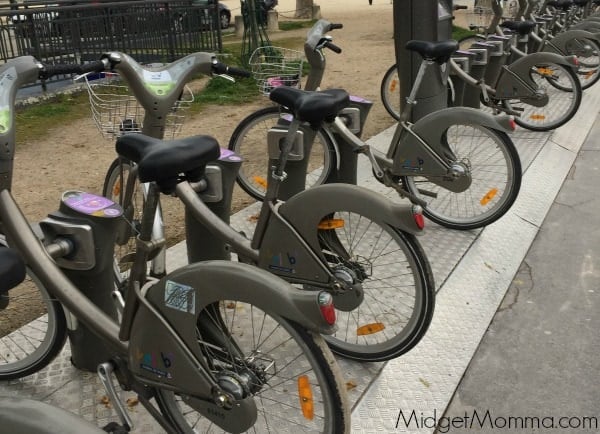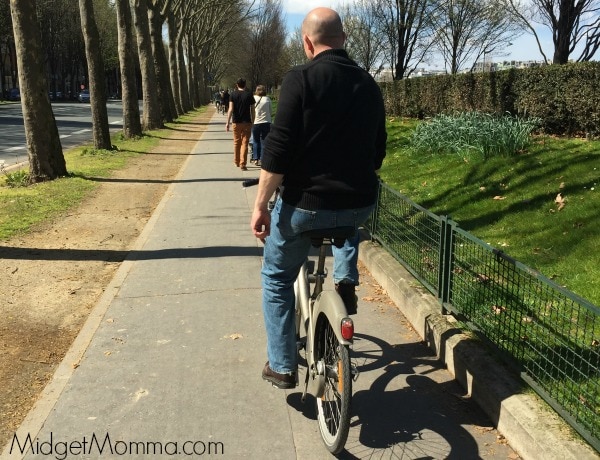 Getting Around In Paris Around town
Rental Bikes– You will see these stands set up with all of the same bikes lined up. These are found all through out the city so you can rent a bike from one spot and return it to another area. This is a great way to see the area and get a fun workout in. You will need to buy a pass its only $1.80. Once you have your pass you will be able to rent your bike. If you return your bike every 30 minutes to any station you will not be charged but if not you will have a charge every 30 minutes.
Bike Carts– When you are around any tourist attraction you be able to hop on a cart that is driven by a person on a bike. They have a card they hold up with a price list. The biggest tip I can offer is don't settle for the price they first offer. We had a few people offer us rides but we kept turning them down. They would slowly drop down there price. After a few people we had someone offer us 20 euros each but than dropped it down to 15 euros for both of us. Than we had bad luck and the bike broke so my husband and the man tried to fix it but they couldn't.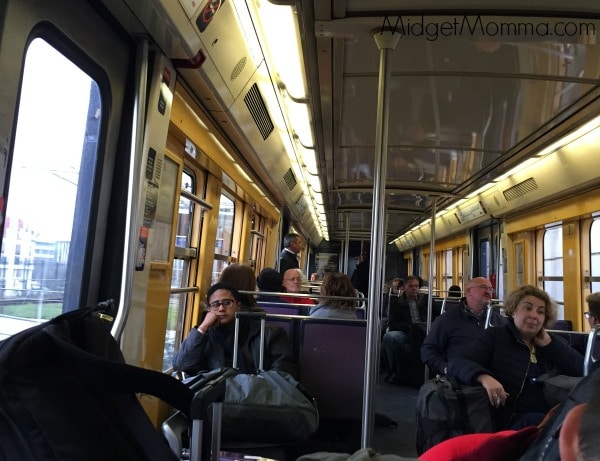 Metro Station– The subway station is known as a metro station. You will still need to get your tickets at a ticket machine. You will hop on your line that you need.
Walking– We had no clue about getting around when we first got there. We thought walking from the Eiffel tower to Notre Dame would be short. We had no clue it would take so long to get there. But during this very long walk we ended up seeing one of the best parts of the city we would have never seen if we were in a taxi or bus.
I hope these tips help you with Getting Around In Paris when you take your trip there.