If you are looking for an amazing and tasty treat then you are going to love this Mason Jar Keto Ice Cream! Even better this Strawberry Vanilla Keto Ice Cream takes about 5 minutes to make and then the hard part is waiting for it to be ready.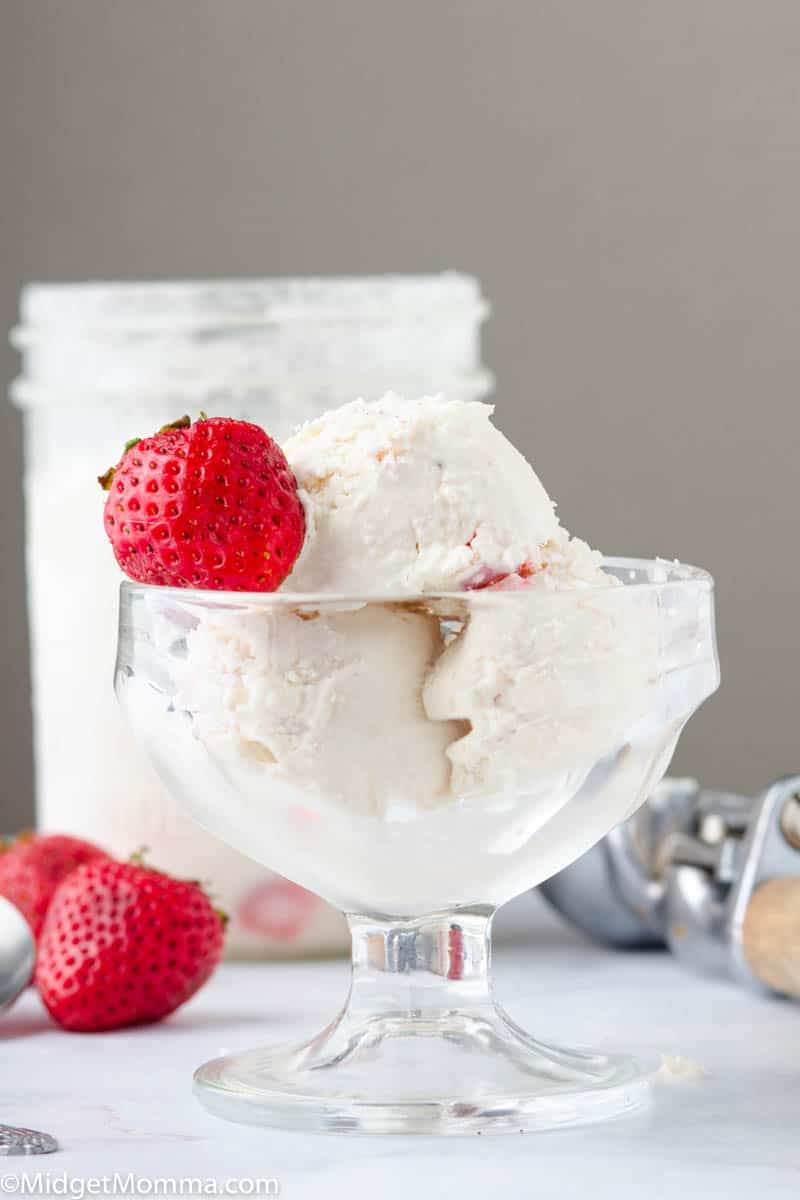 Keto Strawberry Ice Cream
It is crazy hot outside and the one thing everyone has been enjoying is cool treats. I love ice cream and I love having cool treats during the hot days. Thankfully even while sticking to low carb I can still enjoy cool treats with everyone else in the house!
This low carb ice cream takes about 5 minutes to prep and then you just stick it in the freezer. I like to top mine with some homemade whipped cream and extra strawberries!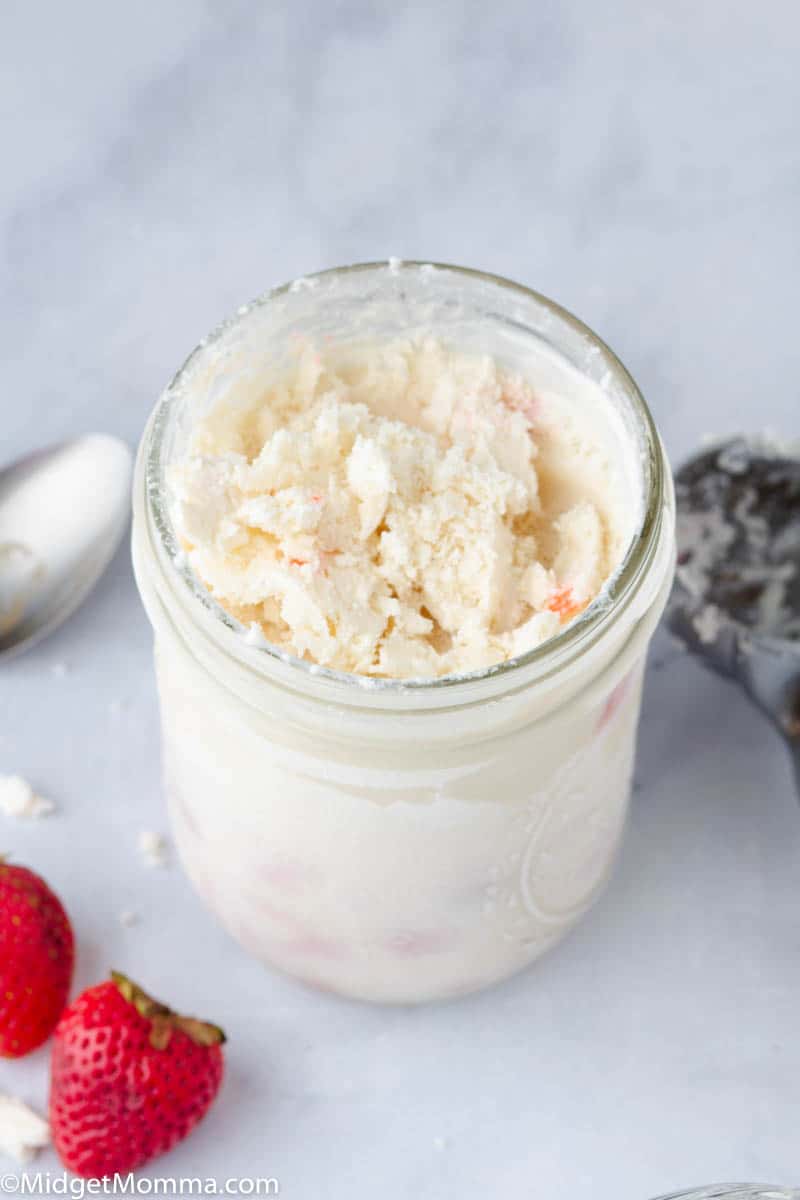 I have been putting the kids to the testing when it comes to desserts because if they like it, chances are most people are going to like it. When we made this Keto Strawberry Ice Cream the kids tasted it before I even got it in the freezer. A few of them wanted me to let them just eat is as is, before actually becoming ice cream. And one ran off with a huge spoonful!
If you are looking for a way to add some extra fat to your macros, this keto strawberry ice creams is perfect. It is also perfect if you are just wanting a sweet treat, or your family is having ice cream night. If you love ice cream then you totally need to try out keto chocolate ice cream.
Easy Keto Desserts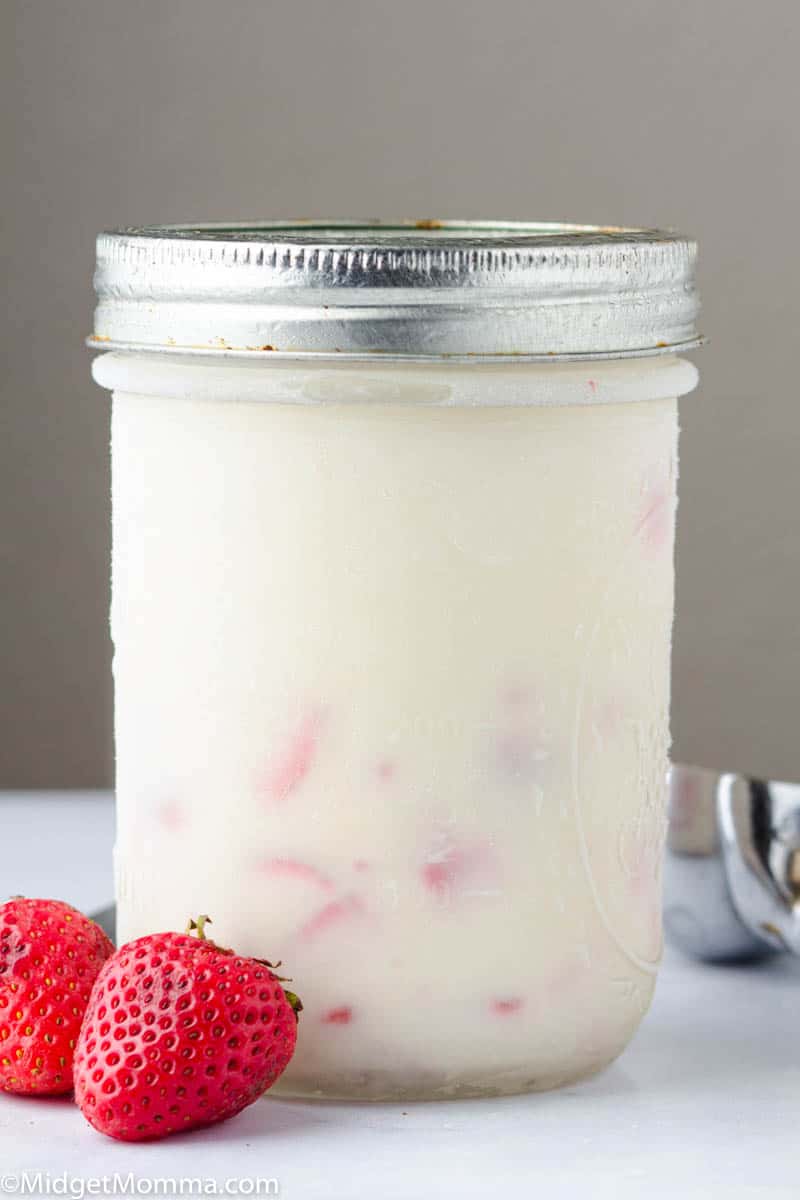 Fresh or Frozen Strawberries?
I like to use fresh strawberries. If you want to use frozen strawberries you totally can, I do suggest letting them thaw for a little bit before using them so you get some extra strawberry juices in your mason jar keto ice cream.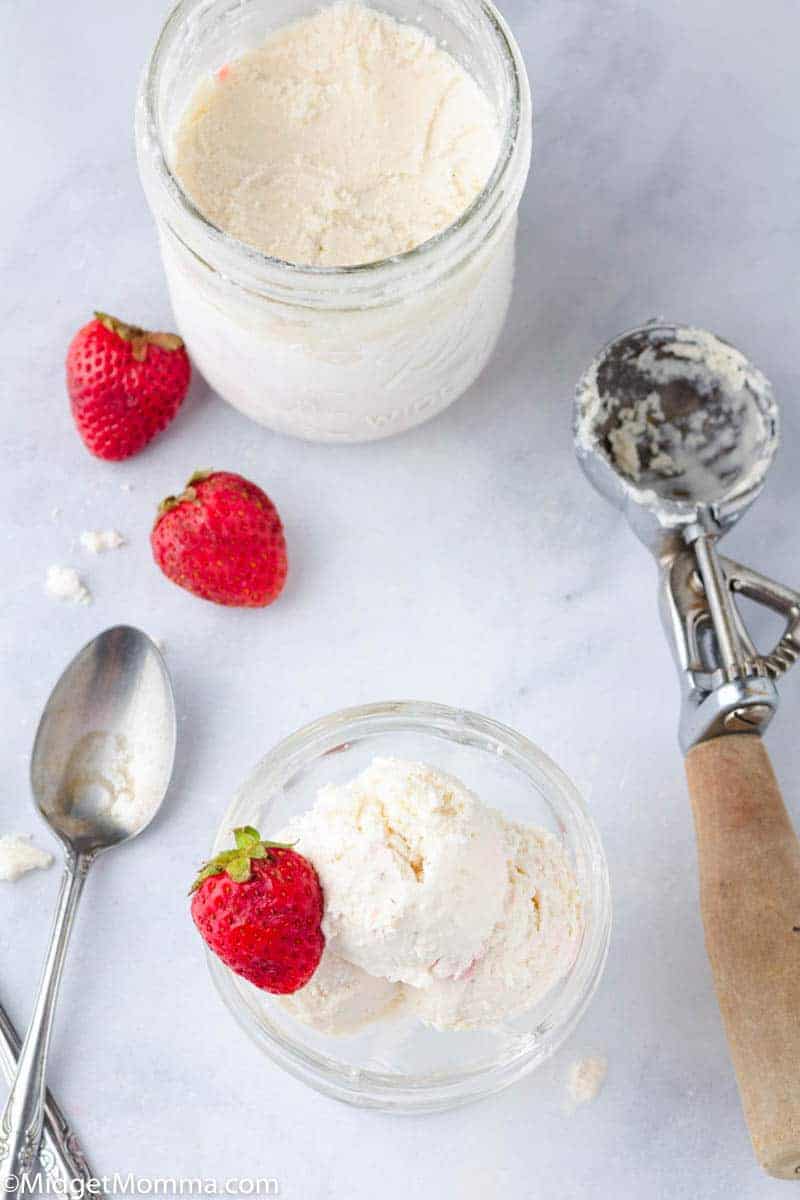 Tips for Making this Recipe
This homemade Keto Ice Cream needs nothing other then the ingredients and a knife, a cutting board and a mason jar to make. I love when recipes are easy and have very little clean up!
You can use homemade vanilla or store bought vanilla. I personally use homemade vanilla because we always have it in our house, since it is so easy to make.
If you are making this homemade keto ice cream with the kids, the 5 minutes of shaking the mason jar is the perfect task for them!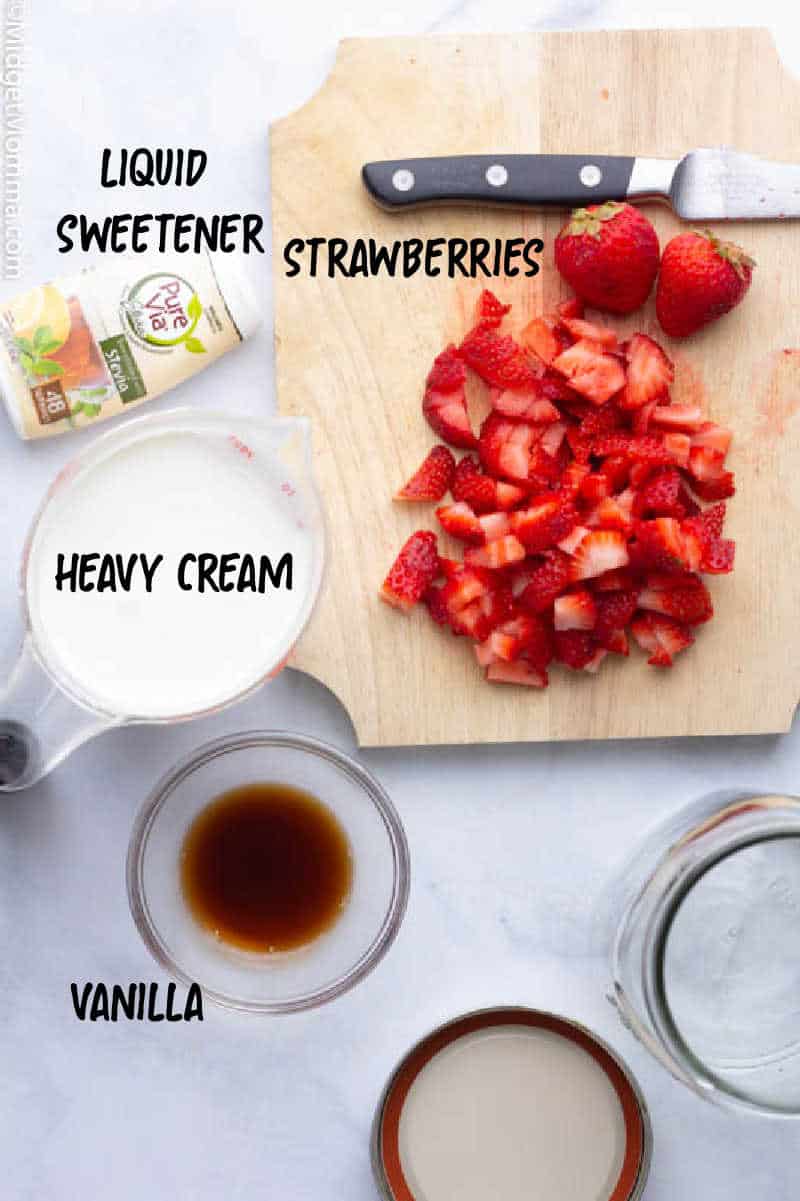 Keto Strawberry Ice Cream Ingredients
Heavy Cream
Fresh Strawberries
Vanilla extract
liquid stevia
How to Make Mason Jar Keto Ice Cream
Making keto ice cream is super easy. Just add the ingredients to a mason jar, shake it up and then put it in the freezer.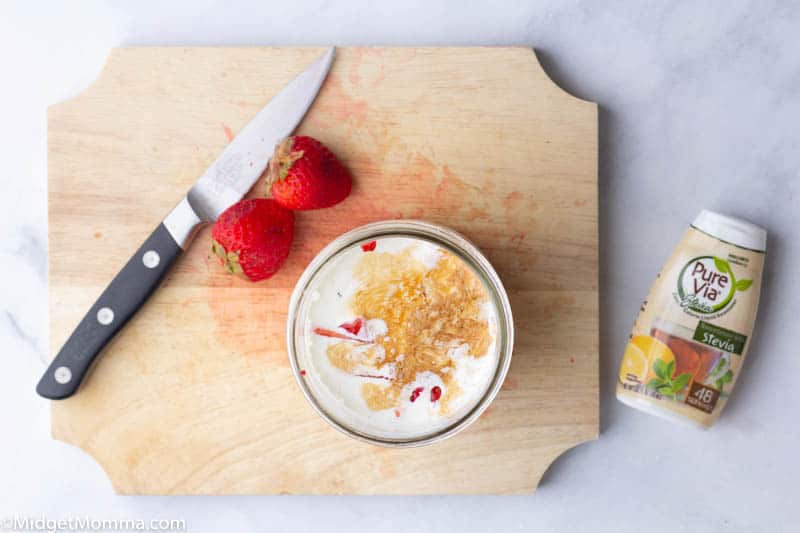 If you want to pour it into an ice cream pan, like this Insulated Ice Cream Container instead you totally can. I just like to make things as easy as possible.
Before enjoy this low carb ice cream, remove it from the freezer and let it sit on the counter for about 10 minutes to soften up.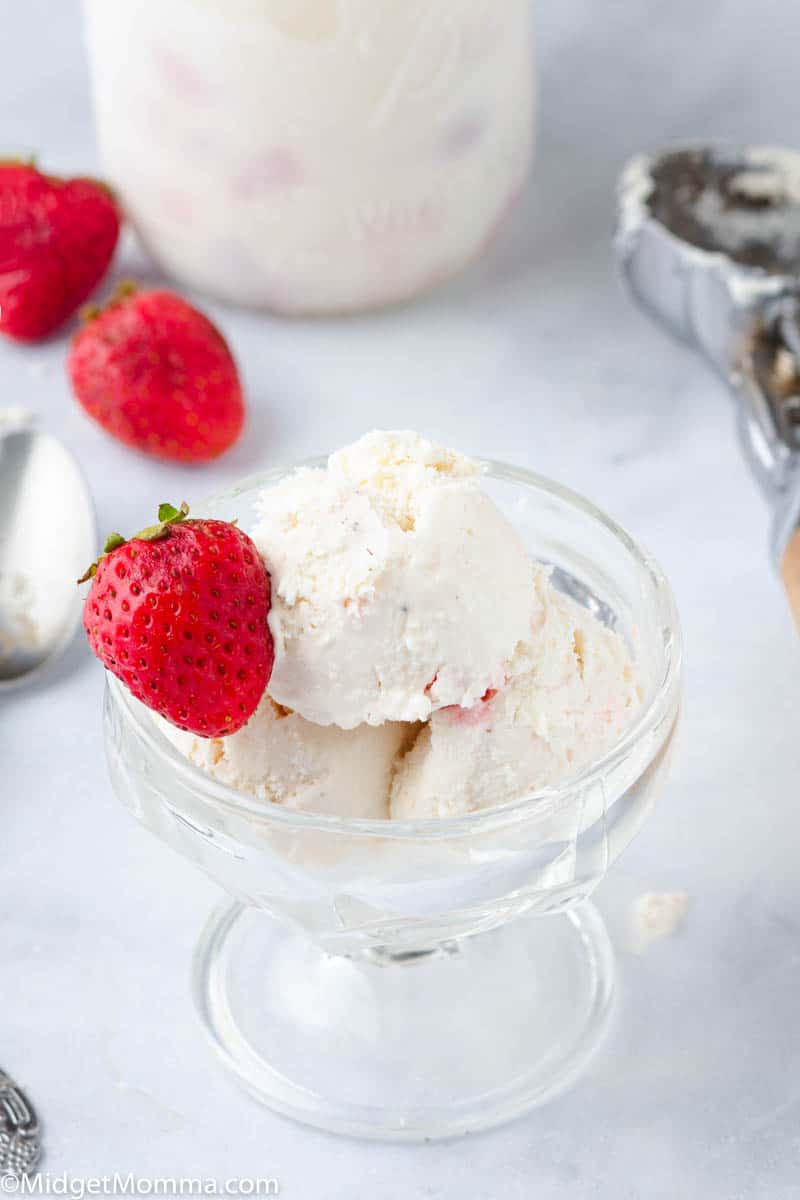 Keto Summer treats you will love!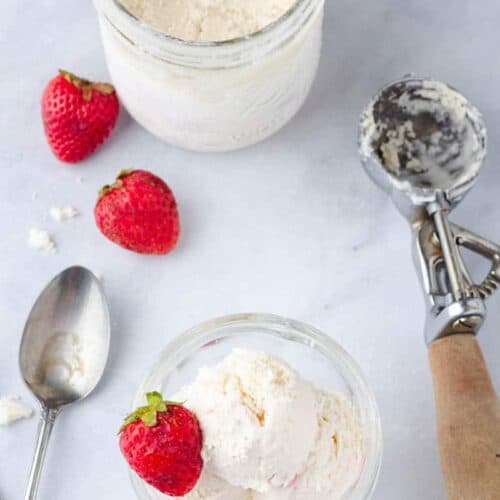 Strawberry Homemade Keto Ice Cream
Servings
If you are looking for an amazing and tasty treat then you are going to love this Homemade Keto Ice Cream!
Instructions
Cut your strawberries into pieces.

Pour Heavy cream into mason jar.

Add strawberries to mason jar.

Add vanilla to mason jar.

Add Liquid Stevia to mason jar.

Close lid tight on Mason jar and shake vigorously for 5 minutes.

Leave top on mason jar and put in freezer for 2-3 hours.
Calories: 292kcal | Carbohydrates: 6g | Protein: 1g | Fat: 29g | Saturated Fat: 18g | Cholesterol: 108mg | Sodium: 30mg | Potassium: 132mg | Sugar: 2g | Vitamin A: 1165IU | Vitamin C: 28.7mg | Calcium: 59mg | Iron: 0.2mg
homemade keto ice cream, Strawberry Homemade Keto Ice Cream, Strawberry keto Ice Cream
Dessert, keto
13 Weight Watchers SmartPoint on the Freestyle Program.
Tasty Keto Recipes you will love!
20 Keto Casserole Recipes – Casseroles make dinner time easy! These Keto Casserole Recipes are ones my whole family loves!
Keto Seafood Recipes – 20 Keto seafood recipes that are totally amazing! All of these seafood recipes are easy to make and taste great!
Keto Chicken Recipes – Over 30 Keto Chicken Recipes that are easy to make! You will never be bored making keto chicken recipes with this list!
Keto Chicken Bacon Ranch Recipes – If you love the chicken bacon ranch flavor combo then you will love this awesome keto recipe list!
Keto Spaghetti Squash Recipes – Spaghetti squash is such a tasty veggie, add in the different ways of cooking and making spaghetti squash with these recipes and your whole family will love spaghetti squash!
Keto Breakfast Recipes– Stuck on what to eat for breakfast? There are a lot of tasty Keto breakfast recipes (not just eggs) that are super tasty!
Keto Instant Pot Recipes – Tasty Recipes that you can cook quickly in your instant pot!
Keto Soup Recipes – Soup is great for lunch or dinner, Plus it is perfect on chilly days too!
Low Carb Shrimp Recipes. – If you love shrimp then you are going to love these tasty low carb shrimp recipes with everything from baked shrimp to fried shrimp and more!