These Keto Chocolate Almond Clusters combine amazing chocolate, with almonds and sea salt to give one amazing keto friendly chocolate treat.
If you are looking for more keto friendly desserts then make sure you also check out this amazing low carb keto friendly blueberry cobbler!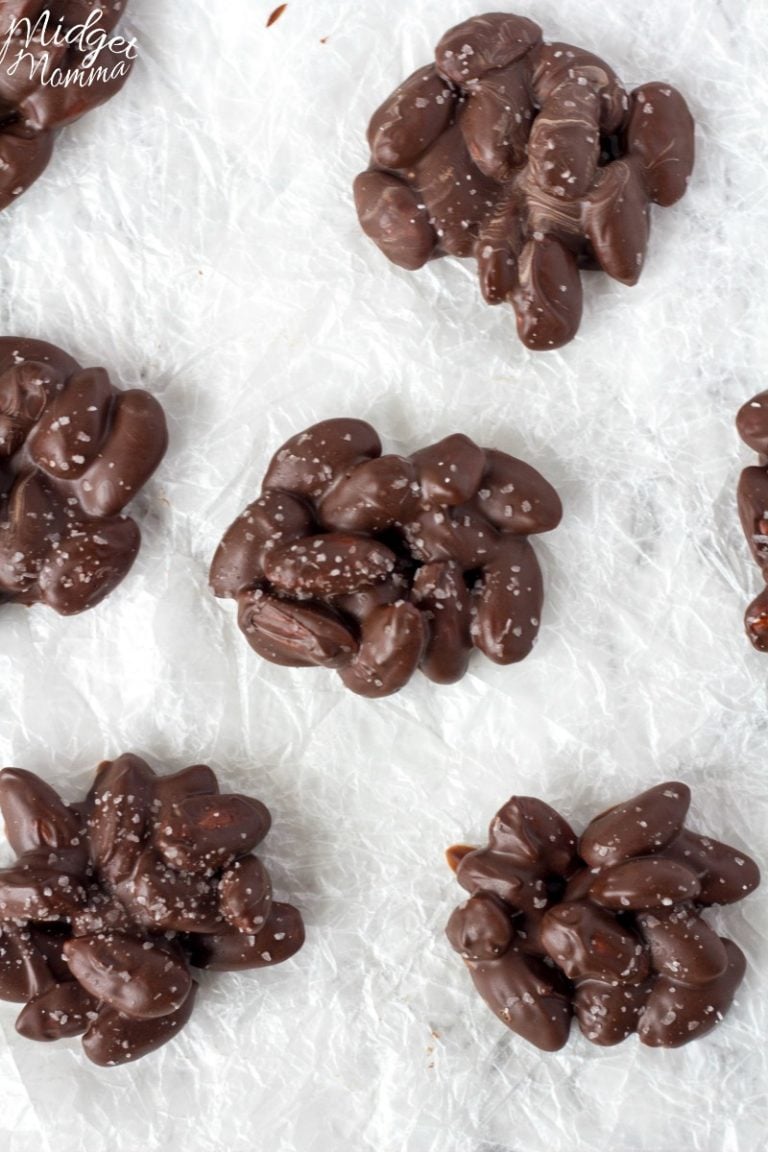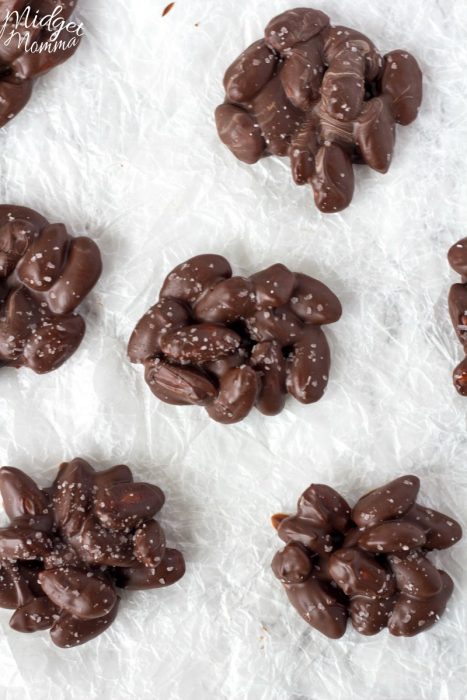 Chocolate is a weakness for me, I have loved amazing and good chocolate for as long as I can remember. One thing I love to enjoy is Hershey's bar with almonds. Oh my are they good! Buuuuutttt they are so not keto friendly. I had to come up with something chocolate and keto friendly that would give me what I was wanting when ever the craving would hit me. Bring on these amazing Keto Chocolate Almond Clusters!
Even though I know how to make chocolate bars, I wanted the focus to be on the almonds because that is a healthier option. It is also much lower in carbs with out losing the flavor when there is more almonds then chocolate. This Keto Chocolate Almond Clusters recipe is one of my favorite easy and low carb chocolate desserts. Yes I count chocolate bars as desserts, they are my favorite! 🙂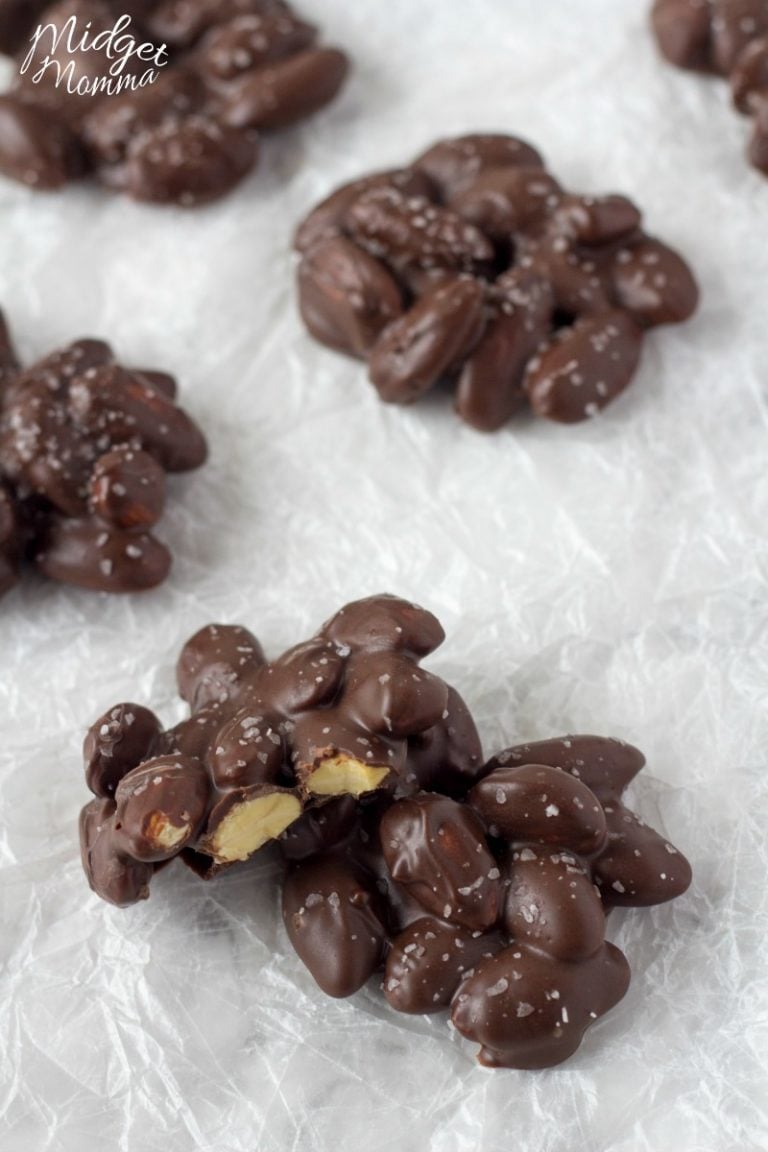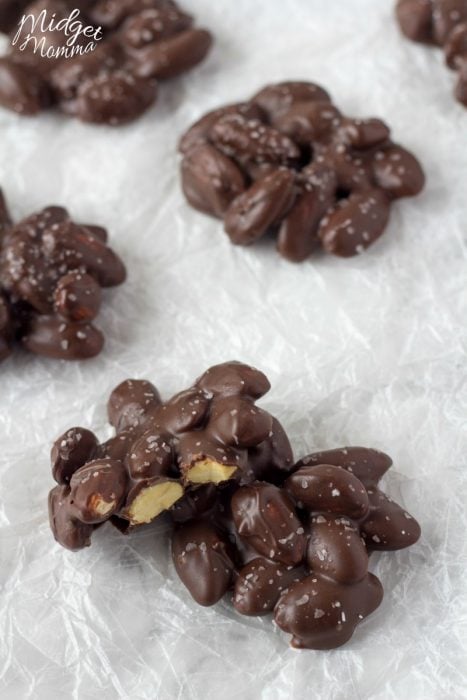 The secret to making these Chocolate Almond Clusters is the sea salt. I watched an episode of good eats where he explains why salty and sweet go together so well I tend to want to add salt to my sweets. This helps to bring out the sweet flavors and mask some of the bitter flavors. The mix of salty with sweet and the almonds gives such an amazing flavor. If you do not normally like dark chocolate because it is so bitter compared to milk chocolate, adding the salt will trick your taste buds into thinking you are eating a sweeter chocolate.
To make this a keto friendly chocolate treat, you need to use a low carb chocolate. Personally I like the Lily's Dark Chocolate Premium Baking Chips. You can also make these Keto Almond Clusters using Ghirardelli Chocolate Intense Dark Squares or Green & Black's Organic Dark Chocolate.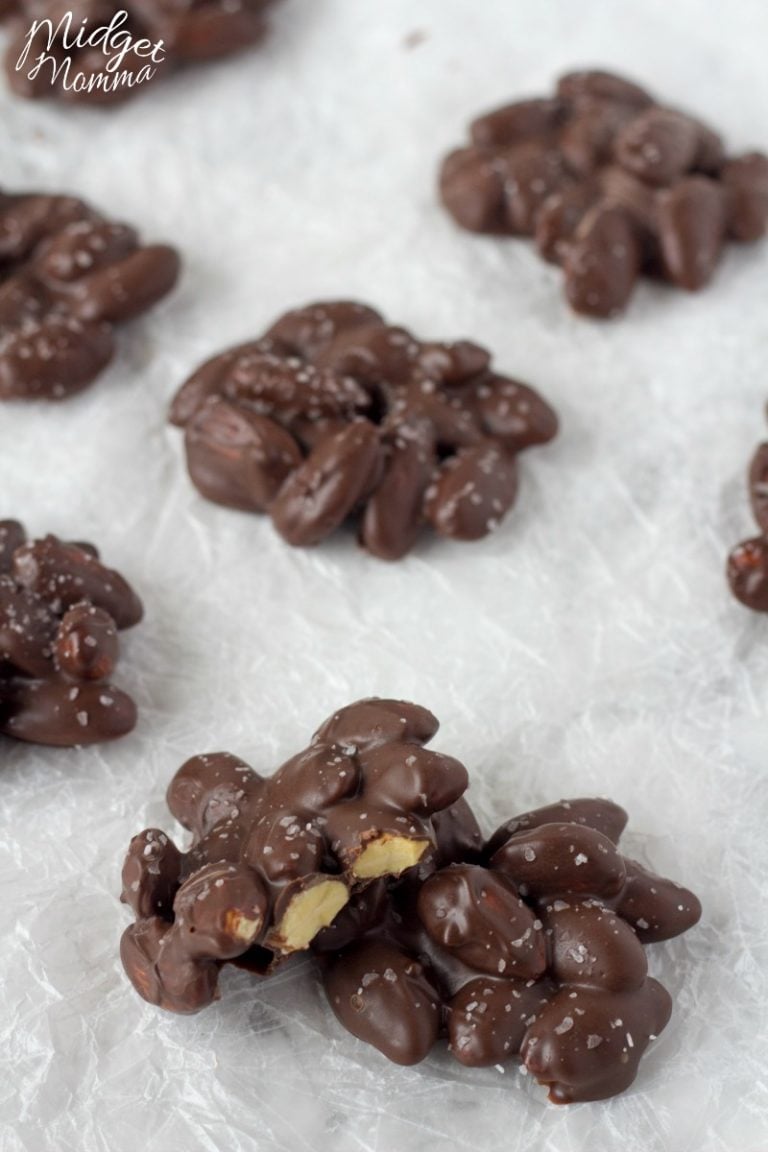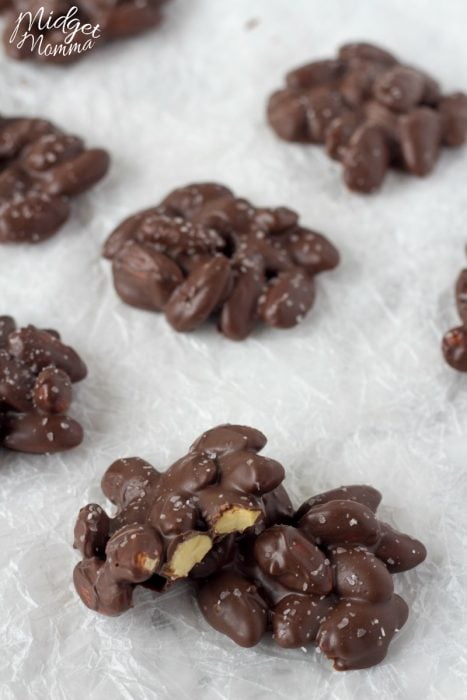 A typical serving of Almonds is roughly 23 almonds, or a 1/4 cup. When making these almond clusters you want to have 11- 12 almonds per cluster. You will end up with 16 Almond clusters with this recipe. You can make the clusters smaller and adjust the carb count for how big yours are. I personally like to have a bigger treat. 🙂
 How to Make Keto Chocolate Almond Clusters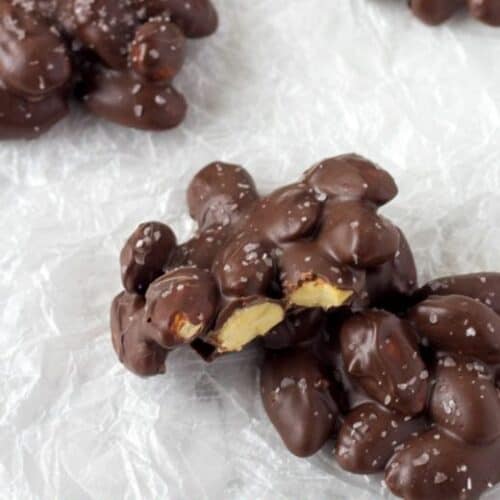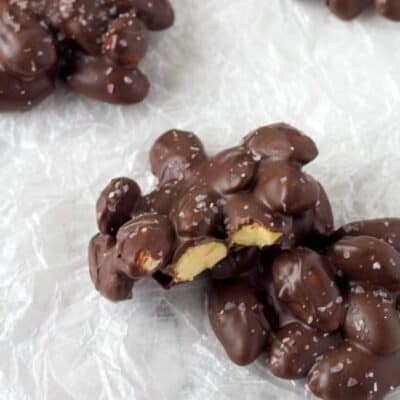 Chocolate Almond Clusters
Keto Chocolate Almond Clusters are the perfect Keto Chocolate treat to fix that chocolate craving. Easy to make chocolate keto treat that is one of our favorites!
Print
Pin
Rate
Servings: 16
Instructions
Chop your chocolate into small pieces and place the chocolate in your microwave safe bowl.

Microwave on high in 30-second intervals till the chocolate is fully melted, making sure to stir after every 30 seconds.

Once the chocolate is fully melted toss the almond with the chocolate until they are completely coated in chocolate.

Scoop the almond mixture out a tablespoon at a time onto a parchment lined sheet pan. Sprinkle the top of the clusters with the salt.

Place in the refrigerator for 30 minutes to cool set the chocolate.

Store in an airtight container for up to three weeks.
Notes
Remember that when using Lily's Chocolates they have erythritol which you need to subtract from the carb count. After subtracting dietary fiber and erythritol these Almond Clusters have just 1 net carb per serving! Each serving is for 1 Almond cluster. Net Carb calculations - 8g carbs - 3g erythritol - 4g dietary fiber = 1 net carb
Nutrition
Calories: 152kcal | Carbohydrates: 8g | Protein: 4g | Fat: 11g | Potassium: 126mg | Fiber: 4g | Calcium: 47mg | Iron: 0.7mg
6 Weight Watchers SmartPoints per serving on the Freestyle Program
Gotta clean up after cooking? Check out this FREE Mrs. Meyer's cleaning products deal!
If you are looking for awesome deals on Keto Friendly products live Swerve, Miracle Noodles, Lily's Chocolate and more then head on over here to Thrive Market! You can order all your Keto goodies online AND save 20% off your first 3 orders!
More Keto to check out:
Make sure you also check out this Keto Shopping list for Aldi! It will totally make your shopping for Keto items so much easier!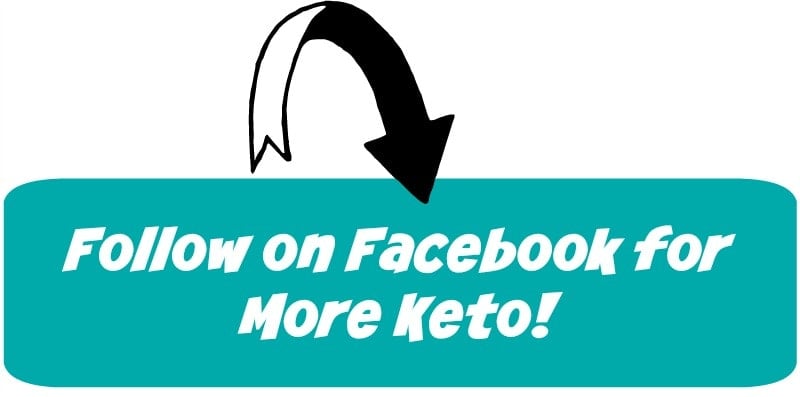 More Tasty Keto Desserts you will love!
Keto Chocolate Macadamia nut Clusters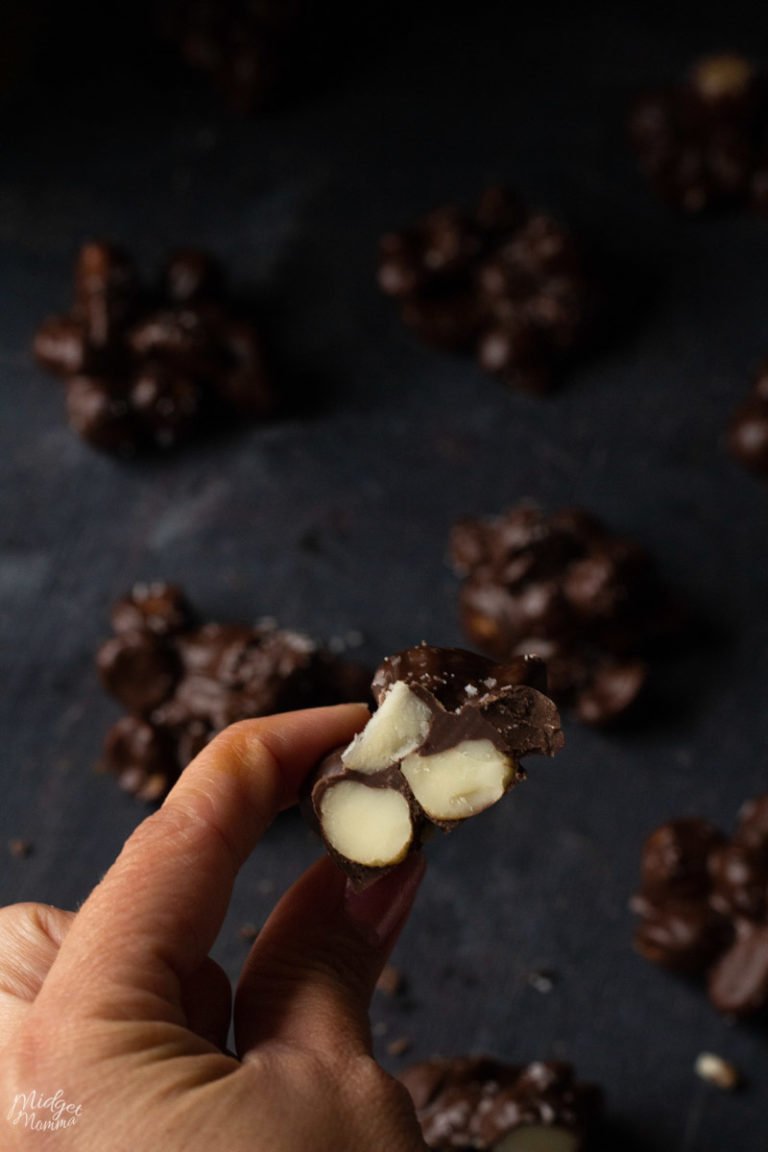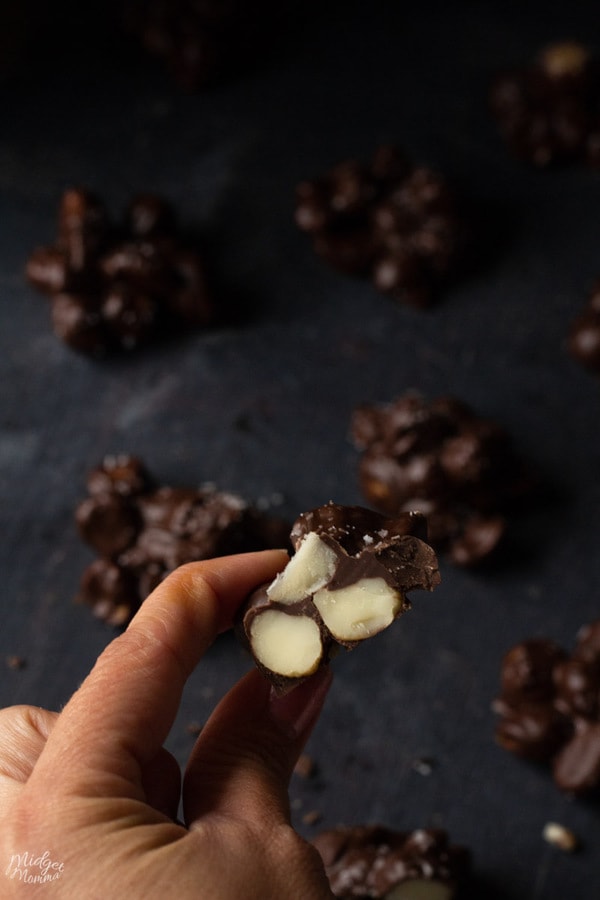 Sugar Free Chocolate Peanut Butter Eggs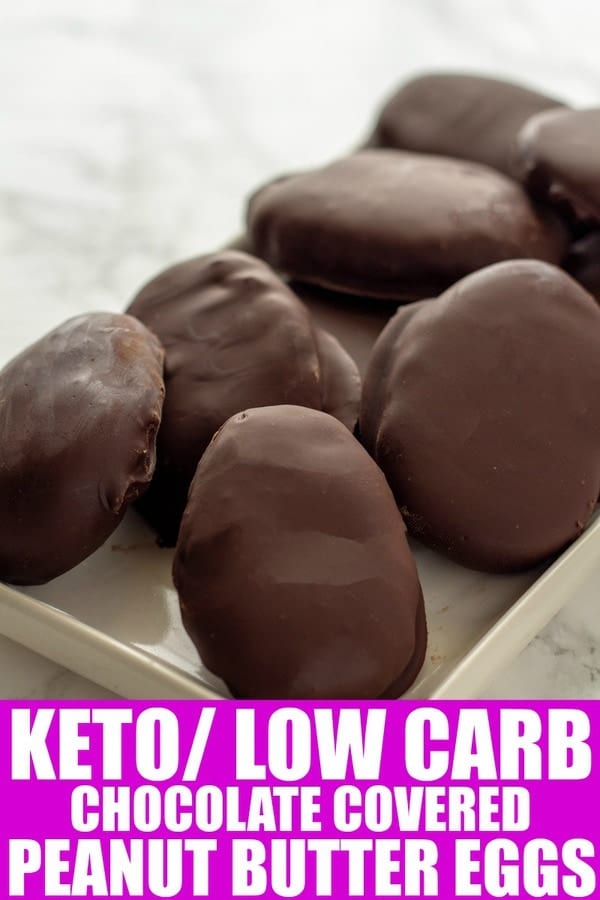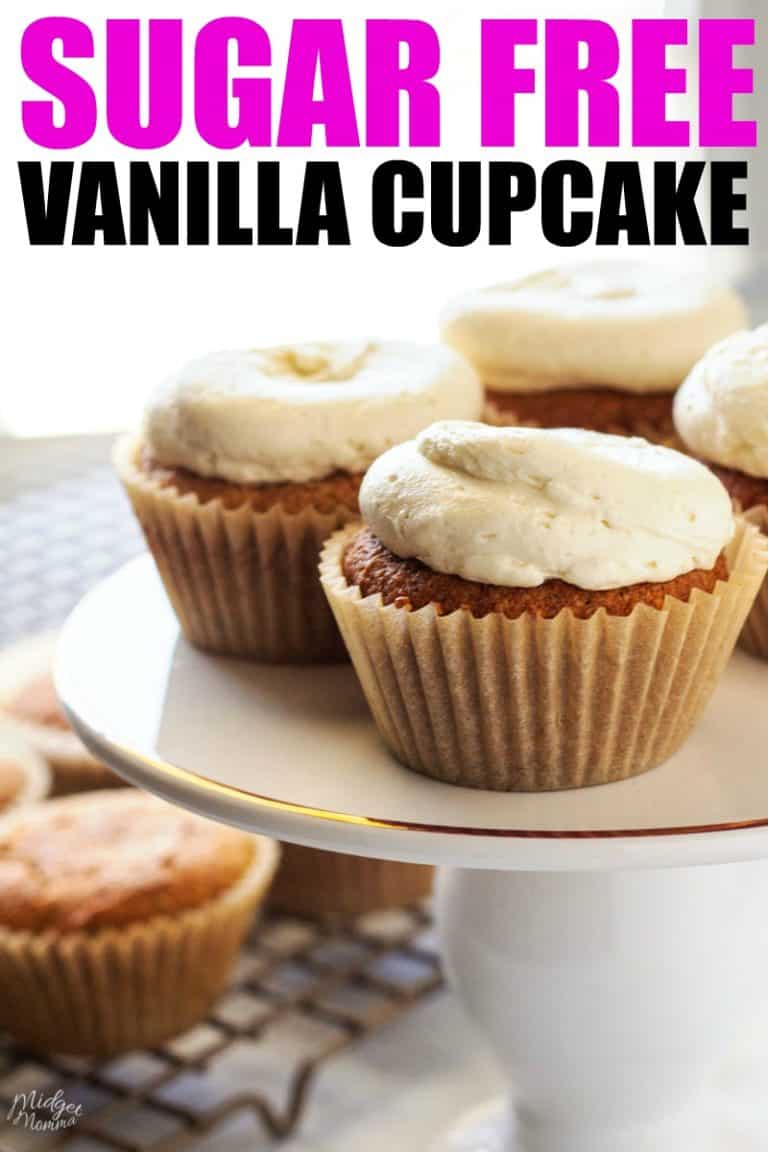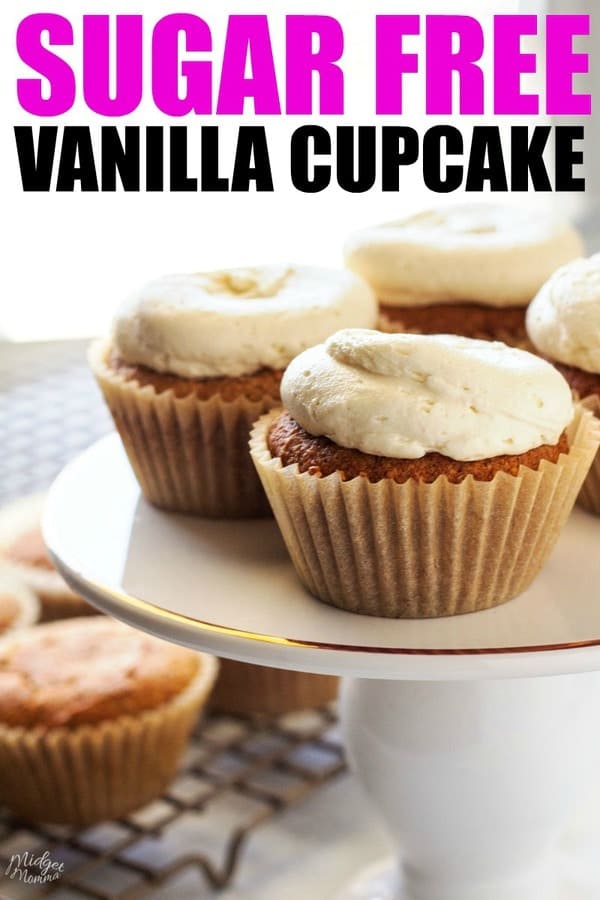 Keto Cookie Recipe – No bake Chocolate Peanut Butter Coconut Pecan Cookies