If you are looking for an amazing beef crockpot recipe then you are going to LOVE this Slow Cooker Barbacoa Recipe! Barbacoa is an easy slowcooker recipe to make. All you need is chuck roast, beef broth and a few spices, most of which you probably already have in your pantry.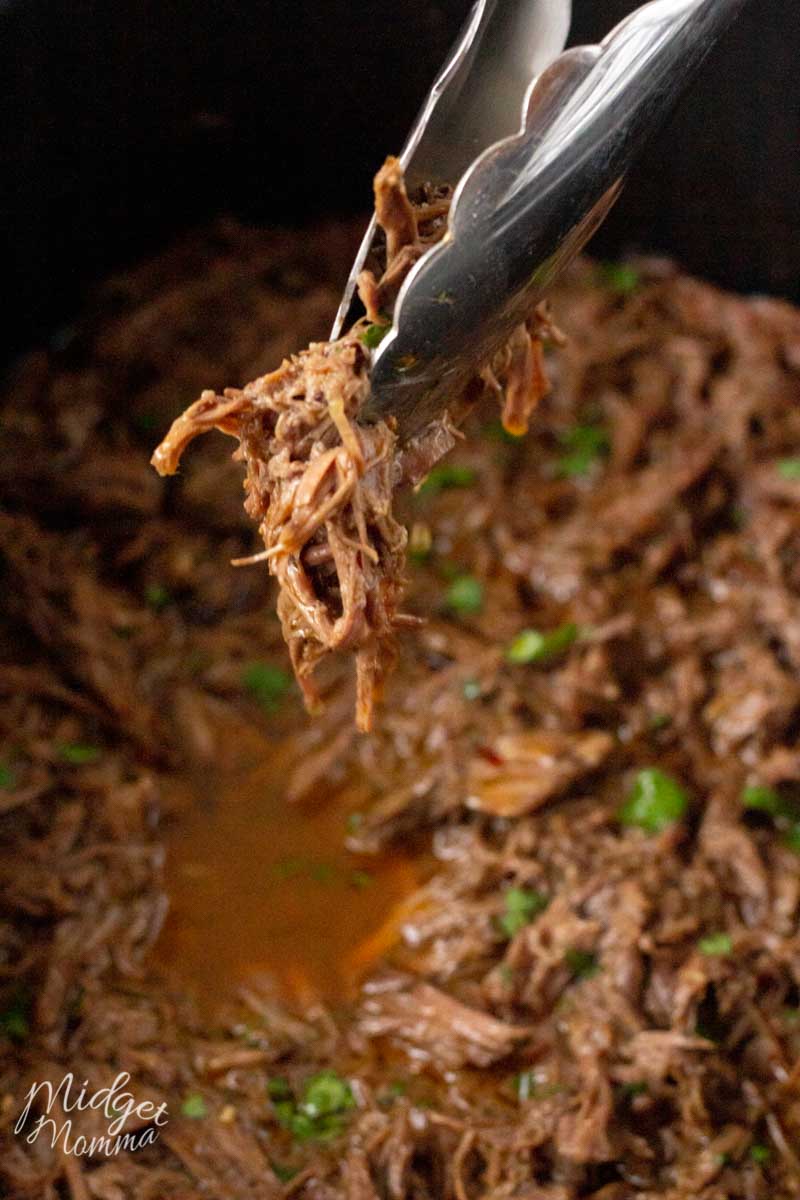 Crockpot Barbacoa Recipe
This slowcooker beef recipe combines two of my favorite things when it comes to cooking: Easy and Crockpot! This Crockpot Barbacoa slow cooks all day and then gives you the most tender beef you have ever had when it is done.
Oh and if you are wondering about clean up. That is super easy too!
If you have been wondering about how to make Barbacoa at home you are in luck! Once you make this amazing beef crockpot recipe, I am sure you will be adding it to your meal plan on a regular basis!
One of the biggest things I miss about living in New Jersey is Chipotle. When we are traveling if I see a Chipotle, we stop. The food is SOOOO good! However since we do not have a Chipotle close to us I have had to come up with things to make at home that remind me of their delicious food. One of those tasty things being Chipotle Barbacoa.
If you are a fan of Chipotle Barbacoa then you are going to love being able to make this Barbacoa recipe at home! You are also going to love that it is SUPER simple to make and there is so little work needed to give you an amazing tender and flavorful meal when it is done cooking!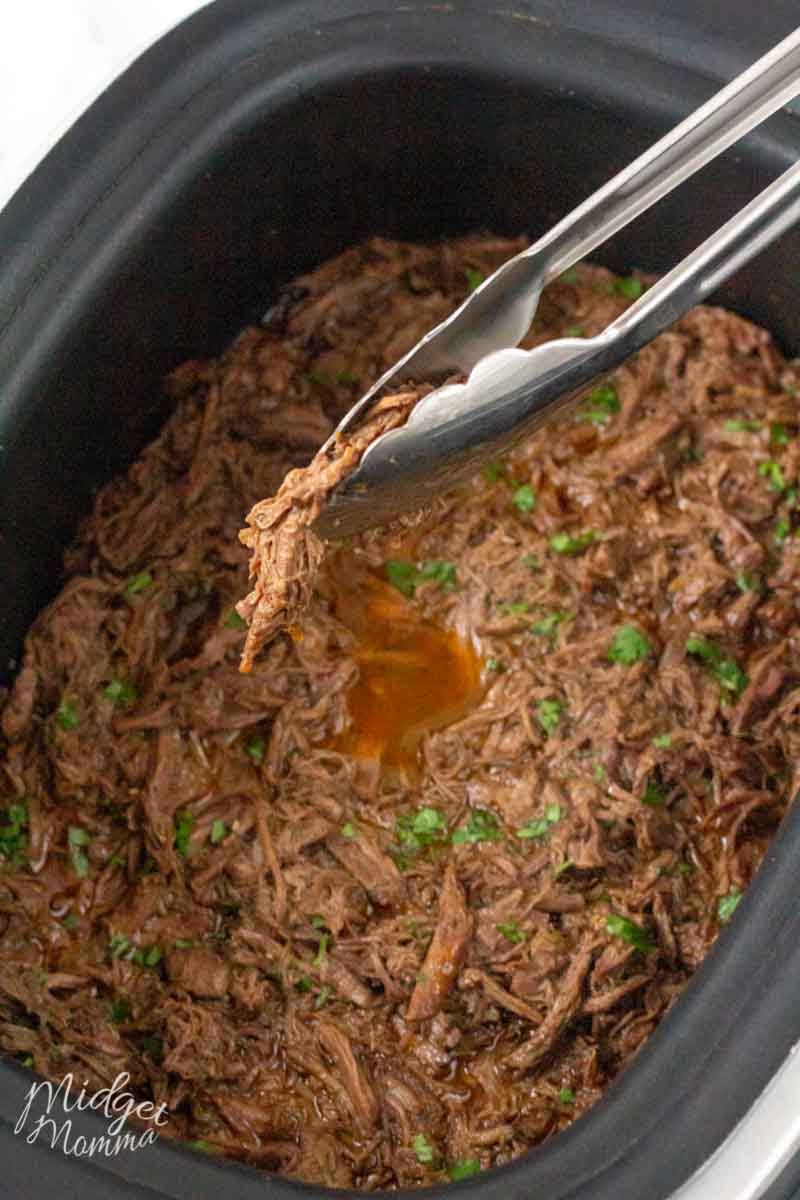 What is Barbacoa?
Barbacoa is a tender beef recipe that gets its name from the way it is cooked. Traditionally barbacoa is steam cooked meat (Beef, pork or goat) in an underground oven with spices and seasonings until the meat is tender and delicious.
Of course since we all don't have underground ovens at our disposal, one modern way to cook barbacoa is using a slow cooker or crockpot.
Barbocoa meat is typically shredded after it is done cooking and used as a filling in Barbacoa tacos, Barbacoa burritos and other Barbacoa dishes.
I love that this Barbacoa recipe is perfect for so many different ways of eating! This Crock-pot Barbacoa can be kept a Keto/low carb meal by turning it into a Barbacoa bowl by adding the toppings on top of it in a bowl.
If the rest of your family is not keto/Low Carb they can add the tender beef Barbacoa into tortilla shells with their toppings. It is the perfect low carb family meal that keeps you on track and the family happy.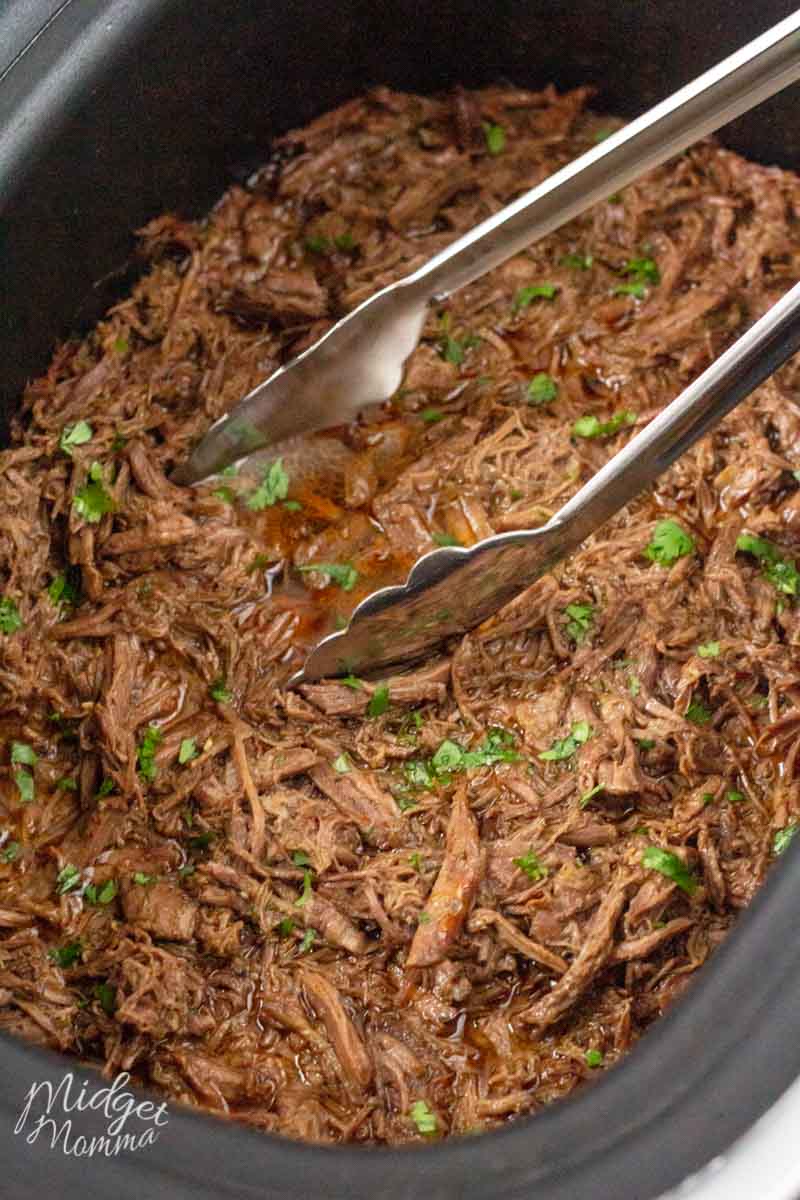 What to Serve with Barbacoa
There are lots of different things that you can serve with Barbacoa. We have a few favorites that we like to make!
Looking for More Mexican Style Dishes? Check these out!
How to Serve barbacoa
After slow cooking this easy slowcooker beef recipe, you will have the most amazing, tender falling apart beef you have ever tasted! You can serve this awesome beef mexican crockpot recipe in many different ways.
If you are low carb put it in a bowl and top it with diced tomatoes, cheese and sour cream and make a Barbacoa burrito bowl or a Barbacoa taco bowl.
You can also make an amazing salad with this slow cooker Barbacoa! Pile on the lettuce, then your favorite salad toppings like cheese and tomatoes. Then add some guacamole and sour cream in place of salad dressing and ohhh YUM!
If you are not low carb this tender crockpot Barbacoa recipe is perfect inside of a soft tortilla topped with diced tomatoes, cheese and sour cream to make Barbacoa tacos.
You can make Barbacoa burritos by using a burrito tortilla and filling it with slowcooker Barbacoa, mexican rice, diced tomatoes or salsa, cheese and sour cream or homemade guacamole. They also make low carb tortillas that are great for making low carb burritos with.
You can also just eat this amazing and tender Barbacoa beef by itself with a fork because it is THAT good!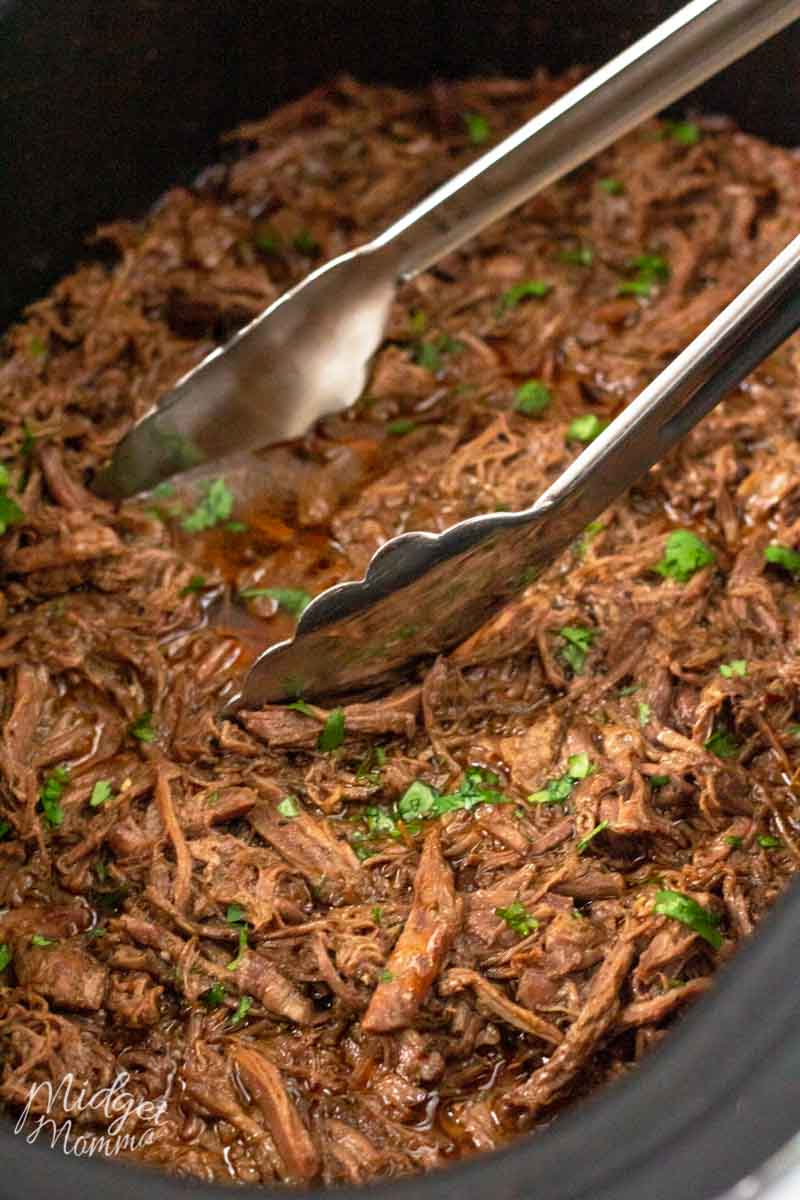 Here are some tools to make life easier when cooking this recipe
Tongs. Yes you could use a fork to plate this meal when it is done cooking, however I find it so much easier to use tongs to remove it from the crock pot.
Crockpot Liners. While it is super easy to clean the crockpot after you make it, sometimes you want things even easier. I love these liners for when I just want clean up to be even easier.
Kitchen Shears. I used to cut meat with a knife. However recently I discovered how much easier it is with kitchen scissors. If I know the meat is going to be shredded at the end, I skip trying to have pretty cut meat. I just cut it into pieces with the kitchen shears instead of a knife. It is so much quicker.
Barbacoa Ingredients
Chuck Beef Roast
Beef broth
chili Peppers in adobo with the sauce
apple cider vinegar
lime juice
garlic
oregano
cumin
salt
pepper
bay leaves
How to Make Barbacoa in a Crock pot
You are seriously going to love how simple this recipe is to make! It takes just 5 minutes of prep and then you let the crockpot do the cooking!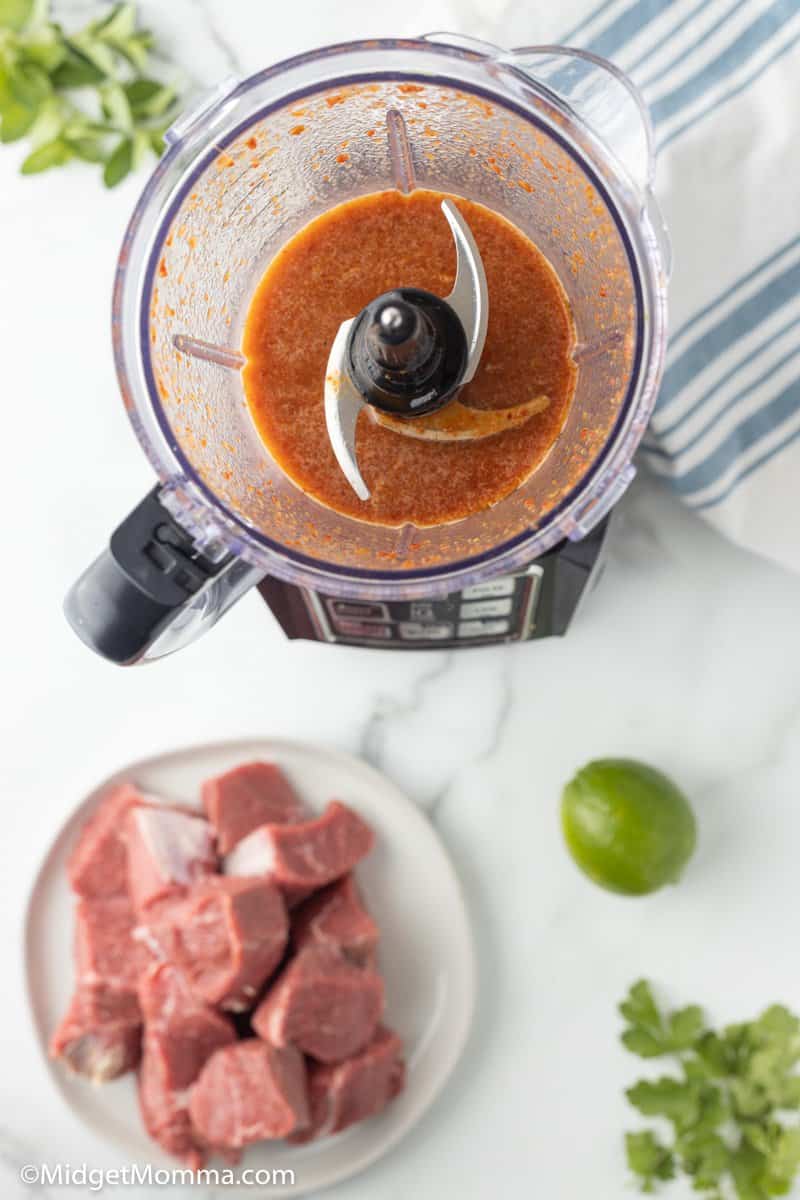 Before getting started prep your crock pot by plugging it in and spraying it with non stick spray.
Then cut your chuck roast into 2 inch chunks and place in to the crock pot.
In the blender add the chili peppers in adobo with the sauce and the beef stock until the chili is in small pieces. Pour into the crockpot.
Stir the vinegar, lime juice, minced garlic, oregano, cumin, salt, pepper, and bay leaves into the crockpot.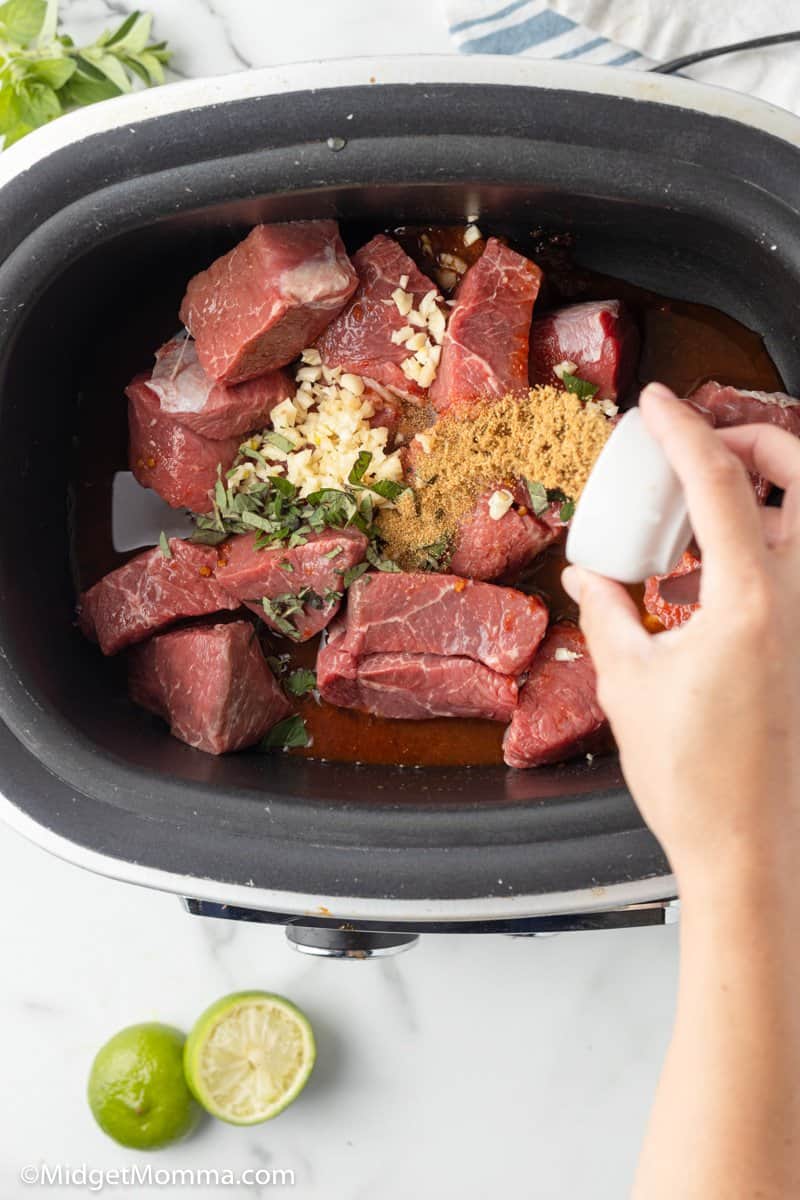 Cook for 6-8 hours on low or 4-6 hours on high. You will know it is done cooking when you can easily shred it.
Once it is cooked all the way, remove the bay leave and shred the meat using 2 forks to pull the meat apart. Then stir the meat well with the juices in the crockpot.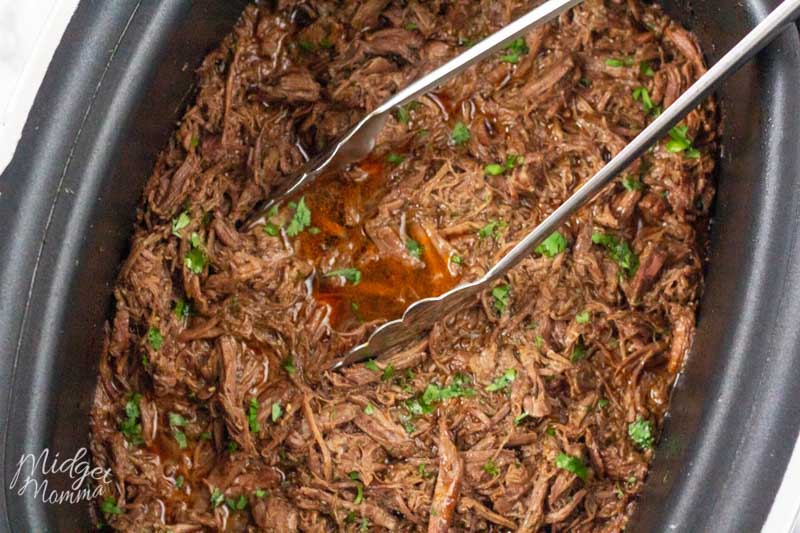 Serve as desired.
More Recipes you will love!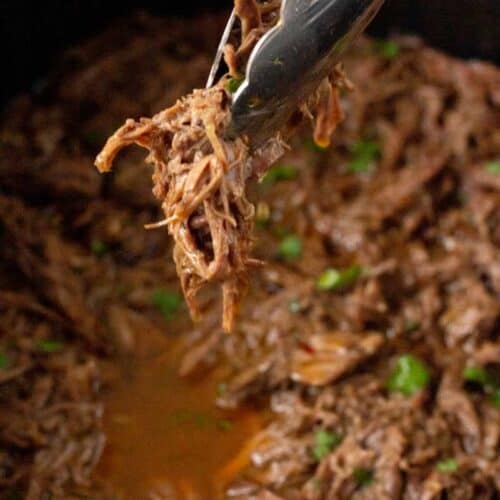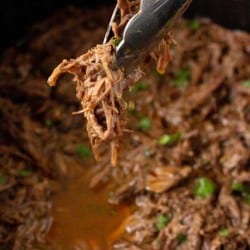 Crock-pot Barbacoa Recipe
Servings
Crock-pot Barbacoa Recipe is a tender beef crockpot recipe that everyone will love.
Instructions
Cut your beef into two inch chucks and place them into your crockpot.

In a blender add the beef stock and chili and blend until the chili is in small pieces, poor this mixture into the crockpot.

Stir the vinegar, lime juice, garlic, oregano, cumin, salt, pepper, and bay leaves into the crockpot.

Cover and cook on low for 6-8 hours or on high for 4-6 hours. Check your crockpot to see when the meat is tender.

Remove the bay leaves and shred the beef with two forks.

Serve in a salad or as the base of your tacos.
Calories: 319kcal | Carbohydrates: 2g | Protein: 33g | Fat: 19g | Saturated Fat: 8g | Cholesterol: 117mg | Sodium: 776mg | Potassium: 615mg | Vitamin A: 35IU | Vitamin C: 3.1mg | Calcium: 50mg | Iron: 4.2mg
barbacoa, Chipotle Barbacoa, Crock-pot Barbacoa Recipe
crockpot, Dinner
14 WeightWatchers SmartPoints on the Freestyle Program