If you are looking to have a mexican food fix, but are not wanting to have a high in calorie meal then these Chicken Taco Lettuce Wraps are going to be perfect! I love Mexican food but the only problem is that it can be high in calories. I wanted to come up with a way to have it more often. I knew if I would take out the red meat and carbs that would help. Its like having a taco salad but you still get the feel of it because you get to pick them up like a taco.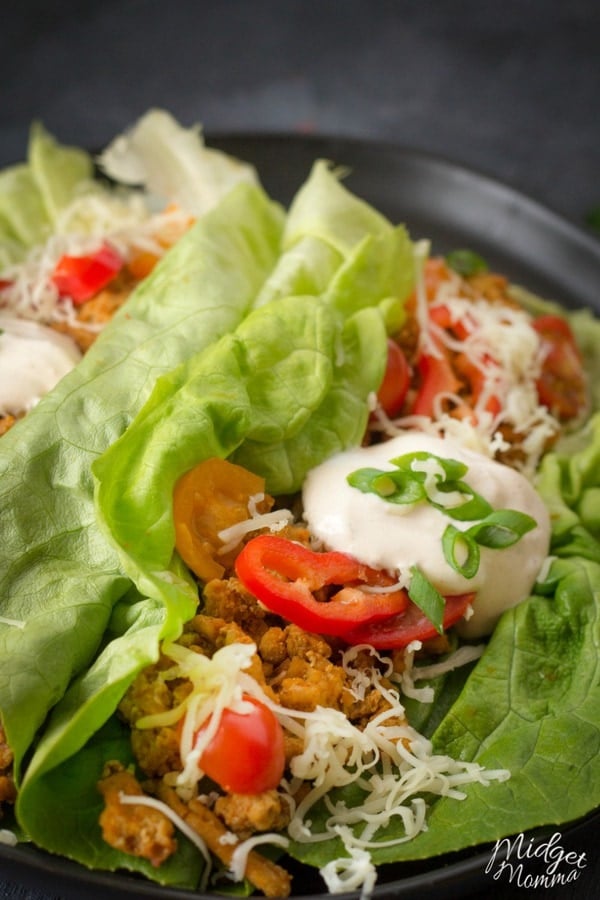 These Chicken Taco Lettuce Wraps are sooo good that even the kids will love them on top of them being a healthy option for dinner. You are going to want to top them with Skinny Creamy Chipotle Sauce, this sauce is sooooo good! I am drooling right now just thinking about it!
Check out these sides that go amazing with this recipe to finish up the meal!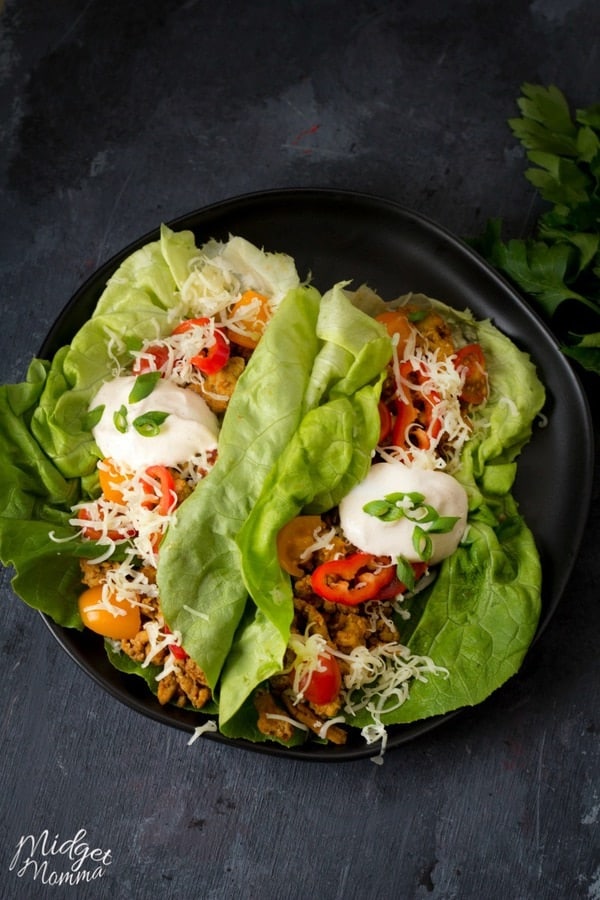 Chicken Taco Lettuce Wraps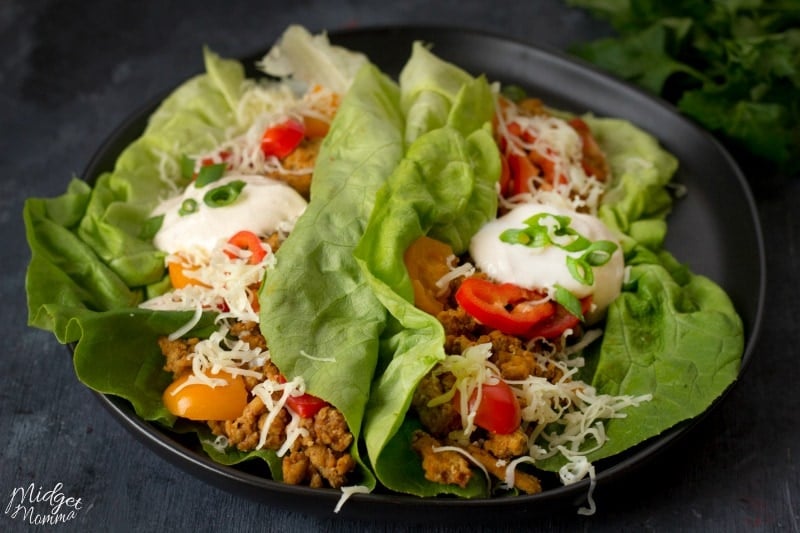 Chicken Taco Lettuce Wraps Ingredients
1 Tbsp olive oil
3/4 cup chopped onion
1 lb ground Chicken breast
2 cloves garlic
Salt and freshly ground black pepper
1 Tbsp chili powder
1 tsp ground cumin
1/2 tsp paprika
1/3 cup tomato paste
1/2 cup low-sodium chicken broth
Romaine lettuce leaves
Shredded Mexican cheese
Halved cherry tomatoes
Diced chili peppers
Skinny Creamy Chipotle Sauce
Chicken Taco Lettuce Wraps Directions
Heat olive oil in a skillet over medium high heat, add onion cook until soften. Add in the chicken, garlic, salt and pepper. Breaking you the chicken into small pieces until cooked through, about 5 minutes. Add chili powder, cumin, paprika, tomato paste and chicken broth. Reduce the heat to medium low and cook until the sauce has reduced. Scoop the mixture into the romaine leaves top with the cheese, tomatoes, peppers and sauce.
1 SmartPoint on Weight Watchers FreeStyle Plan – 
On Weight Watchers? Check out these other great Weight Watchers Recipes.
Add points for added toppings like cheese, sour cream, etc.
More Great Recipes: 
25 Weight Watchers Appetizer Recipes
Join the newsletter
Subscribe to get our latest recipes right in your inbox every time we post a new one!
This post may contain affiliate links. Please read my disclosure policy here