Sweet potato casserole is the most amazing Thanksgiving recipe that you are going to put on your table. This sweet potato casserole is topped with pecans and brown sugar giving the most amazing flavor combination.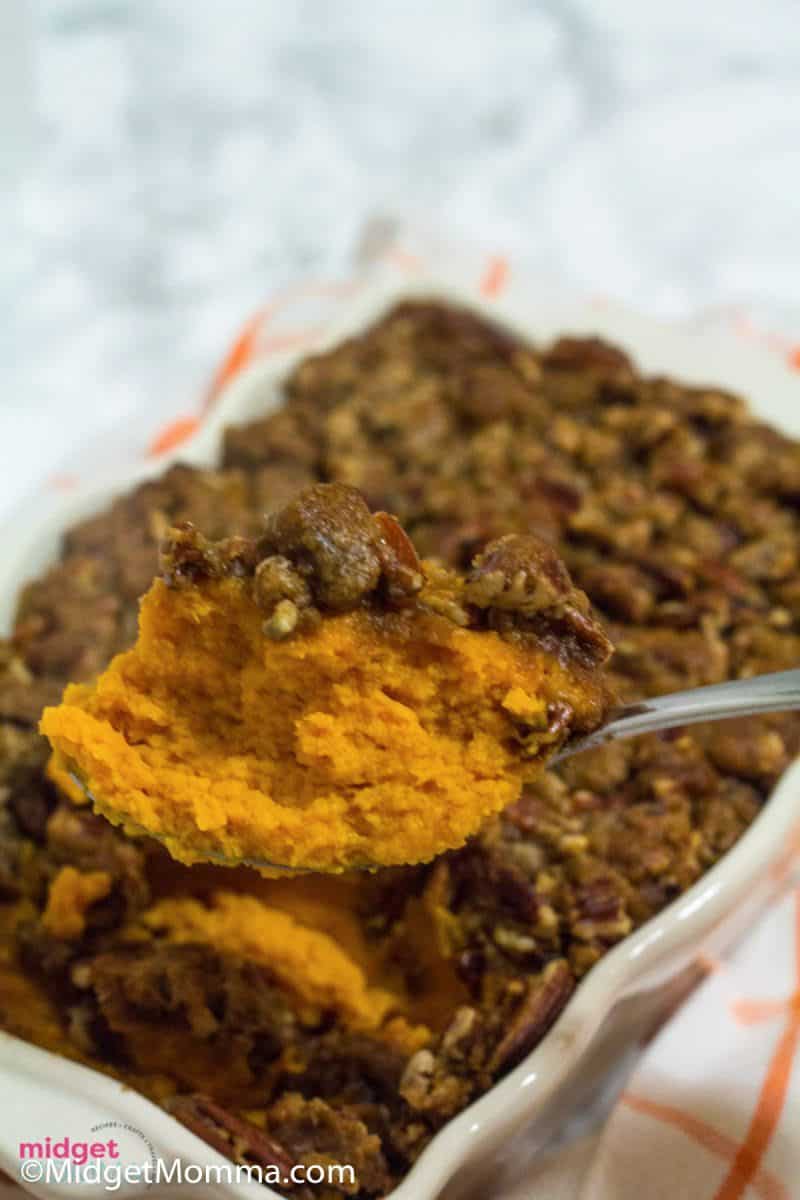 Sweet Potato Casserole With Pecan Topping
You have probably had sweet potato casserole at Thanksgiving dinner ever since you were a kid, but this one is going to take your sweet potato casserole recipe to next level. This creamy sweet potato side dish recipe is a rich sweet potato casserole topped with a crunchy pecan and brown sugar topping.
Growing up this is the sweet potato casserole that we had and I have loved for as long as I can remember. My whole family has always made this dish disappear when it was on the table.
We have lots of must have Thanksgiving dinner recipes, that I am sure you are going to love too. So while you are planning your Thanksgiving dinner, make sure you also check out these other great recipes.
And I have a huge list of Thanksgiving Side dish recipes! There are 65+ recipes that are perfect for Thanksgiving dinner!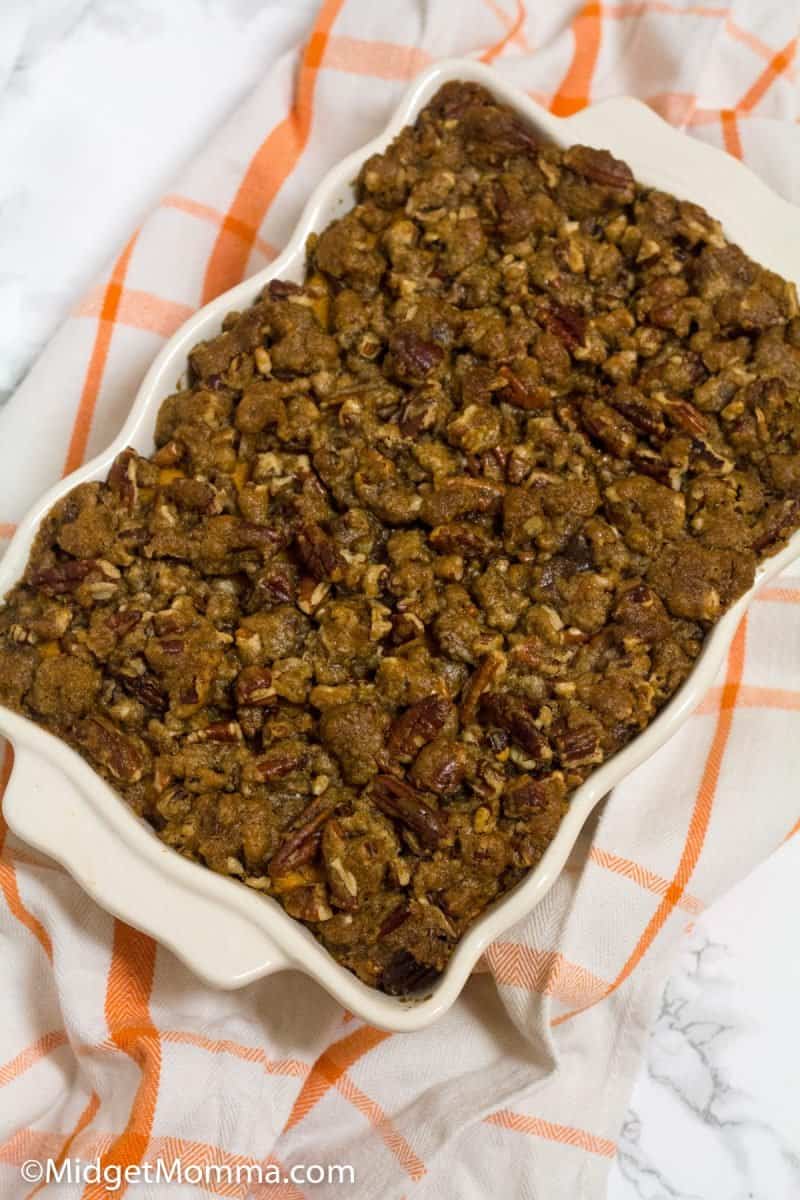 Why you will love this recipe
I have to admit, the first time I brought this sweet potato dish to a friends house for Thanksgiving I was surprised that it was the only thanksgiving side dish that was empty at the end of the meal. I promise you that your whole family is going to love this amazing side dish recipe that is perfect for any holiday meal!
I don't know if I just assumed it was good because we have been having it for so long or what, but I totally did not expect it to be the only dish that was empty at the end of the meal. Once I saw that I knew I had to share this recipe with all of you!
I am going to say that you should not hold on to this Thanksgiving side dish recipe for just the holidays. It is amazing and totally perfect as a Christmas side dish, any holiday side dish… ok really it is perfect for ANY day of the week side dish! It is that amazing!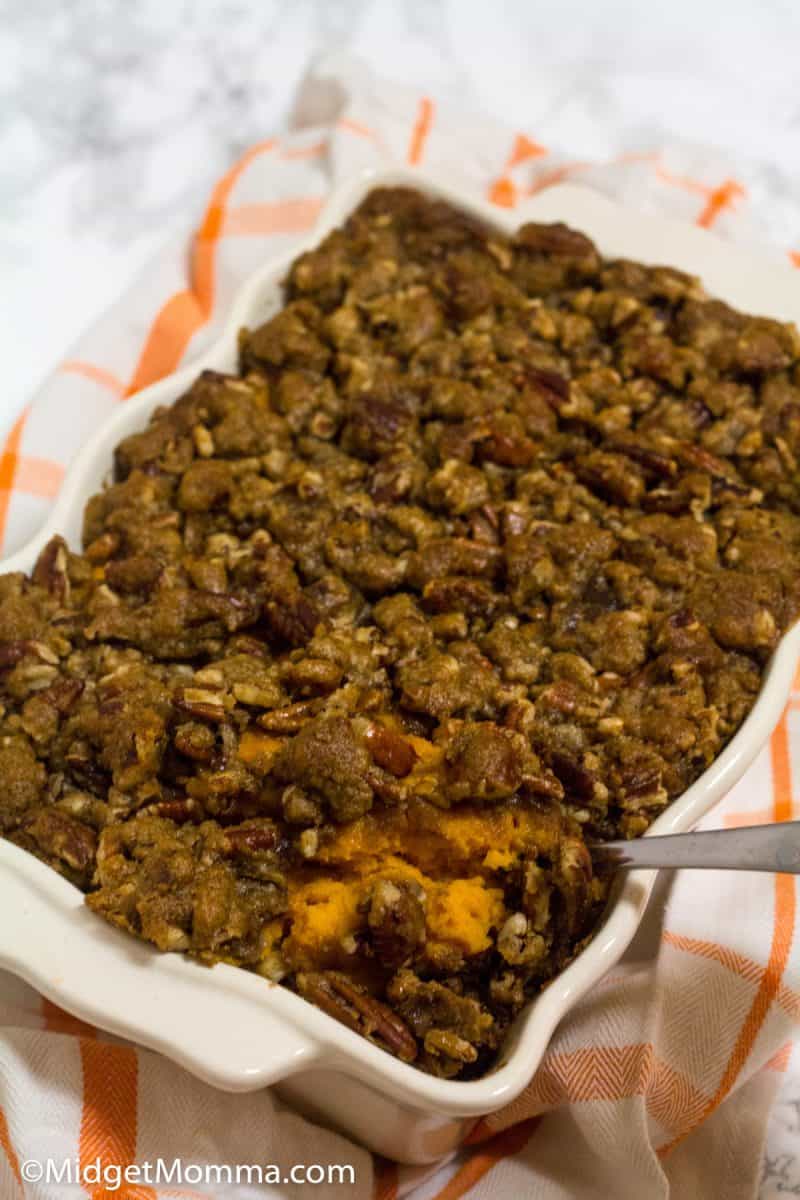 How to Cook Sweet Potatoes
There are a few different ways that you can cook the sweet potatoes that you will need for this recipe. You can bake sweet potatoes or you can make baked sweet potatoes in the microwave.
Can I used Canned Sweet Potatoes?
This sweet potato side dish is made with fresh sweet potatoes. I know, I know there are so many sweet potato recipes that are made with canned sweet potatoes but personally I believe that is going totally ruin the dish. Plus sweet potatoes are so easy to make fresh.
How to Store Sweet Potato Casserole
Allow sweet potato casserole to cool completely. Once cooled cover the dish with tin foil and store it in the fridge. You can also transfer the casserole to a plastic air tight container to store in the fridge. It will keep in the fridge for 3-5 days.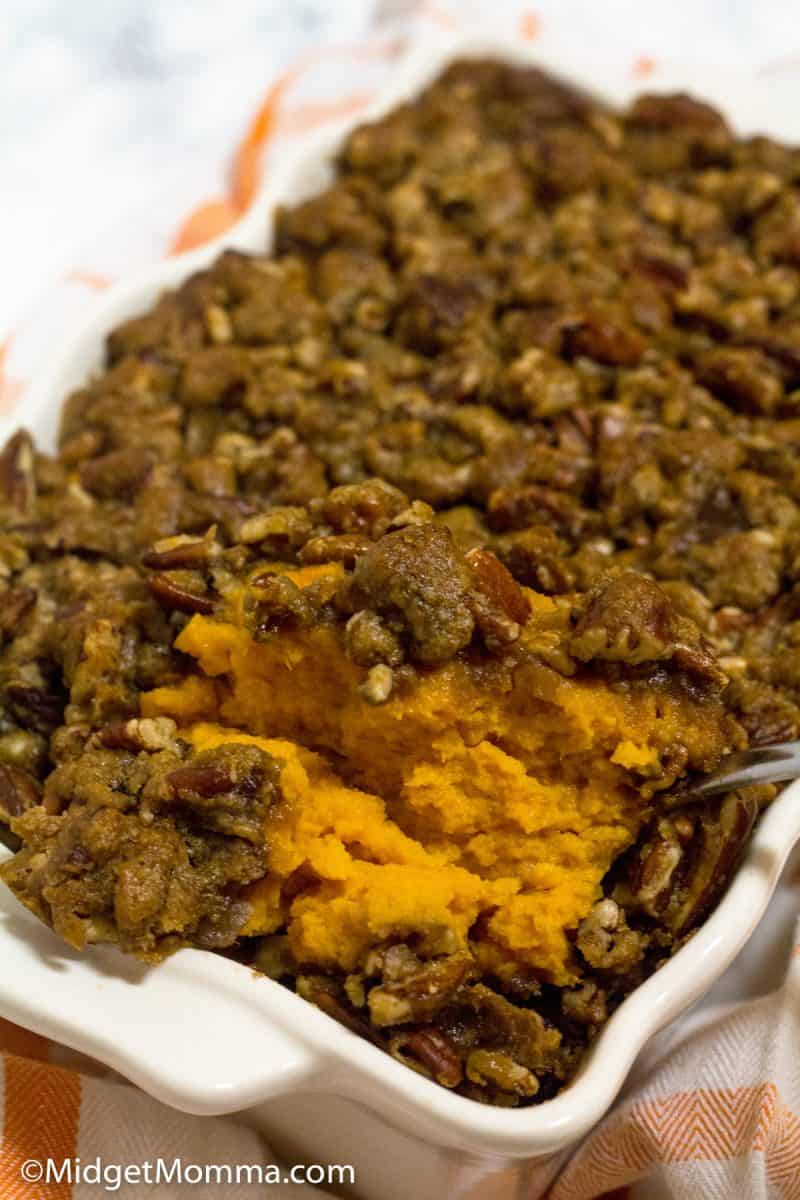 Can I Freeze Sweet Potato Casserole?
Yes! You can make sweet potato casserole ahead of time and freeze it to enjoy later. It is a great casserole to make for a holiday dinner that you can make ahead and then reheat when you are going to have the meal.
How to Freeze Sweet Potato Casserole
You can freeze the casserole already baked or unbaked. If you are baking it ahead of time, allow the casserole to cool completely and then wrap with tinfoil. I suggest using a tinfoil pan when you are storing in the freezer. This casserole will keep in the freezer for up to 4 months.
How to Reheat frozen Sweet Potato Casserole
Remove the casserole from the freezer and place it in the fridge to thaw and then place in the oven to bake as normal.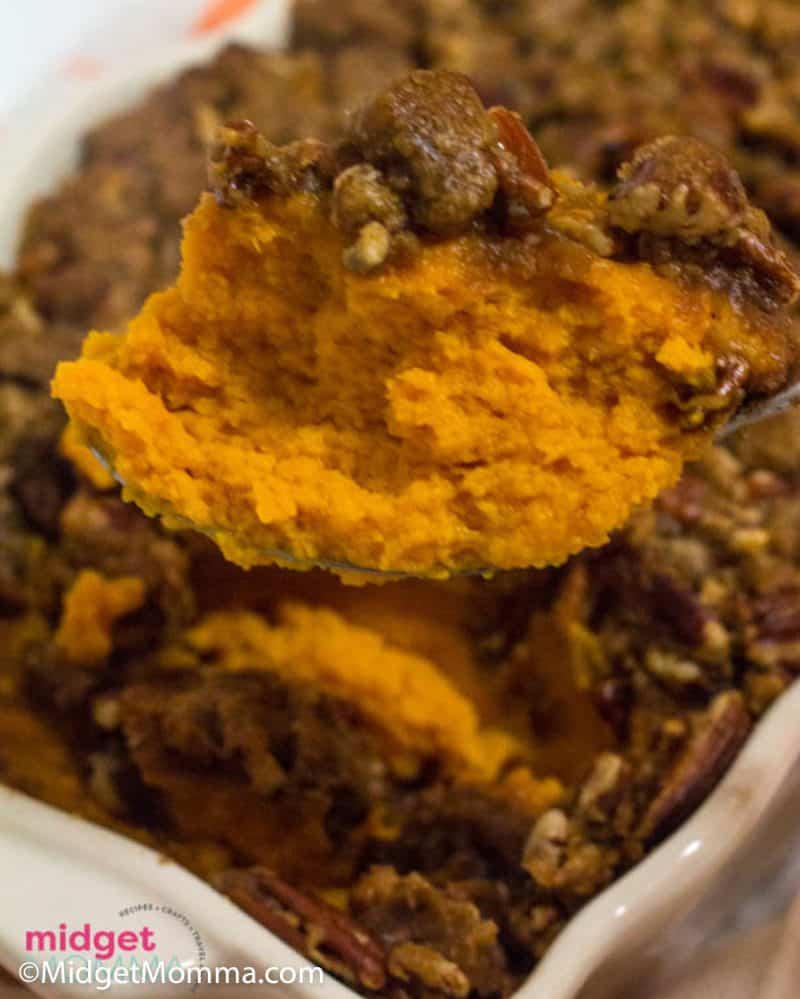 Sweet Potato Casserole Ingredients
Sweet potatoes
sugar
butter
eggs
pecans
brown sugar
flour
vanilla extract
Sweet Potato Casserole Topping
The topping for this easy sweet potato recipe might just be the best part of this sweet potato side dish. I can eat the topping by itself with a smile on my face.
The sweet potato topping is made with pecans, brown sugar, butter and flour. It is simple to make, just get your favorite mixing bowl and add all the casserole topping ingredients in and mix well using a pastry cutter. You want the amazing sweet potato casserole to be crumbly.
Sweet Potato Casserole Base
The base of this sweet potato recipe is perfectly creamy and it is crazy easy to make. Grab your second favorite mixing bowl and then mix the sweet potatoes, sugar, butter, eggs and vanilla extract. Mix them well and tada! Sweet potato casserole base is done!
When using vanilla extract, I personally like to use homemade vanilla extract. You can use a bottle of store bought if that is what you have on hand, but I am going to highly suggest you take a stab at making your own vanilla extract at some point. It is the easiest thing ever to make, and I think it tastes so much better then the store bought.
How to Make Sweet Potato Casserole
Once you have made the casserole base and pecan topping get your favorite baking dish! Spray the baking dish with your favorite non stick spray. Then scrape your sweet potato casserole filling into the baking dish.
Next pour your sweet potato casserole brown sugar and pecan topping on top. Evenly spread the topping all over the casserole filling.
Then all you have to do is bake it! The hardest part is going to be waiting for it to come out of the oven so you can enjoy it.
Looking for more side dish recipes? Check these out!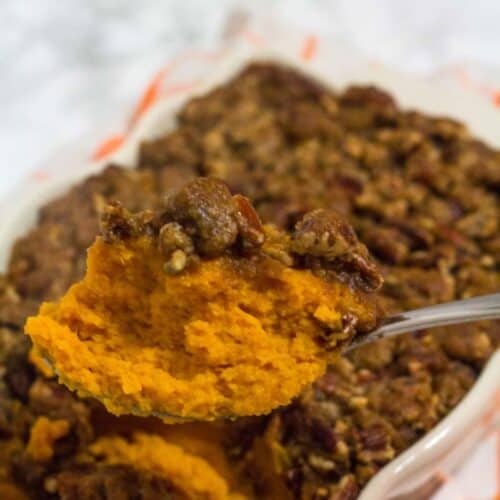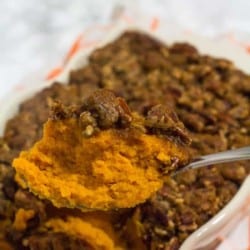 Sweet Potato Casserole
Servings
Ingredients
Sweet Potato Casserole Base Ingredients:
4 large sweet potatoes baked and mashed
1 1/2 cup sugar
1/3 cup butter or margarine melted
2 eggs beaten
1 teaspoon vanilla extract
Sweet Potato Casserole Topping Ingredients:
Instructions
Cook Sweet potatoes by your preferred method of microwave or oven bake.

Then heat oven to 375 once the sweet potatoes are done cooking.

In a large bowl, combine the topping ingredients with a pastry cutter or your finger tips until crumbly.

In a large bowl mix the sweet potatoes, sugar, margarine, eggs, and vanilla until well combined. Transfer the mixture into a 2 1/2 quart baking dish

Sprinkle topping all over sweet potato casserole mixture.

Bake for 20 mins or until lightly browned.
Calories: 293kcal | Carbohydrates: 46g | Protein: 2g | Fat: 11g | Saturated Fat: 3g | Cholesterol: 40mg | Sodium: 61mg | Potassium: 72mg | Sugar: 43g | Vitamin A: 250IU | Vitamin C: 0.1mg | Calcium: 27mg | Iron: 0.6mg
Sweet Potato Casserole
holiday, Side Dish, sweet potato
18 Weight Watchers SmartPoints on the Freestyle Program