Thanksgiving will be here faster then we know it, and that means TONS of cooking tasty and amazing dishes. Thanksgiving Side Dishes are what make the dinner, and that's why we have this great list to get you started!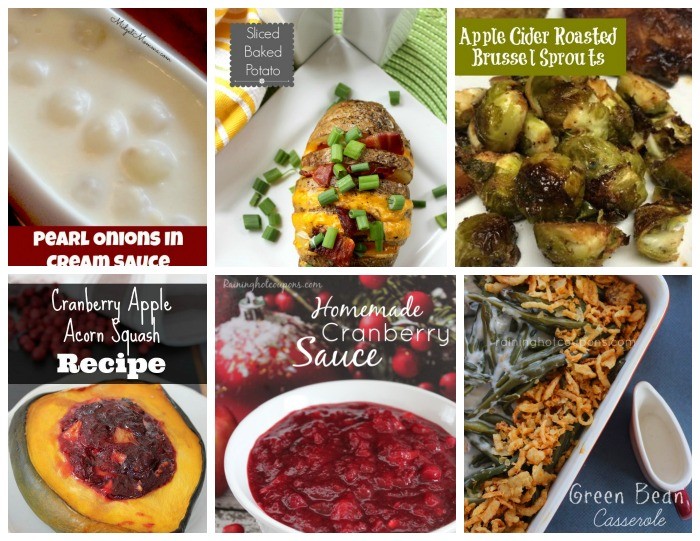 We all know the turkey in the middle of the table is a must have but it's the sides that will make or break your meal. Of course, that means you want to have amazing Thanksgiving Dinner side dish recipes that your guests are going to enjoy!
65 Delicious Thanksgiving Side Dish Recipes
To make this list of Thanksgiving side dish recipes easier to navigate, we've broken down the list into categories.  Since Thanksgiving dinner for many involves not just the main dish, but a bit of grazing before and after during the football game, this list has tons of ideas!
Thanksgiving Dinner Side dish Recipes – Appetizers
Make up some of these in advance (like the Bacon Deviled Eggs), and have ready to pull out and serve before your main meal on Thanksgiving.  This is ideal for enjoying if you plan a more casual meal, but can also be even better for later in the evening when everyone wants to sit back and watch football.
Thanksgiving Dinner Side Dish Recipes – Veggies
We may believe that the turkey is the best part of the meal, but we have to add some vegetables to the mix.  There are classics on this list like the mashed potatoes, but adding new items like acorn squash or the recently popular Brussels Sprouts makes this list ideal for adding variety!
Thanksgiving Dinner Side Dish Recipes – Stuffing
What would Thanksgiving dinner be without a side of stuffing?  Whether you prefer stuffing cooked in the bird, or you want a nice cornbread dressing, here are two excellent options!
Thanksgiving Dinner Side Dish Recipes – Pasta
No family meal would be complete without a dish of macaroni and cheese!  These ideas are going to take that standard to the next level of flavor for your family!
Thanksgiving Dinner Side Dish Recipes – Bread and Rolls
Whether you are looking for a classic biscuit recipe or want a delicious sweet bread, we've got you covered.  I love the idea of adding a fun specialty dinner roll to the menu plan!
Thanksgiving Dinner Side Dish Recipes – Cranberry Sauce
Do you love cranberry sauce, or simply hate this classic Thanksgiving side dish?  This year, forget the canned jelly and try out our easy and delicious options instead!
This Thanksgiving side dish recipes list is a perfect place to begin making your menu plan for the holiday.  With delicious options, tons of great ways to cook easy sides, and a few fun new twists on the classics, you're sure to fall in love with this list!
This post may contain affiliate links. Please read my disclosure policy here